Abstract
A convenience ready-to-reconstitute cutlet mix containing 30% fish protein powder was developed to improve the nutritional quality of the product. Consumer survey was based on the home use test (HUT) method. The acceptance of the fish cutlet mix (FCM) was studied using a 9-point hedonic scale ranging from 1 (extremely dislike) to 9 (extremely like). Product's characteristics and stability were studied during 6 months of storage at 27 ± 2 °C. The FCM packed in a polyethylene bag and cardboard box was stable during the storage period. There were no changes in colour, moisture gain and water activity, and TBARS values remained low. The FCM was accepted by the consumers in the study (n = 85). The average liking was high (7.5 ± 1.3) and it was influenced by frequency of fish and chicken consumption, educational level and household size. People who ate fish once a week liked the product more than other consumers. Also those with higher educational level and bigger household size. The results in this paper are important information for companies planning to develop ready-to-eat products fortified with fish proteins. The products could be means of increasing fish consumption in countries/areas where there is no tradition of consuming fresh or frozen fish.
This is a preview of subscription content,
to check access.
Access this article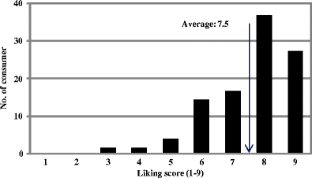 References
Abeysinghe CP, Illeperuma CK (2006) Formulation of an MSG (Monosodium Glutamate) free Instant vegetable soup mix. J Natn Sci Foundation Sri Lanka 34(2):91–95

Altschul AM (1989) Low-calorie foods. Food Technol 43(4):113–125

Alvarez RJ, Binder JM (1984) Protection of spice quality using clear plastic packaging. Dairy Food Sanitation J 4:464–465

AOAC (1990) Official Methods of Analysis, 15th edn. Association of Official Analytical Chemists, Washington DC

Bakar J (2007) Processing formulated fish and fish products. In: Handbook of Food Product Manufacturing, Hui YH (ed) Wiley & Sons, Inc, p 915–930

Ballester D, Barja I, Yanez E, Donoso G (1968) Protein-rich mixtures for human consumption based on fish flour, sunflower press cake meal, dried skim milk and wheat flour. Brit J Nutr 22:255–259

Belitz HD, Grosch W, Schieberle P (2009) Food Chemistry, 4th edn. Springer-Verlag Press, Berlin, Germany, pp 211–218

Bello RA, Piggot GM (1979) A new approach to utilize minced fish flesh in dried products. J Food Sci 2:355–362

Bello RA, Piggot GM (1980) Dried fish patties: storage stability and economic considerations. J Food Process Pres 4:247–260

Carvajal PA, Lanier TC, Macdonald GA (2005) Stabilization of proteins in surimi. In: Park JW (ed) Surimi and Surimi Seafood, 2nd edn. Francis and Taylor Group, London, pp 163–225

Chavan BR, Basu S, Kovale SR (2008) Development of edible texturised dried fish granules from low-value fish croaker (Otolithus argenteus) and its storage characteristics. CMU J Nat Sci 1:173–182

Chung YC, Ho ML, Chyan FL, Jiang ST (2000) Utilization of freeze-dried mackerel (Scomber australasicus) muscle proteins as a binder in restructured meat. Fisheries Sci 66:130–135

Euromonitor (2010) Ready Meals in Iran. Euromonitor International. November 2010, p 50

Fanelli MJ, Peterson AC, Gunderson MF (1965) Microbiology of dehydrated soups. I A survey Food Technol 19(5):83–86

FAO (2009a) Fishery and Aquaculture Country Profiles Iran. Food and Agriculture Organization of the United Nations. Available at: http://www.fao.org/fishery/countrysector/FI-CP_IR/en. [Accessed 20 March 2010].

FAO (2009b) National Aquaculture Sector Overview Iran. Food and Agriculture Organization of the United Nations. Available at: http://www.fao.org/fishery/countrysector/naso_iran/en. [Accessed 20 March 2010].

Fewtrell L, Prüss-Üstün A, Bos R, Gore F, Bartram J (2007) Water, sanitation and hygiene; quantifying the health impacts at national and local level in countries with incomplete water supply and sanitation coverage. Geneva, World Health Organization. Environmental Burden of Disease Series No. 15. Available at: http://www.who.int/quantifying_ehimpacts/publications/en/, p 12–50. [Accessed 20 March 2010].

Francis FJ (1991) Colour measurements and interpretation. In: Instrumental Methods of Quality Assurance in Foods, Fung D, Matthews RF(eds), Marcel Dekker, New York, p 189–209

Gill T (1995) Biochemical and chemical methods for assessment of fish quality. In: Quality and Quality Changes in Fresh Fish, Huss HH (ed), FAO Fisheries Technical Paper nr. 348. Rome, Italy, p 139–150

Gogoi BK, Oswalt AJ, Choudhury GS (1996) Reverse screw elements and feed composition effects during twin-screw extrusion of rice flour and fish muscle blends. J Food Sci 3:590–595

Haard NF (1995) Composition and nutritive value of fish proteins and other nitrogen compounds. In: Ruiter A (ed) Fish and Fishery Products: Composition, Nutritive Properties and Stability. Biddles Ltd, Guilford, UK, pp 77–115

Huda N, Abdullah A, Babji AS (2000) Physicochemical and sensory characteristics of crackers formulated with surimi powder. In: International Seminar on the Role of Chemistry in Industry and Environment, pp 1–5 Padand, West Sumatra, Indonesia, 30–31 Aug

Huda N, Abdullah A, Babji AS (2001) Substitution of tapioca flour with surimi powder in traditional crackers. In: 16th Scientific Conference Nutrition Society of Malaysia, Kuala Lumpur, Malaysia, 24–25 March

ISIRI (2003) Vegetable protein and its product, cutlet powder; specifications and test methods. Institute of Standards and Industrial Research of Iran, ISIRI nr. 6935

Jay JM (1992) Modern Food Microbiology, 4th edn. Chapman & Hall, New York, USA, pp 356–370

Kim S, Park JB, Hwang IK (2002) Quality attributes of various varieties of Korean red pepper powder (Capsicum annum L.) and colour stability during sunlight exposure. J Food Sci 67:2957–2961

Kristbergsson K (2001) From ideas to products concepts and prototype. In: Food Innovation Management; from Idea to Success, Treillon R (ed), Food Net, ENSIA, Massy, p 72–82

Meilgaard M, Civille GV, Carr BT (2007) Sensory Evaluation Techniques, 4th edn. CRC Press, New York, pp 56–87

Min TS, Cheng NM, Fujiwara T, Kuang HK, Hasegawa H (1987) Handbook on the Processing of Frozen Surimi and Fish Jelly Products in Southeast Asia. Marine Fisheries Research Development, MFRD, Singapore, pp 10–18

Modi VK, Sachindra NM, Nagegowda P, Mahendrakar NS, Rao DN (2007) Quality changes during the storage of dehydrated chicken kebab mix. Int J Food Sci Tech 42:827–835

Musa KH, Aminah A, Wan-Aida WM (2005) Functional properties of surimi related to drying methods. Malays Appl Biol 2:83–87

Myrland O, Trondsen T, Johnston RS, Lund E (2000) Determinants of seafood consumption in Norway: lifestyle, revealed preferences, and barriers to consumption. Food Qual Prefer 11:169–188

Niki H, Igarashi S (1982) Some factors in the production of active fish protein powder. Bull Japan Soc Sci Fish 8:1133–1137

Niki H, Deya E, Kato T, Igarashi S (1982) The process of producing active fish protein powder. Bull Japan Soc Sci Fish 7:999–1004

Niki H, Kato T, Deya E, Igarashi S (1983) Water holding capacity, emulsifying capacity and storage ability of active fish protein powder. Bull Japan Soc Sci Fish 1:91–96

Osuna-Garcia JA, Wall MM, Waddell CA (1997) Natural antioxidants for preventing colour loss in stored paprika. J Food Sci 62:1017–1021

Park JW, Lin JTM (2005) Surimi: Manufacturing and evaluation. In: Surimi and Surimi Seafood, 2nd edn, Park JW (ed), Taylor and Francis Group. London, p 33–106

Rafipour F, Jalili H, Arshad R, Hoseini H, Shaviklo GR, Hosein-Abadi M (2008) Development and evaluation of fish balls made from silver carp (Hypophthal molitrix) mince with and without starch. Iranian Fisheries Research Organization. Project Report nr. 03-8401-84002, Tehran, Iran

Ramirez JA, Diaz-Sobac R, Morales OG, Vazquez M (1999) Evaluation of freeze-dried surimi from tilapia and fat sleeper as emulsifiers. CyTA J Food 4:210–214

Ruhil P, Singh RRB, Jain DK, Patel AA, Patil GR (2010) A comparative study of kinetic and connectionist modelling for shelf-life prediction of Basundi mix. J Food Sci Technol 48(2):204–210

Sathivel S, Bechtel PJ, Babbitt JK, Prinyawiwatkul W, Patterson M (2005) Functional, nutritional and rheological properties of protein powders from arrow tooth flounder and their application in mayonnaise. J Food Sci 2:57–63

Sathivel S, Bechtel PJ, Prinyawiwatkul W (2006) Physicochemical and rheological properties of salmon protein powders. Int J Food Eng 2:3–9

Senthil A, Mamatha BS, Vishwanath P, Bhat KK, Ravishankar GA (2010) Studies on development and storage stability of instant spice adjunct mix from seaweed (Eucheuma). J Food Sci Technol. doi:10.1007/s13197-010-0165-3

Shaviklo GR (2000) Manual on surimi and surimi-based products; using local fish species. Naghsh-e Mehr publication, Tehran, Iran, pp 24–56

Shaviklo GR (2005a) Production of shrimp burger in Iran. INFOFISH Int Mag 2:31–34

Shaviklo GR (2005b) Surimi products gain popularity in Iran. INFOFISH Int Mag 5:35–40

Shaviklo GR (2006) Quality improvement of farmed fish in Iranian markets. Aquaculture Asia 3:30–32

Shaviklo GR (2007) Fish sausage from silver carp surimi. INFOFISH Int Mag 1:34–38

Shaviklo GR, Thorkelsson G, Kristinsson HG, Arason S, Sveinsdottir K (2010a) The influence of additives and drying methods on quality attributes of fish protein powder made from saithe (Pollachius virens). J Sci Food Agric 90:2133–2143

Shaviklo GR, Olafsdottir A, Sveinsdottir K, Thorkelsson G, Rafipour F (2010b) Quality characteristics and consumer acceptance of a high fish protein puffed corn-fish snack. J Food Sci Technol. doi:10.1007/s13197-010-0191-1

Shaviklo GR, Thorkelsson G, Sigurgisladottir S, Rafipour F (2010c) Quality changes during storage of extruded puffed corn snacks incorporated with freeze dried saithe (Pollachius virens) protein and stabilized minces from rainbow trout (Oncorhynchus mykiss) and silver carp (Hypophthalmichthys molitrix). J Sci Food Agric doi:10.1002/jsfa.4261

Shaviklo GR, Thorkelsson G, Arason S, Sveinsdottir K (2011a) Characteristics of freeze-dried fish protein isolated from saithe (Pollachius virens). J Food Sci Technol. doi:10.1007/s13197-011-0285-4

Shaviklo GR, Thorkelsson G, Sveinsdottir K, Rafipour F (2011b) Chemical properties and sensory quality of ice cream fortified with fish protein. J Sci Food Agric. doi:10.1002/jsfa.4299

Shilat (2005) Fish consumer's sociology. Research and Planning Division of Iran Fisheries Organization, Tehran, Iran

Shilat (2007) An investigation on fish consumption behaviour of consumers in Tehran. Research and Planning Division of Iran Fisheries Organization, Tehran, Iran

Shilat (2008) Iran Fisheries Statistics. Research and Planning Division of Iran Fisheries Organization, Tehran. Iran

Tarladgis BG, Watts BM, Younathan MT (1960) A distillation method for the quantitative determination of malonaldehyde in rancid foods. JAOCS 37:44–48

Thorner ME (1973) Convenience and Fast Food Handbook. AVI Publishing Co. Westport, Connecticut, USA, pp 229–245

Tomoszek D (2002) What is a ready meal? In: Menlove A (ed) Ready Meal Technology. Leatherhead Publishing, Surrey, England, pp 1–12

WHO/FAO (2001) Recommended international code of practice general principles of food hygiene. Food and Agriculture Organization of the United Nations and World Health Organization. Joint FAO/WHO Food Standards Programme, FAO, Rome

Yerlikaya P, Gokoglu N, Uran H (2005) Quality changes of fish patties produced from anchovy during refrigerated storage. Eur Food Res Technol 220:287–291
Acknowledgments
The support of the United Nations University-Fisheries Training Programme, Matis (Icelandic Food and Biotech R&D), Rannis (Icelandic Centre for Research) and Zardaneh (Soy Protein Company, Esfahan, Iran) to this study is gratefully acknowledged. The authors would like to thank Adalheidur Olafsdottir at Matis for her advice on the consumer survey and Hoshang Bahrami and R&D group at Zardaneh Co. for their cooperation in the product development.
About this article
Cite this article
Shaviklo, G.R., Thorkelsson, G., Sveinsdottir, K. et al. Studies on processing, consumer survey and storage stability of a ready-to-reconstitute fish cutlet mix. J Food Sci Technol 50, 900–908 (2013). https://doi.org/10.1007/s13197-011-0417-x
Revised:

Accepted:

Published:

Issue Date:

DOI: https://doi.org/10.1007/s13197-011-0417-x
Keywords