Abstract
We have isolated 4 antibacterial substances that were active against the oral bacteria that cause dental caries and periodontitis, such as Streptococcus mutans, Prevotella intermedia, and Porphyromonas gingivalis, from lemon peel, a waste product in the citrus industry. The isolated substances were identified as 8-geranyloxypsolaren, 5-geranyloxypsolaren, 5-geranyloxy-7-methoxycoumarin, and phloroglucinol 1-β-D-glucopyranoside (phlorin) upon structural analyses. Among these, 8-Geranyloxypsolaren, 5-geranyloxypsolaren, and 5-geranyloxy-7-methoxycoumarin exhibited high antibacterial activity. These 3 compounds were effectively extracted using ethanol and n-hexane, whereas phlorin was extracted with water. Further, the above 3 compounds were present in lemon essential oil and abundantly present in the residue produced upon the cooling treatment of concentrated lemon essential oil.
Access options
Buy single article
Instant access to the full article PDF.
US$ 39.95
Tax calculation will be finalised during checkout.
Subscribe to journal
Immediate online access to all issues from 2019. Subscription will auto renew annually.
US$ 79
Tax calculation will be finalised during checkout.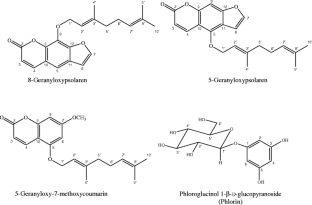 References
Céspedes CL, Avila JG, Martínez A, Serrato B, Calderón-Mugica JC, Salgado-Garciglia R (2006) Antifungal and antibacterial activities of Mexican tarragon (Tagetes lucida). J Agric Food Chem 54:3521–3527

Chang C, Floss HG, Steck W (1997) Carbon-13 magnetic resonance spectroscopy of coumarins. Carbon-13-proton long-range couplings. J Org Chem 42:1337–1340

Dreyer DL, Huey PF (1973) Coumarins of Citrus marcroptera. Phytochemistry 12:3011–3013

Fisher JF, Trama LA (1979) High-performance liquid chromatographic determination of some coumarins and psoralens found in citrus peel oils. J Agric Food Chem 27:1334–1337

Foo LY, Karchesy JJ (1989) Polyphenolic glycosides from Douglas fir inner bark. Phytochemistry 28:1237–1240

Herpol-Borremans M, Masse MO, Grimee R (1985) Furocoumarines dans les fuiles essentielles identification et dosage du 5 methoxy psoralene dans les produits solaires. J Pharm Belg 40:147–158

Kakuda T, Takihara T, Sakane I, Mortelmans K (1994) Antimicrobial activity of tea extracts against periodontopathic bacteria. Nippon Nôgeikagaku Kaishi 68:241–243

Manthey JA, Grohmann K (2001) Phenols in citrus peel byproducts. Concentrations of hydroxycinnamates and polymethoxylated flavones in citrus peel molasses. J Agric Food Chem 49:3268–3273

Miyake Y, Yamamoto K, Osawa T (1997) Isolation of eriocitrin (eriodictyol 7-rutinoside) from lemon fruit (Citrus limon BURM. f.) and its antioxidative activity. Food Sci Technol Int Tokyo 3:84–89

Murakami A, Gao G, Kim OK, Omura M, Yano M, Ito C, Furukawa H, Jiwajinda S, Koshimizu K, Ohigashi H (1999) Identification of coumarins from the fruit of citrus hystrix DC as inhibitors of nitric oxide generation in mouse macrophage RAW 264.7 cells. J Agri Food Chem 47:333–339

Nakatani N, Yamada Y, Fuwa H (1987) Epoxyaurapten and marmin from juice oil in Hassaku (Citrus hassaku) and the spasmolytic activity of 7-geranyloxycoumarin-related compounds. Agric Biol Chem 51:1105–1110

Olaniyan AM (2010) Development of a small scale orange juice extractor. J Food Sci Technol 47:105–108

Sakanaka S, Kim M, Taniguchi M, Yamamoto T (1989) Antibacterial substances in Japanese green tea extract against Streptococcus mutans, a cariogenic bacterium. Agric Biol Chem 53:2307–2311

Smullen J, Koutsou GA, Foster HA, Zumbé A, Storey DM (2007) The antibacterial activity of plant extracts containing polyphenols against Streptococcus mutans. Caries Res 41:342–349

Stanley WL, Jurd L (1971) Citrus coumarins. J Agric Food Chem 19:1106–1110

Takahashi N, Schachtele CF (1990) Effect of pH on the growth and proteolytic activity of Porphyromonas gingivalis and Bacteroides intermedius. J Dent Res 69:1266–1269
Acknowledgment
We are grateful to Dr. Y. Sugiyama and Dr. M. Isobe of Bioagricultural Sciences, Graduate School of Nagoya University, for the FAB-MS and NMR measurements and to T. Kato and Y. Tamaki of the Pokka Corporation Ltd. for their advice on this experiment.
About this article
Cite this article
Miyake, Y., Hiramitsu, M. Isolation and extraction of antimicrobial substances against oral bacteria from lemon peel. J Food Sci Technol 48, 635–639 (2011). https://doi.org/10.1007/s13197-011-0330-3
Revised:

Accepted:

Published:

Issue Date:
Keywords
Antibacterial substance

Lemon peel

Oral bacteria

8-geranyloxypsolaren

5-geranyloxypsolaren

5-geranyloxy-7-methoxycoumarin

Phlorin