Abstract
Horticultural produce are stored at lower temperature because of their highly perishable nature. There are many methods to cool the environment. Hence, preserving these types of foods in their fresh form demands that the chemical, bio-chemical and physiological changes are restricted to a minimum by close control of space temperature and humidity. The high cost involved in developing cold storage or controlled atmosphere storage is a pressing problem in several developing countries. Evaporative cooling is a well-known system to be an efficient and economical means for reducing the temperature and increasing the relative humidity in an enclosure and this effect has been extensively tried for increasing the shelf life of horticultural produce in some tropical and subtropical countries. In this review paper, basic concept and principle, methods of evaporative cooling and their application for the preservation of fruits and vegetables and economy are also reported. Thus, the evaporative cooler has prospect for use for short term preservation of vegetables and fruits soon after harvest. Zero energy cooling system could be used effectively for short-duration storage of fruits and vegetables even in hilly region. It not only reduces the storage temperature but also increases the relative humidity of the storage which is essential for maintaining the freshness of the commodities.
Access options
Buy single article
Instant access to the full article PDF.
US$ 39.95
Tax calculation will be finalised during checkout.
Subscribe to journal
Immediate online access to all issues from 2019. Subscription will auto renew annually.
US$ 79
Tax calculation will be finalised during checkout.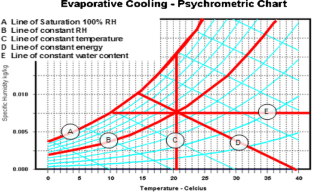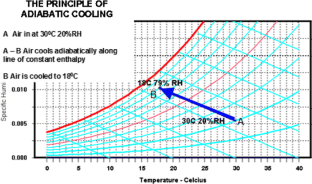 References
Anon (2010) Area & Production Estimates for Horticulture Crops for 09-10. National Horticultural Board (NHB), India. www.nhb.gov.in. (accessed 17 January, 2011)

Anonymous (1985) Zero energy cool chamber. Research bulletin No. 43, IARI, New Delhi

Anyanwu EE (2004) Design and measured performance of a porous evaporative cooler for preservation of fruits and vegetables. Energy Convers Manage 45(13–14):2187–2195

ASHRAE (1995) ASHRAE Handbook Appcication. American Society of Heating, Refrigeration and Air-Conditioning Engineers, Inc. SI edn. Atlant. Cap 47. New York, USA

ASHRAE (1998) ASHRAE Handbook, Refrigeration. American Society of Heating, Refrigeration and Air-Conditioning Engineers, Inc. SI edn. New York, USA

Bhardwaj RL, Sen NL (2003) Zero energy cool-chamber storage of mandarin (Citrus reticulata blanco) cv Nagpur Santra. J Food Sci Technol 40(6):669–672

Bhatnagar DK, Pandita ML, Shrivastava VK (1990) Effect of packaging materials and storage conditions on fruit acceptability and weight loss of tomato. National Workshop on Post-Harvest Management of Fruits and Vegetables, March 14–16, Nagpur, India

Bhowmic SR, Pan PC (1992) Shelf life of mature green tomatoes stored in controlled atmosphere and high humidity. J Food Sci 4:948–953

Camargo JR (2007) Evaporative cooling: water for thermal comfort. An Interdisciplinary. J Applied Sci 3:51–61

Chandra P, Shrivastava R, Dash SK (1999) Thermal behaviour of a fruits and vegetables storage structure. J Inst Eng (AG-1) 80(1):5

Chopra S, Baboo B, Alesksha, Kudo SK, Oberoi HS (2003) An effective on farm storage structure for tomatoes. Proceedings of the International Seminar on Downsizing Technology for Rural Development held at RRL, Bhubaneswar, Orissa, India, October 7–9, pp 591–598

Choudhury (2005) Recent developments in reducing postharvest losses in the asia-pacific region. Postharvest Management of Fruit and Vegetables in the Asia-Pacific Region. Reports of the APO seminar on Reduction of Postharvest Losses of Fruit and Vegetables held in India, 5–11 October 2004 and Marketing and Food Safety: Challenges in Postharvest Management of Agricultural/Horticultural Products in Islamic Republic of Iran, 23–28 July 2005

Chouksey RG (1985) Design of passive ventilated and evaporatively cooled storage structures for potato and other semi perishables. In: Proc. Silver jubilee convention of ISAE held at Bhopal, India, October 29–31, pp 45–51

Dadhich SM, Dadhich H, Verma RC (2008) Comparative study on storage of fruits and vegetables in evaporative cool chamber and in ambient. Int J Food Eng 4(1):1–11

Das SK, Chandra P (2001) Economic analysis of evaporatively cooled storage of horticultural produce. Agric Eng Today 25(3–4):1–9

Datta S, Sahgal PN, Subrahmaniyam S, Dhingra SC, Kishore VVN (1987) Design and operating characteristics of evaporative cooling systems. Int J Refrig 10(4):205–208

Fuglie K, Khatana V, Ilangantileke S, Singh JP, Kumar D, Scott GJ (1997) economics of potato storage in India. Social Science Department Working Paper No.1997–5. Int potato centre(CPI), Lima, Peru

Ganesan M, Balasubramanian K, Bhavani RV (2004) Studies on the application of different levels of water on Zero energy cool chamber with reference to the shelf-life of brinjal. J Indian Inst Sci 84:107–111

Habibunnisa EA, Aror E, Narasimham P (1988) Extension of storage life of the fungicidal waxol dip treated apples and orange under evaporarive cooling storage conditions. J Food Sci Technol 25(2):75–77

Jain D (2007) Development and testing of two-stage evaporative cooler. Build Environ 42(7):2549–2554

Jha SN (2008) Development of pilot scale evaporative cooled storage structures for fruits and vegetables in hot and dry region. J Food Sci Technol 42(2):148–151

Jha SN, Chopra S (2006) Selection of bricks and cooling pad for construction of evaporatively cooled storage structure. Inst Engineers (I) (AG) 87:25–28

Jha SN, Kudas Aleksha SK (2006) Determination of physical properties of pads for maximizing cooling in evaporative cooled store. J Agric Eng 43(4):92–97

Kader AA (1993) Postharvest handling. In: Preece JE, Read PE (eds) The biology of horticulture- an introductory textbook. John Wiley & Sons, New York, pp 353–377

Kant K, Kumar A, Mullick SC (2001) Space conditioning using evaporative cooling for summers in Delhi. Build Environ 36(1):15–25

Khader V (1999) Textbook on food storage and preservation. Kalyani Pub, India 5th edn. Wiley Blackmell

Lawrence SA, Tiwari GN (1989) Performance study of an evaporative cooling system for a typical house in port Moresby. Solar Wind Technol 6(6):717–724

Longmone AP (2003) Evaporative cooling of good products by vacuum. Food Trade Rev (Pennwalt Ltd) 47:13–16

Maini SB, Anand JC (1992) Evaporative cooling system for post harvest management of horticultural crops. Agric Mark 35(3):34–39

Mehta A, Kaul HN (1997) Physiological weight loss in potatoes under non refrigerated storage: contribution of respiration and transpiration. J Indian Potato Assoc 24:106–113

Metin D, Karaca C, Yıldız Y (2009) Performance characteristics of a pad evaporative cooling system in a broiler house in a Mediterranean climate. Biosys Eng 103(1):100–104

Mordi JI, Olorunda AO (2003) Effect of evaporative cooler environment on the visual qualities and storage life of fresh tomatoes. J Food Sci Technol 40(6):587–591

Odesola IF, Onyebuchi O (2009) A review of porous evaporative cooling for the preservation of fruits and vegetables. Pacific J Sci Technol 10(2):935–941

Prabha A, Sharma HR, Goel AK, Ranjana V (2006) Changes in ascorbic acid content of lemon fruits stored in zero energy cool chamber and under ambient atmosphere. J Dairy Foods HS 25(1):73–75

Rama MV, Krishnamurty H, Narasimham P (1990) Evaporative cooling storage of potatoes in two model storage structures. J Food Sci Technol 27(1):19–21

Roy SK (1984) Post harvest storage of fruits and vegetables in a specially designed built in space. In: Proc. Intl. Workshop on Energy conservation in buildings. CBRI, Roorkee, UP, India, 2–7 April, pp 190–193

Roy KS, Khurdiya DS (1982) Keep vegetables fresh in summer. Indian Hort 27(1):5–6

Roy SK, Khurdiya DS (1986) Studies on evaporatively cooled zero energy input cool chamber for storage of horticultural produce. Indian Food Packer 40:26–31

Roy SK, Pal RK (1991) A low cost zero energy cool chamber for short-term storage of mango. Acta Hort 291:519–524

Roy SK, Pal RK (1994) A low-cost cool chamber: an innovative technology for developing countries (tropical fruits storage). Poster paper on "Agricultural machinery and equipment; Handling, transport, storage and protection of plant products". Int Conference, Chiang Mai (Thailand), July19, 1993

Sandooja JK, Sharma RK, Pandit ML, Batra BR (1987) Storage studies to tomato in zero-energy cool chamber in relation to storage of maturity and packaging material used. Haryana Agric Univ J Res 17(3):216–217

Sharma SK, Kachru RP (1990) Influence of storage period and storages on keeping qualities of potatoes. In: Proc of the XXVI annual convention of ISAE. HAU, Hissar, Feb 7–9, pp 84–90

Singh M, Naranyahgkeda KG (1999) Investigation and development of indirect evaporative cooling using plastic heat exchanger. Mech Eng Bull 14(7):61–65

Singh RKP, Satapathy KK (2006) Performance evaluation of zero energy cool chamber in hilly region. Agric Eng Today 30(5–6):2006

Taha AZ, Rahim AAA, Eltom OMM (1994) Evaporative cooler using a porous material to be used for reservation of food. Renewable Energy 5(1–4):474–476

Thiagu R, Nagin C, Habibunnisa EA, Prasad Aravinda B, Ramana KVR (2007) Effect of evaporative cooling storage on ripening and quality of tomato. J Food Qual 14(2):127–144

Umbarkar SP, Bonde RS, Kolase MN (1991) Evaporatively cooled structures for orange (Citrus reticulata). Indian J Agric Eng 1(1):26–32

Umbarkar SP, borkar PA, Phirke PS, Kubde AB, Kale PB (1998) Evaporatively cooled storage structure. Technical bulletin, No. 35. Dr. PDKV, Akola (Maharashtra)

Wasker DP, Nikam SK, Garande VK (1999) Effect of different packaging materials on storage behaviour of sapota under room temperature and cool chamber. Indian J Agric Res 33:240–244

Zahra G, John AB (1996) A passive evaporative cooling system by natural ventilation. Build Environ 31(6):503–507

Zhao X, Shuli L, Riffat SB (2008) Comparative study of heat and mass exchanging materials for indirect evaporative cooling systems. Build Environ 43(11):1902–1911
About this article
Cite this article
lal Basediya, A., Samuel, D.V.K. & Beera, V. Evaporative cooling system for storage of fruits and vegetables - a review. J Food Sci Technol 50, 429–442 (2013). https://doi.org/10.1007/s13197-011-0311-6
Revised:

Accepted:

Published:

Issue Date:
Keywords
Evaporative cooling system

Storage conditions

Factors affecting

Design consideration

Economy

Merits & demerits