Abstract
The study aimed to isolate cellulolytic bacteria from the gut of subterranean termite (Coptotermes acinaciformis) and carry out antibacterial studies for termite control. The cellulase enzyme activity was determined by qualitative and quantitative techniques. The antibiotics and their combinations on isolated bacteria as well as heavy metals and disinfectants were performed by using disc diffusion method. The effective antibacterial agents were used as termiticide. Antibacterial study revealed that the isolates were 100% sensitive to rifampicin, tetracycline, gentamycin and neomycin antibiotics, cadmium and mercury as heavy metals and lactic acid, formalin and hydrogen peroxide as disinfectants. In addition, 17 out of 36 antibiotic combinations showed synergistic effect, while eight combinations showed antagonistic effect on isolates. The heavy metals and disinfectants that showed 100% effectiveness as well as 22 antibiotic combinations that showed synergistic effect were used for termite control. Among the 27 selected antibacterial agents, mercury, lactic acid, formalin and hydrogen peroxide were found to be the most effective termiticide. Therefore, we conclude that these effective antibacterial agents possess a great potential to be a new application to control the termites.
Access options
Buy single article
Instant access to the full article PDF.
USD 39.95
Price excludes VAT (USA)
Tax calculation will be finalised during checkout.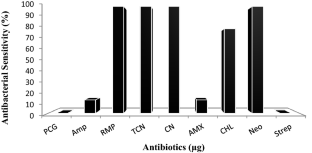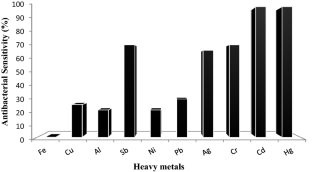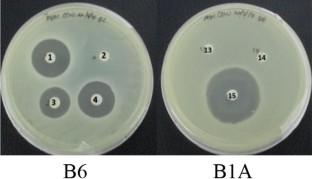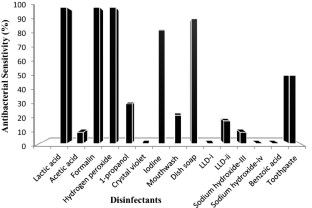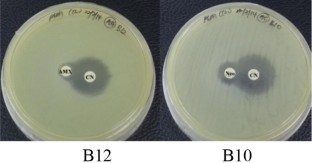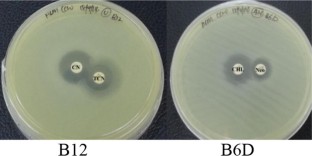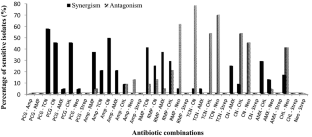 References
Abo-State MAM, Hammad AI, Swelim M, Gannam RB (2010) Enhanced production of cellulase (s) by Aspergillus spp. isolated from agriculture wastes by solid state fermentation. AEJAES 8:402–410

Adams L, Boopathy R (2005) Isolation and characterization of enteric bacteria from the hindgut of Formosan termite. Bioresour Technol 96:1592–1598

Bac N, Mihailov M, Terlemezyan L (1991) On the stability of natural rubber latex acidified by acetic acid and subsequent epoxidation by peracetic acid. Eur Polym J 27:557–563

Chanawanno K, Chantrapromma S, Anantapong T, Kanjana-Opas A, Fun H (2010) Synthesis, structure and in vitro antibacterial activities of new hybrid disinfectants quaternary ammonium compounds: pyridinium and quinolinium stilbene benzenesulfonates. Eur J Med Chem 45:4199–4208

Dillon RJ, Dillon VM (2004) The gut bacteria of insects non-pathogenic interaction. Annu Rev Entomol 49:71–92

Dosaj S, Dosaj U, Dosaj N (2013) The third constant. Int J Pharm Sci Rev Res 42:260–265

Edwards R, Mill AE (1986) Termites in buildings: their biology and control. Rentokil Ltd., East Grinstead

Gupta P, Samant K, Sahu A (2012) Isolation of cellulose-degrading bacteria and determination of their cellulolytic potential. Int J Microbiol. https://doi.org/10.1155/2012/578925

Husseneder C, Berestecky J, Grace JK (2009) Changes in the composition of the culturable bacteria community in the gut of the Formosan subterranean termite depending on rearing conditions of the host. Ann Entomol Soc Am 102(498):507

Kappler A (2002) Dynamics of redox potential and changes in redox state of iron and humic acids during gut passage in soil-feeding termites (Cubitermes spp.). Soil Biol Biochem 34:221–227

Lee CY (2002) Subterranean termite pests and their control in the urban environment in Malaysia. Sociobiology 40:3–9

Logan JWM, Cowie RH, Wood TG (1990) Termite (Isoptera) control in agriculture and forestry by non-chemical methods: a review. Bull Entomol Res 80:309–330

Lopez-Maury L, Garcia-Dominguez M, Florencio F, Reyes J (2002) A two-component signal transduction system involved in nickel sensing in the Cyanobacterium synechocystis sp. PCC 6803. Mol Microbiol 43:247–256

Lugauskas A, Levinskaitë L, Peèiulytë D, Repeèkienë Motuzas A, Vaisvalavièius R, Prosyèevas I (2005) Effect of copper, zinc and lead acetates on microorganisms in soil. Ekologija 1:61–69

Mathew GM, Lin SJ, Chang JJ, Huang CC (2011) DGGE detection and screening of lignocellulolytic bacteria from the termite gut of Coptotermes formosanus. MJM 7:201–209

Matsui T, Tokuda G, Shinzato N (2009) Termites as functional gene resources. Recent Pat Biotechnol 3:10–18

Matuschek E, Brown D, Kahlmeter G (2014) Development of the EUCAST disk diffusion antimicrobial susceptibility testing method and its implementation in routine microbiology laboratories. CMI 20:255–266

Mayer I, Nagy E (1999) Investigation of the synergic effects of aminoglycoside–fluoroquinolone and third-generation cephalosporin combinations against clinical isolates of Pseudomonas spp. J Antimicrob Chemother 43:651–657

Miller GL (1959) Use of dinitrosalicylic acid for determination of reducing sugar. Anal Achem 31:426–428

Monserrate E, Leschine SB, Canale-Parola E (2001) Clostridium hungatei sp. nov., a mesophilic, N2-fixing cellulolytic bacterium isolated from soil. IJSEM 51:123–132

Ngangi J, Pelealu J, Warouw J, Mandey L (2013) Isolation and activity of cellulolytic bacteria isolated from hindgut of Odontotermes spa subteran termite on Wasian (Elmerrelia celebica L.) an endemic wood to North Sulawesi. IJSEI 2:8–16

Ohkuma M (2003) Termite symbiotic systems: efficient biorecycling of lignocelluloses. Appl Microbiol Biotechnol 61:1–9

Olajuyigbe OO, Afolayan A (2012) Synergistic interactions of methanolic extract of Acacia mearnsii De Wild with antibiotics against bacteria of clinical relevance. IJMS 13:8915–8932

Rosengaus RB, Zecher CN, Schultheis KF, Brucker RM, Bordenstein SR (2011) Distruption of the termite gut microbiota and its prolonged consequences for fitness. App Environ Microbiol 77(3):4303–4312. https://doi.org/10.1128/AEM.01886-10

Saha A, Haque M, Karmaker S, Mohanta M (2009) Antibacterial effects of some antiseptics and disinfectants. J Life Earth Sci 3–4:19–21

Saxena S, Bahadur J, Varma V (1993) Cellulose and hemicellulose degrading bacteria from termite gut and mould soils of India. Indian J Microbiol 33:55–60

Scharf M (2015) Termites as targets and models for biotechnology. Annu Rev Entomol 60:77–102

Sinma K, Ishida Y, Tamura T, Kitpreechavanich V, Tokuyama S (2011) Saccharopolyspora pathumthaniensis sp. nov., a novel actinomycetes isolated from termite guts (Speculitermes sp.). JGAM 57:93–100

Stutz RE (2014) Wood preservative containing alkali metal cyanides. US 3,993,752 A

Tokuda G, Watanabe H (2007) Hidden cellulases in termites: revision of an old hypothesis. Biol Lett 3:336–339

Treves DS, Martin MM (1994) Cellulose digestion in primitive hexapods: effects of ingested antibiotics on gut microbial populations and gut cellulase levels in the firebrat, Thermobia domestica (Zygentoma, Lepismatidae). J Chem Ecol 20:2003–2020

Upadhyaya SK, Manandhar A, Mainali H, Pokhrel AR, Rijal A, Pradhan B, Koirala B (2012) Isolation and characterization of cellulolytic bacteria from gut of termite. Rentech Symp Compend 1:14–18

Verma M, Sharma S, Prasad R (2009) Biological alternatives for termites control: a review. Int Biodeterior Biodegrad 63:959–972

Vu A, Nguyen NC, Leadbetter JR (2004) Iron reduction in the metal rich guts of wood feeding termites. Geobiology 2:239–247

Wenzel M, Schonig I, Berchtold M, Kampfer P, Konig H (2002) Aerobic and facultatively anaerobic cellulolytic bacteria from the gut of the termite Zootermopsis angusticollis. J Appl Microbiol 92:32–40

Yamin MA (1979) Flagellates of the orders Trichomondida Kirby, Oxymonadida Grassé, and Hypermastigida Grassi & Foà reported from lower termites (Isoptera families Mastotermitidae, Kalotermitidae, Hodotermitidae, Termopsidae, Rhinotermitidae, and Serritermitidae) and from the wood-feeding roach Cryptocercus (Dictyoptera: Cryptocercidae). Sociobiology 4:4–119
Acknowledgements
The authors gratefully acknowledge Faculty of Industrial Sciences and Technology, Universiti Malaysia Pahang (UMP), for the financial support under Grants PRGS 140318 and PRGS 140319 that enabled the authors to accomplish this work.
Ethics declarations
Conflict of interest
All authors declare that they have no conflict of interest.
About this article
Cite this article
Makky, E.A., Wen, C.C. & Ali, M.J. Evaluation of antibacterial susceptibility pattern of cellulolytic bacteria isolated from Coptotermes curvignathus gut to heavy metals, disinfectants and common antibiotics for termite control. J Indian Acad Wood Sci 15, 105–113 (2018). https://doi.org/10.1007/s13196-018-0214-5
Received:

Accepted:

Published:

Issue Date:

DOI: https://doi.org/10.1007/s13196-018-0214-5
Keywords