Abstract
Agricultural residuals, such as bagasse, are the renewable resources which can be used as raw materials for making cement-bonded particleboard (CBPB). In this study, the effect of sodium silicate (Na2SiO3) as accelerator was evaluated on hydration process of cement paste. Moreover, it was analyzed modulus of rupture (MOR), internal bonding (IB) and thickness swelling (TS) of CBPB manufactured from bagasse as affected by particle size and content of additive (Na2SiO3) through using response surface methodology. It was determined that adding of bagasse meal in cement paste caused to decrease the initial and final setting time. Besides, higher amounts of additives resulted in lower values of hydration temperature peaks (Tmax) and hydration times. Based on central composite design, quadratic models were developed to correlate the preparation variables; particle size (x 1), additive content (x 2), to the responses; MOR (y1), IB (y2) and TS (y3). Analysis of variance indicated that particle size was the most significant variable for responses. The optimum preparation conditions for strength properties and TS were obtained by using particle size of >6.2 mm and additive content of 5.5 %, which resulted in MOR, IB and TS of 9, 0.25 MPa and 18 %, respectively.
This is a preview of subscription content, log in to check access.
Access options
Buy single article
Instant access to the full article PDF.
US$ 39.95
Price includes VAT for USA
Subscribe to journal
Immediate online access to all issues from 2019. Subscription will auto renew annually.
US$ 99
This is the net price. Taxes to be calculated in checkout.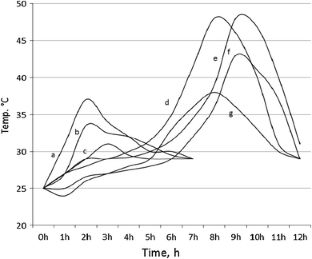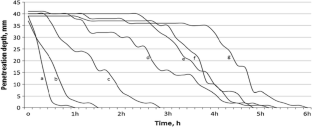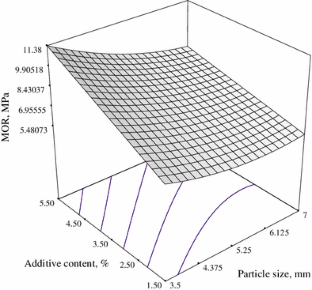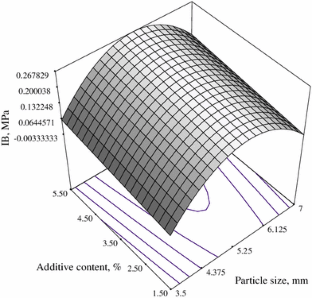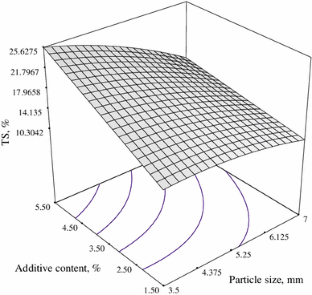 References
Balasubramanian M, Jayabalan V, Balasubramanian V (2008) A mathematical model to predict impact toughness of pulsed current gas tungsten arc welded titanium alloy [J]. Int J Adv Manuf Technol 35(9/10):852–858

BISON wood-cement board (1978) Bison—Report p 10

CEN EN (2007) 634-2: cement-bonded particleboards—specifications—part 2: requirements for OPC bonded particleboards for use in dry, humid and external conditions

Chun BS, Yang HC, Park DH, Jung HS (2008) Chemical and physical factors influencing behavior of sodium silicate-cement grout. In: Proceedings of the 18th international offshore and polar engineering conference, Vancouver, BC, Canada, 6–11 July 2008

Coatanlem P, Jauberthie R, Rendell F (2006) Lightweight wood chipping concrete durability. Constr Build Mater 20:776–781

Cochran Cox GM (1962) Experimental design [M]. Asia Publishing House, New Delhi

Costa SM, Cardoso ECL, Luz SM, Araujo SG, Lima LFCP, Lugao AB (2005) Assessment of compression resistance of natural fibers-reinforced gypsum composites.17º CBECIMat—Congresso Brasileiro de Engenharia e Ciência dos Materiais, 15 a 19 de Novembro de 2006, Foz do Iguaçu, PR, Brasil, pp 2893–2903

EN 317 (1999) Particleboards and fiberboards, determination of swelling in thickness after immersion. European Standardization Committee, Brussels

EN 310 (1999) Wood based panels, determination of modulus of elasticity in bending and bending strength. European Standardization Committee, Brussels

EN 319 (1999) Particleboards and fiberboards, determination of tensile strength. European Standardization Committee, Brussels

Frybort S, Mauritz R, Teischinger A, Muller U (2008) Cement bonded composites—a mechanical review. BioResources 3(2):602–626

Gnannaharan R, Dhamodaran TK (1985) Suitability of some tropical hardwoods for cement bonded wood wool manufacture. Holzforschung 39:337–340

Hermawan D, Hata T, Umuemura K, Kawai S, Nagadomi W, Kuroki Y (2001) Rapid production of high-strength cement-bonded particleboard using gaseous or supercritical carbon dioxide. J Wood Sci 47:294–300

Karade SR (2003) An investigation of cork-cement composites. Unpublished Ph.D. Thesis, Buckinghamshire Chilterns University College, Brunel University, UK, pp 212

Manonmani K, Murugan N, Buvanasekaran G (2007) Effect of process parameters on the bead geometry of laser beam welded stainless steel sheets. Int J Adv Manuf Technol 32:1125–1133

Menezzi CHSD, Castr VGD, Souza MRD (2007) Production and properties of a medium density wood-cement boards produced with oriented strands and silica fume. Maderas 9(2):105–115

Moslemi AA, Garcia JF, Hofstrand AD (1983) Effect of various treatments and additives on wood–portland cement–water systems. Wood Fiber Sci 2:164–176

Nazerian M, Dahmardeh Ghalehno M, Gozali E (2011) Effects of wood species, particle sizes and dimensions of residue obtained from trimming of wood-cement composites on physical and mechanical properties of cement-bonded particleboard. Wood Mater Sci Technol 6:196–206

Olorunnisola AO (2007) Effect of particle geometry and chemical accelerator on strength properties of rattan-cement composites. Afr J Sci Technol 8(1):22–27

Prince W, Espagne M, Aitcin PC (2003) Ettringite formation: a crucial step in cement superplasticizer compatibility. Cem Concr Res 33:635–641

Roberts MH (1967) Effect of admixtures on the composition of the liquid phase and the early hydration of reactions in portland cement paste. In: Proceedings of the international symposium on admixtures for mortar and concrete, vol. II, topic II. RILEM, Brussels, pp 7–29

Singh SM (1979) Investigations into the causes of poor strength of portland cement bonded lignocellulosic materials. J Indian Acad Wood Sci 10(1):15–19

Taylor HFW (1998) Cement chemistry. Thomas Telford Publishing, London

Thomas NL, Birchall JD (1983) The retarding action of sugars on cement hydration. Cem Concr Res 13(6):830–842

Vaickelionis G, Vaickelioniene R (2006) Cement hydration in the presence of wood extractives and pozzolan mineral additives. Ceramics-Silikáty 50(2):115–122

Wei YM, Tomita B (2001) Effects of five additive materials on mechanical and dimensional properties of wood cement-bonded boards. J Wood Sci 47:437–444

Wei YM, Zhou YG, Tomita B (2000) Study of hydration behavior of wood cement-based composite II: effect of chemical additives on the hydration characteristics and strengths of wood-cement composites. J Wood Sci 46:444–451

Yue YL, Li GZ, Xu XS, Zhao ZJ (2000) Properties and microstructures of plant-fiber-reinforced cement-based composites. Cem Concr Res 30(12):1983–1986

Zhengtian L, Moslemi AA (1986) Effect of western larch extractives on cement setting. Forest Prod J 36(1):53–54

Zhou Y, Kamdem DP (2002) Effect of cement/wood ratio on the properties of cement-bonded particleboard using CCA treated wood removed from service. Forest Prod J 52(3):77–81
About this article
Cite this article
Nazerian, M., Eghbal, S.H. The influence of additive content and particle size of bagasse on some properties of cement-bonded particleboard. J Indian Acad Wood Sci 10, 86–94 (2013). https://doi.org/10.1007/s13196-013-0099-2
Received:

Accepted:

Published:

Issue Date:
Keywords
Cement-bonded particleboard

Bagasse

Additive

Setting time

Physical and mechanical properties