Abstract
Pulmonary aspiration of gastric contents during elective surgery remains a major cause of airway-related mortality and morbidity. The preoperative fasting times for solids and liquids have been standardized across various anesthesia society guidelines. Enhanced Recovery After Surgery (ERAS) guidelines now advocate liberal clear fluid intake with carbohydrate loading up to 2 h preoperatively. The aim of the study was to assess whether practicing both ASA fasting guidelines and ERAS protocol makes the patients prone to a full stomach. The supine position standard curvilinear ultrasound probe (2–5 MHz) with Sonosite M-Turbo ©system was used to obtain the images. Gastric residual volume (GRV) was derived from the cross-sectional area (CSA) using the Perlas and colleagues model. A total of 102 patients were recruited and analyzed. The mean age and BMI were 50.65 years ± 13.35 years and 22.23 kg/m2 ± 3.7 kg/m2, respectively. A total of four patients (3.92%) had gastric volume > 1.5 ml/kg; out of these four patients, three were female and one was male. We did not observe any case of pulmonary aspiration in any of our patients. In conclusion, even though for elective surgeries, the current fasting guidelines are adequate, these findings cannot be extrapolated to patients with risk factors for high gastric residual volume where further studies need to be performed.
Access options
Buy single article
Instant access to the full article PDF.
USD 39.95
Price excludes VAT (USA)
Tax calculation will be finalised during checkout.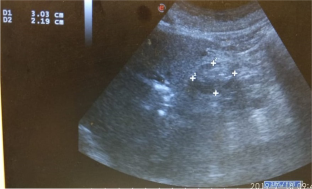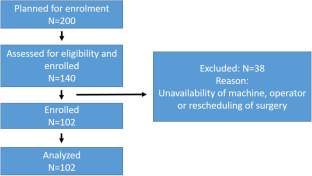 References
Cook TM, Woodall N, Frerk C, Fourth National Audit Project (2011) Major complications of airway management in the UK: results of the Fourth National Audit Project of the Royal College of Anaesthetists and the Difficult Airway Society Part 1: anaesthesia. Br J Anaesth 106(5):617–31. https://doi.org/10.1093/bja/aer058

El-Boghdadly K, Wojcikiewicz T, Perlas A (2019) Perioperative point-of-care gastric ultrasound. BJA Educ 19(7):219–226. https://doi.org/10.1016/j.bjae.2019.03.003

Melnyk M, Casey RG, Black P, Koupparis AJ (2011) Enhanced recovery after surgery (ERAS) protocols: time to change practice? Can UrolAssoc J 5:342–348. https://doi.org/10.5489/cuaj.11002

Van de Putte P, Vernieuwe L, Jerjir A, Verschueren L, Tacken M, Perlas A (2017) When fasted is not empty: a retrospective cohort study of gastric content in fasted surgical patients. Br J Anaesth 118(3):363–371. https://doi.org/10.1093/bja/aew435

Doctor JR, Chandan P, Shetty N, Gala K, Ranganathan P (2021) Ultrasound-guided assessment of gastric residual volume in patients receiving three types of clear fluids: a randomised blinded study. Indian J Anaesth 65:289–294. https://doi.org/10.4103/ija.IJA_1291_20

Krishnan B, Babu S, Walker J, Walker AB, Pappachan JM (2013) Gastrointestinal complications of diabetes mellitus. World J Diabetes 4(3):51–63. https://doi.org/10.4239/wjd.v4.i3.51

Kerrigan DD, Read NW, Houghton LA, Taylor ME, Johnson AG (1991) Disturbed gastroduodenal motility in patients with active and healed duodenal ulceration. Gastroenterology 100(4):892–900. https://doi.org/10.1016/0016-5085(91)90261-i

Tanaka M (2005) Gastroparesis after a pylorus-preserving pancreatoduodenectomy. Surg Today 35(5):345–350. https://doi.org/10.1007/s00595-004-2961-8

Yaylali O, Kirac S, Yilmaz M, Akin F, Yuksel D, Demirkan N, Akdag B (2009) Does hypothyroidism affect gastrointestinal motility? Gastroenterol Res Pract 2009:529802. https://doi.org/10.1155/2009/529802

Goetze O, Wieczorek J, Mueller T, Przuntek H, Schmidt WE, Woitalla D (2005) Impaired gastric emptying of a solid test meal in patients with Parkinson's disease using 13C-sodium octanoate breath test. Neurosci Lett 375(3):170–173. https://doi.org/10.1016/j.neulet.2004.11.007

Jeong ID, Camilleri M, Shin A, Iturrino J, Boldingh A, Busciglio I, Burton D, Ryks M, Rhoten D, Zinsmeister AR (2012) A randomised, placebo-controlled trial comparing the effects of tapentadol and oxycodone on gastrointestinal and colonic transit in healthy humans. Aliment Pharmacol Ther 35(9):1088–1096. https://doi.org/10.1111/j.1365-2036.2012.05040.x

Kaufman PN, Krevsky B, Malmud LS, Maurer AH, Somers MB, Siegel JA, Fisher RS (1998) Role of opiate receptors in the regulation of colonic transit. Gastroenterology 94(6):1351–1356. https://doi.org/10.1016/0016-5085(88)90673-7

Bouras EP, Talley NJ, Camilleri M, Burton DD, Heckman MG, Crook JE, Richelson E (2008) Effects of amitriptyline on gastric sensorimotor function and postprandial symptoms in healthy individuals: a randomized, double-blind, placebo-controlled trial. Am J Gastroenterol 103(8):2043–2050. https://doi.org/10.1111/j.1572-0241.2008.02021.x

Sakai T, Planinsic RM, Quinlan JJ, Handley LJ, Kim TY, Hilmi IA (2006) The incidence and outcome of perioperative pulmonary aspiration in a university hospital: a 4-year retrospective analysis. Anesth Analg 103(4):941–947. https://doi.org/10.1213/01.ane.0000237296.57941.e7

Warner MA, Warner ME, Weber JG (1993) Clinical significance of pulmonary aspiration during the perioperative period. Anesthesiology 78(1):56–62. https://doi.org/10.1097/00000542-199301000-00010

Benhamou D (2015) Ultrasound assessment of gastric contents in the perioperative period: why is this not part of our daily practice? Br J Anaesth 114(4):545–548. https://doi.org/10.1093/bja/aeu369

Meineri M, Bryson GL, Arellano R, Skubas N (2018) Core point-of-care ultrasound curriculum: what does every anesthesiologist need to know? Can J Anaesth 65(4):417–426. https://doi.org/10.1007/s12630-018-1063-9 (English)

Lucas DN, Elton CD (2016) Through a glass darkly – ultrasound imaging in obstetric anaesthesia. Anaesthesia 71(6):617–622. https://doi.org/10.1111/anae.13466

Manchikanti L, Colliver JA, Marrero TC, Roush JR (1985) Assessment of age-related acid aspiration risk factors in pediatric, adult, and geriatric patients. Anesth Analg 64(1):11–17

Kaydu A, Gokcek E (2018) Preoperative assessment of ultrasonographic measurement of antral area for gastric content. Med SciMonit 24:5542–5548. https://doi.org/10.12659/MSM.908520

Harter RL, Kelly WB, Kramer MG, Perez CE, Dzwonczyk RR (1998) A comparison of the volume and pH of gastric contents of obese and lean surgical patients. Anesth Analg 86(1):147–152. https://doi.org/10.1097/00000539-199801000-00030

Sharma S, Deo AS, Raman P (2018) Effectiveness of standard fasting guidelines as assessed by gastric ultrasound examination: a clinical audit. Indian J Anaesth 62(10):747–752. https://doi.org/10.4103/ija.IJA_54_18

Dupont G, Gavory J, Lambert P, Tsekouras N, Barbe N, Presles E, Bouvet L, Molliex S (2017) Ultrasonographic gastric volume before unplanned surgery. Anaesthesia 72(9):1112–1116. https://doi.org/10.1111/anae.13963

Sabry R, Hasanin A, Refaat S, Abdel Raouf S, Abdallah AS, Helmy N (2019) Evaluation of gastric residual volume in fasting diabetic patients using gastric ultrasound. Acta Anaesthesiol Scand 63(5):615–619. https://doi.org/10.1111/aas.13315
Additional information
Publisher's Note
Springer Nature remains neutral with regard to jurisdictional claims in published maps and institutional affiliations.
About this article
Cite this article
Ambulkar, R., Manampadi, U., Bhosale, S. et al. Pre-induction Ultrasonographic Evaluation of Gastric Residual Volume in Elective Gastrointestinal Cancer Surgeries. Indian J Surg Oncol 12, 841–846 (2021). https://doi.org/10.1007/s13193-021-01456-9
Received:

Accepted:

Published:

Issue Date:

DOI: https://doi.org/10.1007/s13193-021-01456-9
Keywords
Aspiration

ERAS

Fasting

Gastric volume

Ultrasonography