Abstract
Ovarian cysts can be caused by endocrine disorders. Hypothyroidism causing ovarian cysts is an uncommon entity, but rarely does it cause an ovarian cyst which can mimic malignancy. We report three cases of ovarian masses which were referred to our institute suspecting malignancy. These patients on further evaluation were found to have severe hypothyroidism and started on thyroxine supplementation. There was dramatic symptomatic relief as well as resolution of the ovarian masses on subsequent imaging. Hypothyroidism should be considered in the differential diagnosis of bilateral multicystic adnexal masses to avoid inadvertent surgery.
This is a preview of subscription content,
to check access.
Access this article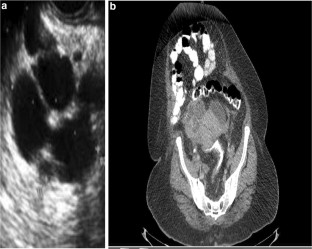 References
Van Wyk JJ, Grumbach MM (1960) Syndrome of precocious menstruation and galactorrhea in juvenile hypothyroidism: an example of hormonal overlap in pituitary feedback. J Pediatr 57:20

Yamashita Y, Kawamura T, Fujikawa R, Mochizuki H, Okubo M, Arita K (2001) Regression of both pituitary and ovarian cysts after administration of thyroid hormone in a case of primary hypothyroidism. Intern Med 40:751–755. https://doi.org/10.2169/internalmedicine.40.751

Hansen KA, Tho SP, Hanly M, Moretuzzo RW, McDonough PG (1997) Massive ovarian enlargement in primary hypothyroidism. Fertil Steril 67:169–171. https://doi.org/10.1016/S0015-0282(97)81876-6

Krassas GE, Poppe K, Glinoer D (2010) Thyroid function and human reproductive health. Endocr Rev 31(5):702–755

Shivaprasad KS, Dutta D, Jain R, Kumar M, Maisnam I, Biswas D et al (2013) Huge bilateral ovarian cysts in adulthood as the presenting feature of Van Wyk Grumbach syndrome due to chronic uncontrolled juvenile hypothyroidism. Indian J Endocr Metab 17:S164–S166

Ramesan C, Unnikrishnan E, Firoz Babu K (2016) Incidence of ovarian cyst in hypothyroidism: an institutional study. J Evid Based Med Healthc 3(78):4236–4241. https://doi.org/10.18410/jebmh/2016/902

Aghajanova L, Lindeberg M, Carlsson IB (2009) Receptors for thyroid stimulating hormone and thyroid hormones in human ovarian tissue. Reprod BioMed Online 18:337–347. https://doi.org/10.1016/S1472-6483(10)60091-0

Shu et al (2011) Ignored adult primary hypothyroidism presenting chiefly with persistent ovarian cysts: a need for increased awareness. Reprod Biol Endocrinol 9:119

Hashimoto T, Matsubara F (1989) Changes in the tumor marker concentration in female patients with hyper-, eu-, and hypothyroidism. Endocrinol Jpn 36:873–879
Additional information
Publisher's Note
Springer Nature remains neutral with regard to jurisdictional claims in published maps and institutional affiliations.
About this article
Cite this article
Tresa, A., Rema, P., Suchetha, S. et al. Hypothyroidism Presenting as Ovarian Cysts—a Case Series. Indian J Surg Oncol 12 (Suppl 2), 343–347 (2021). https://doi.org/10.1007/s13193-020-01263-8
Received:

Accepted:

Published:

Issue Date:

DOI: https://doi.org/10.1007/s13193-020-01263-8
Keywords