Abstract
Multiple gastrointestinal cancers in a single patient is a rare entity. In our study, we are showing the clinical presentation and management of these patients. A fifty-nine-year-old asthenic male (already treated case of metachronous colorectal cancer in 2008 and 2011) presented with complaints of generalized weakness and fatigue. Strong family history was present with two of his first-degree relatives having diagnosed with gastrointestinal cancer at the age < 50 years with one of them having stomach carcinoma and another with GEJ tumors. On evaluation, upper GI endoscopy revealed growth at cardia and endoscopic biopsy revealed adenocarcinoma. Radiological evaluation with PET-CT scan revealed proximal stomach growth with regional lymphadenopathy. Patient was optimized for surgery and underwent D2 total gastrectomy, distal pancreatectomy and splenectomy with Roux-en-Y oesophago-jejunal anastomosis. Pathological stage revealed pT4N2M0, moderately differentiated adenocarcinoma of proximal stomach, both distal and proximal cut margins negative for tumor, LVI present with no perineural invasion, and 5/18 lymph nodes dissected were positive for malignancy. Genetic testing needs to be considered in this patient (modified Bethesda guidelines and IGCLC criteria). Familial gastric cancer are of two types: (a) hereditary diffuse gastric cancer syndrome, (b) familial intestinal type gastric cancer. Approximately 5% of patients have germ-line mutations—AD LYNCH syndrome, hereditary breast-ovarian cancer, and polyposis and non-polyposis syndrome. Once diagnosed in localized advanced stage, the best treatment is R0 resection though overall prognosis in these patients is very poor. So it is rationale to find such families with elevated risk and to do active surveillance for early diagnosis and providing prophylactic gastrectomies to them as it has proven to be beneficial in hereditary form of gastric cancer.
This is a preview of subscription content, log in to check access.
Access options
Buy single article
Instant access to the full article PDF.
US$ 39.95
Price includes VAT for USA
Subscribe to journal
Immediate online access to all issues from 2019. Subscription will auto renew annually.
US$ 99
This is the net price. Taxes to be calculated in checkout.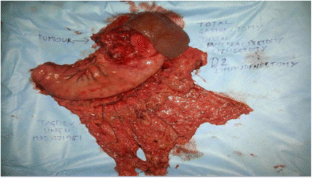 References
1.

Chun N, Ford JM (2014) Genetic testing in stomach cancer Devita, Hellman and Rosenberg's Cancer principles and practice of oncology;10th edn. Philadelphia, Lippincott Williams & Wilkins, 47:643–650

2.

Lauren P (1965) The two histological main types of gastric carcinoma: diffuse and so-called intestinal type carcinoma. An attempt at a histo-clinical classification. Acta Pathol Microbiol Scand 64:31–49

3.

Aarnio M, Salovaara R, Aaltonen LA et al (1997) Features of gastric cancer in hereditary non-polyposis colorectal cancer syndrome. Int J Cancer 74:551–555

4.

Garrean S, Hering J, Saied A et al (2008) Gastric adenocarcinoma arising from fundic gland polyps in a patient with familial adenomatous polypoidal syndrome. Amsurg 74:79–83

5.

Fitzgerald RC, Hardwick R, Huntsman D et al (2010) Hereditary diffuse gastric cancer: updated consensus guidelines for clinical management and directions for future research. J Med Genet 47:436–444

6.

Norton J, Ham C, Mam J et al (2007) CDH1 truncating mutations in the E-cadherin gene: an indication for total gastrectomy to treat hereditary diffuse gastric cancer. Ann Surg 45:873–879

7.

Huntsman DG, Carneiro F, Lewis FR et al (2001) Early gastric cancer in young, asymptomatic carriers of germ-line E-cadherin mutations. N Engl J Med 344:1904–1909
About this article
Cite this article
Sahni, M., Goel, A., Pande, P. et al. Multiple Gastrointestinal Cancers in a Single Patient—a Rare Clinical Entity. Indian J Surg Oncol 9, 633–635 (2018). https://doi.org/10.1007/s13193-018-0770-6
Received:

Accepted:

Published:

Issue Date:
Keywords
MSI

Multiple gastrointestinal tract cancer

HDGS