Abstract
Malignant germ cell tumors (GCT) of the ovary account for 2–3% of all ovarian neoplasms and occur mostly in the second and third decade of life. Over the past three decades, survival rates for germ cell tumors have dramatically improved, coincident with more aggressive surgical staging and combination chemotherapy. Although there are several studies describing ovarian GCT and fertility-preserving surgery in the western population, there is very little Indian data. We present our experience of germ cell tumor ovary in the Department of Surgical Oncology, King George's Medical University over the last 5 years with special emphasis on treatment outcome and role of fertility preservation surgery. A retrospective review of medical records of patients with ovarian germ cell tumors, treated at our center from January 2012 to December 2016, was performed. Epidemiological and clinical profile of patients was reviewed. Clinical stage of presentation, neoadjuvant treatment, surgical treatment, and adjuvant treatment data were analyzed, and treatment outcome data was recorded. Patient follow-up was done to ascertain disease-free interval, treatment outcome, ability to conceive following fertility-preserving surgery, and quality of life. A total of 39 patients with ovarian germ cell tumor were treated during this period. Their median age at diagnosis was 22 years (range 11–65 years) and most common mode of presentation was abdominal lump without ascites. Around 36.8% (n = 14) patients had conservative surgery with preservation of opposite ovary and uterus. Most patients (71.1% n = 27) received neoadjuvant chemotherapy due to advanced disease in form of ascites or large mass, and five of these patients were amenable to fertility-preserving surgery after chemotherapy. Nine out of the fourteen patients have had return of menstrual function after a mean period of 3.5 + 0.5 months. One patient who underwent fertility-preserving surgery has delivered healthy children after treatment. Stage distribution for stage I to IV was as follows: 15.4% (n = 6), 35.9% (n = 14), 46.2% (n = 18), and 2.6% (n = 1), respectively. Dysgerminoma was the commonest histology (37.1% n = 13) followed by teratoma (22.9% n = 8). 17.1% (n = 6) patients had recurrence, with a median time to recurrence 16 months (range 5.5 to 37 months) and they were treated with second-line chemotherapy. Germ cell tumor of the ovary is an eminently treatable disease and selected patients can be managed with fertility-preserving surgery. BEP is the most effective chemotherapy regimen. Disease-free survival rates in these patients are quite high and recurrences can be managed with second-line chemotherapy.
Access options
Buy single article
Instant access to the full article PDF.
US$ 39.95
Tax calculation will be finalised during checkout.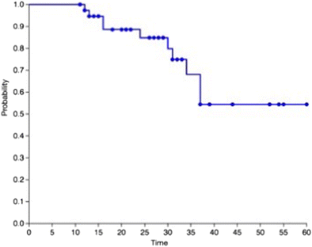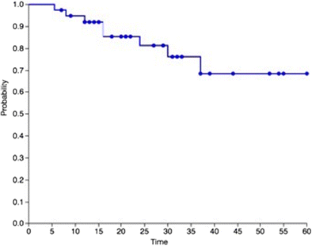 References
1.

Quirk JT, Natarajan N (2005) Ovarian cancer incidence in the United State, 1992-1999. Gynecol Oncol 97(2):519–523

2.

Smith HO, Berwick M, Verschraegen CF, Wiggins C, Lansing L, Muller CY, Qualis CR (2006) Incidence and survival rates for female malignant germ cell tumors. Obstet Gynecol 107(5):1075–1085

3.

Downey J, McKinney M (1992) The psychiatric status of women presenting for infertility evaluation. Am J Orthop 62:196–198

4.

Zanetta G, Bonazzi C, Cantu M, Binidagger S, Locatelli A, Bratina G, Mangioni C (2001) Survival and reproductive function after treatment of malignant germ cell ovarian tumors. J Clin Oncol 19(4):1015–1020

5.

Maheshwari A, Gupta S, Parikh PM, Tongaonkar HB (2004) Malignant germ cell tumor ovary—experience at Tata Memorial Hospital. Indian J Med Paediatr Oncol 25(1):43

6.

Gershenson DM, Morris M, Cangir A, Kavanagh JJ, Stringer CA, Edwards CL, Silva EG, Wharton JT (1990) Treatment of malignant germ cell tumors of the ovary with bleomycin, etoposide and cisplatin. J Clin Oncol 8(4):715–720

7.

De Wit R, Roberts JT et al (2001) Equivalence of three or four cycles of bleomycin, etoposide and cisplatin combination therapy and of a 3 or 5 day schedule in good prognosis germ cell cancer: a randomized study of the European Organization for Research and Treatment of Cancer Genitourinary Tract Cancer Cooperative Group and the Medical Research Council. J Clin Oncol 19(6):1629–1640

8.

Saxman SB, Finch D, Gonin R, Einhorn LH (1998) Long term follow up of a phase III study of three versus four cycles of bleomycin, etoposide and cisplatin in favourable prognosis germ cell tumors: the Indian University experience. J Clin Oncol 16(2):702–706

9.

Culine S, Lhomme C, Kattan J, Michel G, Duvillard P, Droz JP (1997) Cisplatin based chemotherapy in the management of germ cell tumors of the ovary: the Institut Gustave Roussy Experience. Gynecol Oncol 64(1):160–165

10.

Perrin LC, Low J, Nicklin JL Ward BG, Crandon AJ (1999) Fertility and ovarian function after conservative surgery for germ cell tumors of the ovary. Aust N Z J Obstet Gynecol 39(2):243–245

11.

Ezzat A, Raja M, Bakri Y, Subhi J, Memon M, Schwartz P, Stuart R (1999) Malignant ovarian germ cell tumors: a survival and prognostic analysis. Acta Oncol 38(4):455–460

12.

Brewer M, Gerhenson DM, Herzog CE Mitchell MF, Silva EG, Wharton JT (1999) Outcomes and reproductive function after chemotherapy for ovarian dysgerminoma. J Clin Oncol 17(9):2670–2675

13.

Gershenson DM (1988) Menstrual and reproductive function after treatment with combination chemotherapy for malignant ovarian germ cell tumors. J Clin Oncol 6(2):270–275
About this article
Cite this article
Lakshmanan, M., Gupta, S., Kumar, V. et al. Germ Cell Tumor Ovary: an Institutional Experience of Treatment and Survival Outcomes. Indian J Surg Oncol 9, 215–219 (2018). https://doi.org/10.1007/s13193-018-0742-x
Received:

Accepted:

Published:

Issue Date:
Keywords
Germ cell tumors (GCT)

Fertility-preserving surgery

Neoadjuvant

Chemotherapy