Abstract
Rising incidence of cancer coupled with lack of structured oncology teaching in the undergraduate (UG) medical curriculum could be detrimental by generating unmet needs in the proper care of cancer patients in the future. To determine the orientation amongst undergraduate medical students regarding Oncology as a specialization and future career option, a cross-sectional, single institutional study was conducted amongst 950 undergraduate students by using an online survey over 2 months. The perception of the subject of Oncology as a career option and the opinion regarding the need for inclusion in the undergraduate curriculum were assessed. Students themselves or those with first-degree relatives as cancer survivors were excluded. A total of 317 responses (33.4%) met the inclusion criteria. Majority were MBBS students from semesters 6 to 9. Even though students ranked the future prospect of Oncology 7.5 on 10, only 6% of the respondents actually wanted to pursue it as a career option stating high mortality amongst cancer patients (63.6%) and emotional burnout (49.7%) as the primary limitations. On a brighter note, better job opportunity due to increasing global cancer incidence (61%) and opportunity for research (42.8%) were thought to be the promising features of the specialization. Majority (51.3%) wanted the inclusion of Oncology in the undergraduate curriculum. Due to limited exposure in the undergraduate curriculum, there is a lack of knowledge and interest regarding the scope of Oncology as a future career option. We therefore advocate revision of the undergraduate curriculum to include Oncology.
This is a preview of subscription content, log in to check access.
Access options
Buy single article
Instant access to the full article PDF.
US$ 39.95
Price includes VAT for USA
Subscribe to journal
Immediate online access to all issues from 2019. Subscription will auto renew annually.
US$ 99
This is the net price. Taxes to be calculated in checkout.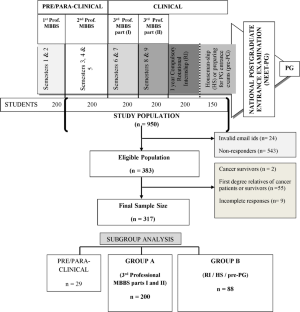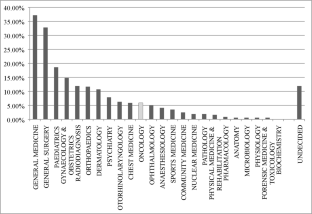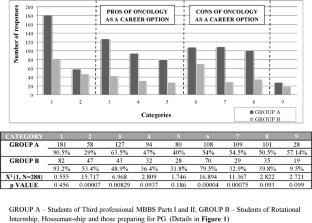 Data Availability
The data that support the findings of this study are available from the corresponding author upon reasonable request.
References
1.

Anand R, Sankaran R (2019) Factors influencing the career preferences of medical students and interns: a cross-sectional, questionnaire-based survey from India. J Educ Eval Health Prof 16:12

2.

Sharma DN, Rath GK, Parashar A, Singh P (2010) Survey of undergraduate medical students on their understanding and attitude towards the discipline of radiotherapy. J Can Res Ther 6:11–14

3.

Faivre JC, Bibault JE, Bellesoeur A et al (2018) Choosing a career in oncology: results of a nationwide cross-sectional study. BMC Med Educ 18:15

4.

Tattersall MH, Langlands AO, Simpson JS et al (1988) Undergraduate education about cancer: a survey in Australian medical schools. Eur J Cancer Clin Oncol 24:467–471

5.

Karamouzis MV, Ifanti AA, Iconomou G, Vagenakis A, Kalofonos H (2006) Medical students' views of undergraduate oncology education: a comparative study. Educ Health (Abingdon) 19(1):61–70

6.

Amgad M, Shash E, Gaafar R (2010) Cancer education for medical students in developing countries: where do we stand and how to improve? Crit Rev Onc Hemat 84:122–129

7.

McRae R (2016) Oncology education in medical schools: towards an approach that reflects Australia's health care needs. J Cancer Educ 31(4):621–625

8.

Biswal BM, Zakaria A, Baba AA, Ja'afar R (2004) Assessment of knowledge, attitude and exposure to oncology and palliative care in undergraduate medical students. Med J Malays 59(1):78–83

9.

Villarreal-Garza C, García-Aceituno L, Villa AR, Perfecto-Arroyo M, Rojas-Flores M, León-Rodríguez E (2010) Knowledge about cancer screening among medical students and internal medicine residents in Mexico City. J Cancer Educ 25:624–631

10.

Sadhu S, Salins NS, Kamath A (2010) Palliative care awareness among Indian undergraduate health care students: a needs-assessment study to determine incorporation of palliative care education in undergraduate medical, nursing and allied health education. Indian J Palliat Care 16:154–159

11.

Gupta V, Kumar S, Shukla A, Kumar S, Kumar S (2007) End-of-life care of terminally ill geriatric cancer patients in northern India. Natl Med J India 20(2):74–77

12.

Venkateswaran C, Kumar TM (2006) Psycho-oncology in India: emerging trends from Kerala. Indian J Palliat Care 12:34–38

13.

https://docs.google.com/forms/d/e/1FAIpQLSeBCTf0Dh_WfOZHoRq9sRaTVAm0puzvKH3_lPTpQNQTQbbnGQ/viewform?usp=sf_link ; Last accessed 9th of May, 2020

14.

Ha FJ, Parakh S (2018) Novel approaches to undergraduate oncology education. J Cancer Educ 33(3):500–504

15.

Sayan M, Ohri N, Lee A et al (2019) The impact of formal mentorship programs on mentorship experience among radiation oncology residents from the northeast. Front Oncol 9:1369

16.

Cohen RE, Ruckdeschel JC, Blanchard CG et al (1982) Attitudes towards cancer: a comparative analysis of cancer patients, medical students, medical residents, physicians and cancer educators. Cancer 50:1218–1223

17.

Klein S, Tracy D, Kitchener HC et al (1999) The effects of the participation of patients with cancer in teaching communication skills to medical undergraduates: a randomised study with follow-up after 2 years. Eur J Cancer 36:273–281

18.

DeVries J, Szabo BG, Sleijfer DT (2002) The educational yield of the international summer school "Oncology for Medical Students". J Cancer Educ 17:115–120

19.

Daruvala R, Ghosh M, Fratazzi F et al (2019) Emotional exhaustion in cancer clinicians: a mixed methods exploration. Ind J Med Paediat Oncol 40:111–120

20.

Tang L, Pang Y, He Y, Chen Z, Leng JH (2018) Burnout among early career oncology professionals and the risk factors. Psycho-oncology 27(10):2436–2441

21.

Corrigan L, O'Leary C, Kroes J et al (2020) Professional burnout, work patterns and career satisfaction in medical oncologists in Ireland. Ir J Med Sci 189(2):711–718

22.

Jazieh AR, Henle K, Deloney LA, Savidge M, Fulper-Smith M, Nicholas R (2001) The impact of a cancer education program on the knowledge base of participating students. J Cancer Educ 16:8–11

23.

Besa EC, Nieman LZ, Joseph RR (1995) Interactive computer-based programs for a cancer learning center. J Cancer Educ 10:137–140

24.

Fukuchi SG, Offutt LA, Sacks J, Mann BD (2000) Teaching a multidisciplinary approach to cancer treatment during surgical clerkship via an interactive board game. Am J Surg 179:337–340

25.

Gaffan J, Dacre J, Jones A (2006) Educating undergraduate medical students about oncology: a literature review. J Clin Oncol 24:1932–1939
Ethics declarations
Conflicts of Interest
The authors declare that they have no conflict of interest.
Ethical Approval
The protocol was submitted and duly approved by the Institutional Ethical Committee. The approval reference number is RKC/2017 dated 15.09.2019. The document shall be made available on request.
Consent to Participate
No intervention was carried out on human subjects during conduct of this study.
This was an online study and the questionnaire clearly mentioned that "By answering this survey you will have given consent for future analysis of your response by the researchers. However, note that all the responses are anonymous and cannot be traced back to the participant".
Consent for Publication
We hereby agree to assign and transfer necessary rights for publication of this manuscript to the Journal. We also declare that the contents of this manuscript have not been published or submitted for publication elsewhere, except as a brief abstract in the proceedings of a scientific meeting—The Annual State Conference of the Association of Radiation Oncologists of India West Bengal chapter (AROI WB) 2020, held at Kolkata, India.
Additional information
Publisher's Note
Springer Nature remains neutral with regard to jurisdictional claims in published maps and institutional affiliations.
About this article
Cite this article
Roy, P., Basu, A., Samaddar, D. et al. Perception of Oncology Evaluated by Medical Students (P.O.E.M.S)—a Single Institutional Study. J Canc Educ (2020). https://doi.org/10.1007/s13187-020-01872-5
Keywords
Oncology

Perception

Undergraduate

Medical students

Cancer

Education