Abstract
Online educational resources have an impact on patient understanding, opinion, and behavior. More colorectal cancer patients are being diagnosed and using the internet to search for information. This study aims to provide the most in-depth and comprehensive examination of online colorectal resources to date. An internet search using the terms "colorectal cancer," "colon cancer," and "rectal cancer" were performed, with meta-search engines "Dogpile," "Yippy," and "Google." A total of 741, 759, and 703 websites were returned by the search engines respectively. A list of the "top 100 websites" was compiled by placing the sites in average rank order. The websites were evaluated using a validated structured rating tool. Inter-rater reliability was evaluated using kappa statistics, and the results were analyzed using descriptive statistics. Website affiliations were 40% commercial and 35% from non-profit organizations. Most websites disclosed ownership (93%) and had no apparent bias (94%). Authorship disclosure was poor (17%). Most sites were interactive (84%) and organized (70% with at least 4/5 features). Readability was at a senior high school level on average. Content coverage and accuracy were the highest in the areas of etiology (96% coverage) and symptoms (95% coverage) and lowest in areas of treatment (72% coverage) and prognosis (43% coverage).
Colorectal cancer online information can be improved in accountability, readability, content accuracy, and completeness. Author disclosure, more accurate and updated citations, and a lower grade level of readability are needed. More complete and accurate information are needed, especially in the areas of treatment and prognosis.
This is a preview of subscription content,
to check access.
Access this article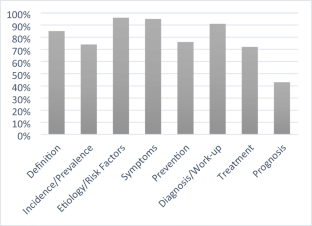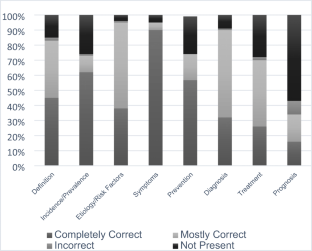 Similar content being viewed by others
References
Fox S and Duggan M. (2013). Health online 2013 pew research center. A National survey by the Pew Research Center's Internet & American Life Project. http://www.pewinternet.org/2013/01/15/health-online-2013. Accessed 15 July 2017

(2010) A decade of change in health information technologies and patient engagement. https://hints.cancer.gov/docs/Briefs/HINTS_Brief_16.pdf. Accessed 15 July 2017

Iverson S, Howard BK, Penney KB (2008) Impact of internet use on health-related behaviors and the patient-physician relationship: a survey-based study and review. J Am Osteopath Assoc 108(12):699–711

Ziebland S, Wyke S (2012) Health and illness in a connected world: how might sharing experiences on the internet affect people's health? Millbank Q 90(2):219–249

Lee C-j, Gray SW, Lewis N (2010) Internet use leads cancer patients to be active health care consumers. Patient Educ Couns 81(0):S63–S69

Nguyen, Anh SK, Ingledew PA (2013) Tangled in the breast cancer web: an evaluation of the usage of web-based information resources by breast cancer patients. J Cancer Educ 28:662–668

Hamilton SN, Scali EP, Yu I, Gusnowski E, Ingledew PA (2014) Sifting through it all: characterizing melanoma patients utilization of the internet as an information source. J Cancer Educ 30:580–584

McLeod J, Yu I, Ingledew PA (2017) Peering into the deep: characterizing the internet search patterns of patients with gynecologic cancers. J Cancer Educ 32:85–90

Groot D, Lauren IH, Regehr G, Tekian A, Ingledew P-A (2017) Quality of online resources for pancreatic cancer patients. J Cancer Educ 34:223–228

Canadian Cancer Statistics. 2019. http://www.cancer.ca/en/cancer-information/cancer-type/colorectal/statistics. Accessed 09 Dec 2019

American Cancer Society Key Statistics for Colorectal Cancer. 2019. http://www.cancer.org/cancer/colon-rectal-cancer/about/key-statistics.html. Accessed 9 Dec 2019

Metzger MJ (2007) Making sense of credibility on the web: models for evaluating online information and recommendations for future research. J Am Soc Inf Sci Technol 58(13):2078–2091

Kim K-S, Sin S-CJ (2011) Selecting quality sources: bridging the gap between the perception and use of information sources. J Inf Sci 37(2):178–188

Tate MA (2018) How to evaluate and create information quality on the web. CRC Press, Boca Raton

Al-Bahrani A, Plusa S (2004) The quality of patient-orientated internet information on colorectal cancer. Color Dis 6(5):323–326

Sajid M (2011) Information on the internet about colorectal cancer: patient attitude and potential toward web browsing. A prospective observational study. Can J Surg 54(5):339–343

John E, John A, Hansberry D, Thomas P, Agarwal P, Deitch C, Chokhavatia S (2016) Colorectal cancer screening patient education materials—how effective is online health information? Int J Color Dis 31(12):1817–1824

Tian C, Champlin S, Mackert M, Lazard A, Agrawal D (2014) Readability, suitability, and health content assessment of web-based patient education materials on colorectal cancer screening. Gastrointest Endosc 80(2):284–290

Wasserman M, Baxter NN, Rosen B, Burnstein M, Halverson AL (2014) Systematic review of internet patient information. Dis Colon Rectum 57(1):64–69

Grewal P, Alagaratnam S (2013) The quality and readability of colorectal cancer information on the internet. Int J Surg 11(5):410–413

Ingledew P-A, Regehr G, Tekian A, and Harris I. (2015). Navigating the internet in patient physician collaboration (Master's thesis). UIC. http://hdl.handle.net/10027/19489. Accessed 7 Jul 2020

Health on the Net: HONcode Site Evaluation Form. (2017). https://www.hon.ch/en. Accessed 7 Jul 2020

Silberg B (1997) Assessing, controlling, and assuring the of medical information on the internet quality. JAMA 277:1244–1245

Jadad AR, Gagliardi A (1998) Rating health information on the internet: navigating to knowledge or to babel? JAMA 279:611–614. https://doi.org/10.1001/jama.279.8.611

Charnock D, Shepperd S, Needham G, Gann R (1999) DISCERN: an instrument for judging the quality of written consumer health information on treatment choices. J Epidemiol Community Health 53:105–111

Abbott VP (2000) Web page quality: can we measure it and what do we find? A report of exploratory findings. J Public Health Med 22:191–197

Kisely S, Ong G, Takyar A (2003) A survey of the quality of web based information on the treatment of schizophrenia and attention deficit hyperactivity disorder. Aust N Z J Psychiatry 37:85–91

Cohen J (1960) A coefficient of agreement for nominal scales. Educational and psychological measurement. Educ Psychol Meas 20:37–46

Rankin G, Stokes M (1998) Reliability of assessment tools in rehabilitation: an illustration of appropriate statistical analyses. Clin Rehabil 12(3):187–199

Viera AJ, Garrett JM (2005) Understanding interobserver agreement: the kappa statistic. Fam Med 37(5):360–363

Sagaram S, Walji M, Meric-Bernstam F, Johnson C, Bernstam E (2004) Inter-observer agreement for quality measures applied to online health information. Stud Health Technol Inform 107(2):1308–1312

Gusnowski E, Ingledew P-A (2013) Quality of online resources for colorectal cancer patients. J Investig Med 61:141–141

Moretti FA, de Oliveira VE, da Silva Edina MK (2012) Access to health information on the internet: a public health issue? Revista Da Associação Médica Brasileira 58(6):650–658

Tonsaker T, Bartlett G, Trpkov C (2014) Health information on the internet gold mine or minefield? Can Fam Physician 60:407–408

Akerkar S, Bichile LS (2004) Doctor patient relationship: changing dynamics in the information age. J Postgrad Med 50(2):120–122

Roberts J, Copeland K (2001) Clinical websites are currently dangerous to health. Int J Med Inform 62(2–3):181–187

Murray E, Lo B, Pollack L, Donelan K, Lee K (2003) Direct-to-consumer advertising: physicians' views of its effects on quality of care and the doctor-patient relationship. J Am Board Family Med 16(6):513–524

Alpert J (2006) Online buyers beware: a warning for physicians and patients. Am J Med 119(8):623

Hart A, Henwood F, Wyatt S (2004) The role of the internet in patient-practitioner relationships: findings from a qualitative research study. J Med Internet Res 6(3):e36

Bader JL, Theofanos MF (2003) Searching for cancer information on the internet: analyzing natural language search queries. J Med Internet Res 5:e31

Black PC, Penson DF (2006) Prostate cancer on the internet-information or misinformation? J Urol 175:1836–1842

Tangri V, Chande N (2011) Quality of internet-based information on gastrointestinal diseases. Can J Gastroenterol 25(2):93–96

Ilic D, Risbridger G, Green S (2004) Searching the internet for information on prostate cancer screening: an assessment of quality. Urology 64(1):112–116

Loiselle CG (2009) The impact of a multimedia informational intervention on healthcare service use among women and men newly diagnosed with cancer. Cancer Nurs 32(1):37–44

Hart TL, Blacker S, Panjwani A, Torbit L, Evans M (2015) Development of multimedia informational tools for breast cancer patient with low levels of health literacy. Patient Educ Couns 98(3):370–377

Bol N, Smets E, Eddes E, de Haes J, Loos E, van Weert J (2015) Illustrations enhance older colorectal cancer patients' website satisfaction and recall of online cancer information. Eur J Cancer Care 24(2):213–223

Murray T Scott, SJ, Willms D, Shillington R, McCracken M, & Glickman V (2008). Reading the future: planning to meet Canada's future literacy needs. Www.Ccl-Cca.Ca l3

Scott Murray T, DataAngel Policy Research Inc. Stan Jones, Literacy Researcher Doug Willms, KSI Research International Inc. Richard Shillington and Mike McCracken. Canadian Council on Learning. http://www.dataangel.ca/docs/ReadingtheFuture2008.pdf Accessed 15 July 2017

Schreuders EH, Grobbee EJ, Kuipers EJ, Spaander MCW, Veldhuyzen van Zanten SJO (2017) Variable quality and readability of patient-oriented websites on colorectal cancer screening. Clin Gastroenterol Hepatol 15:79–85

Cochrane ZR, Gregory P, Wilson A (2012) Readability of consumer health information on the internet: a comparison of U.S. government-funded and commercially funded websites. J Health Commun 17:1003–1010

Chang KL, Grubbs EG, and Ingledew P-A. (2019). An analysis of the quality of thyroid cancer websites. Endocrine Practice. https://journals.aace.com/doi/pdf/10.4158/EP-2018-0595 454

Storino A, Castillo-Angeles M, Watkins AA, Vargas C, Mancias JD, Bullock A, Demirjian A et al (2016) Assessing the accuracy and readability of online health information for patients with pancreatic cancer. JAMA Surg 192:841–845

Friedman D, Hoffman-Goetz L, Arocha J (2006) Health literacy and the world wide web: comparing the readability of leading incident cancers on the internet. Med Inform Internet Med 31(1):67–87
Additional information
Publisher's Note
Springer Nature remains neutral with regard to jurisdictional claims in published maps and institutional affiliations.
About this article
Cite this article
Wang, L., Gusnowski, E.M. & Ingledew, PA. Digesting the Contents: an Analysis of Online Colorectal Cancer Education Websites. J Canc Educ 37, 263–273 (2022). https://doi.org/10.1007/s13187-020-01864-5
Accepted:

Published:

Issue Date:

DOI: https://doi.org/10.1007/s13187-020-01864-5
Keywords