Abstract
As cigarette use rates decline among adolescents and young adults, public health officials face new challenges with high use of non-cigarette tobacco products (NCTPs). Online tobacco education is a potential solution to discourage use, yet limited information is available for how online media should look and function. This study aims to fill this gap by conducting focus group interviews to identify adolescents and young adults' aesthetic and functionality preferences for online tobacco education (phase 1) followed by interviews to assess a NCTP education website developed (phase 2). We found preferences for use of font and colors to highlight tobacco information in organized designs. Interactive features (quizzes) motivated engagement, and participants desired responsive designs that function similarly across devices. Public health researchers and educators should apply aesthetic and functionality preferences to reduce NCTP use and help create a tobacco-free future for youth.
This is a preview of subscription content, log in to check access.
Access options
Buy single article
Instant access to the full article PDF.
US$ 39.95
Tax calculation will be finalised during checkout.
Subscribe to journal
Immediate online access to all issues from 2019. Subscription will auto renew annually.
US$ 99
Tax calculation will be finalised during checkout.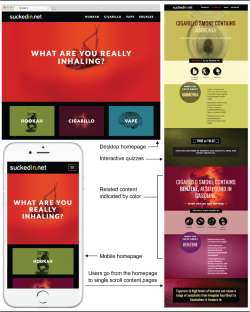 References
1.

Singh T, Arrazola R, Corey CG et al (2016) Tobacco use among middle and high school students—United States, 2011–2015. Morb Mortal Wkly Rep 65:361–367

2.

Cornacchione J, Wagoner KG, Wiseman KD, Kelley D, Noar SM, Smith MH, Sutfin EL (2016) Adolescent and young adult perceptions of hookah and little cigars/cigarillos: implications for risk messages. J Health Commun 21:818–825

3.

Wagoner KG, Cornacchione J, Wiseman KD, Teal R, Moracco KE, Sutfin EL (2016) E-cigarettes, hookah pens and vapes: adolescent and young adult perceptions of electronic nicotine delivery systems. Nicotine Tob Res 18:2006–2012

4.

Montazeri Z, Nyiraneza C, El-Katerji H et al (2017) Waterpipe smoking and cancer: systematic review and meta-analysis. Tob Control 26:92–97

5.

Pisinger C, Døssing M (2014) A systematic review of health effects of electronic cigarettes. Prev Med 69:248–260

6.

Chang CM, Corey CG, Rostron BL, Apelberg BJ (2015) Systematic review of cigar smoking and all cause and smoking related mortality. BMC Public Health 15:390

7.

Pew Research Center. 2018. Mobile fact sheet. February 5, 2018; Available from: http://www.pewinternet.org/fact-sheet/mobile/. Accessed 20 Oct 2018

8.

Lindgaard G, Fernandes G, Dudek C, Brown J (2006) Attention web designers: you have 50 milliseconds to make a good first impression! Behav Inform Technol 25:115–126

9.

Sillence E, Briggs P, Harris P, Fishwick L (2007) Going online for health advice: changes in usage and trust practices over the last five years. Interact Comput 19:397–406

10.

Palmer JW (2002) Web site usability, design, and performance metrics. Inf Syst Res 13:151–167

11.

Seo K-K, Lee S, Chung BD, Park C (2015) Users' emotional valence, arousal, and engagement based on perceived usability and aesthetics for web sites. Int J Hum Comput Interact 31:72–87

12.

Eysenbach G (2005) Design and evaluation of consumer health information web sites. In: Consumer health informatics. Springer, New York, pp 34–60

13.

Webster J, Ahuja JS (2006) Enhancing the design of web navigation systems: the influence of user disorientation on engagement and performance. MIS Q 30:661–678

14.

Yu N, Kong J (2016) User experience with web browsing on small screens: experimental investigations of mobile-page interface design and homepage design for news websites. Inf Sci 330:427–443

15.

King, BA, Patel, R, Nguyen, K, et al. 2014. Trends in awareness and use of electronic cigarettes among US adults, 2010-2013. Nicotine & Tobacco Research ntu191

16.

Pierce JP, Choi WS, Gilpin EA, Farkas AJ, Merritt RK (1996) Validation of susceptibility as a predictor of which adolescents take up smoking in the United States. Health Psychol 15:355–361

17.

Duke JC, Alexander TN, Zhao X, Delahanty JC, Allen JA, MacMonegle AJ, Farrelly MC (2015) Youth's awareness of and reactions to the real cost national tobacco public education campaign. PLoS One 10:e0144827

18.

Farrelly MC, Davis KC, Duke J, Messeri P (2009) Sustaining 'truth': changes in youth tobacco attitudes and smoking intentions after 3 years of a national antismoking campaign. Health Educ Res 24:42–48

19.

Thomas DR (2006) A general inductive approach for analyzing qualitative evaluation data. Am J Eval 27:237–246

20.

Moshagen M, Thielsch MT (2010) Facets of visual aesthetics. Int J Hum Comput Stud 68:689–709

21.

Lazard AJ, Mackert M (2015) E-health first impressions and visual evaluations: key design principles for attention and appeal. Commun Des Quart 3:25–34

22.

Nielsen, J. 2003. The ten most violated homepage design guidelines. Available from: http://www.nngroup.com/articles/most-violated-homepage-guidelines/

23.

Minear M, Brasher F, McCurdy M, Lewis J, Younggren A (2013) Working memory, fluid intelligence, and impulsiveness in heavy media multitaskers. Psychon Bull Rev 20:1274–1281

24.

Seckler M, Opwis K, Tuch AN (2015) Linking objective design factors with subjective aesthetics: an experimental study on how structure and color of websites affect the facets of users' visual aesthetic perception. Comput Hum Behav 49:375–389

25.

Richardson RT, Drexler TL, Delparte DM (2014) Color and contrast in E-learning design: a review of the literature and recommendations for instructional designers and web developers. J Online Learn Teac 10:657–669

26.

Ralph BC, Thomson DR, Cheyne JA et al (2014) Media multitasking and failures of attention in everyday life. Psychol Res 78:661–669

27.

Juni S, Gross JS (2008) Emotional and persuasive perception of fonts. Percept Mot Skills 106:35–42

28.

Brumberger E (2003) The rhetoric of typography: the persona of typeface and text. Tech Commun 50:206–223

29.

Anderson, J and Rainie, L. 2012. Main findings: teens, technology, and human potential in 2020. Available from: http://www.pewinternet.org/2012/02/29/main-findings-teens-technology-and-human-potential-in-2020/. Accessed 20 Oct 2018

30.

Scacco JM, Muddiman A, Stroud NJ (2016) The influence of online quizzes on the acquisition of public affairs knowledge. J Inform Tech Polit 13:311–325

31.

Lustria MLA (2007) Can interactivity make a difference? Effects of interactivity on the comprehension of and attitudes toward online health content. J Assoc Inf Sci Technol 58:766–776

32.

Ancker JS, Chan C, Kukafka R (2009) Interactive graphics for expressing health risks: development and qualitative evaluation. J Health Commun 14:461–475

33.

Oh J, Sundar SS (2015) How does interactivity persuade? An experimental test of interactivity on cognitive absorption, elaboration, and attitudes. J Commun 65:213–236

34.

McCleary-Sills JD, Villanti A, Rosario E, Bone L, Stillman F (2010) Influences on tobacco use among urban Hispanic young adults in Baltimore: findings from a qualitative study. Prog Community Health Partnersh 4:289–297

35.

Hou S-I, Cao X (2018) A systematic review of promising strategies of faith-based cancer education and lifestyle interventions among racial/ethnic minority groups. J Cancer Educ 33:1161–1175

36.

Sanders J, Munford R (2017) Hidden in plain view: finding and enhancing the participation of marginalized young people in research. Int J Qual Methods 16(1):–12 160940691770476

37.

Ewing A, Thompson N, Ricks-Santi L (2015) Strategies for enrollment of African Americans into cancer genetic studies. J Cancer Educ 30:108–115

38.

Rait MA, Prochaska JJ, Rubinstein ML (2015) Recruitment of adolescents for a smoking study: use of traditional strategies and social media. Transl Behav Med 5:254–259

39.

Diviak KR, Wahi S, O'Keefe J et al (2006) Recruitment and retention of adolescents in a smoking trajectory study: who participates and lessons learned. Subst Use Misuse 41:175–182

40.

Unger JB, Cabassa L, Molina G et al (2000) English language use as a risk factor for smoking initiation among Hispanic and Asian American adolescents: evidence for mediation by tobacco-related beliefs and social norms. Health Psychol 19:403–410
Funding
Research reported in this publication was supported by P50CA180907 from the National Cancer Institute and FDA Center for Tobacco Products (CTP). The content is solely the responsibility of the authors and does not necessarily represent the official views of the NIH or the Food and Drug Administration.
Ethics declarations
This study was approved by [the University of North Carolina] IRB.
Additional information
Publisher's Note
Springer Nature remains neutral with regard to jurisdictional claims in published maps and institutional affiliations.
About this article
Cite this article
Lazard, A.J., Pikowski, J., Horrell, L. et al. Adolescents' and Young Adults' Aesthetics and Functionality Preferences for Online Tobacco Education. J Canc Educ 35, 373–379 (2020). https://doi.org/10.1007/s13187-019-1475-4
Keywords
eHealth

Tobacco prevention and control

Health communication

Health promotion

User experience