Abstract
Disparities in cancer screening and care in rural communities warrant the need to determine effective ways to reach, engage, and educate the community residents. The purpose of this cross-sectional study was to pilot methods to engage rural residents in colorectal cancer (CRC) research and education activities and assess knowledge of CRC guidelines, symptoms, and screening behaviors in this sample. The community-engaged research approach was employed to develop and distribute a CRC knowledge and screening behavior assessment using various methods such as email and community drop boxes placed throughout the community. Bivariate analysis assessed the relationship between age and CRC knowledge items. Three hundred ninety-one surveys were returned with most received from community drop boxes (60%) followed by educational events (23%). The most ineffective method to distribute surveys was through community events. Most individuals were knowledgeable of CRC symptoms (70%) and screening facts (67%). Bivariate analysis showed that individuals 50 years or older had significantly more knowledge of CRC risks and screening than those under the age of 50. This study highlights the potential of community drop boxes as an effective method for engaging rural communities. Further, findings from the survey highlight the need to focus CRC education on younger individuals in which CRC incidence has increased.
Access options
Buy single article
Instant access to the full article PDF.
USD 39.95
Price includes VAT (USA)
Tax calculation will be finalised during checkout.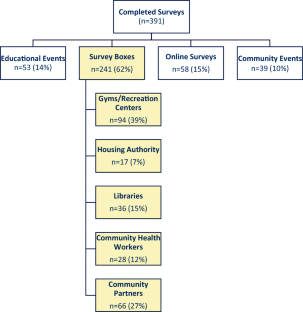 References
1.

Zahnd WE, James AS, Jenkins WD, Izadi SR, Fogleman AJ, Steward DE, Colditz GA, Brard L (2017) Rural-urban differences in cancer incidence and trends in the United States. Cancer Epidemiol Biomark Prev

2.

Liang PS, Mayer JD, Wakefield J, Ko CW (2017) Temporal trends in geographic and sociodemographic disparities in colorectal cancer among medicare patients, 1973–2010. J Rural Health 33(4):361–370

3.

Henley SJ, Anderson RN, Thomas CC, Massetti GM, Peaker B, Richardson LC (2017) Invasive cancer incidence, 2004–2013, and deaths, 2006–2015, in nonmetropolitan and metropolitan counties - United States. MMWR Surveill Summ 66(14):1–13

4.

Wender RC: Barriers to screening for colorectal cancer. Gastrointestinal endoscopy clinics of North America 2002, 12(1052-5157; 1):145-170.

5.

Davis TC, Rademaker A, Bailey SC, Platt D, Esparza J, Wolf MS, Arnold CL (2013) Contrasts in rural and urban barriers to colorectal cancer screening. Am J Health Behav 37(3):289–298

6.

Bolin JN, Bellamy GR, Ferdinand AO, Vuong AM, Kash BA, Schulze A, Helduser JW (2015) Rural healthy people 2020: new decade, same challenges. The Journal of Rural Health: Official Journal of the American Rural Health Association and the National Rural Health Care Association 31(3):326–333

7.

Petterson SM, Phillips RL, Jr., Bazemore AW, Koinis GT: Unequal distribution of the U.S. primary care workforce. Am Fam Physician 2013, 87(11): Online.

8.

The Council of State G: Health care workforce shortages critical in rural America. In. Lexington, KY: Capitol Facts & Figures; 2011.

9.

Crosby RA, Collins T (2017) Correlates of community-based colorectal cancer screening in a rural population: the role of fatalism. J Rural Health 33(4):402–405

10.

Wang H, Qiu F, Gregg A, Chen B, Kim J, Young L, Wan N, Chen LW (2018) Barriers and facilitators of colorectal cancer screening for patients of rural accountable care organization clinics: a multilevel analysis. J Rural Health 34(2):202–212

11.

Wang H, Roy S, Kim J, Farazi PA, Siahpush M, Su D (2019) Barriers of colorectal cancer screening in rural USA: a systematic review. Rural Remote Health 19(3):5181

12.

Cole AM, Jackson JE, Doescher M (2013) Colorectal cancer screening disparities for rural minorities in the United States. J Prim Care Community Health 4(2):106–111

13.

Young WF, McGloin J, Zittleman L, West DR, Westfall JM (2007) Predictors of colorectal screening in rural Colorado: testing to prevent colon cancer in the high plains research network. J Rural Health 23(3):238–245

14.

Cancer in Virginia: overview and selected statistics [http://www.vdh.virginia.gov/content/uploads/sites/27/2016/07/Cancer-in-Virginia-2014_Final.pdf]

15.

Institute UoWPH: County health rankings key findings. In 2019.

16.

U.S. Census Bureau, Statistical Abstract of the United States: 2009. In 2010.

17.

Nelson W, Moser RP, Gaffey A, Waldron W (2009) Adherence to cervical cancer screening guidelines for U.S. women aged 25–64: data from the 2005 Health Information National Trends Survey (HINTS). J Women's Health (Larchmt) 18(11):1759–1768

18.

Lee EE, Fogg L, Menon U (2008) Knowledge and beliefs related to cervical cancer and screening among Korean American women. West J Nurs Res 30(8):960–974

19.

Graves KD, Huerta E, Cullen J, Kaufman E, Sheppard V, Luta G, Isaacs C, Schwartz MD, Mandelblatt J (2008) Perceived risk of breast cancer among Latinas attending community clinics: risk comprehension and relationship with mammography adherence. Cancer causes & control: CCC 19(10):1373–1382

20.

Wall KM, Rocha GM, Salinas-Martinez AM, Baraniuk S, Day RS (2010) Modifiable barriers to cervical cancer screening adherence among working women in Mexico. J Women's Health (Larchmt) 19(7):1263–1270

21.

Wolf AMD, Fontham ETH, Church TR, Flowers CR, Guerra CE, LaMonte SJ, Etzioni R, McKenna MT, Oeffinger KC, Shih YT, Walter LC, Andrews KS, Brawley OW, Brooks D, Fedewa SA, Manassaram-Baptiste D, Siegel RL, Wender RC, Smith RA (2018) Colorectal cancer screening for average-risk adults: 2018 guideline update from the American Cancer Society. CA Cancer J Clin 68(4):250–281

22.

Siegel R, Desantis C, Jemal A (2014) Colorectal cancer statistics, 2014. CA Cancer J Clin 64(2):104–117

23.

National Cancer Institute Surveillance E, and End Results Program. SEER*Explorer: Colon and rectum. In.

24.

Mosavel M, Genderson MW (2016) Daughter-initiated cancer screening appeals to mothers. Journal of cancer education: the official journal of the American Association for Cancer Education 31(4):767–775

25.

Charlton ME, Mengeling MA, Halfdanarson TR, Makki NM, Malhotra A, Klutts JS, Levy BT, Kaboli PJ (2014) Evaluation of a home-based colorectal cancer screening intervention in a rural state. The Journal of rural health: official journal of the American Rural Health Association and the National Rural Health Care Association 30(3):322–332

26.

American Cancer S (2017) Colorectal cancer facts & figures 2017–2019. In. Atlanta, American Cancer Society

27.

Brems C, Johnson ME, Warner TD, Roberts LW (2006) Barriers to healthcare as reported by rural and urban interprofessional providers. Journal of Interprofessional Care 20(2):105–118

28.

Hart LG, Salsberg E, Phillips DM, Lishner DM (2002) Rural health care providers in the United States. The Journal of rural health: official journal of the American Rural Health Association and the National Rural Health Care Association 18(Suppl):211–232

29.

Shell R, Tudiver F (2004) Barriers to cancer screening by rural Appalachian primary care providers. The Journal of rural health: official journal of the American Rural Health Association and the National Rural Health Care Association 20(4):368–373
Acknowledgments
We would like to thank the residents of the Pittsylvania/Danville Health District for their participation in our annual assessment. We would also like to thank all of our community partners who dedicated their time, expertise, and resources to develop, distribute, and assess the colorectal screening survey. Services and products in support of the research project were generated by the VCU Massey Cancer Center, supported, in part, with funding from NIH-NCI Cancer Center Support Grant P30 CA016059, NCI 2T32 CA093423, and by the Virginia Tobacco Region Revitalization Commission.
Ethics declarations
Conflict of Interest
The authors declare that they have no conflict of interest.
Ethical Approval
All procedures performed involving human participants were in accordance with the ethical standards of the institutional and/or national research committee and with the 1964 Helsinki declaration and its later amendments or comparable standards.
Informed Consent
Informed consent was obtained from all individual participants included in the study.
Additional information
Publisher's Note
Springer Nature remains neutral with regard to jurisdictional claims in published maps and institutional affiliations.
About this article
Cite this article
Sutton, A.L., Preston, M.A., Thomson, M. et al. Reaching Rural Residents to Identify Colorectal Cancer Education and Intervention Targets. J Canc Educ 36, 338–344 (2021). https://doi.org/10.1007/s13187-019-01635-x
Keywords
Colorectal cancer

Rural health, screening

Community engagement