Abstract
As rates of human papillomavirus (HPV)–related oropharyngeal cancer (OPC) continue to rise, the dental community's role in primary prevention efforts related to HPV vaccination will become increasingly important. The aim of this study was to assess knowledge, beliefs, practices, and perceived barriers regarding HPV and HPV vaccine advocacy within the dental community. A sample of 266 dentists and dental hygienists completed an online survey, and responses were then analyzed using frequencies of responses, t tests, chi-square tests, and Spearman's correlations. Ninety percent of providers believe it is important to play an "active role" in their patients' general medical care, yet only 50% believe it is their responsibility to recommend the HPV vaccine. Only 50% feel knowledgeable enough to recommend the vaccine. 78.6% of providers rarely discuss HPV vaccination with their age-appropriate patients, and 82% rarely recommend the vaccine. The two most strongly agreed-upon barriers were "parent concerns about the safety or efficacy of the vaccine" (71.6%) and "parent opposition to HPV vaccination for philosophical or religious reasons" (72.6%). Dentists were more knowledgeable about HPV vaccination and more likely to recommend the vaccine than hygienists. Higher levels of HPV-related knowledge correlated positively with beliefs and practices that support HPV vaccine advocacy. We have identified multiple opportunities for intervention aimed at increasing vaccine advocacy among oral health providers. These include clarification of role from dental professional organizations, alleviation of concerns related to perceived parental objection to the vaccine, and educational interventions targeting knowledge deficits among oral health providers.
Access options
Buy single article
Instant access to the full article PDF.
US$ 39.95
Tax calculation will be finalised during checkout.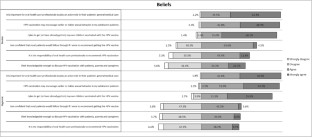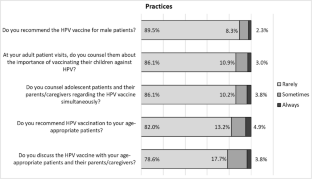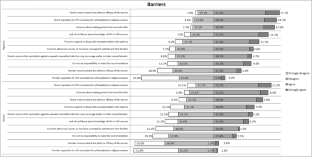 References
1.

Chaturvedi AK, Engels EA, Pfeiffer RM, Hernandez BY, Xiao W, Kim E, Jiang B et al (2011) Human papillomavirus and rising oropharyngeal cancer incidence in the United States. J Clin Oncol 29(32):4294–4301. https://doi.org/10.1200/JCO.2011.36.4596

2.

Chaturvedi AK, Anderson WF, Lortet-Tieulent J, Curado MP, Ferlay J, Franceschi S, Rosenberg PS, Bray F, Gillison ML (2013) Worldwide trends in incidence rates for oral cavity and oropharyngeal cancers. J Clin Oncol 31(36):4550–4559. https://doi.org/10.1200/jco.2013.50.3870

3.

Saraiya M, Unger ER, Thompson TD, Lynch CF, Hernandez BY, Lyu CW, Steinau M et al (2015) US assessment of HPV types in cancers: implications for current and 9-valent HPV vaccines. J Natl Cancer Inst 107(6):djv086. https://doi.org/10.1093/jnci/djv086

4.

Prevention, Center for Disease Control and. 2018, August 15. HPV and cancer. https://www.cdc.gov/cancer/hpv/statistics/cases.htm. Accessed March 25 2019

5.

Steinau M, Saraiya M, Goodman MT, Peters ES, Watson M, Cleveland JL, Lynch CF et al (2014) Human papillomavirus prevalence in oropharyngeal cancer before vaccine introduction, United States. Emerg Infect Dis 20(5):822–828. https://doi.org/10.3201/eid2005.131311

6.

Gillison ML, Chaturvedi AK, Anderson WF, Fakhry C (2015) Epidemiology of human papillomavirus-positive head and neck squamous cell carcinoma. J Clin Oncol 33(29):3235–3242. https://doi.org/10.1200/jco.2015.61.6995

7.

Joura EA, Leodolter S, Hernandez-Avila M, Wheeler CM, Perez G, Koutsky LA, Garland SM et al (2007) Efficacy of a quadrivalent prophylactic human papillomavirus (types 6, 11, 16, and 18) L1 virus-like-particle vaccine against high-grade vulval and vaginal lesions: a combined analysis of three randomised clinical trials. Lancet 369(9574):1693–1702. https://doi.org/10.1016/s0140-6736(07)60777-6

8.

Guo F, Cofie LE, Berenson AB (2018) Cervical cancer incidence in young U.S. females after human papillomavirus vaccine introduction. Am J Prev Med 55(2):197–204. https://doi.org/10.1016/j.amepre.2018.03.013

9.

Gillison ML, Chaturvedi AK, Lowy DR (2008) HPV prophylactic vaccines and the potential prevention of noncervical cancers in both men and women. Cancer 113(10 Suppl):3036–3046. https://doi.org/10.1002/cncr.23764

10.

Meites E, Kempe A, Markowitz LE (2016) Use of a 2-dose schedule for human papillomavirus vaccination - updated recommendations of the advisory committee on immunization practices. MMWR Morb Mortal Wkly Rep 65(49):1405–1408. https://doi.org/10.15585/mmwr.mm6549a5

11.

CDC. 2018 August 24. National, regional, state, and selected local area vaccination coverage among adolescents aged 13–17 years — United States, 2017. https://www.cdc.gov/mmwr/volumes/67/wr/mm6733a1.htm#T1_down. Accessed March 25 2019

12.

Rosenthal SL, Weiss TW, Zimet GD, Ma L, Good MB, Vichnin MD (2011) Predictors of HPV vaccine uptake among women aged 19-26: importance of a physician's recommendation. Vaccine 29(5):890–895. https://doi.org/10.1016/j.vaccine.2009.12.063

13.

CDC. 2017, May 3. Oral and dental health. https://www.cdc.gov/nchs/fastats/dental.htm. Accessed March 26 2019

14.

Daley MF, Crane LA, Markowitz LE, Black SR, Beaty BL, Barrow J, Babbel C et al (2010) Human papillomavirus vaccination practices: a survey of US physicians 18 months after licensure. Pediatrics 126(3):425–433. https://doi.org/10.1542/peds.2009-3500

15.

Dempsey AF, Zimet GD, Davis RL, Koutsky L (2006) Factors that are associated with parental acceptance of human papillomavirus vaccines: a randomized intervention study of written information about HPV. Pediatrics 117(5):1486–1493. https://doi.org/10.1542/peds.2005-1381

16.

VanWormer JJ, Bendixsen CG, Vickers ER, Stokley S, McNeil MM, Gee J, Belongia EA, McLean HQ (2017) Association between parent attitudes and receipt of human papillomavirus vaccine in adolescents. BMC Public Health 17(1):766–767. https://doi.org/10.1186/s12889-017-4787-5

17.

Gambhir RS (2015) Primary care in dentistry - an untapped potential. J Fam Med Prim Care 4(1):13–18. https://doi.org/10.4103/2249-4863.152239

18.

Daley E, Dodd V, DeBate R, Vamos C, Wheldon C, Kline N, Smith S et al (2014) Prevention of HPV-related oral cancer: assessing dentists' readiness. Public Health 128(3):231–238. https://doi.org/10.1016/j.puhe.2013.12.002

19.

Daley E, DeBate R, Dodd V, Dyer K, Fuhrmann H, Helmy H, Smith SA (2011) Exploring awareness, attitudes, and perceived role among oral health providers regarding HPV-related oral cancers. J Public Health Dent 71(2):136–142

20.

Shepperd JA, Howell JL, Catalanotto F, Dodd VJ, Logan HL (2013) The decision to counsel adolescents about HPV. Am J Health Behav 37(6):755–762. https://doi.org/10.5993/ajhb.37.6.4

21.

Lenselink CH, Gerrits MM, Melchers WJ, Massuger LF, van Hamont D, Bekkers RL (2008) Parental acceptance of human papillomavirus vaccines. Eur J Obstet Gynecol Reprod Biol 137(1):103–107. https://doi.org/10.1016/j.ejogrb.2007.02.012

22.

Lazalde GE, Gilkey MB, Kornides ML, McRee AL (2018) Parent perceptions of dentists' role in HPV vaccination. Vaccine 36(4):461–466. https://doi.org/10.1016/j.vaccine.2017.12.020

23.

Daley EM, Thompson EL, Vamos CA, Griner SB, Vazquez-Otero C, Best AL, Kline NS, Merrell LK (2018) HPV-related knowledge among dentists and dental hygienists. J Cancer Educ 33(4):901–906. https://doi.org/10.1007/s13187-016-1156-5

24.

Vazquez-Otero C, Vamos CA, Thompson EL, Merrell LK, Griner SB, Kline NS, Catalanotto FA, Giuliano AR, Daley EM (2018) Assessing dentists' human papillomavirus-related health literacy for oropharyngeal cancer prevention. J Am Dent Assoc 149(1):9–17. https://doi.org/10.1016/j.adaj.2017.08.021

25.

McRee AL, Reiter PL, Pepper JK, Brewer NT (2013) Correlates of comfort with alternative settings for HPV vaccine delivery. Hum Vaccin Immunother 9(2):306–313
Acknowledgments
We would like to acknowledge Matthew F. Daley, MD of the Kaiser Permanente Colorado Institute for Health Research for allowing us to adapt his survey instrument. We would also like to thank Meredith Graves for her help with the design and execution of the study. In addition, we would like to thank Alan Howard of the University of Vermont Department of Mathematics and Statistics for his help with the statistical analysis and figure creation.
Ethics declarations
This cross-sectional study was conducted at the University of Vermont College of Medicine with the approval and under the supervision of the University of Vermont Institutional Review Board. Informed consent was obtained from all individual participants included in the study.
Additional information
Publisher's Note
Springer Nature remains neutral with regard to jurisdictional claims in published maps and institutional affiliations.
About this article
Cite this article
Arnell, T.L., York, C., Nadeau, A. et al. The Role of the Dental Community in Oropharyngeal Cancer Prevention Through HPV Vaccine Advocacy. J Canc Educ 36, 299–304 (2021). https://doi.org/10.1007/s13187-019-01628-w
Keywords
Human papillomavirus

Human papillomavirus vaccine

Oropharyngeal cancer

Dentists

Dental hygienists

Public health

Cancer prevention