Abstract
Women with breast cancer have difficulty deciding whether to undergo breast reconstruction when mastectomy is necessary. A computer-based decision aid that can be individualized to provide both surgery information and value clarification may be helpful for women considering breast reconstruction surgery. The objectives of this study are to program a prototype of an application (app) with a value clarification exercise and to evaluate the pilot usability, feasibility, and efficacy of the app. In phase 1, a prototype app called Pink Journey for use on the iPhone OS (IOS) platform was created following the framework of shared decision making. In phase 2, 11 women who were given the option of reconstruction by a breast surgeon were recruited from July 2017 to December 2017. A pretest-posttest design was adopted to test the usability and feasibility of the app. The results showed that the women who used the app reported significantly less decisional conflict after intervention on each subscale of the Decision Conflict scale, i.e., "being informed", "uncertainty", "social support", "effective decision", and "value clarification". This research provides preliminary data indicating that Pink Journey holds promise for decreasing decision conflict. Most women felt that the app was both helpful and user-friendly. The app increased their participation in decision making, helped them obtain more accurate risk perceptions, and clarified their values. It also helped the women make decisions regarding breast reconstruction more confidently.
Access options
Buy single article
Instant access to the full article PDF.
US$ 39.95
Tax calculation will be finalised during checkout.
Subscribe to journal
Immediate online access to all issues from 2019. Subscription will auto renew annually.
US$ 79
Tax calculation will be finalised during checkout.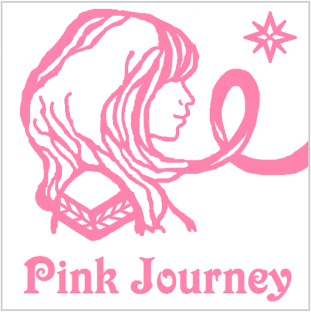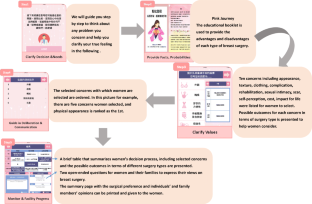 References
1.

Koçan S, Gürsoy A (2016) Body image of women with breast cancer after mastectomy: a qualitative research. J Breast Health 12(4):145–150

2.

Yurek D, Farrar W, Andersen BL (2000) Breast cancer surgery: comparing surgical groups and determining individual differences in postoperative sexuality and body change stress. J Consult Clin Psychol 68(4):697–709

3.

Nano MT, Gill PG, Kollias J, Bochner MA, Malycha P, Winefield HR (2005) Psychological impact and cosmetic outcome of surgical breast cancer strategies. ANZ J Surg 75(11):940–947

4.

Paredes CG, Pessoa SG d P, Peixoto DTT, de Amorim DN, Araújo JS, Barreto PRA (2013) The impact of breast reconstruction on the quality of life of patients after mastectomy at the plastic surgery Service of Walter Cantídio University Hospital. Revista Brasileira de Cirurgia Plástica 28(1):100–104

5.

Harcourt D, Rumsey N (2004) Mastectomy patients' decision-making for or against immediate breast reconstruction. Psycho-Oncology 13(2):106–115

6.

Andrade WN, Baxter N, Semple JL (2001) Clinical determinants of patient satisfaction with breast reconstruction. Plast Reconstr Surg 107(1):46–54

7.

Rowland JH, Desmond KA, Meyerowitz BE, Belin TR, Wyatt GE, Ganz PA (2000) Role of breast reconstructive surgery in physical and emotional outcomes among breast cancer survivors. J Natl Cancer Inst 92(17):1422–1429

8.

Fang S-Y, Shu B-C, Chang Y-J (2013) The effect of breast reconstruction surgery on body image among women after mastectomy: a meta-analysis. Breast Cancer Res Treat 137(1):13–21

9.

Fernandes-Taylor S, Bloom JR (2011) Post-treatment regret among young breast cancer survivors. Psycho-oncology 20(5):506–516. https://doi.org/10.1002/pon.1749

10.

Lam WWT, Bonanno GA, Mancini AD, Samuel H, Miranda C, Ka HW, Or A, Fielding R (2010) Trajectories of psychological distress among Chinese women diagnosed with breast cancer. Psycho-Oncology 19(10):1044–1051. https://doi.org/10.1002/pon.1658

11.

Manne SL, Topham N, Kirstein L, Virtue SM, Brill K, Devine KA, Gajda T, Frederick S, Darabos K, Sorice K (2016) Attitudes and decisional conflict regarding breast reconstruction among breast Cancer patients. Cancer Nurs 39(6):427–436. https://doi.org/10.1097/NCC.0000000000000320

12.

Lam WWT, Chan M, Or A, Kwong A, Suen D, Fielding R (2013) Reducing treatment decision conflict difficulties in breast cancer surgery: a randomized controlled trial. J Clin Oncol 31(23):2879–2885

13.

Syrowatka A, Krömker D, Meguerditchian AN, Tamblyn R (2016) Features of computer-based decision aids: systematic review, thematic synthesis, and meta-analyses. J Med Internet Res 18:1

14.

Coe AM, Ueng W, Vargas JM, David R, Vanegas A, Infante K, Trivedi M, Yi H, Dimond J, Crew KD (2016) Usability testing of a web-based decision aid for breast Cancer risk assessment among multi-ethnic women. In: AMIA Annual Symposium Proceedings: American medical informatics association

15.

Hawley ST, Jagsi R (2015) Shared decision making in Cancer care: does one size fit all? JAMA oncology 1(1):58–59

16.

Stacey D, Bennett CL, Barry MJ, Col NF, Eden KB, Holmes-Rovner M, Llewellyn-Thomas H, Lyddiatt A, Légaré F, Thomson R (2011) Decision aids for people facing health treatment or screening decisions. Cochrane Database Syst Rev 10(10)

17.

Hoffman AS, Volk RJ, Saarimaki A, Stirling C, Li LC, Härter M, Kamath GR, Llewellyn-Thomas H (2013) Delivering patient decision aids on the internet: definitions, theories, current evidence, and emerging research areas. BMC Med Inform Decis Mak 13(2):S13

18.

Framework, Ottawa Decision Support (2006) Patient Decision Aid. http://www.ohri.ca/decisionaid/. Accessed 27 August 2019

19.

Sherman KA, Shaw L-KE, Winch CJ, Harcourt D, Boyages J, Cameron LD, Brown P, Lam T, Elder E, French J (2016) Reducing decisional conflict and enhancing satisfaction with information among women considering breast reconstruction following mastectomy: results from the BRECONDA randomized controlled trial. Plast Reconstr Surg 138(4):592e–602e

20.

Jibaja-Weiss ML, Volk RJ, Granchi TS, Neff NE, Robinson EK, Spann SJ, Aoki N, Friedman LC, Beck JR (2011) Entertainment education for breast cancer surgery decisions: a randomized trial among patients with low health literacy. Patient Educ Couns 84(1):41–48

21.

Harvey JA, Strahilevitz MA (2009) The power of pink: cause-related marketing and the impact on breast cancer. J Am Coll Radiol 6(1):26–32

22.

Feldman-Stewart D, Tong C, Siemens R, Alibhai S, Pickles T, Robinson J, Brundage MD (2012) The impact of explicit values clarification exercises in a patient decision aid emerges after the decision is actually made: evidence from a randomized controlled trial. Med Decis Mak 32(4):616–626

23.

Flitcroft K, Brennan M, Spillane A (2017) Making decisions about breast reconstruction: a systematic review of patient-reported factors influencing choice. Qual Life Res:1–33

24.

Fallbjörk U, Karlsson S, Salander P, Rasmussen BH (2010) Differences between women who have and have not undergone breast reconstruction after mastectomy due to breast cancer. Acta Oncol 49(2):174–179

25.

Lee S, Kang H (2015) Statistical and methodological considerations for reporting RCTs in medical literature. Korean J Anesthesiol 68(2):106–115

26.

O'Connor (2006) Chinese translation of decision conflict scale. https://decisionaid.ohri.ca/docs/develop/Tools/DCS_Chinese.pdf. Accessed 27 August 2019

27.

O'Connor AM (1995) Validation of a decisional conflict scale. Med Decis Mak 15(1):25–30

28.

Lam WWT, Kwok M, Liao Q, Chan M, Or A, Kwong A, Suen D, Fielding R (2015) Psychometric assessment of the Chinese version of the decisional conflict scale in Chinese women making decision for breast cancer surgery. Health Expect 18(2):210–220

29.

Fang S-Y, Balneaves LG, Shu B-C (2010) " a struggle between vanity and life": the experience of receiving breast reconstruction in women of Taiwan. Cancer Nurs 33(5):E1–E11

30.

de Boer M, van der Hulst R, Slatman J (2015) The surprise of a breast reconstruction: a longitudinal phenomenological study to women's expectations about reconstructive surgery. Hum Stud 38(3):409–430

31.

Sun CS, Cantor SB, Reece GP, Fingeret MC, Crosby MA, Markey MK (2014) Helping patients make choices about breast reconstruction: a decision analysis approach. Plast Reconstr Surg 134(4):597–608

32.

Snell L, McCarthy C, Klassen A, Cano S, Rubin L, Hurley K, Montgomery GH, Cordeiro PG, Pusic A (2010) Clarifying the expectations of patients undergoing implant breast reconstruction: a qualitative study. Plast Reconstr Surg 126(6):1825–1830

33.

Incorporation, Apple (2018) UI Design Do's and Don'ts. https://developer.apple.com/design/tips/. Accessed 27 August 2019

34.

Santosa KB, Qi J, Kim HM, Hamill JB, Wilkins EG, Pusic AL (2018) Long-term patient-reported outcomes in postmastectomy breast reconstruction. JAMA Surg 153:891–899

35.

Lam TC, Winch CJ (2016) What would women choose when given a choice in breast reconstruction? Plastic and Reconstructive Surgery Global Open 4(9):e1062

36.

Pirro O, Mestak O, Vindigni V, Sukop A, Hromadkova V, Nguyenova A, Vitova L, Bassetto F (2017) Comparison of patient-reported outcomes after implant versus autologous tissue breast reconstruction using the BREAST-Q. Plastic and Reconstructive Surgery Global Open 5(1):e1217

37.

Fischer JP, Nelson JA, Cleveland E, Sieber B, Rohrbach JI, Serletti JM, Kanchwala S (2013) Breast reconstruction modality outcome study: a comparison of expander/implants and free flaps in select patients. Plast Reconstr Surg 131(5):928–934
Funding
The Ministry of Science and Technology (MOST) provided Research Project Grant no. 106-2314-B-006-010-MY2 and Summer Research Project Grant no. NCKUMCS2017070 and NCKUMCS2016055 from the College of Medicine at National Cheng Kung University.
Ethics declarations
Conflict of Interest
The authors declare that they have no conflicts of interest.
Ethical Approval
Ethical approval was obtained from the committee of National Cheng Kung University Hospital (Taiwan) (IRB number B-ER-106-072). All procedures involving human participants were performed in accordance with the ethical standards of the institutional and/or national research committee and the 1964 Helsinki Declaration and its later amendments or comparable ethical standards. The authors have full control of all primary data and agree to allow the journal to review their data if requested.
Additional information
Publisher's Note
Springer Nature remains neutral with regard to jurisdictional claims in published maps and institutional affiliations.
About this article
Cite this article
Lin, PJ., Fang, SY. & Kuo, YL. Development and Usability Testing of a Decision Support App for Women Considering Breast Reconstruction Surgery. J Canc Educ 36, 160–167 (2021). https://doi.org/10.1007/s13187-019-01612-4
Keywords
Shared decision making

Decision aid

Breast reconstruction