Abstract
Carcinogenic liver fluke is still an issue of great concern in some countries of Southeast Asia, particularly in Thailand, Cambodia, the Lao People's Democratic Republic, and Vietnam. The infection, caused by Opisthorchis viverrini, is associated to cholangiocarcinoma and is endemic among human populations for whom raw fish is frequently consumed. Prevention and health education are required. Therefore, this study aimed to evaluate the effectiveness of educational intervention to improve knowledge among primary schoolchildren based on animation-assisted education. In this study, 80 participants (40 participants in the experimental group and 40 participants in the comparison group) were selected in 2018. The effectiveness of an interactive animation program in improving the knowledge of students studying liver fluke was determined based on scores on tests given before and immediately after completion of a 4.29-min animated program on the liver fluke life cycle, risk factors, disease, diagnosis, treatment, prevention, and control. Data were analyzed using SPSS-22 via paired t tests and independent samples t tests at a significance level of 0.05. A marked and significant improvement was observed in the immediate posttest compared with the pretest scores. More importantly, the students who had used the animated program achieved a significantly higher score on the final test than the comparison group. The results offered in the first report show that the use of the animated program facilitated education about liver fluke. It is strongly believed that animations are good supplementary learning materials for students, particularly for learning about serious concepts.
Access options
Buy single article
Instant access to the full article PDF.
US$ 39.95
Tax calculation will be finalised during checkout.
Subscribe to journal
Immediate online access to all issues from 2019. Subscription will auto renew annually.
US$ 79
Tax calculation will be finalised during checkout.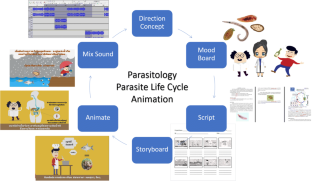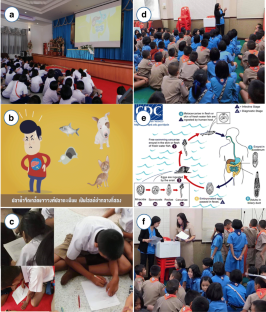 References
1.

Araki H, Ong KIC, Lorphachan L, Soundala P, Iwagami M, Shibanuma A, Hongvanthong B, Brey PT, Kano S, Jimba M (2018) Mothers' Opisthorchis viverrini infection status and raw fish dish consumption in Lao People's Democratic Republic: determinants of child infection status. Trop Med Health 46:29

2.

Becker MH, Maiman LA, Kirscht JP (1974) A new approach to explaining sick role behavior in low income population. Am J Public Health 64(3):205–216

3.

Bloom BS (1971) Handbook on formative and summative of student learning. Mc Graw-Hill Book Company, New York

4.

Butcher K, Areys P, Pass F (2014) The multimedia principle. Cambridge Univ. Press, New York

5.

Curch LM (2010) Using prime-time animation to engage students in courses on aging. Gerontol Geriatr Educ 31(4):361–382

6.

Daly CJ, Bulloch JM, Ma M, Aidulis D (2016) A comparison of animated versus static images in an instructional multimedia presentation. Adv Physiol Educ 40(2):201–205

7.

Doi R, Itoh M, Chakhatrakan S, Uga S (2017) Epidemiological investigation of parasitic infection of schoolchildren from six elementary schools in Sakon Nakhon Province, Thailand. Kobe J Med Sci 62(5):120–128

8.

Edwards SW, Spofford EM, Price C, Wright HL, Salao K, Suttiprapa S, Sripa B (2018) Opisthorchiasis-induced cholangiocarcinoma: how innate immunity may cause cancer. Adv Parasitol 101:149–176

9.

Hwang I, Tam M, Lam SL, Lam P (2012) Review of use of animation as a supplementary learning material of physiology content in four academic years. Electron J e-Learning 10(4):368–377

10.

IARC (1994) Infection with liver flukes (Opisthorchis viverrini, Opisthorchis felineus and Clonrochis sinensis). IARC Monogr Eval Carcinog Risks Hum 61:121–175

11.

Janz NK, Becker MH (1984) The health belief model: a decade later. Health Educ Q 11(1):1–47

12.

Kaewpitoon N, Kaewpitoon SJ, Pengsaa P, Pilasri C (2007) Knowledge, attitude and practice related to liver fluke infection in Northeast Thailand. World J Gastroenterol 13(12):1837–1840

13.

Kaewpitoon N, Kaewpitoon SJ, Pengsaa P (2008a) Opisthorchiasis in Thailand: review and current status. World J Gastroenterol 14(15):2297–2302

14.

Kaewpitoon N, Kaewpitoon SJ, Pengsaa P, Sripa B (2008b) Opisthorchis viverrini: the carcinogenic human liver fluke. World J Gastroenterol 14(5):666–674

15.

Kaewpitoon N, Kootanavanichpong N, Kompor P, Chavenkun W, Kujapun J, Norkaew J, Ponphimai S, Matrakool L, Tongtawee T, Panpimanmas S, Rujirakul R, Padchasuwan N, Pholsripradit P, Eksanti T, Phatisena T, Loyd RA, Kaewpitoon SJ (2015) Review and current status of Opisthorchis viverrini infection at the community level in Thailand. Asian Pac J Cancer Prev 16(16):6825–6830

16.

Kehoe C, Stasko J, Taylor A (2001) Rethinking the evaluation of algorithm animations as learning aids: an observational study. Int J Hum Comput Stud 54(2):265–284

17.

Kesner MH, Linzey AV (2005) Can computer-based visual-spatial lead to increase student performance in Anatomy & Physiology? Am Biol Teach 67(4):206–212

18.

Kim S, Yoon M, Whang SM, Tversky B, Morrison JB (2007) The effect of animation on comprehension and interest. J Comput Assist Learn 23:260–270

19.

Kurathong S, Lerdverasirikul P, Wongpaitoon V, Pramoolsinsap C, Upatham ES (1987) Opisthorchis viverrini infection in rural and urban communities in Northeast Thailand. Trans R Soc Trop Med Hyg 81(3):411–414

20.

Liaskos J, Diomidus M (2002) Multimedia technologies in education. Stud Health Technol Inform 65:359–372

21.

Lowe RK (2004) Animation and learning: value for money? In Atkinson R, McBeath C, Jonas-Dwyer D, Phillips R (eds) Beyond the comfort zone: proceedings of the 21st ASCILITE Conference, 558–561, Perth, Australia, December

22.

Mayer RE, Hegarty M, Mayer S, Campbell J (2005) When static media promote active learning: annotated illustrations versus narrated animations in multimedia instruction. J Exp Psychol Appl 11(4):256–265

23.

Mayer RE, Griffith E, Jurkowitz IT, Rothman D (2008) Increased interestingness of extraneous details in a multimedia science presentation leads to decreased learning. J Exp Psychol Appl 14(4):329–339

24.

O'Day DH (2006) Animated cell biology: a quick and easy method for making effective, high-quality teaching animations. CBE Life Sci Educ 5(3):255–263

25.

O'Day DH (2007) The value of animations in biology teaching: a study of long-term memory retention. CBE Life Sci Educ 6(3):217–223

26.

Pollock E, Chandler P, Sweller J (2002) Assimilating complex information. Learn Instr 12:61–86

27.

Shin HR, Oh JK, Masuyer E (2010) Epidemiology of cholangiocarcinoma: an update focusing on risk factors. Cancer Sci 101(3):579–585

28.

Sithithaworn P, Andrews RH, Nguyen VD, Wongsaroj T, Sinuon M, Odermatt P et al (2012) The current status of opisthorchiasis and clonorchiasis in the Mekong Basin. Parasitol Int 61(1):10–16

29.

Sripa B, Kaewkes S, Sithithaworn P, Mairiang E, Laha T, Smout M, Pairojkul C, Bhudhisawasdi V, Tesana S, Thinkamrop B, Bethony JM, Loukas A, Brindley PJ (2007) Liver fluke induces cholangiocarcinoma. PLoS Med 4(7):e201

30.

Sripa B, Kaewkes S, Intapan PM, Maleewong W, Brindley PJ (2010) Food-borne trematodiases in Southeast Asia: epidemiology, pathology, clinical manifestation and control. Adv Parasitol 72:305–350

31.

Tomokawa S, Kobayashi T, Kaneda E, Moji K, Nisaygnang B, Boupha B (2008) Surveying factors related to children's Opisthorchis viverrini infection to primary school children in rural Central-Southern Laos -influence of parent's habit of eating raw fish on their children's one. Jpn J Health Hum Ecol 74:13–21

32.

Tversky B, Morrison JB (2002) Animation: can it facilitate? Int J Hum Comput Stud 57:247–262

33.

Wongsaroj T, Nithikathkul C, Rojkitikul W, Nakai W, Royal L, Rammasut P (2014) National survey of helminthiasis in Thailand. Asian Biomed 8(6):779–783
Funding
The present study was supported by a grant from the SUT research and development fund, Suranaree University of Technology (SUT), Thailand.
Ethics declarations
Conflict of Interest
The authors declare that they have no conflict of interest.
Ethics statement
This study was approved by the Ethics Committee affiliated with the Health Office in Nakhon Ratchasima Province, Thailand (KHE 2018-041).
About this article
Cite this article
Bukkhunthod, P., Meererksom, T., Pechdee, P. et al. Animation as Supplementary Learning Material About Carcinogenic Liver Fluke in Classes for Primary Schoolchildren. J Canc Educ 35, 14–21 (2020). https://doi.org/10.1007/s13187-018-1434-5
Keywords
Animation-assisted learning

Supplementary learning material

Educational intervention

Carcinogenic liver fluke

Primary school children