Abstract
In a community such as Iran where late presentation is predominant and the majority of breast cancer patients are diagnosed at advanced stages of the disease, there is an urgent need for improving the level of awareness about breast cancer and early detection measures. Given that rural residents are at higher risk for late diagnosis of breast cancer because they have less education, income, and access to advanced screening technologies, this study was conducted to determine the effect of counseling on breast cancer awareness of rural Iranian women. This randomized clinical trial was conducted on 60 rural women from the Abish Ahmad area in northwestern Iran in 2017. The randomized cluster method was used for sampling. From 20 rural health houses and centers, about one third were selected randomly. From the six selected clusters, three were randomly allocated as the control group and three as the intervention group. Using convenience sampling, 30 women between the ages of 40 and 69 were selected from the control group and 30 from the intervention group. The intervention group attended six group counseling sessions. Data was gathered using a demographic and obstetrical information questionnaire and breast cancer awareness measures. The chi-square, independent t test and ANCOVA by controlling for the baseline scores were used to analyze the data. After counseling, the mean knowledge about breast cancer score was significantly higher in the intervention group than in the control group (adjusted mean difference, 17.02; confidence interval (CI) 95%, 15.44 to 18.59; p < 0.001). The mean barriers to breast cancer screening score showed a significant decrease in the intervention group compared to the control group (AMD, − 1.74; 95% CI − 3.12 to − 0.36, p < 0.001). After intervention, the frequency of breast self-exam showed a significant difference between groups (p < 0.001); but for confidence about noticing breast changes, no significant difference was observed between groups (p = 0.08). Group counseling had a significant effect on enhancing breast cancer awareness of rural Iranian women, except for confidence about noticing breast changes.
This is a preview of subscription content, log in to check access.
Access options
Buy single article
Instant access to the full article PDF.
US$ 39.95
Price includes VAT for USA
Subscribe to journal
Immediate online access to all issues from 2019. Subscription will auto renew annually.
US$ 99
This is the net price. Taxes to be calculated in checkout.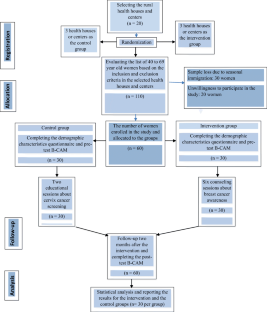 References
1.

Torre LA, Bray F, Siegel RL, Ferlay J, Lortet-Tieulent J, Jemal A (2015) Global cancer statistics 2012. CA Cancer J Clin 65:87–108. https://doi.org/10.3322/caac.21262

2.

El-Ghany A, Gamalat M, Mohamed AA (2011) Knowledge and attitude towards breast cancer among female school teachers in El-Sharkia, Egypt. JHIPH 41:238–267

3.

World Health Organization (2018) Breast cancer: prevention and control. WHO archive. http://www.who.int/cancer/detection/breastcancer/en/. Accessed 5 March 2018

4.

Ferlay J, Soerjomataram I, Dikshit R, Eser S, Mathers C et al (2015) glOBOcan 2012, cancer incidence and mortality worldwide. Int J Cancer 36:359–386. https://doi.org/10.1002/ijc.29210

5.

Siegel RL, Miller Kimberly D, Ahmedin JDVM (2016) Cancer statistics, 2016. CA Cancer J Clin 66(1):7–30. https://doi.org/10.3322/caac.21332

6.

Matovu A, Scheel JR, Shadrack PA, Ssembatya R, Njeri A, Galukande M et al (2016) Pilot study of a resource-appropriate strategy for downstaging breast cancer in rural Uganda. J Glob Radiol 2. https://doi.org/10.7191/jgr.2016.1021

7.

Iranian Ministry of Health and Medical Education (2008) Iranian annual of National Cancer Registration Report 2006–2007. Ministry of Health and Medical Education

8.

Jazayeri SB, Saadat S, Ramezani R, Kaviani A (2015) Incidence of primary breast cancer in Iran: ten-year national cancer registry data report. Cancer Epidemiol 39:519–527. https://doi.org/10.1016/j.canep.2015.04.016

9.

Jemal A, Bray F, Center MM, Ferlay J, Ward E, Forman D (2011) Global cancer statistics. CA Cancer J Clin 61:69–90. https://doi.org/10.3322/caac.20107

10.

Hajian-Tilaki K, Kaveh-Ahangar T (2011) Reproductive factors associated with breast cancer risk in northern Iran. Med Oncol 28:441–446. https://doi.org/10.1007/s12032-010-9498-z

11.

American Cancer Society (2016) Cancer Treatment & Survivorship Facts & Figures. https://www.cancer.org/content/dam/cancer-org/research/cancer-facts-and-statistics/cancer-treatment-and-survivorship-facts-and-figures/cancer-treatment-and-survivorship-facts-and-figures-2016-2017.pdf. Accessed 1 Jan 2016

12.

Rao R, Nair S, Nair NS, Kamath VG (2005) Acceptability and effectiveness of a breast health awareness programme for rural women in India. Indian J Med Sci 59:398–402

13.

Montazeri A, Vahdaninia M, Harirchi I, Harirchi AM, Sajadian A, Khaleghi F et al (2008) Breast cancer in Iran: need for greater women awareness of warning signs and effective screening methods. Asia Pac Fam Med 7(1):6. https://doi.org/10.1186/1447-056X-7-6

14.

O'Mahony M, Comber H, Fitzgerald T, Corrigan MA, Fitzgerald E, Grunfeld EA et al (2017) Interventions for raising breast cancer awareness in women. Cochrane Database Syst Rev. https://doi.org/10.1002/14651858.CD011396.pub2

15.

Bride M, Maire B, Pruthi S, Bevers T (2012) The evolution of breast self-examination to breast awareness. Breast J 18:641–643. https://doi.org/10.1111/tbj.12023

16.

Boulos DN, Ghali RR (2013) Awareness of breast cancer among female students at Ain Shams University, Egypt. Glob J Health Sci 6:154–161. https://doi.org/10.5539/gjhs.v6n1p154

17.

Purtzer MA, Overstreet L (2014) Transformative learning theory: facilitating mammography screening in rural women. Oncol Nurs Forum 41:176–184. https://doi.org/10.1188/14.ONF.176-184

18.

Tahergorabi Z, Moodi M, Mesbahzadeh B (2014) Breast cancer: a preventable disease. J Birjand Univ Med Sci 21:126–141 [in Persian]

19.

Erbil N, Bolukbas N (2014) Health beliefs and breast self-examination among female university nursing students in Turkey. Asian Pac J Cancer Prev 15:6525–6529. https://doi.org/10.7314/APJCP.2014.15.16.6525

20.

Parsa P, Mirmohammadi A, Khodakarami B, Roshanaiee G, Soltani F (2016) Effects of breast self-examination consultation based on the health belief model on knowledge and performance of Iranian women aged over 40 years. Asian Pac J Cancer Prev 17:3849–3854. https://doi.org/10.14456/apjcp.2016.17.18.3849

21.

Naghibi SA, Moosazadeh M, Shojaizadeh D, Montazeri A, Cherati JY (2015) The investigate factors on screening of the breast Cancer based on PEN-3 model in Iranian northern women. Journal of Community Health Research 4:79–90

22.

Schilling MPR, da Silva IF, Opitz SP, de Sousa Oliveira Borges MF, Koifman SKRJ (2017) Breast cancer awareness among women in western Amazon: a population based cross-sectional study. Asian Pac J Cancer Prev 18:847–856. https://doi.org/10.22034/APJCP.2017.18.3.847

23.

Dreyhaupt J, Mayer B, Keis O, Öchsner W, Muche R (2017) Cluster-randomized studies in educational research: principles and methodological aspects. GMS J Med Educ 34(2). https://doi.org/10.3205/zma001103

24.

Linsell L, Forbes LJL, Burgess C, Kapari M, Thurnham A, Ramirez AJ (2010) Validation of a measurement tool to assess awareness of breast cancer. Eur J Cancer 46:1374–1381

25.

Stubbings S, Robb K, Waller J, Ramirez A, Austoker J, Macleod U et al (2009) Development of a measurement tool to assess public awareness of cancer. Br J Cancer 101(S2):S13–S17

26.

Özalp E, Karslıoğlu EH, Aydemir Ö, Soygür H, Erkek BM, Kaymak SEPSU (2015) Validating the sexual adjustment and body image scale (Sabis) with breast cancer patients. Sex Disabil 33(2):253–267. https://doi.org/10.1007/s11195-014-9367-3

27.

Pud D (2015) The psychometric properties of the Hebrew version of the memorial symptom assessment scale (MSAS-Heb) in patients with breast cancer. J Pain Symptom Manag 49(4):790–795. https://doi.org/10.1016/j.jpainsymman.2014.08.016

28.

Simon AE, Forbes LJL, Boniface D, Warburton F, Brain KE, Dessaix A et al (2012) An international measure of awareness and beliefs about cancer: development and testing of the ABC. Br Med J 6:e001758. https://doi.org/10.1136/bmjopen-2012-001758

29.

Gonzalez P, Lim J-W, Wang-Letzkus M, Flores KF, Allen KM, Castañeda SF et al (2015) Breast cancer cause beliefs: Chinese, Korean, and Mexican American breast cancer survivors. West J Nurs Res 37(8):1081–1099. https://doi.org/10.1177/0193945914541518

30.

Kisuya J, Wachira J, Busakhala N, Naanyu V, Chite AF, Omenge O, Otieno G, Keter A, Mwangi A, Inui T (2015) Impact of an educational intervention on breast cancer knowledge in western Kenya. Health Educ Res 30:786–796. https://doi.org/10.1093/her/cyv043

31.

Tazhibi M, Feizi A (2014) Awareness levels about breast cancer risk factors, early warning signs, and screening and therapeutic approaches among Iranian adult women: a large population based study using latent class analysis. Biomed Res Int 2014:1–9. https://doi.org/10.1155/2014/306352

32.

Mardela AP, Maneewat K, Sangchan H (2017) Breast cancer awareness among Indonesian women at moderate-to-high risk. Nurs Health Sci 19:301–306. https://doi.org/10.1111/nhs.12345

33.

Rehab AH, Abusalih HH, Hussein A (2016) The effect of awareness program on knowledge and practice regarding breast cancer early detection among women at Wad Nubaui, in Omdurman locality, North Sudan. IJRMS 4:2938–2942. https://doi.org/10.18203/2320-6012.ijrms20161980

34.

Forbes LJ, Atkins L, Thurnham A, Jennifer L, Haste F, Ramirez AJ (2011) Breast cancer awareness and barriers to symptomatic presentation among women from different ethnic groups in East London. Br J Cancer 105:1474–1479. https://doi.org/10.1038/bjc.2011.406

35.

McMenamin M, Barry H, Lennon A-M, Purcell H, Baum M, Keegan D, McDermott E, O'Donoghue D, Daly L, Mulcahy H (2005) A survey of breast cancer awareness and knowledge in a Western population: lots of light but little illumination. Eur J Cancer 41:393–397. https://doi.org/10.1016/j.ejca.2004.11.015

36.

Linsell L, Burgess CC, Ramirez AJ (2008) Breast cancer awareness among older women. Br J Cancer 99:1221–1225. https://doi.org/10.1038/sj.bjc.6604668

37.

Moser K, Patnick J, Beral V (2007) Do women know that the risk of breast cancer increases with age? Br J Gen Pract 57:404–406

38.

Izanloo A, Ghaffarzadehgan K, Khoshroo F, Haghiri ME, Izanloo S, Samiee M et al (2018) Knowledge and attitude of women regarding breast cancer screening tests in Eastern Iran. Ecancermedicalscience 12:806. https://doi.org/10.3332/ecancer.2018.806

39.

Yılmaz M, Sayın Y, Cengiz HÖ (2017) The effects of training on knowledge and beliefs about breast Cancer and early diagnosis methods among women. Eur J Breast Health 13:175–182. https://doi.org/10.5152/tjbh.2017.3255

40.

Khazaee-pool M, Majlessi F, Foroushani AR, Montazeri A, Nedjat S, Shojaeizadeh D et al (2014) Perception of breast cancer screening among Iranian women without experience of mammography: a qualitative study. Asian Pac J Cancer Prev 15(9):3965–3971

41.

Akhtari-Zavare M, Juni MH, Said SM, Ismail IZ, Latiff LA, Eshkoor SA (2016) Result of randomized control trial to increase breast health awareness among young females in Malaysia. BMC Public Health 16:738. https://doi.org/10.1186/s12889-016-3414-1

42.

Ceber E, Turk M, Ciceklioglu M (2010) The effects of an educational program on knowledge of breast cancer, early detection practices and health beliefs of nurses and midwives. J Clin Nurs 19:2363–2371. https://doi.org/10.1111/j.1365-2702.2009.03150.x

43.

Secginli S, Nahcivan NO (2011) The effectiveness of a nurse-delivered breast health promotion program on breast cancer screening behaviours in non-adherent Turkish women: a randomized controlled trial. Int J Nurs Stud 48:24–36. https://doi.org/10.1016/j.ijnurstu.2010.05.016

44.

Karayurt O, Sarıkaya A, Malak A t (2009) Effects of peer and group education on knowledge, beliefs and breast self-examination practice among university students in Turkey. Turk J Med Sci 39:59–66. https://doi.org/10.3906/sag-0712-17
Acknowledgments
This article is adopted from a Master's thesis. The authors would like to express their sincere gratitude to the research deputy of the Tabriz University of Medical Sciences, the health network of Kaleybar County, the health care providers of the Abish Ahmad district, and all the participants for their cooperation.
Ethics declarations
Conflict of Interests
The authors declare that they have no conflict of interest.
Ethical Approval
Research involved human participants. All procedures performed in studies involving human participants were in accordance with the ethical standards of the National Research Committee and with the 1964 Helsinki Declaration and its later amendments or comparable ethical standards.
Informed Consent
Informed consent was obtained from each individual participant.
About this article
Cite this article
Alizadeh Sabeg, P., Mehrabi, E., Nourizadeh, R. et al. The Effect of Counseling on Breast Cancer Awareness in Rural Iranian Women: a Randomized Controlled Clinical Trial. J Canc Educ 34, 1083–1091 (2019). https://doi.org/10.1007/s13187-018-1411-z
Keywords
Breast cancer awareness

Breast cancer screening

Counseling