Abstract
With the growing burden of cancer in minority populations and limited progress in eliminating cancer disparities, it has become important to develop a diverse oncology workforce in basic, clinical, and behavioral research who will address cancer disparities and increase the participation of minority populations in clinical trials. To address the lack of well-trained underrepresented minority cancer scientists in Florida, the University of Florida collaborated with Florida A&M University in 2012 to establish the Florida Prostate Cancer Research Training Opportunities for Outstanding Leaders (ReTOOL) Program. Since 2012, the ReTOOL program has expanded to (1) cover all areas of cancer disparities; (2) offer training opportunities to minority students from all historically Black colleges and universities (HBCUs) in Florida; and (3) successfully secure both intramural and extramural federal funding to continuously provide research training opportunities for minority students in Florida. Focusing primarily on training Black students, the ReTOOL model includes culturally sensitive recruitment, mentorship, didactic curriculum, networking, and hands on experience in cancer research. This paper discusses the lessons learned from administering the ReTOOL program for 5 years, which includes having the right inputs (such as majority-minority institutions partnership, funding, faculty advisors, committed mentors, culturally competent staff, and standardized program requirements) and processes (such as pipeline approach, structured applications system, didactic curriculum, research experience, and continuous mentoring) for an effective research training program. The program impact is an increase in the pool of underrepresented minority candidates with scientific and academic career progression paths focused on reducing cancer health disparities.
Access options
Buy single article
Instant access to the full article PDF.
US$ 39.95
Tax calculation will be finalised during checkout.
Subscribe to journal
Immediate online access to all issues from 2019. Subscription will auto renew annually.
US$ 79
Tax calculation will be finalised during checkout.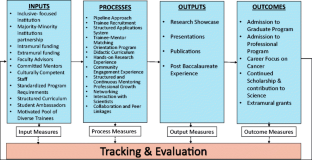 References
1.

Winkfield KM et al (2017) American Society of Clinical Oncology strategic plan for increasing racial and ethnic diversity in the oncology workforce. J Clin Oncol 35:22

2.

Polite BN, Adams-Campbell LL, Brawley OW, Bickell N, Carethers JM, Flowers CR, Foti M, Gomez SL, Griggs JJ, Lathan CS, Li CI, Lichtenfeld JL, McCaskill-Stevens W, Paskett ED (2017) Charting the future of cancer health disparities research: a position statement from the American Association for Cancer Research, the American Cancer Society, the American Society of Clinical Oncology, and the National Cancer Institute. CA Cancer J Clin 67:353–361

3.

Smedley BD, Haynes MA (1999) The unequal burden of cancer: an assessment of NIH research and programs for ethnic minorities and the medically underserved. National Academies Press

4.

Harrison R et al (2000) Recommendations of the clinical trials consensus panel. J Natl Med Assoc 92:464–471

5.

Swanson GM, Ward AJ (1995) Recruiting minorities into clinical trials toward a participant-friendly system. JNCI J Natl Cancer Inst 87:1747–1759

6.

Thomas CR Jr, Pinto HA, Roach M 3rd, Vaughn CB (1994) Participation in clinical trials: is it state-of-the-art treatment for African Americans and other people of color? J Natl Med Assoc 86:177

7.

Allen, P (1999) In Black Issues in Higher Education 25–29

8.

Jeste DV, Twamley EW, Cardenas V, Lebowitz B, Reynolds III, F C (2009) A call for training the trainers: focus on mentoring to enhance diversity in mental health research. Am J Public Health 99:S31–S37

9.

Shavers VL et al (2005) Barriers to racial/ethnic minority application and competition for NIH research funding. J Natl Med Assoc 97:1063

10.

W.K. Kellogg Foundation (2004) Using logic models to bring together planning, evaluation and action: logic model development guide

11.

Blazer DG, Hernandez LM (2006) Genes, behavior, and the social environment: moving beyond the nature/nurture debate. National Academies Press

12.

Lewis V, Martina CA, McDermott MP, Trief PM, Goodman SR, Morse GD, LaGuardia JG, Sharp D, Ryan RM (2016) A randomized controlled trial of mentoring interventions for underrepresented minorities. Acad Med 91:994–1001

13.

Johnson JC, Williams B, Jayadevappa R (1999) Mentoring program for minority faculty at the University of Pennsylvania, School of Medicine. Acad Med 74(4):376–379

14.

Thurmond VB, Cregler LL (1999) Why students drop out of the pipeline to health professions careers: a follow-up of gifted minority high school students. Acad Med 74(4):448–451

15.

Frierson HT. Perceptions of faculty preceptors in a summer research program targeted at minority undergraduate students. Paper presentation at the Annual Meeting of the American Educational Research Association. 1996, NY NY (April 8–13, 1996)

16.

Hedin JT (1988) Minority teens in research. Gifted Child Today 11(3):19–20

17.

Walter NB. Retaining aspiring scholars: recruitment and retention of students of color in graduate and professional science degree programs. Paper presentation at the Annual Meeting of the Association for the Study of Higher Education (ASHE) (22nd). 1997, Albuquerque NM (November 6–9, 1997)

18.

Valdez JR, Duran RP. Mentoring in higher education. Paper presentation at the Annual Meeting of the American Educational Research Association (Chicago, IL April, 1991)
Acknowledgements
Ms. Shannon Pressey and Mr. Kenneth Stokes are acknowledged for their role in supporting the ReTOOL program. Dr. Paul Okunieff is acknowledged for his support in developing and implementing the ReTOOL program. In addition, we would like to acknowledge the RETOOL mentors for their commitment to training underrepresented minority students.
Funding
The ReTOOL program was funded by the Department of Defense Prostate Cancer Research Program of the office of the Congressionally Directed Medical Research Programs (Awards W81XWH-12-1-0083 and W81XWH-14-1-0243) and currently funded by the National Institutes of Health/National Cancer Institute (P20CA192992 and R25CA21422).
About this article
Cite this article
Odedina, F.T., Reams, R.R., Kaninjing, E. et al. Increasing the Representation of Minority Students in the Biomedical Workforce: the ReTOOL Program. J Canc Educ 34, 577–583 (2019). https://doi.org/10.1007/s13187-018-1344-6
Keywords
Cancer research training

Minority undergraduate research

Underrepresented minorities

Summer research training program

ReTOOL program

Biomedical research workforce