Abstract
Human papilloma virus (HPV) vaccination rates lag behind other vaccines, primarily because of weak provider recommendations, and are associated with nearly 30,000 new cancer diagnoses a year. Educating medical students about HPV using active, team-centered learning may increase assimilation of information and may increase vaccination rates. A team-based learning (TBL) module focused on HPV for first-year medical students about HPV will better increase knowledge and likeliness to vaccinate than traditional education methods. Baseline HPV knowledge in medical students across Texas was assessed by surveying all 4-year undergraduate medical schools. Students at one medical school then participated in a week-long TBL focused on basic and clinical concepts relating to HPV, and then were re-surveyed upon completion of the course module. At baseline assessment, first-year student at the intervention site performed at the same level as first-year medical students across the state of Texas on knowledge and satisfaction with their HPV-related medical school education. After the TBL implementation, students performed significantly better than similar-year students and equal to graduating seniors, on knowledge of HPV- and HPV-related cancers, and report significantly higher satisfaction with education measures. Students at the intervention site were significantly more likely to recommend the HPV vaccination in future practice. Short-term knowledge and willingness to recommend vaccination are improved with a targeted HPV TBL early in medical education, which may provide a basis of knowledge that could translate into improved vaccination rates.
This is a preview of subscription content, log in to check access.
Access options
Buy single article
Instant access to the full article PDF.
US$ 39.95
Price includes VAT for USA
Subscribe to journal
Immediate online access to all issues from 2019. Subscription will auto renew annually.
US$ 99
This is the net price. Taxes to be calculated in checkout.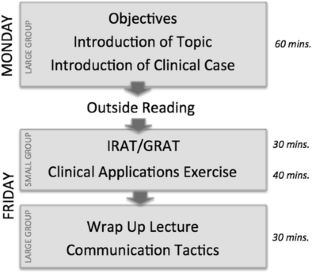 References
1.

Walker TY, Elam-Evans, LD, Singleton JA et al. (2017) National, regional, state and selected local area vaccination coverage among adolescents aged 13-17 years—United States, 2016. MMWR Morb Mortal Wkly Report 66(33):874–882. https://doi.org/10.15585/mmwr.mm6633a2

2.

Jemal A, Simard EP, Dorell C, Noone AM, Markowitz LE, Kohler B, Eheman C, Saraiya M, Bandi P, Saslow D, Cronin KA (2013) Annual report to the nation on the status of cancer, 1975–2009, featuring the burden and trends in human papillomavirus (HPV)–associated cancers and HPV vaccination coverage levels. JNCI: J of the Natl Cancer Inst 105(3):175–201. https://doi.org/10.1093/jnci/djs491

3.

Rosenthal SL, Weiss TW, Zimet GD, Ma L, Good MB, Vichnin MD (2011) Predictors of HPV vaccine uptake among women aged 19–26: importance of a physician's recommendation. Vaccine 29(5):890–895. https://doi.org/10.1016/j.vaccine.2009.12.063

4.

Kernéis, S., Jacquet, C., Bannay, A., May, T., Launay, O., Verger, P., & Pulcini C (2017). Vaccine education of medical students: a nationwide cross-sectional survey. Am J Prev Med, 53(3), e97-e104.https://doi.org/10.1016/j.amepre.2017.01.014

5.

Zimmerman RK, Barker WH, Strikas RA, Ahwesh ER, Mieczkowski TA, Janosky JE, Kanter SL (1997) Developing curricula to promote preventive medicine skills: the teaching immunization for medical education (TIME) project. JAMA 278(9):705–711. https://doi.org/10.1001/jama.1997.03550090029028

6.

Liu, Anthony, et al. Chinese medical students' knowledge, attitude and practice towards human papillomavirus vaccination and their intention to recommend the vaccine. Journal of Paediatrics and Child Health (2017)

7.

Berenson, Abbey B., Jacqueline M. Hirth, and Erika L. Fuchs. US medical students' willingness to offer the HPV vaccine by vaccination status. Vaccine35.9 (2017): 1212–1215

8.

Juckett G, Hartman-Adams H (2010) Human papillomavirus: clinical manifestations and prevention. Am Fam Physician 82(10):1209–1213

9.

MOC II, A. B. O. G. (2017) Committee opinion no. 641: human papillomavirus vaccination. Obstet Gynecol 126(3):e38–e41

10.

Blitzer GC, Smith MA, Harris SL, Kimple RJ (2014) Review of the clinical and biologic aspects of human papillomavirus-positive squamous cell carcinomas of the head and neck. Int J Radiat Oncol Biol Phys 88(4):761–770. https://doi.org/10.1016/j.ijrobp.2013.08.029
Ethics declarations
This research project was reviewed and approved by the UT Health Science Center at Houston and MD Anderson Institutional Review Board.
About this article
Cite this article
Wiley, R., Shelal, Z., Bernard, C. et al. Team-Based Learning Module for Undergraduate Medical Education: a Module Focused on the Human Papilloma Virus to Increase Willingness to Vaccinate. J Canc Educ 34, 357–362 (2019). https://doi.org/10.1007/s13187-017-1311-7
Keywords
Team-based learning

HPV

Vaccine education