Abstract
Cervical cancer is a major cause of death among women especially in developing nations. It can be prevented through screening yet many women are unaware of screening options. Nurses are in vantage position to provide cervical cancer screening (CCS) information and services especially in antenatal clinics. The purpose of this study is to evaluate the effects of an educational intervention (EI) on nurses' knowledge and attitude towards providing CCS information. This quasi-experimental study was conducted in eight health facilities in Ibadan, Nigeria. The facilities were randomly divided into intervention group (IG) and control group (CG). A total of 133 consenting nurses (60 in the IG and 73 in the CG) participated. Baseline data were collected using self-administered questionnaire. The nurses in the IG received the EI and both groups were administered with a post-test questionnaire after 6 months. Data were analysed using chi square and Student's t test at p = 0.05. Nurses' mean age was 41.7 years. Knowledge scores for the IG (11.8 ± 3.3) and CG (11.7 ± 3.3) were comparable at baseline (p = 0.901) but was significantly higher among nurses in the IG (14.63 ± 3.12) than CG (12.7 ± 3.5) at 6 months PI (p = 0.01). More nurses in the IG had high level of knowledge than CG. There was no significant difference in their attitude at baseline and at PI. There was a significant association between knowledge and attitude towards providing cervical cancer screening information (p < 0.000). Education improved knowledge of nurses on cervical cancer screening. Regular education programmes for nurses may result in improved counselling on major health issues like cancer.
This is a preview of subscription content, log in to check access.
Access options
Buy single article
Instant access to the full article PDF.
US$ 39.95
Price includes VAT for USA
Subscribe to journal
Immediate online access to all issues from 2019. Subscription will auto renew annually.
US$ 99
This is the net price. Taxes to be calculated in checkout.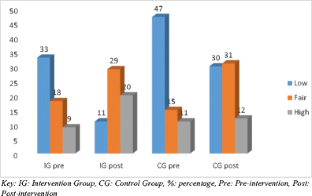 References
1.

International Agency for Research on Cancer, GLOBOCAN, WHO/ICO Information Centre (2012) Globacon, 2012 estimated cancer incidences, mortality and prevalence worldwide http://globocan.iarc.fr/

2.

Perlman S, Wamai RG, Bain PA, Welty T, Welty E (2014) Knowledge and awareness of HPV vaccine and acceptability to vaccinate in Sub-Saharan Africa: a systematic review. PLoS ONE 9(3):e90912. doi:10.1371/journal.pone.0090912

3.

Nwozor CM, Oragudosi AL (2013) Awareness and uptake of cervical cancer screening among women in Onitsha, South-East, Nigeria. Greener J Med Sci 3(8):283–288 www.gjournals.org

4.

Wright KO, Faser B, Kuyinu YA, Faduyile FA (2011) Awareness and uptake of the Pap smear among market women in Lagos, Nigeria. J Public Health Afr 2:e14. doi:10.4081/jphia.2011.e14

5.

Kim HW, Kim DH (2015) Awareness of cervical cancer prevention among mothers of adolescent daughters in Korea: qualitative research. BMJ Open 5:e006915. doi:10.1136/bmjopen-2014-006915

6.

Bodenheimer T, Bauer L (2016) Rethinking the primary care workforce—an expanded role for nurses. N Engl J Med 375(11):1015–1017. doi:10.1056/NEJMp1607653

7.

Louie SK, de Sanjose S, Mayaud P (2009) Epidemiology and prevention of cervical cancer. Maharashtra, India. Bull World Health Organ 85:264–272

8.

Zechariahjebakumar A, Nondo HS, Sarfo SK (2014) Nurses role in cervical cancer prevention and its treatment—a critical review. Asia Pac Nurs 1(1):1–5 www.mcmed.us/journal/apjn

9.

Arulogun OS, Maxwell OO (2012) Perception and utilization of cervical cancer screening services among female nurses in University College Hospital, Ibadan, Nigeria. Pan Afr Med J 11:69 15

10.

Awodele O, Adeyomoye AAA, Awodele DF, Kwashi V, Awodele IO, Dolapo DC (2011) A study on cervical cancer screening amongst nurses in Lagos University Teaching Hospital, Lagos, Nigeria. J Cancer Educ 26(3):497–504

11.

World Health Organization (2006) Comprehensive cancer control. A guide to essential practice. World Health Organization, Geneva http://www.whoint/cancer

12.

Tchounga BK, Antoine Jaquet A, Coffie PA, Horo A, Sauvaget C, Adoubi I, Guie P, Dabis F, Annie J, Sasco AJ, Didier K, Ekouevi DK (2014) Cervical cancer prevention in reproductive health services: knowledge, attitudes and practices of midwives in Côte d'Ivoire, West Africa. BMC Health Serv Res 14:165

13.

Nagamatsu Y, Natori Y, Yanai H, Horiuchi S (2014) Impact of a nursing education program about caring for patients in Japan with malignant pleural mesothelioma on nurses' knowledge, difficulties and attitude: a randomized control trial. Nurse Educ Today 34(7):1087–1093. doi:10.1016/j.nedt.2014.02.007

14.

Miller D, Okolo CA, Mirabal Y, Guillaud M, Arulogun OS, Oladepo O, Crain B, Follen M, Adewole IF (2007) Knowledge dissemination and evaluation in a cervical cancer screening implementation program in Nigeria. Gynecol Oncol 107(1 Suppl 1):S196–S207. doi:10.1016/j.ygyno.2007.07.014

15.

Pawlowski ZS, Gromadecka-Sutkiewicz M, Skommer J, Paul M, Rokossowski H, Suchocka E, Schantz PM (2001) Impact of health education on knowledge and prevention behavior for congenital toxoplasmosis: the experience in Pozna, Poland. Health Educ Res 16(4):493–502

16.

Turner J, Clavarino A, Butow P, Yates P, Hargraves M, Connors V, Hausmann S (2009) Enhancing the capacity of oncology nurses to provide supportive care for parents with advanced cancer: evaluation of an educational intervention. Eur J Cancer 45(10):1798–1806. doi:10.1016/j.ejca.2009.02.023

17.

Dauer LT, Kelvin JF, Horan CL, St Germain J (2006) Evaluating the effectiveness of a radiation safety training intervention for oncology nurses: a pretest-intervention-posttest study. BMC Med Educ 6:32. doi:10.1186/1472-6920-6-32

18.

Ndikom CM, Ofi BA (2012) Awareness, perception and factors affecting utilization of cervical cancer screening services among women in Ibadan, Nigeria: a qualitative study. BMC Reprod Health 9(11):1–8

19.

Peg B, Dhiman N, Chaturvedi J, Sharma SK (2017) Nurse's knowledge and attitude regarding cervical cancer screening at a tertiary care hospital. Int J Reprod Contracept Obstet Gynecol 6:907–910

20.

Anorlu RI, Ribiu KA, Abudu OO, Ola ER (2007) Cervical cancer screening practices among general practitioners in Lagos Nigeria. J Obstet Gynaecol 27(2):181–184

21.

Dim CC, Nwagha UI, Ezegwui HU, Dim NR (2009) The need to incorporate routine cervical cancer counselling and screening in the management of women at the outpatient clinics in Nigeria. J Obstet Gynaecol 29(8):754–756

22.

Yildirimj JG, Arabaci Z (2014) Innovations in HPV vaccination and roles of nurses in cervical cancer prevention. Asia Pac J Cancer Prev 15(23):10053–10056. doi:10.7314/APJCP.2014.15

23.

Ministry of Local Government and Chieftaincy Matters (2014) Distribution of Local Governments by Geographical Zone. Accessed from http://www.oyostate.gov.ng
Ethics declarations
Conflict of Interest
The authors declare that they have no conflict of interest.
About this article
Cite this article
Ndikom, C.M., Ofi, B.A., Omokhodion, F.O. et al. Effects of Educational Intervention on Nurses' Knowledge and Attitude Towards Providing Cervical Cancer Screening Information in Selected Health Facilities in Ibadan, Nigeria. J Canc Educ 34, 59–65 (2019). https://doi.org/10.1007/s13187-017-1267-7
Keywords
Attitude

Cervical cancer

Educational intervention

Knowledge

Nurses