Abstract
There is ongoing debate regarding the best mammography screening practices. Twitter has become a powerful tool for disseminating medical news and fostering healthcare conversations; however, little work has been done examining these conversations in the context of how users are sharing evidence and discussing current guidelines for breast cancer screening. To characterize the Twitter conversation on mammography and assess the quality of evidence used as well as opinions regarding current screening guidelines, individual tweets using mammography-related hashtags were prospectively pulled from Twitter from 5 November 2015 to 11 December 2015. Content analysis was performed on the tweets by abstracting data related to user demographics, content, evidence use, and guideline opinions. Standard descriptive statistics were used to summarize the results. Comparisons were made by demographics, tweet type (testable claim, advice, personal experience, etc.), and user type (non-healthcare, physician, cancer specialist, etc.). The primary outcomes were how users are tweeting about breast cancer screening, the quality of evidence they are using, and their opinions regarding guidelines. The most frequent user type of the 1345 tweets was "non-healthcare" with 323 tweets (32.5%). Physicians had 1.87 times higher odds (95% CI, 0.69–5.07) of providing explicit support with a reference and 11.70 times higher odds (95% CI, 3.41–40.13) of posting a tweet likely to be supported by the scientific community compared to non-healthcare users. Only 2.9% of guideline tweets approved of the guidelines while 14.6% claimed to be confused by them. Non-healthcare users comprise a significant proportion of participants in mammography conversations, with tweets often containing claims that are false, not explicitly backed by scientific evidence, and in favor of alternative "natural" breast cancer prevention and treatment. Furthermore, users appear to have low approval and confusion regarding screening guidelines. These findings suggest that more efforts are needed to educate and disseminate accurate information to the general public regarding breast cancer prevention modalities, emphasizing the safety of mammography and the harms of replacing conventional prevention and treatment modalities with unsubstantiated alternatives.
Access options
Buy single article
Instant access to the full article PDF.
USD 39.95
Price includes VAT (USA)
Tax calculation will be finalised during checkout.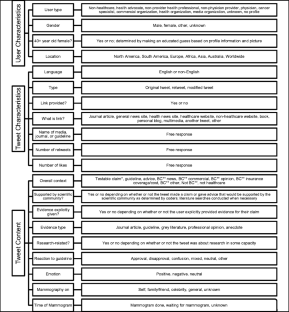 References
1.

Alnemer KA, Alhuzaim WM, Alnemer AA, Alharbi BB, Bawazir AS, Barayyan OR, Balaraj FK (2015) Are health-related tweets evidence based? Review and analysis of health-related tweets on twitter. J Med Internet Res 17(10):e246. doi:10.2196/jmir.4898

2.

American Cancer Society (2015) Breast cancer facts & figures 2015-2016. Atlanta: Am Cancer Soc Inc. http://www.cancer.org/acs/groups/content/@research/documents/document/acspc-046381.pdf. Accessed January 2017

3.

Armstrong K, Rose A, Peters N, Long JA, McMurphy S, Shea JA (2006) Distrust of the health care system and self-reported health in the United States. J Gen Intern Med 21(4):292–297. doi:10.1111/j.1525-1497.2006.00396.x

4.

Barnes PM, Bloom B, Nahin RL (2008) Complementary and alternative medicine use among adults and children: United States, 2007. Natl Health Stat Report 12:1–23

5.

Borgmann H, DeWitt S, Tsaur I, Haferkamp A, Loeb S (2015) Novel survey disseminated through Twitter supports its utility for networking, disseminating research, advocacy, clinical practice and other professional goals. Can Urol Assoc J 9(9–10):E713–E717. doi:10.5489/cuaj.3014

6.

Harris JK, Moreland-Russell S, Tabak RG, Ruhr LR, Maier RC (2014) Communication about childhood obesity on Twitter. Am J Public Health 104(7):e62–e69. doi:10.2105/ajph.2013.301860

7.

Hughes E (2016) Can Twitter improve your health? An analysis of alcohol consumption guidelines on Twitter. Health Inf Libr J 33(1):77–81. doi:10.1111/hir.12133

8.

Lee D (2016) Facebook's fake news crisis deepens. BBC News. http://www.bbc.com/news/technology-37983571. Accessed 5 January 2017

9.

Lee JL, DeCamp M, Dredze M, Chisolm MS, Berger ZD (2014) What are health-related users tweeting? A qualitative content analysis of health-related users and their messages on twitter. J Med Internet Res 16(10):e237. doi:10.2196/jmir.3765

10.

Lyles CR, Lopez A, Pasick R, Sarkar U (2013) "5 mins of uncomfyness is better than dealing with cancer 4 a lifetime": an exploratory qualitative analysis of cervical and breast cancer screening dialogue on Twitter. J Cancer Educ 28(1):127–133. doi:10.1007/s13187-012-0432-2

11.

Mainiero MB, Lourenco A, Mahoney MC, Newell MS, Bailey L, Barke LD, D'Orsi C et al (2013) ACR appropriateness criteria breast cancer screening. J Am Coll Radiol 10(1):11–14. doi:10.1016/j.jacr.2012.09.036

12.

Myers ER, Moorman P, Gierisch JM, Havrilesky LJ, Grimm LJ, Ghate S, Davidson B et al (2015) Benefits and harms of breast cancer screening: a systematic review. JAMA 314(15):1615–1634. doi:10.1001/jama.2015.13183

13.

Nakhasi A, Bell SG, Passarella RJ, Paul MJ, Dredze M, Pronovost PJ (2016) The potential of Twitter as a data source for patient safety. J Patient Saf. doi:10.1097/pts.0000000000000253

14.

Nelson HD, Tyne K, Naik A, Bougatsos C, Chan BK, Humphrey L (2009) Screening for breast cancer: an update for the U.S. Preventive Services Task Force. Ann Intern Med 151(10):727–737 . doi:10.7326/0003-4819-151-10-200911170-00009w237-742

15.

Oeffinger KC, Fontham ET, Etzioni R, Herzig A, Michaelson JS, Shih YC, Walter LC et al (2015) Breast cancer screening for women at average risk: 2015 guideline update from the American Cancer Society. JAMA 314(15):1599–1614. doi:10.1001/jama.2015.12783

16.

Okoro CA, Zhao G, Li C, Balluz LS (2013) Has the use of complementary and alternative medicine therapies by U.S. adults with chronic disease-related functional limitations changed from 2002 to 2007? J Altern Complement Med 19(3):217–223. doi:10.1089/acm.2012.0009

17.

Prabhu V, Lee T, Loeb S, Holmes JH, Gold HT, Lepor H, Penson DF, Makarov DV (2015) Twitter response to the United States Preventive Services Task Force recommendations against screening with prostate-specific antigen. BJU Int 116(1):65–71. doi:10.1111/bju.12748

18.

Smith RA, Saslow D, Sawyer KA, Burke W, Costanza ME, Evans WP 3rd, Foster RS Jr, Hendrick E, Eyre HJ, Sener S (2003) American Cancer Society guidelines for breast cancer screening: update 2003. CA Cancer J Clin 53(3):141–169

19.

Thackeray R, Burton SH, Giraud-Carrier C, Rollins S, Draper CR (2013) Using Twitter for breast cancer prevention: an analysis of breast cancer awareness month. BMC Cancer 13:508. doi:10.1186/1471-2407-13-508

20.

Titler MG (2008) The evidence for evidence-based practice implementation. Agency for Healthcare Research and Quality, Rockville (MD)

21.

Treister-Goltzman Y, Peleg R (2015) Trends in publications on complementary and alternative medicine in the medical literature. J Complement Integr Med 12(2):111–115. doi:10.1515/jcim-2014-0055
Ethics declarations
Conflicts of Interest
Mark Dredze is commercially employed by Bloomberg LP, which did not provide support for this study. Dredze has received consulting fees from Directing Medicine and Sickweather, companies that use social media for public health.
About this article
Cite this article
Nastasi, A., Bryant, T., Canner, J.K. et al. Breast Cancer Screening and Social Media: a Content Analysis of Evidence Use and Guideline Opinions on Twitter. J Canc Educ 33, 695–702 (2018). https://doi.org/10.1007/s13187-017-1168-9
Keywords
Breast cancer

Mammography

Social media

Twitter