Abstract
We used national survey data to (1) determine the extent to which individuals trust the sources from which they are most likely to receive information about cancer-related genetic tests (BRCA1/2, Lynch syndrome), (2) examine how level of trust for sources of genetic information might be related to cancer-related genetic testing uptake, and (3) determine whether key factors, such as cancer history and numeracy, moderate the latter association. We used cross-sectional data from the Health Information National Trends Survey. Our study sample included individuals who responded that they had heard or read about genetic tests (n = 1117). All analyses accounted for complex survey design. Although respondents trusted information from health professionals the most, they were significantly less likely to report hearing about genetic testing from such professionals than via television (p < 0.01). Regardless of source, higher levels of trust in the information source from which participants heard about genetic tests were associated with increased odds of genetic testing uptake, particularly among those with a personal cancer history. Numeracy was not associated with genetic testing uptake. Because health professionals were among the most trusted health information sources, they may serve as important brokers of genetic testing information for those with a personal cancer history.
This is a preview of subscription content, log in to check access.
Access options
Buy single article
Instant access to the full article PDF.
US$ 39.95
Tax calculation will be finalised during checkout.
Subscribe to journal
Immediate online access to all issues from 2019. Subscription will auto renew annually.
US$ 99
Tax calculation will be finalised during checkout.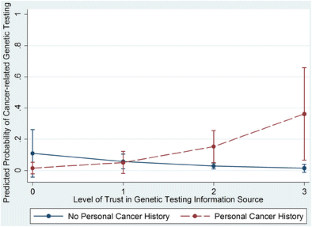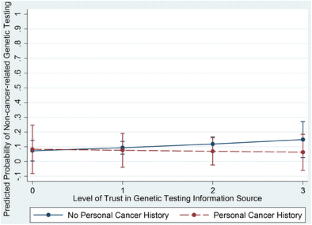 References
1.

Agurs-Collins T, Ferrer R, Ottenbacher A, Waters EA, O'Connell ME, Hamilton JG (2015) Public awareness of direct-to-consumer genetic tests: findings from the 2013 U.S. Health Information National Trends Survey. J Cancer Educ 30(4):799–807. doi:10.1007/s13187-014-0784-x

2.

Anderson K, Jacobson JS, Heitjan DF, Zivin JG, Hershman D, Neugut AI, Grann VR (2006) Cost-effectiveness of preventive strategies for women with a BRCA1 or a BRCA2 mutation. Ann Intern Med 144(6):397–406

3.

Berg JS, Khoury MJ, Evans JP (2011) Deploying whole genome sequencing in clinical practice and public health: meeting the challenge one bin at a time. Genet Med 13(6):499–504. doi:10.1097/GIM.0b013e318220aaba

4.

Bruine de Bruin W, McNair SJ, Taylor AL, Summers B, Strough J (2015) "Thinking about numbers is not my idea of fun": need for cognition mediates age differences in numeracy performance. Med Decis Mak 35(1):22–26. doi:10.1177/0272989X14542485

5.

Caulfield T, Ries NM, Ray PN, Shuman C, Wilson B (2010) Direct-to-consumer genetic testing: good, bad or benign? Clin Genet 77(2):101–105. doi:10.1111/j.1399-0004.2009.01291.x

6.

Chen S, Parmigiani G (2007) Meta-analysis of BRCA1 and BRCA2 penetrance. J Clin Oncol 25(11):1329–1333. doi:10.1200/JCO.2006.09.1066

7.

Clarke MA, Moore JL, Steege LM, Koopman RJ, Belden JL, Canfield SM, Meadows SE, Elliott SG, Kim MS (2015) Health information needs, sources, and barriers of primary care patients to achieve patient-centered care: a literature review. Health Inform J. doi:10.1177/1460458215602939

8.

Cuevas AG, O'Brien K, Saha S (2016) African American experiences in healthcare: "I always feel like I'm getting skipped over". Health Psychol. doi:10.1037/hea0000368

9.

Daly, Mary B., et al. (2016) "Genetic/familial high-risk assessment: breast and ovarian, version 2.2015." Journal of the National Comprehensive Cancer Network 14(2):153–162

10.

Darst BF, Madlensky L, Schork NJ, Topol EJ, Bloss CS (2014) Characteristics of genomic test consumers who spontaneously share results with their health care provider. Health Commun 29(1):105–108. doi:10.1080/10410236.2012.717216

11.

Dinh TA, Rosner BI, Atwood JC, Boland CR, Syngal S, Vasen HF, Gruber SB, Burt RW (2011) Health benefits and cost-effectiveness of primary genetic screening for Lynch syndrome in the general population. Cancer Prev Res (Phila) 4(1):9–22. doi:10.1158/1940-6207.CAPR-10-0262

12.

Federal Drug Administration (2013) Warning letter. In: No. GEN1300666, ed. Federal Drug Administration. Silver Spring, MD

13.

Federal Drug Administration (2015) FDA permits marketing of first direct-to-consumer genetic carrier test for Bloom syndrome. FDA News Release.http://www.fda.gov/NewsEvents/Newsroom/PressAnnouncements/ucm435003.htm. Accessed 2016

14.

Finlay E, Stopfer JE, Burlingame E, Evans KG, Nathanson KL, Weber BL, Armstrong K, Rebbeck TR, Domchek SM (2008) Factors determining dissemination of results and uptake of genetic testing in families with known BRCA1/2 mutations. Genet Test 12(1):81–91. doi:10.1089/gte.2007.0037

15.

Freedman AN, Wideroff L, Olson L, Davis W, Klabunde C, Srinath KP, Reeve BB, Croyle RT, Ballard-Barbash R (2003) US physicians' attitudes toward genetic testing for cancer susceptibility. Am J Med Genet A 120A(1):63–71. doi:10.1002/ajmg.a.10192

16.

Gaglio B, Glasgow RE, Bull SS (2012) Do patient preferences for health information vary by health literacy or numeracy? A qualitative assessment. J Health Commun 17(Suppl 3):109–121. doi:10.1080/10810730.2012.712616

17.

Garber JE, Offit K (2005) Hereditary cancer predisposition syndromes. J Clin Oncol 23(2):276–292. doi:10.1200/JCO.2005.10.042

18.

Guillem JG, Wood WC, Moley JF, Berchuck A, Karlan BY, Mutch DG, Gagel RF et al (2006) ASCO/SSO review of current role of risk-reducing surgery in common hereditary cancer syndromes. J Clin Oncol 24(28):4642–4660. doi:10.1200/JCO.2005.04.5260

19.

Hanoch Y, Miron-Shatz T, Rolison JJ, Ozanne E (2014) Understanding of BRCA1/2 genetic tests results: the importance of objective and subjective numeracy. Psychooncology 23(10):1142–1148. doi:10.1002/pon.3537

20.

Hegde M, Ferber M, Mao R, Samowitz W, Ganguly A, Genetics Working Group of the American College of Medical, and Committee Genomics Laboratory Quality Assurance (2014) ACMG technical standards and guidelines for genetic testing for inherited colorectal cancer (Lynch syndrome, familial adenomatous polyposis, and MYH-associated polyposis). Genet Med 16(1):101–116. doi:10.1038/gim.2013.166

21.

Institute of Medicine Committee on Health Literacy (2004) Health literacy: a prescription to end confusion. Institute of Medicine. The National Academies Press: Institute of Medicine, Washington DC

22.

Jagsi R, Griffith KA, Kurian AW, Morrow M, Hamilton AS, Graff JJ, Katz SJ, Hawley ST (2015) Concerns about cancer risk and experiences with genetic testing in a diverse population of patients with breast cancer. J Clin Oncol 33(14):1584–1591. doi:10.1200/JCO.2014.58.5885

23.

Klitzman R, Chung W, Marder K, Shanmugham A, Chin LJ, Stark M, Leu CS, Appelbaum PS (2013) Attitudes and practices among internists concerning genetic testing. J Genet Couns 22(1):90–100. doi:10.1007/s10897-012-9504-z

24.

Kowalczyk N, Draper LJ (2012) Trends in patient information preferences and acquisition. Radiol Technol 83(4):316–324

25.

Lea DH, Kaphingst KA, Bowen D, Lipkus I, Hadley DW (2011) Communicating genetic and genomic information: health literacy and numeracy considerations. Public Health Genomics 14(4–5):279–289. doi:10.1159/000294191

26.

Lerman C, Daly M, Masny A, Balshem A (1994) Attitudes about genetic testing for breast-ovarian cancer susceptibility. J Clin Oncol 12(4):843–850

27.

Nelson HD, Fu R, Goddard K, Mitchell JP, Okinaka-Hu L, Pappas M, Zakher B (2013) Risk assessment, genetic counseling, and genetic testing for BRCA-related cancer: systematic review to update the U.S. Preventive Services Task Force recommendation. U.S. Preventive Services Task Force Evidence Syntheses, formerly Systematic Evidence Reviews, Rockville (MD)

28.

Paasche-Orlow MK, Wolf MS (2010) Promoting health literacy research to reduce health disparities. J Health Commun 15(Suppl 2):34–41. doi:10.1080/10810730.2010.499994

29.

Petty RE, Wegener DT (1998) Attitude change: multiple roles for persuasion variables. In: Fiske ST, Gilbert DT, Lindzey G (eds) The handbook of social psychology. McGraw-Hill, New York, NY, pp 323–390

30.

Schwartz MD, Lerman C, Brogan B, Peshkin BN, Halbert CH, DeMarco T, Lawrence W et al (2004) Impact of BRCA1/BRCA2 counseling and testing on newly diagnosed breast cancer patients. J Clin Oncol 22(10):1823–1829. doi:10.1200/JCO.2004.04.086

31.

Simon MS, Petrucelli N (2009) Hereditary breast and ovarian cancer syndrome: the impact of race on uptake of genetic counseling and testing. Methods Mol Biol 471:487–500. doi:10.1007/978-1-59745-416-2_25

32.

Singer E, Antonucci T, Van Hoewyk J (2004) Racial and ethnic variations in knowledge and attitudes about genetic testing. Genet Test 8(1):31–43. doi:10.1089/109065704323016012

33.

Suri VR, Majid S, Chang YK, Foo S (2016) Assessing the influence of health literacy on health information behaviors: a multi-domain skills-based approach. Patient Educ Couns 99(6):1038–1045. doi:10.1016/j.pec.2015.12.017

34.

Taber JM, Chang CQ, Lam TK, Gillanders EM, Hamilton JG, Schully SD (2015) Prevalence and correlates of receiving and sharing high-penetrance cancer genetic test results: findings from the Health Information National Trends Survey. Public Health Genomics 18(2):67–77. doi:10.1159/000368745

35.

Tambor ES, Rimer BK, Strigo TS (1997) Genetic testing for breast cancer susceptibility: awareness and interest among women in the general population. Am J Med Genet 68(1):43–49

36.

The National Cancer Institute (2015) HINTS 4 Cycle 3. http://hints.cancer.gov/. Accessed 2016

37.

United States Census Bureau (2016) US and world population clock.http://www.census.gov/popclock/. Accessed 2016

38.

Waters EA, Muff J, Hamilton JG (2014) Multifactorial beliefs about the role of genetics and behavior in common health conditions: prevalence and associations with participant characteristics and engagement in health behaviors. Genet Med 16(12):913–921. doi:10.1038/gim.2014.49

39.

Watson EK, Shickle D, Qureshi N, Emery J, Austoker J (1999) The 'new genetics' and primary care: GPs' views on their role and their educational needs. Fam Pract 16(4):420–425

40.

Weiss BD, Mays MZ, Martz W, Castro KM, DeWalt DA, Pignone MP, Mockbee J, Hale FA (2005) Quick assessment of literacy in primary care: the newest vital sign. Ann Fam Med 3(6):514–522. doi:10.1370/afm.405
Acknowledgements
This work was funded by intramural National Cancer Institute funds. The authors have no conflicts of interest. The views and opinions expressed in this article are those of the authors and do not necessarily represent the views of the National Institutes of Health or any other governmental agency.
Ethics declarations
This study includes the secondary data analysis of human subject research, as such informed consent was not applicable.
Conflicts of Interest
The authors declare that they have no conflict of interest.
Electronic supplementary material
About this article
Cite this article
Roberts, M.C., Taber, J.M. & Klein, W.M. Engagement with Genetic Information and Uptake of Genetic Testing: the Role of Trust and Personal Cancer History. J Canc Educ 33, 893–900 (2018). https://doi.org/10.1007/s13187-016-1160-9
Keywords
Genetic testing

Trust

Genetic information