Abstract
A cancer diagnosis requires significant information to facilitate health care decision making, understand management options, and health care system navigation. Patient knowledge deficit can decrease quality of life and health care compliance. Surveys were distributed to attendees of the Mayo Clinic "Living with and Surviving Cancer" patient symposium January 2015. Follow-up survey was sent to participants 3 months after the symposium. Surveys included demographic data and patient-reported disease comprehension, symptom burden, desired information, and quality-of-life assessment. Demographics: 113 patients completed the pre-intervention survey. Average age was 64.7 years. Disease types included hematologic (N = 50) and solid malignancies (N = 77). Most patients self-reported adequate baseline understanding of their disease (80 %), screening tests (74 %), and monitoring tools (72 %). Lowest knowledge topics were legal issues (13 %) and pain management (35 %). Pre- and post-analysis: 79 of the initial 113 participants completed both surveys. In the post-symposium setting, durable knowledge impact was noted in disease understanding (pre 80 % vs post 92 %), treatment options (pre 60 % vs post 76 %), nutrition (pre 68 % vs post 84 %), and legal issues (pre 15 % vs post 32 %). Most patients desired increased understanding regarding disease, screening tests, nutrition, and stress and fatigue management. The level of desired information for these topics decreased in the post-symposium setting, statistically significant decrease noted in 4 of 5 topics assessed. Knowledge needs and deficit in cancer care range from disease-specific topics, social stressors, and health care navigation. A cancer patient-centered symposium can improve patient-reported knowledge deficit, with durable responses at 3 months, but patient needs persist.
This is a preview of subscription content, log in to check access.
Access options
Buy single article
Instant access to the full article PDF.
US$ 39.95
Price includes VAT for USA
Subscribe to journal
Immediate online access to all issues from 2019. Subscription will auto renew annually.
US$ 99
This is the net price. Taxes to be calculated in checkout.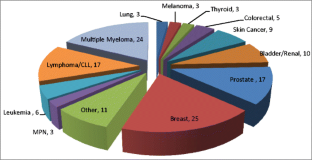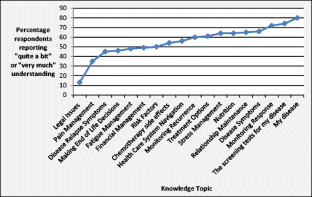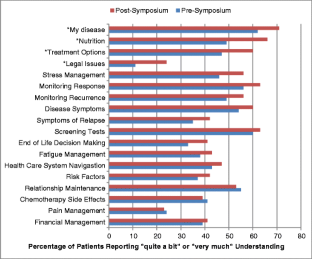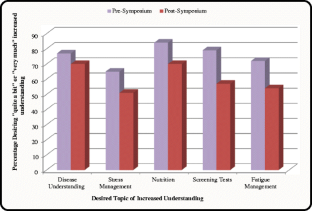 References
1.

Polacek GN, Ramos MC, Ferrer RL (2007) Patient Educ Couns 65:158–165

2.

Roach AR, Lykins EL, Gochett CG, Brechting EH, Graue LO, Andrykowski MA (2009) J Cancer Educ : Off J Am Assoc Cancer Educ 24:73–79

3.

Baker DW, Wolf MS, Feinglass J, Thompson JA, Gazmararian JA, Huang J (2007) Arch Intern Med 167:1503–1509

4.

Dewalt DA, Pignone MP (2005) Am Fam Physician 72:387–388

5.

Degner LF, Davison BJ, Sloan JA, Mueller B (1998) J Nurs Meas 6:137–153

6.

Beckjord EB, Arora NK, McLaughlin W, Oakley-Girvan I, Hamilton AS, Hesse BW (2008) J Cancer Survivorship: Res Pract 2:179–189

7.

Fallowfield L, Ford S, Lewis S (1995) Psycho-Oncology 4:197–202

8.

Harrison DE, Galloway S, Graydon JE, Palmer-Wickham S (1999) Rich-van der Bij L. Patient Educ Couns 38:217–225

9.

Rogers SN, Rozek A, Aleyaasin N, Promod P, Lowe D (2012) Br J Oral Maxillofac Surg 50:208–214

10.

Eysenbach G (2003) CA Cancer J Clin 53:356–371

11.

Johnson RL, Roter D, Powe NR, Cooper LA (2004) Am J Public Health 94:2084–2090

12.

Gany F, Yogendran L, Massie D, Ramirez J, Lee T et al (2013) J Cancer Educ: Off J Am Assoc Cancer Educ 28:165–170

13.

Costas-Muniz R, Sen R, Leng J, Aragones A, Ramirez J, Gany F (2013) J Cancer Educ: Off J Am Assoc Cancer Educ 28:458–465

14.

Goodwin JS, Samet JM, Hunt WC (1996) J Natl Cancer Inst 88:1031–1038
Acknowledgments
This study was approved by the Mayo Clinic Internal Review Board.
Ethics declarations
Disclaimers
There are no financial disclosures, conflicts of interest, and/or acknowledgements from the authors, and/or no funding sources for the manuscript.
Additional information
Preliminary data presented as Abstract Only at 20th Congress of European Hematology Association Annual Meeting, Vienna, Austria, June 2015
About this article
Cite this article
Padrnos, L., Bennett, R., Kosiorek, H. et al. Living with Cancer: an Educational Intervention in Cancer Patients Can Improve Patient-Reported Knowledge Deficit. J Canc Educ 33, 653–659 (2018). https://doi.org/10.1007/s13187-016-1123-1
Keywords
Quality of life

Cancer symposium

Cancer education

Educational intervention

Patient education

Cancer survivorship

Survivorship

Patient knowledge