Abstract
Testicular cancer (TC) is among the most common malignancies in the young male. Awareness plays an important role, because delay in diagnosis affects outcome. Testicular self-examination (TSE) is controversial, but recent evidence shows some cost benefits in performing this exam versus a late-stage diagnosis. The aims of this study are to determine and compare awareness for TC and TSE in males and females with the actual knowledge to this disease in an academic population. An exploratory study using an online questionnaire about TC and TSE was performed in a public university. Answers were collected and submitted to statistical analysis. A total of 815 participants—507 males (62.2 %) and 308 females (37.7 %)—answered the survey. The participants that responded that they were aware of TC were 399/507 (78.7 %) males and 275/308 (89.3 %) females. About half (48.9 %) of male and 42.2 % of female respondents did not answered correctly to most common symptom, and only 15 % of males and 25 % of females answered to the question on age at diagnosis. Both gender subjects rated TSE as very important, and the majority of females were motivated to advise male partners or friends to perform TSE. This study reported a good awareness on TC and TSE, but comparing to the correct knowledge about this disease, results are disappointing. The actual knowledge about TC is low and comparable in men and women. Women revealed a better understanding of this disease and importance of TSE, suggesting that they can assume an important role in promoting health behaviors in men.
Access options
Buy single article
Instant access to the full article PDF.
USD 39.95
Price excludes VAT (USA)
Tax calculation will be finalised during checkout.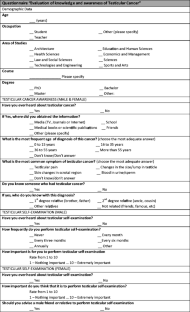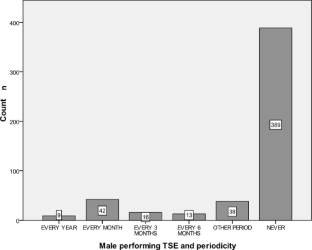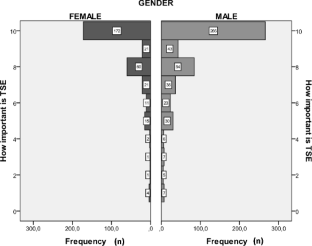 References
La Vecchia C, Bosetti C, Lucchini F et al (2010) Cancer mortality in Europe, 2000-2004, and an overview of trends since 1995. Ann Oncol 21(6):1323–60

Curado MP, Edwards B, Shin R, et al. Cancer incidence in five continents, Vol IX. IARC Scientific Publication 2007, No. 160. Available at http://www.iarc.fr/en/publications/pdfs-online/epi/index.php (accessed online in 20th March 2015)

Engholm G, Ferlay J, Christensen N et al (2010) NORDCAN—a Nordic tool for cancer information, planning, quality control and research. Acta Oncol 49(5):725–36

Stewart BW, Wild CP (eds) (2014) World cancer report 2014. International Agency for Research on Cancer, Lyon

Huyghe E, Matsuda T, Thonneau P (2003) Increasing incidence of testicular cancer worldwide: a review. J Urol 170(1):5–11

Huyghe E, Plante P, Thonneau PF (2007) Testicular cancer variations in time and space in Europe. Eur Urol 51(3):621–8

Hayes-Lattin B, Nichols CR (2009) Testicular cancer: a prototypic tumor of young adults. Semin Oncol 36(5):432–438. doi:10.1053/j.seminoncol.2009.07.006

Siegel R (2012) Cancer treatment and survivorship statistic 2012. CA Cancer J Clin 62:220–241

Huyghe E, Muller A, Mieusset R et al (2007) Impact of diagnostic delay in testis cancer: results of a large population-based study. Eur Urol 52(6):1710–6

Akar SZ, Bebis H (2014) Evaluation of the effectiveness of testicular cancer and testicular self-examination training for patient care personnel: intervention study. Health Educ Res 29(6):966–976

Rovito MJ, Gordon TF, Bass SB, Ducette J (2011) Perceptions of testicular cancer and testicular self-examination among college men: a report on intention, vulnerability, and promotional material preferences. Am J Mens Health 5(6):500–7. doi:10.1177/1557988311409023

Aberger M, Wilson B, Holzbeierlein JM, Griebling TL, Nangia AK (2014) Testicular self-examination and testicular cancer: a cost-utility analysis. Cancer Med 3(6):1629–1634

Wardle J, Steptoe A, Burckhardt R, Vogele C, Vila J, Zarczynski Z (1994) Testicular self-examination: attitudes and practices among young men in Europe. Prev Med 23(2):206–210

Khadra A, Oakeshott P (2002) Pilot study of testicular cancer awareness and testicular self-examination in men attending two South London general practices. Fam Pract 19(3):294–296

Ugboma HAA, Aburoma HLS (2011) Public awareness of testicular cancer and testicular self-examination in academic environments: a lost opportunity. Clinics 66(7):1125–1128

Ugurlu Z, Akkuzu G, Karahan A, Beder A, Dogan N, Okdem S, Kav S (2011) Testicular cancer awareness and testicular self-examination among university students. Asian Pac J Cancer Prev 12(3):695–8

Kuzgunbay B, Yaycioglu O, Soyupak B, Kayis AA, Ayan S, Yavascaoglu I, Cal C (2013) Beduk Y; Turkish Study Group of Public Awareness in Testicular Cancer. Public awareness of testicular cancer and self-examination in Turkey: a multicenter study of Turkish Urooncology Society. Urol Oncol 31(3):386–91. doi:10.1016/j.urolonc.2011.01.020

Rogers RG, Everett BG, Saint Onge JM, Krueger PM (2010) Social, behavioral, and biological factors, and sex differences in mortality. Demography 47(3):555–578

Ek S. Gender differences in health information behaviour: a Finnish population-based survey. Health Promot Int. Epub ahead of print 28 August 2013. DOI: 10.1093/heapro/dat063

Robertson LM, Douglas F, Ludbrook A, Reid G, Teijlingen E (2008) What works with men? A systematic review of health promoting interventions targeting men. BMC Health Serv Res 8:141. doi:10.1186/1472-6963-8-141

U.S. Preventive Services Task Force. Screening for testicular cancer. Rockville, MD: USPSTF; 2011. Available at: http://www.uspreventiveservicestaskforce.org/Page/Topic/recommendation-summary/testicular-cancer-screening?ds=1&s=testicular%20cancer (Accessed on 25th January 2015)

Hopcroft K (2012) Routine testicular self examination: it's time to stop. BMJ 344:e2120. doi:10.1136/bmj.e2120

Holland DJ (2005) Sending men the message about preventive care: an evaluation of communication strategies. Int J Men's Health 4(2):97–114
About this article
Cite this article
Braga, I.C., Cabral, J., Louro, N. et al. Testicular Cancer Awareness and Knowledge: Is It the Same? Exploratory Study in a Mixed-Gender Population. J Canc Educ 32, 105–111 (2017). https://doi.org/10.1007/s13187-015-0903-3
Published:

Issue Date:

DOI: https://doi.org/10.1007/s13187-015-0903-3
Keywords