Abstract
Although Hispanic men are at higher risk of developing colon cancer compared to non-Hispanic white men, colonoscopy screening among Hispanic men is much lower than among non-Hispanic white men. University Health System (UHS) in San Antonio, Texas, instituted a Colorectal Cancer Male Navigation (CCMN) Program in 2011 specifically designed for Hispanic men. The CCMN Program contacted 461 Hispanic men 50 years of age and older to participate over a 2-year period. Of these age-eligible men, 370 were screened for CRC after being contacted by the navigator. Using participant and program data, a Markov model was constructed to determine the cost-effectiveness of the CCMN Program. An average 50-year-old Hispanic male who participates in the CCMN Program will have 0.3 more quality-adjusted life-years (QALYs) compared to a similar male receiving usual care. Life expectancy is also predicted to increase by 6 months for participants compared to non-participants. The program results in net health care savings of $1,148 per participant ($424,760 for the 370 CCMN Program participants). The incremental cost-effectiveness ratio is estimated at $3,765 per QALY in favor of the navigation program. Interventions to reduce disparities in CRC screening across ethnic groups are needed, and this is one of the first studies to evaluate the economic benefit of a patient navigator program specifically designed for an urban population of Hispanic men. A colorectal cancer screening intervention which relies on patient navigators trained to address the unique needs of the targeted population (language barriers, transportation and scheduling assistance, colon cancer, and screening knowledge) can substantially increase the likelihood of screening and improve quality of life in a cost-effective manner.
Access options
Buy single article
Instant access to the full article PDF.
US$ 39.95
Tax calculation will be finalised during checkout.
Subscribe to journal
Immediate online access to all issues from 2019. Subscription will auto renew annually.
US$ 79
Tax calculation will be finalised during checkout.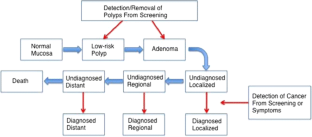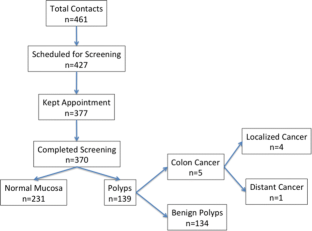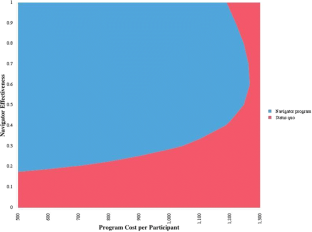 References
1.

Yepes-Rios M, Reimann JO, Talavera AC, Ruiz de Esparza A, Talavera GA (2006) Colorectal cancer screening among Mexican Americans at a community clinic. Am J Prev Med 30(3):204–210. doi:10.1016/j.amepre.2005.11.002

2.

Centers for Disease Control and Prevention (CDC) (2012) Cancer screening—United States, 2010. MMWR Morb Mortal Wkly Rep 61(3):41–45

3.

Stimpson JP, Pagan JA, Chen LW (2012) Reducing racial and ethnic disparities in colorectal cancer screening is likely to require more than access to care. Health Aff (Millwood) 31(12):2747–2754. doi:10.1377/hlthaff.2011.1290

4.

Ramirez AG, McAlister A, Gallion KJ et al (1995) Community level cancer control in a Texas barrio: part I–theoretical basis, implementation, and process evaluation. J Natl Cancer Inst Monogr 18:117–122

5.

Rhodes SD, Foley KL, Zometa CS, Bloom FR (2007) Lay health advisor interventions among Hispanics/Latinos: a qualitative systematic review. Am J Prev Med 33(5):418–427. doi:10.1016/j.amepre.2007.07.023

6.

Beyer KM, Comstock S, Seagren R, Rushton G (2011) Explaining place-based colorectal cancer health disparities: evidence from a rural context. Soc Sci Med 72(3):373–382. doi:10.1016/j.socscimed.2010.09.017

7.

Jandorf L, Stossel LM, Cooperman JL et al (2013) Cost analysis of a patient navigation system to increase screening colonoscopy adherence among urban minorities. Cancer 119(3):612–620. doi:10.1002/cncr.27759

8.

Shelton RC, Jandorf L, Ellison J, Villagra C, DuHamel KN (2011) The influence of sociocultural factors on colonoscopy and FOBT screening adherence among low-income Hispanics. J Health Care Poor Underserved 22(3):925–944. doi:10.1353/hpu.2011.0074

9.

Freeman HP (2006) Patient navigation: a community based strategy to reduce cancer disparities. J Urban Health 83(2):139–141. doi:10.1007/s11524-006-9030-0

10.

Freeman HP, Rodriguez RL (2011) History and principles of patient navigation. Cancer 117(15 Suppl):3539–3542. doi:10.1002/cncr.26262

11.

Elkin EB, Shapiro E, Snow JG, Zauber AG, Krauskopf MS (2012) The economic impact of a patient navigator program to increase screening colonoscopy. Cancer 118(23):5982–5988. doi:10.1002/cncr.27595

12.

Smith RA, Brooks D, Cokkinides V, Saslow D, Brawley OW (2013) Cancer screening in the United States, 2013: a review of current American Cancer Society guidelines, current issues in cancer screening, and new guidance on cervical cancer screening and lung cancer screening. CA Cancer J Clin 63(2):88–105. doi:10.3322/caac.21174

13.

Frazier AL, Colditz GA, Fuchs CS, Kuntz KM (2000) Cost-effectiveness of screening for colorectal cancer in the general population. JAMA 284(15):1954–1961

14.

Lang K, Lines LM, Lee DW, Korn JR, Earle CC, Menzin J (2009) Lifetime and treatment-phase costs associated with colorectal cancer: evidence from SEER-Medicare data. Clin Gastroenterol Hepatol 7(2):198–204. doi:10.1016/j.cgh.2008.08.034

15.

Vatn MH, Stalsberg H (1982) The prevalence of polyps of the large intestine in Oslo: an autopsy study. Cancer 49(4):819–825

16.

Chang GJ, Hu CY, Eng C, Skibber JM, Rodriguez-Bigas MA (2009) Practical application of a calculator for conditional survival in colon cancer. J Clin Oncol 27:5938–5943

17.

Abulafi AM, Williams NS (1994) Local recurrence of colorectal cancer: the problem, mechanisms, management and adjuvant therapy. Br J Surg 81(1):7–19

18.

Guyot F, Faivre J, Manfredi S, Meny B, Bonithon-Kopp C, Bouvier AM (2005) Time trends in the treatment and survival of recurrences from colorectal cancer. Ann Oncol 16(5):756–761. doi:10.1093/annonc/mdi151

19.

Devesa JM, Morales V, Enriquez JM et al (1988) Colorectal cancer: the bases for a comprehensive follow-up. Dis Colon Rectum 31(8):636–652

20.

Hellinger MD, Santiago CA (2006) Reoperation for recurrent colorectal cancer. Clin Colon Rectal Surg 19(4):228–236. doi:10.1055/s-2006-956445

21.

National Cancer Institute. Colon cancer treatment (PDQ). http://www.cancer.gov/cancertopics/pdq/treatment/colon/HealthProfessional/. Accessed December 21, 2013

22.

Ness RM, Holmes AM, Klein R, Dittus R (1999) Utility valuations for outcome states of colorectal cancer. Am J Gastroenterol 94(6):1650–1657. doi:10.1111/j.1572-0241.1999.01157.x

23.

TreeAge Software (2012) TreeAge Pro 2012. TreeAge Software, Inc., Williamstown

24.

Jerant AF, Arellanes RE, Franks P (2008) Factors associated with Hispanic/non-Hispanic white colorectal cancer screening disparities. J Gen Intern Med 23(8):1241–1245. doi:10.1007/s11606-008-0666-1

25.

Lebwohl B, Neugut AI, Stavsky E et al (2011) Effect of a patient navigator program on the volume and quality of colonoscopy. J Clin Gastroenterol 45(5):e47–e53. doi:10.1097/MCG.0b013e3181f595c3

26.

Jean-Pierre P, Fiscella K, Winters PC et al (2012) Psychometric validation and reliability analysis of a Spanish version of the patient satisfaction with cancer-related care measure: a patient navigation research program study. Support Care Cancer 20(9):1949–1956. doi:10.1007/s00520-011-1297-3

27.

Donaldson EA, Holtgrave DR, Duffin RA, Feltner F, Funderburk W, Freeman HP (2012) Patient navigation for breast and colorectal cancer in 3 community hospital settings: an economic evaluation. Cancer 118(19):4851–4859
Conflict of Interest
The authors do not have any financial disclosures or conflicts of interest.
Funding Support
This study was funded by the Cancer Prevention and Research Institute of Texas (award grant ID PP110120).
About this article
Cite this article
Wilson, F.A., Villarreal, R., Stimpson, J.P. et al. Cost-Effectiveness Analysis of a Colonoscopy Screening Navigator Program Designed for Hispanic Men. J Canc Educ 30, 260–267 (2015). https://doi.org/10.1007/s13187-014-0718-7
Keywords
Colorectal cancer

Screening

Colonoscopy

Patient navigation

Hispanic

Latino