Abstract
Some patients face difficulty understanding instructions for completing the fecal immunochemical test (FIT), a self-administered test to screen for colorectal cancer. We sought to develop and test low-literacy instructions for completing the FIT. Working in partnership with a Latino-serving Federally Qualified Health Center (FQHC) in the Portland Metro area, we developed and tested low-literacy instructions for completing the FIT; the instructions contained seven words (mail within 3 days; Devolver dentro de 3 dias). We conducted focus groups of Spanish-speaking patients on the advisory council of our partnering FQHC organization, and we gathered feedback from the project's advisory board members and clinic staff. We mailed a FIT kit to each patient, along with either (a) instructions written in English and Spanish, consisting of 415 words; or (b) low-literacy "wordless" instructions. We asked patients to complete the test before providing feedback. Our qualitative assessment showed that the wordless instructions were preferred over instructions consisting of words. Wordless instructions might aid efforts to raise the rates of colorectal cancer screening among low-literacy and non-English-speaking populations.
Access options
Buy single article
Instant access to the full article PDF.
USD 39.95
Price includes VAT (USA)
Tax calculation will be finalised during checkout.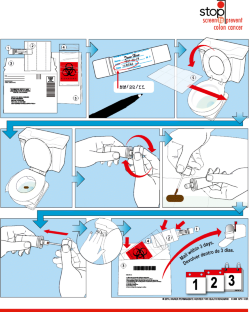 References
1.

Bapuji SB, Lobchuk MM, McClement SE, Sisler JJ, Katz A, Martens P (2012) Fecal occult blood testing instructions and impact on patient adherence. Cancer Epidemiol 36(4):e258–e264

2.

Chapple A, Ziebland S, Hewitson P, McPherson A (1982) What affects the uptake of screening for bowel cancer using a faecal occult blood test (FOBt): a qualitative study. Soc Sci Med 66(12):2425–2435, 2008
Acknowledgments
Research reported in this publication was supported by the National Center for Complementary & Alternative Medicine of the National Institutes of Health under award number UH2AT007782. The content is solely the responsibility of the authors and does not necessarily represent the official views of the National Institutes of Health. The authors would like to thank the patients, advisory board members, and clinic staff who reviewed the instructions. We confirm that all patient/personal identifiers have been removed or disguised, so the patient/person(s) described are not identifiable and cannot be identified through the details of the story. The authors would like to thank graphic artist, Lisa Fox, for designing the instructions.
About this article
Cite this article
Coronado, G.D., Sanchez, J., Petrik, A. et al. Advantages of Wordless Instructions on How to Complete a Fecal Immunochemical Test: Lessons from Patient Advisory Council Members of a Federally Qualified Health Center. J Canc Educ 29, 86–90 (2014). https://doi.org/10.1007/s13187-013-0551-4
Keywords
Fecal Immunochemical Test

Colorectal cancer Screening

Instructions

Health literacy