Abstract
Introduction
Both opioid and non-opioid analgesics are commonly utilized in treating acute and chronic pain in the emergency department (ED). Opioid stewardship efforts have focused on judicious opioid use and opioid alternatives as first-line analgesics. Parenteral opioid formulations have been impacted by periodic shortages creating the opportunity for a natural experiment to observe how emergency clinician prescribing behavior may be impacted. We investigated the change in analgesic practice related to a period of parenteral opioid shortage at two large urban, academic medical centers.
Methods
A retrospective review of pharmacy administration data from two academic urban EDs was performed looking at time periods before, during, and after resolution of the parenteral opioid shortage. The data were analyzed by medication, dose, time, number of doses, and oral morphine milligram equivalents (MME) administered per patient.
Results
The percentage of patients who received any opioid among ED visits decreased during the shortage period and did not return to pre-shortage levels after the shortage ended: 11.5% pre, 8.5% during (p=0.01), 7.2% post (NS; p=0.18). The number of doses of either oral or IV opioid doses administered during the shortage decreased significantly: 8.7% pre, 5.6% during (p=0.02) for PO, and 13.7% pre, 9.0% during (p=0.004) for IV, and neither changed during recovery from the shortage. The percentage of patients receiving non-opioid analgesics rose from 30.5% before to 45.8% (p=0.004) after the shortage. Among patients who received opioids, the MME per patient did not change across the time periods: 11.5% before, 11.2% during, 12.7% post.
Conclusions
A period of restricted opioid use due to parenteral opioid shortages led to less opioid use overall and fewer patients treated with opioids, yet no significant change in opioid MME administered per patient requiring opioids. Overall, the shift in opioid prescribing during the parenteral opioid shortage appeared to be sustained in the post-shortage period.
Access options
Buy single article
Instant access to the full article PDF.
US$ 39.95
Tax calculation will be finalised during checkout.
Subscribe to journal
Immediate online access to all issues from 2019. Subscription will auto renew annually.
US$ 79
Tax calculation will be finalised during checkout.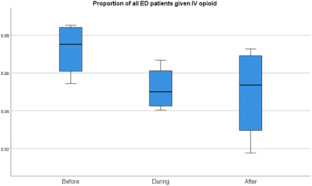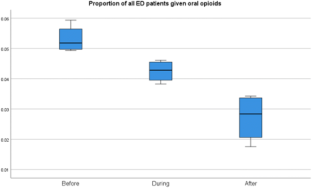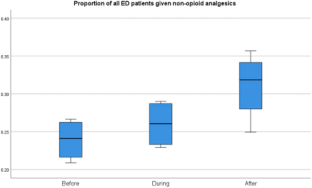 References
1.

National Hospital Ambulatory Medical Care Survey: 2017 Emergency Department Summary Tables. In: U.S. Department of Health and Human Services, National Center for Health Statistics. 2017. https://www.cdc.gov/nchs/data/nhamcs/web_tables/2017_ed_web_tables-508.pdf. .

2.

Delgado MK, Shofer FS, Patel MS, Halpern S, Edwards C, Meisel ZF, et al. Association between electronic medical record implementation of default opioid prescription quantities and prescribing behavior in two emergency departments. J Gen Intern Med. 2018;33:409–11. https://doi.org/10.1007/s11606-017-4286-5.

3.

Blutinger EJ, Shofer FS, Meisel Z, Perrone J, Engel-Rebitzer E, Delgado MK. Variability in emergency department electronic medical record default opioid quantities: A national survey. Am J Emerg Med. 2019;37:1963–4. https://doi.org/10.1016/j.ajem.2019.03.023.

4.

Netley J, Armstrong W, Meeks S. Implementation of order sets for opioid alternatives in community hospital emergency departments. Am J Health Syst Pharm. 2020;77(15):1258–64. https://doi.org/10.1093/ajhp/zxaa166.

5.

Mazer-Amirshahi M, Fox ER. Saline shortages - many causes, no simple solution. N Engl J Med. 2018;378:1472–4. https://doi.org/10.1056/NEJMp1800347.

6.

IV Drug Shortages Present Challenges, Opportunities. In: ACP Hospitalist. 2018. https://acphospitalist.org/archives/2018/09/iv-drug-shortages-present-challenges-opportunities.htm. .

7.

Hospitals are confronting a new opioid crisis: an alarming shortage of pain meds. In: Stat News. 2018. https://www.statnews.com/2018/03/15/hospitals-opioid-shortage/. .

8.

Lembke A. Why doctors prescribe opioids to known opioid abusers. N Engl J Med. 2010;367:1580–1.

9.

Mostofian F, Ruban C, Simunovic N, Bhandari M. Changing physician behavior: what works? Am J Manag Care. 2015;21(1):75–84.

10.

Stone A, Fields K, Rathmell J, Weiner S, Cotugno M, Pimental M. Association between fentanyl vial size and dose given: an interrupted time series analysis of intraoperative opioid administration. Brit J Anesth. 2020;124:e219–21. https://doi.org/10.1016/j.bja.2020.03.006.

11.

Ershoff B, Ganjian S, Hong J. The effect of midazolam presentation dose on the quantity of midazolam administered. In: American Society of Anesthesiologists Annual Meeting. 2015. http://www.asaabstracts.com/strands/asaabstracts/abstract.htm?year=2015&index=14&absnum=4097. .

12.

Kettler E, Brennan J, Coyne C. The effects of morphine shortage on emergency department pain control. Am J Emerg Med. 2020. https://doi.org/10.1016/j.ajem.2020.03.010.

13.

Duncan R, Smith K, Maguire M, Stader D. Alternatives to opioids for pain management in the emergency department decreases opioid usage and maintains patient satisfaction. Am J Emerg Med. 2018;37(1):38–44.
Ethics declarations
Conflicts of Interest
The authors declare they have no conflicts of interest.
Author Fox receives travel support from American College of Clinical Pharmacy, American Society of Anesthesiologists, Anesthesia Patient Safety Foundation, American Society of Health System Pharmacists, Association of American Medical Colleges, CIDRAP, Drug Information Association, European Cooperation in Science & Technology, Food and Drug Administration, Idaho Society of Health System Pharmacists, Immunoglobulin National Society, Iowa Pharmacy Association, Massachusetts Society of Health System Pharmacists, Mayo Clinic, Department of Anesthesia, National Academies of Sciences, Engineering, and Medicine, National Association of Critical Care Transport, and the University of Iowa.
Additional information
Publisher's Note
Springer Nature remains neutral with regard to jurisdictional claims in published maps and institutional affiliations.
Supervising Editor: Leslie R. Dye, MD
About this article
Cite this article
Deutsch, A.J., Gajdosik, D.A., Ramdin, C. et al. The Impact of the Parenteral Opioid Medication Shortages on Opioid Utilization Practices in the Emergency Department of Two University Hospitals. J. Med. Toxicol. 17, 372–377 (2021). https://doi.org/10.1007/s13181-021-00842-7
Received:

Revised:

Accepted:

Published:

Issue Date:
Keywords
Opioids

Shortages

Parenteral

Emergency department

Opioid shortage