Abstract
Background
Opioid-associated ototoxicity is a known complication of opioid exposure, although the mechanism remains unclear. While historically most closely linked to heroin and oxycodone, evolving reports suggest that it may be a class effect of opioids. However, the evidence is limited to case reports.
Methods
A retrospective review of the New Jersey Poison Center records (ToxiCALL®) identified cases that included both hearing loss and recent opioid exposure between January 1, 1999, and September 21, 2018.
Results
Forty-one cases were identified, mean age 29.4 years, 51% (n = 21) were male. Reported heroin exposures comprised 51% (n = 22), 18 of which were heroin alone. The next most commonly cited opioids were oxycodone (n = 7), methadone, (n = 4), and tramadol (n = 3). Hearing loss was described as tinnitus in 24% of cases, hypoacusis in 37% of cases, deafness in 29% of cases, and mixed tinnitus/hypoacusis in 10% of cases. Only 34% (n = 14) of cases were associated with a potential hypoxic event. Of the cases that documented resolution data, 21% (n = 4 of 19) reported no improvement at time of hospital discharge.
Discussion
Opioid-associated ototoxicity appears to be a hypoxia-independent adverse effect since most of the reported cases did not involve a known contributory hypoxic event. It occurs with a wide array of opioids, which supports an opioid receptor-mediated mechanism. The ototoxic effect may be self-limited in many patients.
Conclusion
Opioid-associated ototoxicity was most commonly associated with heroin exposure and appeared independent of hypoxic events. Further investigation that clarifies the risk factors and long-term outcomes is needed.
Access options
Buy single article
Instant access to the full article PDF.
USD 39.95
Price includes VAT (USA)
Tax calculation will be finalised during checkout.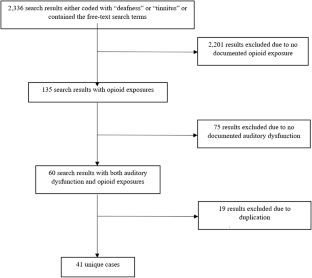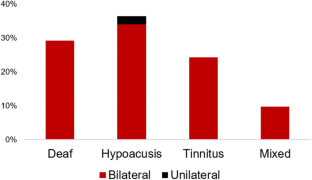 References
1.

Oh AK, Ishiyama A, Baloh RW. Deafness associated with abuse of hydrocodone/acetaminophen. Neurology. 2000;54(12):2345.

2.

Christenson BJ, Marjala AR. Two cases of sudden sensorineural hearing loss after methadone overdose. Ann Pharmacother. 2010;44(1):207–10.

3.

Ishiyama A, Ishiyama G, Baloh R, Evans C. Heroin-induced reversible profound deafness and vestibular dysfunction. Addiction. 2001;96(9):1363–4.

4.

Saifan C, Glass D, Barakat I, El-Sayegh S. Methadone induced sensorineural hearing loss. Case Rep Med. 2013;2013:1–5.

5.

Rigby MH, Parnes LS. Profound hearing loss associated with oxycodone-acetaminophen abuse. J Otolaryngol Head Neck Surg. 2008;37(6):E161–2.

6.

Schweitzer VG, Darrat I, Stach BA, Gray E. Sudden bilateral sensorineural hearing loss following polysubstance narcotic overdose. J Am Acad Audiol. 2011;22(4):208–14.

7.

Tang HM. Hydrocodone use and sensorineural hearing loss. Pain Physician. 2007;10:467–72.

8.

Kopec KT, Nelson LS. Opioid-induced hearing loss: a trend to keep listening for? Emerg Med. 2012;44:4–6.

9.

Harell M, Shea JJ, Emmett JR. Total deafness with chronic propoxyphene abuse. Laryngoscope. 1978;88(9):1518–21.

10.

Freeman SR, Bray ME, Amos CS, Gibson WP. The association of codeine, macrocytosis and bilateral sudden or rapidly progressive profound sensorineural deafness. Acta Otolaryngol. 2009;129(10):1061–6.

11.

Takematsu M, Chiang WK. Otolaryngologic principles. In: Nelson LS, Howland MA, Lewin NA, Smith SW, Goldfrank LR, Hoffman RS, editors. Goldfrank's Toxicologic emergencies, 11e. New York: McGraw-Hill Education; 2019.

12.

Oroei M, Peyvandi AA, Mokhtarinejad F. Opioid drugs and sensorineural hearing loss. Addict Health. 2018;10(1):64–6.

13.

Nguyen K, Lopez I, Ishiyama G, Ishiyama A. Review of opioid-associated hearing loss and possible mechanism of opioid-mediated endothelin-1-dependent cochlear vasoconstriction. J Otol Rhinol. 2014;3:2.

14.

Jongkamonwiwat N, Phansuwan-Pujito P, Casalotti SO, Forge A, Dodson H, Govitrapong P. The existence of opioid receptors in the cochlea of Guinea pigs. Eur J Neurosci. 2006;23(10):2701–11.

15.

Jongkamonwiwat N, Phansuwan-Pujito P, Sarapoke P, Chetsawang B, Casalotti SO, Forge A, et al. The presence of opioid receptors in rat inner ear. Hear Res. 2003;181(1–2):85–93.

16.

Nguyen KD, Mowlds D, Lopez IA, Hosokawa S, Ishiyama A, Ishiyama G. Mu-opioid receptor (MOR) expression in the human spiral ganglia. Brain Res. 2014;1590:10–9.
Ethics declarations
Conflict of Interest
Authors Dr. Alexander Mozeika, Dr. Bruce Ruck, Dr. Lewis Nelson, and Dr. Diane Calello declare they have no conflicts of interest.
Ethical Approval
This study was approved by the Rutgers Newark Health Sciences Institutional Review Board.
Previous Publications/Presentations
American College of Medical Toxicology, Annual Scientific Meeting 2019 – Lighting Oral Presentation.
Additional information
Publisher's Note
Springer Nature remains neutral with regard to jurisdictional claims in published maps and institutional affiliations.
Supervising Editor: Katherine O'Donnell, MD
About this article
Cite this article
Mozeika, A.M., Ruck, B.E., Nelson, L.S. et al. Opioid-Associated Hearing Loss: A 20-Year Review from the New Jersey Poison Center. J. Med. Toxicol. 16, 416–422 (2020). https://doi.org/10.1007/s13181-020-00785-5
Received:

Revised:

Accepted:

Published:

Issue Date:
Keywords
Opioid

Ototoxicity

Hearing

Toxicology

Poison center