Abstract
Introduction
Retail pharmacies in NJ are permitted to dispense naloxone without a prescription. However, not all pharmacies have participated in this effort, and it is not clear what factors may impact its availability. We sought to determine the naloxone availability of select NJ cities and what sociodemographic factors are associated with its availability. We compared naloxone availability in retail pharmacies to median household income, population, and the prevalence of opioid-related hospital visits (ORHV).
Methods
All retail pharmacies in ten New Jersey cities were surveyed by phone in February–July 2017. The standardized survey instrument asked scripted questions to each pharmacist concerning the stocking of naloxone for dispensing. Median household income data and population data for each city were obtained from census.gov. Opioid-related hospital visits were obtained through the NJ SHAD database and the prevalence of ORHV was calculated. Naloxone availability was compared to median household income, population, and ORHV using Spearman's rho and Pearson's correlation.
Results
Naloxone availability in the 90 retail pharmacies we surveyed was 31% and ranged from 15.38 to 66.67% by city. An increase in median household income indicated more pharmacy naloxone availability. An increase in population indicated less pharmacy naloxone availability. While no significant relationship existed between ORHV and pharmacy naloxone availability, we did identify individual cities with severe opioid-related public health concerns with limited naloxone access.
Conclusions
Naloxone deserts exist in select high-risk New Jersey cities, and pharmacy naloxone availability may be positively related to median household income and negatively related to population.
This is a preview of subscription content, log in to check access.
Access options
Buy single article
Instant access to the full article PDF.
US$ 39.95
Price includes VAT for USA
Subscribe to journal
Immediate online access to all issues from 2019. Subscription will auto renew annually.
US$ 99
This is the net price. Taxes to be calculated in checkout.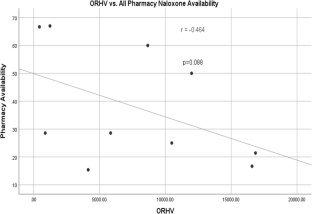 References
1.

Rudd RA, Seth P, David F, Scholl L. Increases in drug and opioid-involved overdose deaths - United States, 2010-2015. MMWR Morb Mortal Wkly Rep. 2016;65:1445–52. https://doi.org/10.15585/mmwr.mm655051e1.

2.

Hedegaard H, Bastian BA, Trinidad JP, Spencer M, Warner M. Drugs most frequently involved in drug overdose deaths: United States, 2011-2016. National vital statistics reports: from the Centers for Disease Control and Prevention, National Center for Health Statistics. Natl Vital Stat Syst. 2018;67(9):1–13.

3.

WHO Guidelines Approved by the Guidelines Review Committee. Community management of opioid overdose. 2014.

4.

General S. Surgeon general's advisory on naloxone and opioid overdose. https://www.surgeongeneral.gov/priorities/opioid-overdose-prevention/naloxone-advisory.html. Accessed Jan 28 2019.

5.

Davis C, Carr D. State legal innovations to encourage naloxone dispensing. J Am Pharm Assoc : JAPhA. 2017;57:S180–4. https://doi.org/10.1016/j.japh.2016.11.007.

6.

Overdose Prevention Act. Sect NJSA. 2013;2C:35–0.

7.

United State Census Bureau. 2019. https://www.census.gov. Accessed Jan 28 2019.

8.

New Jersey State Health Assessment Data. 2019. https://www-doh.state.nj.us/doh-shad/home/Welcome.html. Accessed Jan 28 2019.

9.

United States Census Bureau, American Community Survey (ACS). 2019. https://www.census.gov/programs-surveys/acs/. Accessed Jan 28 2019.

10.

Wichert B. CVS to offer anti-overdose drug without prescription at N.J. locations. 2015. https://www.nj.com/news/index.ssf/2015/10/cvs_to_offer_anti-overdose_drug_without_prescripti.html. Accessed Jan 28 2019.

11.

Walgreens makes life saving naloxone available without prescription in New Jersey pharmacies. 2016. https://news.walgreens.com/press-releases/general-news/walgreens-makes-life-saving-naloxone-available-without-prescription-in-new-jersey-pharmacies.htm. Accessed Jan 28 2019.

12.

Verdier M, Routsolias JC, Aks SE. Naloxone prescriptions from the emergency department: an initiative in evolution. Am J Emerg Med. 2019;37:164–5. https://doi.org/10.1016/j.ajem.2018.05.044.

13.

Graves RL, Andreyeva E, Perrone J, Shofer FS, Merchant RM, Meisel ZF. Naloxone availability and pharmacy staff knowledge of standing order for naloxone in Pennsylvania pharmacies. J Addict Med. 2018:1. https://doi.org/10.1097/adm.0000000000000492.

14.

Wheeler E, Jones TS, Gilbert MK, Davidson PJ. Opioid overdose prevention programs providing naloxone to laypersons - United States, 2014 MMWR Morb Mortal Wkly Rep 2015;64(23):631–635.

15.

An act concerning overdose prevention and the dispensation of opioid antidotes and supplementing P.L.2003, c.280 (C.45:14–40 et seq.) [and amending P.L.2013, c.46], (2017).

16.

Puzantian T, Gasper JJ. Provision of naloxone without a prescription by California pharmacists 2 years after legislation implementation. JAMA. 2018;320:1933–4. https://doi.org/10.1001/jama.2018.12291.
Ethics declarations
Conflicts of Interest
None.
Additional information
Publisher's Note
Springer Nature remains neutral with regard to jurisdictional claims in published maps and institutional affiliations.
Electronic Supplementary Material
About this article
Cite this article
Lozo, K.W., Nelson, L.S., Ramdin, C. et al. Naloxone Deserts in NJ Cities: Sociodemographic Factors Which May Impact Retail Pharmacy Naloxone Availability. J. Med. Toxicol. 15, 108–111 (2019). https://doi.org/10.1007/s13181-019-00700-7
Received:

Revised:

Accepted:

Published:

Issue Date:
Keywords
Analgesics

Opioid

Naloxone

Pharmaceutical services