Abstract
Introduction
Previous studies of scorpion envenomation in the United States (US) have focused on Arizona and the bark scorpion, Centruroides sculpturatus. Although many other scorpion species live in the US, information about envenomations in other states is lacking.
Methods
Nationwide scorpion exposures from 2005 to 2015 were analyzed using the National Poison Data System.
Results
Of the 185,402 total exposures, Arizona (68.2%), Texas (10.3%), and Nevada (4.2%) were the top contributors. However, six other southern states reported greater than 100 cases annually, primarily during the warmer months and evening hours. Envenomations occurred most often in a home (97.8%) and were typically managed on-site (90.1%). Pain was the most common effect nationwide (88.7%). Arizona had the highest frequencies of sensory, neuromuscular, and respiratory effects along with higher hospitalization and ICU admission rates, although the latter appeared to drop over the study period. In contrast, local skin effects such as erythema and edema were more common outside of Arizona. Children under 10 years of age in Arizona and Nevada had the highest rates of systemic effects, hospitalization, and ICU admission.
Conclusions
Scorpion envenomations occurred throughout the southern US with similar seasonal and daily variations. Common clinical effects included pain, local edema, and erythema, except in Arizona and Nevada where severe systemic symptoms were more common. Systemic effects correlated with high rates of ICU admissions and intubations, especially in children under 10 years of age.
Access options
Buy single article
Instant access to the full article PDF.
US$ 39.95
Tax calculation will be finalised during checkout.
Subscribe to journal
Immediate online access to all issues from 2019. Subscription will auto renew annually.
US$ 79
Tax calculation will be finalised during checkout.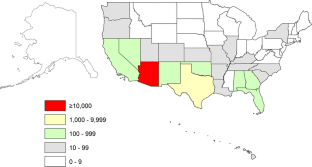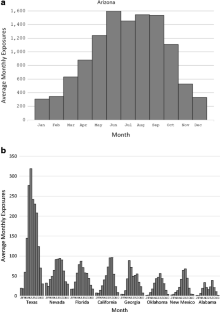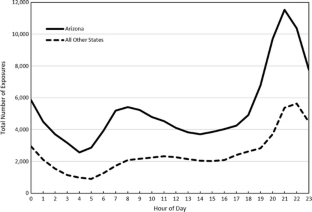 References
1.

Mowry JB, Spyker DA, Brooks DE, McMillan N, Schauben JL. 2014 annual report of the American Association of Poison Control Centers' National Poison Data System (NPDS): 32nd annual report. Clin Toxicol (Phila). 2015;53(10):962–1147. doi:10.3109/15563650.2015.1102927.

2.

Stahnke HL. Some observations of the genus Centruroides marx (Buthidae, Scorpionida) and C. sculpturatus Ewing. Entomol News. 1971;82(11):281–307.

3.

Valdez-Cruz NA, Dávila S, Licea A, Corona M, Zamudio FZ, García-Valdes J, et al. Biochemical, genetic and physiological characterization of venom components from two species of scorpions: Centruroides exilicauda Wood and Centruroides sculpturatus Ewing. Biochimie. 2004;86(6):387–96. doi:10.1016/j.biochi.2004.05.005.

4.

Stahnke HL. The Arizona scorpion problem. Ariz Med. 1950;7(3):23–9.

5.

Curry SC, Vance MV, Ryan PJ, Kunkel DB, Northey WT. Envenomation by the scorpion Centruroides sculpturatus. J Toxicol Clin Toxicol. 1983;21(4–5):417–49.

6.

Likes K, Banner Jr W, Chavez M. Centruroides exilicauda envenomation in Arizona. West J Med. 1984;141(5):634–7.

7.

Rimsza ME, Zimmerman DR, Bergeson PS. Scorpion envenomation. Pediatrics. 1980;66(2):298–302.

8.

Crawford CS, Krehoff RC. Diel activity in sympatric populations of the scorpions Centruroides sculpturatus (Buthidae) and Diplocentrus spitzeri (Diplocentridae). J Arachnol. 1975;2:195–204.

9.

Russell FE, Madon MB. Introduction of the scorpion Centruroides exilicauda into California and its public health significance. Toxicon. 1984;22(4):658–64.

10.

Forrester MB, Stanley SK. Epidemiology of scorpion envenomations in Texas. Vet Hum Toxicol. 2004;46(4):219–21.

11.

Baerg WJ. The effect of the venom of some supposedly poisonous arthropods. Ann Entomol Soc Am. 1924;17(3):343–52.

12.

Rowe AH, Xiao Y, Scales J, Linse KD, Rowe MP, Cummins TR, et al. Isolation and characterization of CvIV4: a pain inducing alpha-scorpion toxin. PLoS One. 2011;6(8):e23520. doi:10.1371/journal.pone.0023520.

13.

Stahnke HL. The venomous effects of some Arizona scorpions. Science. 1938;88(2277):166–7. doi:10.1126/science.88.2277.166.

14.

Stahnke HL. The scorpions of Arizona [dissertation]. Iowa: Iowa State University; 1939.

15.

Shelley RM, Sissom WD. Distributions of the scorpions Centruroides vittatus (Say) and Centruroides hentzi (Banks) in the United States and Mexico (Scorpiones, Buthidae). J Arachnol. 1995;23:100–10.

16.

Yamashita T, Rhoads DD. Species delimitation and morphological divergence in the scorpion Centruroides vittatus (Say, 1821): insights from phylogeography. PLoS One. 2013;8(7):e68282. doi:10.1371/journal.pone.0068282.

17.

More D, Nugent J, Hagan L, Demain J, Schwertner H, Whisman B, et al. Identification of allergens in the venom of the common striped scorpion. Ann Allergy Asthma Immunol. 2004;93(5):493–8. doi:10.1016/S1081-1206(10)61418-4.

18.

Nugent JS, More DR, Hagan LL, Demain JG, Whisman BA, Freeman TM. Cross-reactivity between allergens in the venom of the common striped scorpion and the imported fire ant. J Allergy Clin Immunol. 2004;114(2):383–6. doi:10.1016/j.jaci.2004.04.016.

19.

Demain JG, Goetz DW. Immediate, late, and delayed skin test responses to Centruroides vittatus scorpion venom. J Allergy Clin Immunol. 1995;95(1 Pt 1):135–7. doi:10.1016/s0091-6749(95)70163-x.

20.

Elston DM. What's eating you? Plain eastern stripeless scorpion (Vaejovis carolinianus). Cutis. 2006;78(6):393–4.

21.

Stevenson DJ, Greer G, Elliott MJ. The distribution and habitat of Centruroides hentzi (Banks) (Scorpiones, Buthidae) in Georgia. Southeast Nat. 2012;11(4):589–98. doi:10.1656/058.011.0404.

22.

Ayrey RF, Soleglad ME. New species of Vaejovis from the Santa Rita Mountains, southern Arizona (Scorpiones: Vaejovidae). Euscorpius. 2014;183:1–13.

23.

Riley BD, LoVecchio F, Pizon AF. Lack of scorpion antivenom leads to increased pediatric ICU admissions. Ann Emerg Med. 2006;47(4):398–9. doi:10.1016/j.annemergmed.2005.11.042.

24.

Boyer L, Degan J, Ruha AM, Mallie J, Mangin E, Alagon A. Safety of intravenous equine F(ab')2: insights following clinical trials involving 1534 recipients of scorpion antivenom. Toxicon. 2013;76:386–93. doi:10.1016/j.toxicon.2013.07.017.

25.

O'Connor A, Ruha AM. Clinical course of bark scorpion envenomation managed without antivenom. J Med Toxicol. 2012;8(3):258–62. doi:10.1007/s13181-012-0233-3.
Ethics declarations
Funding
No funding was secured for this study.
Conflict of Interest
The authors declare that they have no conflict of interest.
Electronic supplementary material
About this article
Cite this article
Kang, A.M., Brooks, D.E. Nationwide Scorpion Exposures Reported to US Poison Control Centers from 2005 to 2015. J. Med. Toxicol. 13, 158–165 (2017). https://doi.org/10.1007/s13181-016-0594-0
Received:

Revised:

Accepted:

Published:

Issue Date:
Keywords
Scorpions

Poison control centers

United States