Abstract
Introduction
Synthetic cannabinoid receptor agonists (SCRAs) are heterogeneous compounds originally intended as probes of the endogenous cannabinoid system or as potential therapeutic agents. We assessed the clinical toxicity associated with recent SCRA use in a large cohort of drug overdose patients.
Methods
This subgroup analysis of a large (n = 3739) drug overdose cohort study involved consecutive ED patients at two urban teaching hospitals collected between 2009 and 2013. Clinical characteristics of patients with the exposure to SCRAs (SRCA subgroup) were compared with those from patients who smoked traditional cannabinoids (marijuana subgroup). Data included demographics, exposure details, vital signs, mental status, and basic chemistries gathered as part of routine clinical care. Study outcomes included altered mental status and cardiotoxicity.
Results
Eighty-seven patients reported exposure to any cannabinoid, of whom 17 reported SCRAs (17 cases, 70 controls, mean age 38.9 years, 77 % males, 31 % Hispanic). There were no significant differences between SRCA and marijuana with respect to demographics (age, gender, and race/ethnicity), exposure history (suicidality, misuse, and intent), vital signs, or serum chemistries. Mental status varied between SRCA and marijuana, with agitation significantly more likely in SCRA subgroup (OR = 3.8, CI = 1.2–11.9). Cardiotoxicity was more pronounced in the SCRA subgroup with dysrhythmia significantly more likely (OR = 9.2, CI = 1.0–108).
Conclusions
In the first clinical study comparing the adverse effects of SCRA overdose vs. marijuana controls in an ED population, we found that SCRA overdoses had significantly pronounced neurotoxicity and cardiotoxicity compared with marijuana.
Access options
Buy single article
Instant access to the full article PDF.
USD 39.95
Price excludes VAT (USA)
Tax calculation will be finalised during checkout.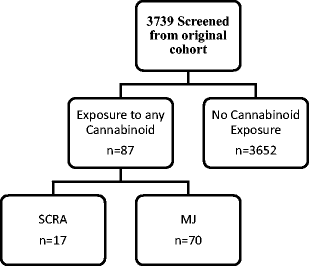 References
Castaneto MS, Gorelick DA, Desrosiers NA, Hartman RL, Pirard S, Huestis MA. Synthetic cannabinoids: epidemiology, pharmacodynamics, and clinical implications. Drug Alcohol Depend. 2014;1(144):12–41.

Guindon J, Hohmann AG. The endocannabinoid system and pain. CNS Neurol Disord Drug Targets. 2009;8(6):403–21.

Vardakou I, Pistos C, Spiliopoulou C. Spice drugs as a new trend: mode of action, identification and legislation. Toxicol Lett. 2010;197(3):157–62.

Rosenbaum CD, Carreiro SP, Babu KM. Here today, gone tomorrow … back again? A review of herbal marijuana alternatives (K2, Spice), synthetic cathinones (bath salts), kratom, Salvia divinorum, methoxetamine, and piperazines. J Med Toxicol. 2012;8:15–32.

Hermanns-Clausen M, Kithinji J, Spehl M, Angerer V, Franz F, Eyer F, et al. Adverse effects after the use of JWH-210 - a case series from the EU Spice II plus project. Drug Test Anal. 2016; Jan 15.

Hermanns-Clausen M, Kneisel S, Szabo B, Auwärter V. Acute toxicity due to the confirmed consumption of synthetic cannabinoids: clinical and laboratory findings. Addiction. 2013;108(3):534–44.

Schneir AB, Cullen J, Ly BT. "Spice" girls: synthetic cannabinoid intoxication. J Emerg Med. 2011;40:296–9.

Young AC, Schwarz E, Medina G, Obafemi A, Feng SY, Kane C, et al. Cardiotoxicity associated with the synthetic cannabinoid, K9, with laboratory confirmation. Am J Emerg Med. 2012;1320:e5–7.

Every-Palmer S. Warning: legal synthetic cannabinoid-receptor agonists such as JWH 018 may precipitate psychosis in vulnerable individuals. Addiction. 2010;105:1859–60.

Müller H, Sperling W, Köhrmann M, Huttner HB, Kornhuber J, Maler JM. The synthetic cannabinoid Spice as a trigger for an acute exacerbation of cannabis induced recurrent psychotic episodes. Schizophr Res. 2010;118:309–10.

Zimmermann US, Winkelmann PR, Pilhatsch M, Nees JA, Spanagel R, Schulz K. Withdrawal phenomena and dependence syndrome after the consumption of "Spice Gold". Dtsch Artzebl Int. 2009;106:464–7.

Forrester MB, Kleinschmidt K, Schwarz E, Young A. Synthetic cannabinoid and marijuana exposures reported to poison centers. Hum Exp Toxicol. 2012;31(10):1006–11.

Tait RJ, Caldicott D, Mountain D, Hill SL, Lenton S. A systematic review of adverse events arising from the use of synthetic cannabinoids and their associated treatment. Clin Toxicol (Phila). 2016;54(1):1–13.

Gunderson EW, Haughey HM, Ait-Daoud N, Joshi AS, Hart CL. "Spice" and "K2" herbal highs: a case series and systematic review of the clinical effects and biopsychosocial implications of synthetic cannabinoid use in humans. Am J Addict. 2012;21(4):320–6.

Manini AF, Nelson LS, Stimmel B, Vlahov D, Hoffman RS. Incidence of adverse cardiovascular events in adults following drug overdose. Acad Emerg Med. 2012;19(7):843–9.

Manini AF, Hoffman RS, Stimmel B, Vlahov D. Clinical risk factors for in hospital adverse cardiovascular events after acute drug overdose. Acad Emerg Med. 2015;22(5):499–507.

Winstock A, Mitcheson L, Ramsey J, Marsden J. Mephedrone: use, subjective effects and health risks. Addiction. 2011;106(11):1991–6.

Oluwabusi O, Lobach L, Akhtar U, Youngman B, Ambrosini PJ. Synthetic cannabinoid induced psychosis: two adolescent cases. J Child Adolesc Psychopharmacol. 2012;22:393–5.

Peglow S, Buchner III J, Briscoe G. Synthetic cannabinoid induced psychosis in a previously nonpsychotic patient. Am J Addict. 2012;21:287–8.

Dines AM, Wood DM, Galicia M, Yates CM, Heyerdahl F, Hovda KE, et al. Euro-DEN research group, dargan PI. Presentations to the emergency department following cannabis use—a multi-centre case series from ten european countries. J Med Toxicol. 2015;11(4):415–21.

Al Kury LT, Voitychuk OI, Ali RM, et al. Effects of endogenous cannabinoid anandamide on excitation-contraction coupling in rat ventricular myocytes. Cell Calcium. 2014;55:104–18.

Al Kury LT, Voitychuk OI, Yang KH, et al. Effects of the endogenous cannabinoid anandamide on voltage-dependent sodium and calcium channels in rat ventricular myocytes. Br J Pharmacol. 2014;171:3485–98.

Al Kury LT, Yang KH, Thayyullathil FT, et al. Effects of endogenous cannabinoid anandamide on cardiac Na(+)/Ca(2)(+) exchanger. Cell Calcium. 2014;55:231–7.

Lapoint J, James LP, Moran CL, Nelson LS, Hoffman RS, Moran JH. Severe toxicity following synthetic cannabinoid ingestion. Clin Toxicol (Phila). 2011;49(8):760–4.

Mir A, Obafemi A, Young A, Kane C. Myocardial infarction associated with use of the synthetic cannabinoid K2. Pediatrics. 2011;128:e1622–7.

Von Der Haar J, Talebi S, Ghobadi F, Singh S, Chirurgi R, Rajeswari P, et al. Synthetic cannabinoids and their effects on the cardiovascular system. J Emerg Med. 2016;50(2):258–62.

Ibrahim S, Al-Saffar F, Wannenburg T. A unique case of cardiac arrest following K2 abuse. Case Rep Cardiology. 2014;2014.
Acknowledgments
None.
Sources of funding
This study was supported in part by grant K23DA026476 from the National Institute on Drug Abuse (PI: AFM). The content is solely the responsibility of the authors and does not necessarily represent the official views of the National Institute on Drug Abuse or the National Institutes of Health.
Ethics declarations
Conflicts of interest
None.
Previous presentations
Presented in abstract form at the XXXV International Congress, European Association of Poisons Centres and Clinical Toxicologists, St. Julian's, Malta, 2015.
About this article
Cite this article
Zaurova, M., Hoffman, R.S., Vlahov, D. et al. Clinical Effects of Synthetic Cannabinoid Receptor Agonists Compared with Marijuana in Emergency Department Patients with Acute Drug Overdose. J. Med. Toxicol. 12, 335–340 (2016). https://doi.org/10.1007/s13181-016-0558-4
Received:

Revised:

Accepted:

Published:

Issue Date:

DOI: https://doi.org/10.1007/s13181-016-0558-4
Keywords