Abstract
Teletoxicology offers the potential for toxicologists to assist in providing medical care at remote locations, via remote, interactive augmented audiovisual technology. This study examined the feasibility of using Google Glass, a head-mounted device that incorporates a webcam, viewing prism, and wireless connectivity, to assess the poisoned patient by a medical toxicology consult staff. Emergency medicine residents (resident toxicology consultants) rotating on the toxicology service wore Glass during bedside evaluation of poisoned patients; Glass transmitted real-time video of patients' physical examination findings to toxicology fellows and attendings (supervisory consultants), who reviewed these findings. We evaluated the usability (e.g., quality of connectivity and video feeds) of Glass by supervisory consultants, as well as attitudes towards use of Glass. Resident toxicology consultants and supervisory consultants completed 18 consults through Glass. Toxicologists viewing the video stream found the quality of audio and visual transmission usable in 89 % of cases. Toxicologists reported their management of the patient changed after viewing the patient through Glass in 56 % of cases. Based on findings obtained through Glass, toxicologists recommended specific antidotes in six cases. Head-mounted devices like Google Glass may be effective tools for real-time teletoxicology consultation.
Access options
Buy single article
Instant access to the full article PDF.
US$ 39.95
Tax calculation will be finalised during checkout.
Subscribe to journal
Immediate online access to all issues from 2019. Subscription will auto renew annually.
US$ 79
Tax calculation will be finalised during checkout.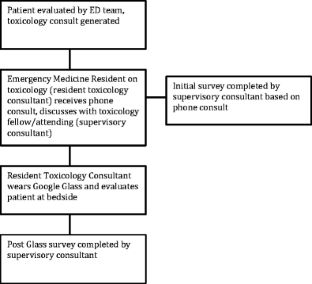 References
1.

Chai PR, Wu RY, Ranney ML, Porter PS, Babu KM, Boyer EW. The virtual toxicology service: wearable head-mounted devices for medical toxicology. J Med Toxicol : Off J Am Coll Med Toxicol. 2014. doi:10.1007/s13181-014-0420-5.

2.

Maddry JK, Sessions D, Heard K, Lappan C, McManus J, Bebarta VS. Wartime toxicology: evaluation of a military medical toxicology telemedicine consults service to assist physicians serving overseas and in combat (2005-2012). J Med Toxicol : Off J Am Coll Med Toxicol. 2014. doi:10.1007/s13181-014-0398-z.

3.

Skolnik A. Telemedicine and toxicology: back to the future? J Med Toxicol : Off J Am Coll Med Toxicol. 2013;9(3):217–9. doi:10.1007/s13181-013-0313-z.

4.

Google. Google I/O 2012. 2012. https://developers.google.com/events/io/2012/.

5.

Fischbein CB, Mueller GM, Leacock PR, Wahl MS, Aks SE. Digital imaging: a promising tool for mushroom identification. Acad Emerg Med : Off J Soc Acad Emerg Med. 2003;10(7):808–11.

6.

Chai PR, Wu RY, Ranney ML, Bird J, Chai S, Zink B, et al. Feasibility and acceptability of Google Glass for emergency department dermatology consultations. JAMA Dermatol. 2015. doi:10.1001/jamadermatol.2015.0248.

7.

Harris PA, Taylor R, Thielke R, Payne J, Gonzalez N, Conde JG. Research electronic data capture (REDCap)—a metadata-driven methodology and workflow process for providing translational research informatics support. J Biomed Inform. 2009;42(2):377–81. doi:10.1016/j.jbi.2008.08.010.

8.

Clark RF, Williams SR, Nordt SP, Pearigen PD, Deutsch R. Resource-use analysis of a medical toxicology consultation service. Ann Emerg Med. 1998;31(6):705–9.

9.

Lee V, Kerr JF, Braitberg G, Louis WJ, O'Callaghan CJ, Frauman AG, et al. Impact of a toxicology service on a metropolitan teaching hospital. Emerg Med (Fremantle, WA). 2001;13(1):37–42.

10.

Vassilev ZP, Marcus SM. The impact of a poison control center on the length of hospital stay for patients with poisoning. J Toxic Environ Health A. 2007;70(2):107–10. doi:10.1080/15287390600755042.

11.

Zaloshnja E, Miller T, Jones P, Litovitz T, Coben J, Steiner C, et al. The potential impact of poison control centers on rural hospitalization rates for poisoning. Pediatrics. 2006;118(5):2094–100. doi:10.1542/peds.2006-1585.

12.

Wiegand TJ, Crane PW, Kamali M, Reif M, Wratni R, Montante R, et al. Billing and reimbursement for a bedside toxicology service at a tertiary care academic center during its first fiscal year. J Med Toxicol : Off J Am Coll Med Toxicol. 2014. doi:10.1007/s13181-014-0423-2.

13.

Thompson TM, Leikin JB. Lessons learned from the reimbursement profile of a mature private medical toxicology practice: office-based practice pays. J Med Toxicol : Off J Am Coll Med Toxicol. 2015;11(1):59–64. doi:10.1007/s13181-014-0450-z.

14.

Myers MR. Telemedicine: an emerging health care technology. Health Care Manag. 2003;22(3):219–23.

15.

Glass G. We're graduating from Google[x] labs. Google Plus: Google; 2015.

16.

Guerra W, Block S, Gordon M, Seville P, Lopez N, Wright K et al. Mobile Health Roadmap: mHealth Strategic Framework for Hospitals and Health Systems. In: Society HIMS, editor. http://www.himss.org/mobilehealthit/roadmap2012.
Funding Sources
This research was supported in part by National Institutes of Health grant 1K24DA037109 Title: Mentoring in advanced mHealth interventions for drug abuse and HAART adherence (PI: Boyer).
Conflict of Interest
This paper is not currently under consideration for publication in other journals. The authors declare that they have no competing interest.
About this article
Cite this article
Chai, P.R., Babu, K.M. & Boyer, E.W. The Feasibility and Acceptability of Google Glass for Teletoxicology Consults. J. Med. Toxicol. 11, 283–287 (2015). https://doi.org/10.1007/s13181-015-0495-7
Keywords
Mobile health

Telemedicine

Wearable devices

Google Glass

Toxicology