Abstract
Introduction
Laundry detergent pod (LDP) exposures in children have resulted in several referrals to the emergency department. Signs and symptoms can include gastrointestinal symptoms (vomiting, drooling), neurological symptoms (depressed sensorium), or metabolic changes (lactic acidosis). There is limited literature on esophageal injury following LDP ingestions.
Case Series
We reviewed three cases of pediatric LDP ingestions that underwent an upper endoscopy in a tertiary care pediatric hospital. All of our patients were younger than 3 years old. The upper endoscopies revealed superficial esophageal erosions in two patients and erythema in the other. None of the patients had oral burns. Two of them developed swallowing dysfunction. Follow-up upper GI studies were normal.
Case Discussion
Our three patients ingested laundry detergent pods and all of them developed some degree of esophageal injury despite the absence of oral erythema, ulcers, or swelling. A review of literature suggests LDP exposures are more severe than non-pod detergents. Reasons as to why this may be remain unclear, although investigation into the ingredients and mode of delivery may help us to better understand. In a literature review, no esophageal strictures have been reported after LDP ingestion. We reviewed esophageal injury classification systems in an attempt to predict who may be at greatest risk for stricture based on initial findings.
Conclusion
Our case series demonstrates it is hard to predict esophageal injury based on signs and symptoms. Based on a literature review, long-term esophageal stricture is unlikely, but if gastrointestinal symptoms persist, it is reasonable to evaluate with an upper endoscopy. Larger studies are needed.
Access options
Buy single article
Instant access to the full article PDF.
USD 39.95
Price excludes VAT (USA)
Tax calculation will be finalised during checkout.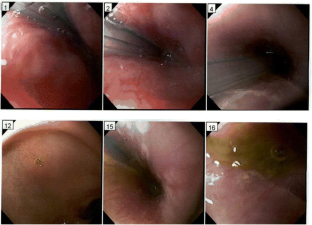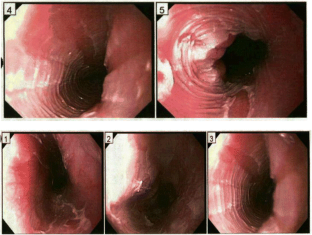 References
Centers for Disease Control and Prevention (CDC) (2012) Health hazards associated with laundry detergent pods—Unites States, May–June, 2012. Morb Mortal Wkly Rep 61(41):825–829

Forrester M (2013) Comparison of pediatric exposures to concentrated "pack" and traditional laundry detergents. Pediatr Emerg Care 29:482–486

Williams H, Jones S, Wood K, Scott R, Eddleston M, Thomas S, Thompson J, Vale A (2014) Reported toxicity in 1486 liquid detergent capsule exposures to the UK National Poisons Information Service 2009–2012, including their ophthalmic and CNS effects. Clin Toxicol 52(2):136–140

Heppner J, Vohra R (2013) Household "HazMat". Pediatr Emerg Care 29(6):773–777

P&G Material Safety Data Sheet. P&G website (2013) https://www.pg/com/productsafety/msds/Tide_Pods_Ocean_Mist_MSDS_Dec_2013.pdf. Accessed 18 Mar 2014

ALL® Material Safety Data Sheet. All® website (2011) http://msds.diversey.com/viewer/wvDK.asp?A=putHTM%00&RID=F_PDF%5C'EN'%5C'NAM'%5C'MS0500128'%5C'MTR'%5C'ANSI'%5C%7Bts+'2011-08-02+11%3A13%3A56'%7D. Accessed 9 Jun 2014

P&G Material Safety Data Sheet. P&G website (2014) http://www.pg.com/productsafety/msds/fabric_and_homecare/detergents/Tide_Simply_-_updated_02-05-2014.pdf. Accessed 9 Jun 2014

Purex UltraPacks® Material Safety Data Sheet. Henkel (2013) http://whatsinproducts.com/files/brands_pdf/1391357951.pdf. Accessed 9 Jun 2014

Purex® liquid laundry detergent Material Safety Data Sheet. The Dial Corporation (2006) http://whatsinproducts.com/files/brands_pdf/04002096%20MSDS%20Purex%20Baby%20Liq%20Laundry%20Det.pdf Accessed 9 Jun 2014

All Mighty Packs® Material Safety Data Sheet. All® website (2012) http://www.all-laundry.com/pdf/all%20mighty%20pacs%20original%20-%20MSDS.pdf. Accessed 9 Jun 2014

Zar T, Graeber C, Perazella M (2007) Recognition, treatment, and prevention of propylene glycol toxicity. Semin Dial 20(3):217–219

Levitan R, Graeme K, Torrey M, Heise W. All Might PAC Free and Clear Laundry Pod® ingestions with metabolic and lactic acidosis: a laboratory analysis and investigation [Abstract 65] (2013) Scientific Abstracts of the 2013 North American Congress of Clinical Toxicology, Atlanta, GA

Human and environmental risk assessment on ingredients of European household cleaning products: alcohol ethoxylates, version 2 (2009) http://www.heraproject.com/files/34-F-09%20HERA%20AE%20Report%20Version%202 %20-%203%20Sept%2009.pdf. Accessed 10 Jun 2014

Bramuzzo M, Amaddeo A, Facchina G, Neri E, Martelossi S, Barbi E (2013) Liquid detergent capsule ingestion: a new pediatric epidemic? Pediatr Emerg Care 29(3):410–411

Williams H, Bateman N, Thomas S, Thompson J, Scott R, Vale A (2012) Exposure to liquid detergent capsules: a study undertaken by the UK National Poison Information Service. Clin Toxicol 50:776–780

Schneir A, Rentmeester L, Clark R, Cantrell L (2013) Toxicity following laundry detergent pod ingestion. Pediatr Emerg Care 29(6):741–742

Beuhler M, Gala P, Wolfe H, Meaney P, Henretig F (2013) Laundry detergent "pod" ingestions: a case series and discussion of recent literature. Pediatr Emerg Care 29(6):743–747

Fraser L, Wynne D, Clement W, Davidson M, Kubba H (2012) Liquid detergent capsule ingestion in children: an increasing trend. Arch Dis Child 97:1007

Zargar S, Kochhar R, Mehta S, Mehta SK (1991) The role of fiberoptic endoscopy in the management of corrosive ingestion and modified endoscopic classification of burns. Gastrointest Endosc 37(2):165–169

Contini S, Scarpignato C (2013) Caustic injury of the upper gastrointestinal tract: a comprehensive review. World J Gastroenterol 19(25):3918–3930
Conflicts of Interest
No funding for this case series. No conflicts of interest by any of the authors. This manuscript has not been presented to any conference as of April 15, 2014.
About this article
Cite this article
Smith, E., Liebelt, E. & Nogueira, J. Laundry Detergent Pod Ingestions: Is There a Need for Endoscopy?. J. Med. Toxicol. 10, 286–291 (2014). https://doi.org/10.1007/s13181-014-0414-3
Published:

Issue Date:

DOI: https://doi.org/10.1007/s13181-014-0414-3
Keywords
Laundry detergent pods

Tide pods

Esophageal injury

Esophageal stricture

Single-use detergent sacs