Abstract
Pet dogs and cats in the USA are commonly exposed to potentially hazardous substances found in domestic environments. Requests for assistance and advice received by the Kansas State Veterinary Diagnostic Laboratory regarding exposures in dogs and cats to substances perceived by their caretakers to be potentially harmful included 1,616 phone calls, over a 3-year period covering 2009–2012. Enquiries occurred more often during summer. Dogs were involved in 84.7 % of calls and cats in 15.3 %. Oral exposures were reported in 95.5 % of calls, dermal exposures in 3.7 % of calls, inhalation exposures in 0.6 % of calls, and parenteral exposures in 0.2 % of calls. Therapeutic drugs were the most frequently reported substances, accounting for 35.4 % of calls, followed by household chemicals (15.5 %); foods (14.8 %); pesticides (13.9 %); plants (12 %), industrial chemicals and fertilizers (3.6 %); cosmetics and personal care products (2.8 %); and animal, insect, and microorganism toxins (2.1 %). Although requests for information or assistance are not a measure of poisoning incidence, it can provide insight regarding relative exposure rates, help to identify changing exposure trends and emerging exposures, and reflect the public concern regarding actual or apparent harmful exposures in pets.
Access options
Buy single article
Instant access to the full article PDF.
USD 39.95
Price excludes VAT (USA)
Tax calculation will be finalised during checkout.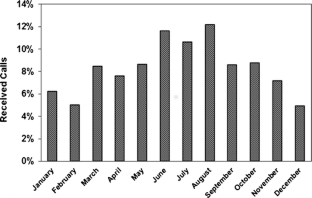 References
American Veterinary Medical Association (2007) All pets. In: US pet ownership and demographics sourcebook. Schaumburg: American Veterinary Medical Association. pp 7–32

McLean MK, Hansen SR (2012) An overview of trends in animal poisoning cases in the United States: 2002–2010. Vet Clin North Am Small Anim Pract 42(2):219–228

Forrester MB, Stanley SK (2004) Patterns of animal poisonings reported to the Texas Poison Center Network: 1998–2002. Vet Hum Toxicol 46(2):96–99

Hornfeldt CS, Murphy MJ (1997) Poisonings of animals: the 1993–1994 report of the American Association of Poison Control Centers. Vet Hum Toxicol 39(6):361–365

Medeiros RJ, Monteiro FO, Silva GCD, Nascimento JA (2009) Poisoning dogs and cats attended in the Veterinarian College of Federal Fluminense University during the period of 2002 to 2008. Cienc Rural 39(7):2105–2110

Xavier FG, Kogika MM, De S (2002) Common causes of poisoning in dogs and cats in a Brazilian veterinary teaching hospital from 1998 to 2000. Vet Hum Toxicol 44(2):115–116

National Research Council of the National Academies (2006) Nutrient requirements of dogs and cats. National Academies Press, New York, pp 22–26

Caloni F, Cortinovis C, Rivolta M, Davanzo F (2102) Animal poisoning in Italy: 10 years of epidemiological data from the Poison Control Centre of Milan. Vet Rec 170(16): 415

Vandenbroucke V, Van Pelt H, De Backer P, Croubels S (2010) Animal poisonings in Belgium: a review of the past decade. Vlaams Diergeneeskundig Tijdschrift 79(4):259–268

Barbier N (2005) Annual Review of Toxicological Information /Centre Nacional of Veterinarians for 2003. PhD Thesis, Veterinary Lyon: p:220

Antox [database] (2005) Urbana, Ill: American Society for the Prevention of Cruelty to Animals National Animal Poison Control Center. Accessed 2005

Berny P, Caloni F, Croubels S, Sachana M, Vandenbroucke V, Davanzo F, Guitart R (2010) Animal poisoning in Europe. Part 2: Companion animals. Vet J 183(3):255–259

Murphy MJ (1994) Toxin exposure in dogs and cats: drugs and household products. J Am Vet Med Assoc 205(4):557–560, 15

Haliurton JC, Buck WB (1983) Animal Poison Control Center summary of telephone inquiries during first three years of service. J Am Vet Med Assoc 182:514–515

Hornfeldt CS, Murphy MJ (1992) 1990 Report of the American Association of Poison Control Centers: poisoning in animals. J Am Vet Med Assoc 200(8):1077–1080

Slater MR, Gwqltney-Brant S (2011) Exposure circumstances and outcomes of 48 households with 57 cats exposed to toxic lily species. J Am Anim Hosp Assoc 47(6):386–390
Conflict of Interest
There is no conflict of interest to report.
About this article
Cite this article
Mahdi, A., Van der Merwe, D. Dog and Cat Exposures to Hazardous Substances Reported to the Kansas State Veterinary Diagnostic Laboratory: 2009–2012. J. Med. Toxicol. 9, 207–211 (2013). https://doi.org/10.1007/s13181-013-0289-8
Published:

Issue Date:

DOI: https://doi.org/10.1007/s13181-013-0289-8
Keywords
Veterinary

Poisoning

Toxicology

Dogs

Cat

Pet