Abstract
Despite their widespread Internet availability and use, many of the new drugs of abuse remain unfamiliar to health care providers. The herbal marijuana alternatives, like K2 or Spice, are a group of herbal blends that contain a mixture of plant matter in addition to chemical grade synthetic cannabinoids. The synthetic cathinones, commonly called "bath salts," have resulted in nationwide emergency department visits for severe agitation, sympathomimetic toxicity, and death. Kratom, a plant product derived from Mitragyna speciosa Korth, has opioid-like effects, and has been used for the treatment of chronic pain and amelioration of opioid-withdrawal symptoms. Salvia divinorum is a hallucinogen with unique pharmacology that has therapeutic potential but has been banned in many states due to concerns regarding its psychiatric effects. Methoxetamine has recently become available via the Internet and is marked as "legal ketamine." Moreover, the piperazine derivatives, a class of amphetamine-like compounds that includes BZP and TMFPP, are making a resurgence as "legal Ecstasy." These psychoactives are available via the Internet, frequently legal, and often perceived as safe by the public. Unfortunately, these drugs often have adverse effects, which range from minimal to life-threatening. Health care providers must be familiar with these important new classes of drugs. This paper discusses the background, pharmacology, clinical effects, detection, and management of synthetic cannabinoid, synthetic cathinone, methoxetamine, and piperazine exposures.
Access options
Buy single article
Instant access to the full article PDF.
US$ 39.95
Tax calculation will be finalised during checkout.
Subscribe to journal
Immediate online access to all issues from 2019. Subscription will auto renew annually.
US$ 79
Tax calculation will be finalised during checkout.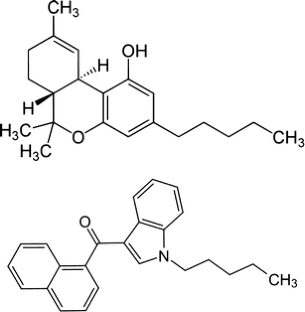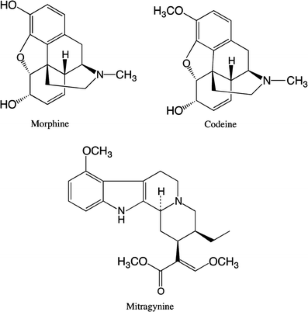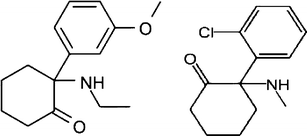 References
1.

European Monitoring Centre for Drugs and Addiction-Europol (2011) 2010 Annual Report on the implementation of Council Decision 2005/387/JHA. http://www.emcdda.europa.eu/attachements.cfm/att_132857_EN_EMCDDA-Europol%20Annual%20Report%202010A.pdf. Accessed 1 May 2011

2.

Zawilska JB (2011) "Legal highs"—new players in the old drama. Curr Drug Abuse Rev 4(2):122–130

3.

Auwarter V, Dresen S, Weinmann W, Muller M, Putz M, Ferreiros N (2009) 'Spice' and other herbal blends: harmless incense or cannabinoid designer drugs? J Mass Spectrom 44(5):832–837

4.

Muller H, Sperling W, Kohrmann M, Huttner HB, Kornhuber J, Maler JM (2010) The synthetic cannabinoid spice as a trigger for an acute exacerbation of cannabis induced recurrent psychotic episodes. Schizophr Res 118(1–3):309–310

5.

Zimmermann US, Winkelmann PR, Pilhatsch M, Nees JA, Spanagel R, Schulz K (2009) Withdrawal phenomena and dependence syndrome after the consumption of "spice gold". Dtsch Arztebl Int 106(27):464–467

6.

Sobolevsky T, Prasolov I, Rodchenkov G (2010) Detection of JWH-018 metabolites in smoking mixture post-administration urine. Forensic Sci Int 200(1–3):141–147

7.

Huffman JW (2005) CB2 receptor ligands. Mini Rev Med Chem 5(7):641–649

8.

Mazzoni O, Diurno MV, di Bosco AM, Novellino E, Grieco P, Esposito G et al (2010) Synthesis and pharmacological evaluation of analogs of indole-based cannabimimetic agents. Chem Biol Drug Des 75(1):106–114

9.

Pavlopoulos S, Thakur GA, Nikas SP, Makriyannis A (2006) Cannabinoid receptors as therapeutic targets. Curr Pharm Des 12(14):1751–1769

10.

Gertsch J, Leonti M, Raduner S, Racz I, Chen JZ, Xie XQ et al (2008) Beta-caryophyllene is a dietary cannabinoid. Proc Natl Acad Sci U S A 105(26):9099–9104

11.

Poso A, Huffman JW (2008) Targeting the cannabinoid CB2 receptor: modelling and structural determinants of CB2 selective ligands. Br J Pharmacol 153(2):335–346

12.

Marriott KS, Huffman JW (2008) Recent advances in the development of selective ligands for the cannabinoid CB(2) receptor. Curr Top Med Chem 8(3):187–204

13.

Pertwee RG, Howlett AC, Abood ME, Alexander SP, Di Marzo V, Elphick MR et al (2010) International union of basic and clinical pharmacology. LXXIX. Cannabinoid receptors and their ligands: beyond CB and CB. Pharmacol Rev 62(4):588–631

14.

European Monitoring Centre for Drugs and Drug Addiction, Lisbon (2009) http://www.emcdda.europa.eu/html.cfm/index90917EN.html. Accessed 11 Jan 2010

15.

Lindigkeit R, Boehme A, Eiserloh I, Luebbecke M, Wiggermann M, Ernst L et al (2009) Spice: a never ending story? Forensic Sci Int 191(1–3):58–63

16.

Zuba D, Byrska B, Maciow M (2011) Comparison of "herbal highs" composition. Anal Bioanal Chem 400(1):119–126

17.

Moran CL, Le VH, Chimalakonda KC, Smedley AL, Lackey FD, Owen SN et al (2011) Quantitative measurement of JWH-018 and JWH-073 metabolites excreted in human urine. Anal Chem 83(11):4228–4236

18.

Atwood BK, Lee D, Straiker A, Widlanski TS, Mackie K (2011) CP47,497-C8 and JWH073, commonly found in 'Spice' herbal blends, are potent and efficacious CB(1) cannabinoid receptor agonists. Eur J Pharmacol 659(2–3):139–145

19.

Uchiyama N, Kikura-Hanajiri R, Ogata J, Goda Y (2010) Chemical analysis of synthetic cannabinoids as designer drugs in herbal products. Forensic Sci Int 198(1–3):31–38

20.

Atwood BK, Huffman J, Straiker A, Mackie K (2010) JWH018, a common constituent of 'Spice' herbal blends, is a potent and efficacious cannabinoid CB receptor agonist. Br J Pharmacol 160(3):585–593

21.

Uchiyama N, Kikura-Hanajiri R, Kawahara N, Haishima Y, Goda Y (2009) Identification of a cannabinoid analog as a new type of designer drug in a herbal product. Chem Pharm Bull (Tokyo) 57(4):439–441

22.

Piggee C (2009) Investigating a not-so-natural high. Anal Chem 81(9):3205–3207

23.

Lapoint J, James LP, Moran CL, Nelson LS, Hoffman RS, Moran JH (2011) Severe toxicity following synthetic cannabinoid ingestion. Clin Toxicol (Phila) 49(8):760–764

24.

Di Marzo V, Bifulco M, De Petrocellis L (2004) The endocannabinoid system and its therapeutic exploitation. Nat Rev Drug Discov 3(9):771–784

25.

McLachlan G (2009) Taking the spice out of legal smoking mixtures. Lancet 374(9690):600

26.

Scalzo A (2010) K2 synthetic marijuana use among teenagers—Missouri, 2010. The Epidemic Information Exchange, Missouri

27.

Grigoryev A, Savchuk S, Melnik A, Moskaleva N, Dzhurko J, Ershov M et al (2011) Chromatography-mass spectrometry studies on the metabolism of synthetic cannabinoids JWH-018 and JWH-073, psychoactive components of smoking mixtures. J Chromatogr B Analyt Technol Biomed Life Sci 879(15–16):1126–1136

28.

US Department of Justice Drug Enforcement Administration (2011) Scheduling update. Microgram Bulletin 44(1):1–4

29.

Sumnall HR, Evans-Brown M, McVeigh J (2011) Social, policy, and public health perspectives on new psychoactive substances. Drug Test Anal 3(7–8):515–523

30.

Schifano F, Ricciardi A, Corazza O, Deluca P, Davey Z, Rafanelli C (2010) New drugs of abuse on the web: the role of the psychonaut web mapping project. Riv Psichiatr 45(2):88–93

31.

Hu X, Primack BA, Barnett TE, Cook RL (2011) College students and use of K2: an emerging drug of abuse in young persons. Subst Abuse Treat Prev Policy 6:16

32.

Johnson LA, Johnson RL, Alfonzo C (2011) Spice: a legal marijuana equivalent. Mil Med 176(6):718–720

33.

Berge KH, Bush DM (2010) The subversion of urine drug testing. Minn Med 93(8):45–47

34.

Vardakou I, Pistos C, Spiliopoulou C (2010) Spice drugs as a new trend: mode of action, identification and legislation. Toxicol Lett 197(3):157–162

35.

Richter P, Caraballo R, Pederson LL, Gupta N (2008) Exploring use of nontraditional tobacco products through focus groups with young adult smokers, 2002. Prev Chronic Dis 5(3):A87

36.

Schifano F, Deluca P, Baldacchino A, Peltoniemi T, Scherbaum N, Torrens M et al (2006) Drugs on the web; the psychonaut 2002 EU project. Prog Neuropsychopharmacol Biol Psychiatry 30(4):640–646

37.

Mustata C, Torrens M, Pardo R, Perez C, Farre M (2009) Spice drugs: cannabinoids as a new designer drugs. Adicciones 21(3):181–186

38.

Community Epidemiology Work Group/National Institute on Drug Abuse (2010) Epidemiologic trends in drug abuse. http://www.nida.nih.gov/PDF/CEWG/vol1_610.pdf. Accessed 23 June 2011

39.

Wells DL, Ott CA (2011) The "new" marijuana. Ann Pharmacother 45(3):414–417

40.

Ashton CH, Moore PB (2009) Regulation of synthetic cannabinoids. Lancet 374(9701):1595

41.

Tylden E, Wild D (1967) A case for cannabis? Br Med J 3(5564):556

42.

Dowling G, Regan L (2011) A method for CP 47, 497 a synthetic non-traditional cannabinoid in human urine using liquid chromatography tandem mass spectrometry. J Chromatogr B Analyt Technol Biomed Life Sci 879(3–4):253–259

43.

Thakur GA, Nikas SP, Makriyannis A (2005) CB1 cannabinoid receptor ligands. Mini Rev Med Chem 5(7):631–640

44.

Hudson S, Ramsey J, King L, Timbers S, Maynard S, Dargan PI et al (2010) Use of high-resolution accurate mass spectrometry to detect reported and previously unreported cannabinomimetics in "herbal high" products. J Anal Toxicol 34(5):252–260

45.

Dresen S, Ferreiros N, Putz M, Westphal F, Zimmermann R, Auwarter V (2010) Monitoring of herbal mixtures potentially containing synthetic cannabinoids as psychoactive compounds. J Mass Spectrom 45(10):1186–1194

46.

Chin CN, Murphy JW, Huffman JW, Kendall DA (1999) The third transmembrane helix of the cannabinoid receptor plays a role in the selectivity of aminoalkylindoles for CB2, peripheral cannabinoid receptor. J Pharmacol Exp Ther 291(2):837–844

47.

Brown SM, Wager-Miller J, Mackie K (2002) Cloning and molecular characterization of the rat CB2 cannabinoid receptor. Biochim Biophys Acta 1576(3):255–264

48.

Morgan NH, Stanford IM, Woodhall GL (2009) Functional CB2 type cannabinoid receptors at CNS synapses. Neuropharmacology 57(4):356–368

49.

Verdurand M, Dalton VS, Zavitsanou K (2010) GABA(A) receptor density is altered by cannabinoid treatment in the hippocampus of adult but not adolescent rats. Brain Res 1351:238–245

50.

Napchan U, Buse DC, Loder EW (2011) The use of marijuana or synthetic cannabinoids for the treatment of headache. Headache 51(3):502–505

51.

Ameri A, Wilhelm A, Simmet T (1999) Effects of the endogeneous cannabinoid, anandamide, on neuronal activity in rat hippocampal slices. Br J Pharmacol 126(8):1831–1839

52.

Rajesh M, Mukhopadhyay P, Hasko G, Huffman JW, Mackie K, Pacher P (2008) CB2 cannabinoid receptor agonists attenuate TNF-alpha-induced human vascular smooth muscle cell proliferation and migration. Br J Pharmacol 153(2):347–357

53.

Rajesh M, Mukhopadhyay P, Hasko G, Pacher P (2008) Cannabinoid CB1 receptor inhibition decreases vascular smooth muscle migration and proliferation. Biochem Biophys Res Commun 377(4):1248–1252

54.

Lombard C, Nagarkatti M, Nagarkatti P (2007) CB2 cannabinoid receptor agonist, JWH-015, triggers apoptosis in immune cells: potential role for CB2-selective ligands as immunosuppressive agents. Clin Immunol 122(3):259–270

55.

Deveaux V, Cadoudal T, Ichigotani Y, Teixeira-Clerc F, Louvet A, Manin S et al (2009) Cannabinoid CB2 receptor potentiates obesity-associated inflammation, insulin resistance and hepatic steatosis. PLoS One 4(6):e5844

56.

Defer N, Wan J, Souktani R, Escoubet B, Perier M, Caramelle P et al (2009) The cannabinoid receptor type 2 promotes cardiac myocyte and fibroblast survival and protects against ischemia/reperfusion-induced cardiomyopathy. FASEB J 23(7):2120–2130

57.

Filbert MG, Forster JS, Smith CD, Ballough GP (1999) Neuroprotective effects of HU-211 on brain damage resulting from soman-induced seizures. Ann N Y Acad Sci 890:505–514

58.

Biegon A, Joseph AB (1995) Development of HU-211 as a neuroprotectant for ischemic brain damage. Neurol Res 17(4):275–280

59.

Eshhar N, Striem S, Kohen R, Tirosh O, Biegon A (1995) Neuroprotective and antioxidant activities of HU-211, a novel NMDA receptor antagonist. Eur J Pharmacol 283(1–3):19–29

60.

Biegon A (1995) Neuroprotective activity of HU-211, a novel nonpsychotropic synthetic cannabinoid. Ann N Y Acad Sci 765:314

61.

Schneir AB, Cullen J, Ly BT (2011) "Spice" girls: synthetic cannabinoid intoxication. J Emerg Med 40(3):296–299

62.

Vearrier D, Osterhoudt KC (2010) A teenager with agitation: higher than she should have climbed. Pediatr Emerg Care 26(6):462–465

63.

Benford DM, Caplan JP (2011) Psychiatric sequelae of spice, K2, and synthetic cannabinoid receptor agonists. Psychosomatics 52(3):295

64.

Every-Palmer S (2010) Warning: legal synthetic cannabinoid-receptor agonists such as JWH-018 may precipitate psychosis in vulnerable individuals. Addiction 105(10):1859–1860

65.

Wada M, Yamahara K, Ikeda R, Kikura-Hanajiri R, Kuroda N, Nakashima K (2012) Simultaneous determination of N-benzylpiperazine and 1-(3-trifluoromethylphenyl)piperazine in rat plasma by HPLC-fluorescence detection and its application to monitoring of these drugs. Biomed Chromatogr 26(1):21–25

66.

Teske J, Weller JP, Fieguth A, Rothamel T, Schulz Y, Troger HD (2010) Sensitive and rapid quantification of the cannabinoid receptor agonist naphthalen-1-yl-(1-pentylindol-3-yl)methanone (JWH-018) in human serum by liquid chromatography-tandem mass spectrometry. J Chromatogr B Analyt Technol Biomed Life Sci 878(27):2659–2663

67.

El-Subbagh H, Wittig T, Decker M, Elz S, Nieger M, Lehmann J (2002) Dopamine/serotonin receptor ligands. Part IV [1]: synthesis and pharmacology of novel 3-benzazecines and 3-benzazonines as potential 5-HT2A and dopamine receptor ligands. Arch Pharm (Weinheim) 335(9):443–448

68.

Fisar Z (2010) Inhibition of monoamine oxidase activity by cannabinoids. Naunyn Schmiedebergs Arch Pharmacol 381(6):563–572

69.

Dresen S, Kneisel S, Weinmann W, Zimmermann R, Auwarter V (2011) Development and validation of a liquid chromatography-tandem mass spectrometry method for the quantitation of synthetic cannabinoids of the aminoalkylindole type and methanandamide in serum and its application to forensic samples. J Mass Spectrom 46(2):163–171

70.

ElSohly MA, Gul W, Elsohly KM, Murphy TP, Madgula VL, Khan SI (2011) Liquid chromatography-tandem mass spectrometry analysis of urine specimens for K2 (JWH-018) metabolites. J Anal Toxicol 35(7):487–495

71.

Moller I, Wintermeyer A, Bender K, Jubner M, Thomas A, Krug O et al (2011) Screening for the synthetic cannabinoid JWH-018 and its major metabolites in human doping controls. Drug Test Anal 3(9):609–620

72.

Wissenbach DK, Meyer MR, Remane D, Weber AA, Maurer HH (2011) Development of the first metabolite-based LC-MS(n) urine drug screening procedure-exemplified for antidepressants. Anal Bioanal Chem 400(1):79–88

73.

NMS labs (2011) NMS Labs Online Test Catalog. http://www.nmslabs.com/services-forensic-K2-ELISA-FAQ. Accessed 30 Oct 2011

74.

Simmons J, Cookman L, Kang C, Skinner C (2011) Three cases of "spice" exposure. Clin Toxicol (Phila) 49(5):431–433

75.

Huestis MA, Gorelick DA, Heishman SJ, Preston KL, Nelson RA, Moolchan ET et al (2001) Blockade of effects of smoked marijuana by the CB1-selective cannabinoid receptor antagonist SR141716. Arch Gen Psychiatry 58(4):322–328

76.

Justinova Z, Tanda G, Munzar P, Goldberg SR (2004) The opioid antagonist naltrexone reduces the reinforcing effects of Delta 9 tetrahydrocannabinol (THC) in squirrel monkeys. Psychopharmacology (Berl) 173(1–2):186–194

77.

Hammersley R (2010) Dangers of banning spice and the synthetic cannabinoid agonists. Addiction 105(2):373

78.

Brenneisen R, Fisch HU, Koelbing U, Geisshusler S, Kalix P (1990) Amphetamine-like effects in humans of the khat alkaloid cathinone. Br J Clin Pharmacol 30(6):825–828

79.

Al-Hebshi NN, Skaug N (2005) Khat (Catha edulis)-an updated review. Addict Biol 10(4):299–307

80.

World Health Organization Expert Committee on Drug Dependence (2006) Assessment of Khat (Catha edulis Forsk). http://www.who.int/medicines/areas/quality_safety/4.4KhatCritReview.pdf. Accessed 25 Oct 2011

81.

US Drug Enforcement Administration (2011) Methcathinone. http://www.justice.gov/dea/concern/methcathinone.html. Accessed 17 July 2011

82.

McElrath K, O'Neill C (2011) Experiences with mephedrone pre- and post-legislative controls: perceptions of safety and sources of supply. The Intern J Drug Policy 22(2):120–127

83.

Winstock A, Mitcheson L, Ramsey J, Marsden J (2011) Mephedrone: use, subjective effects and health risks. Addiction 106(11):1991–1996

84.

American Association of Poison Control Centers (2011) Bath salts data. http://www.aapcc.org/dnn/Portals/0/Bath%20Salts%20Data%20for%20Website%207.07.2011.pdf. Accessed 19 July 2011

85.

US Department of Justice DEA (2011) Request for information on synthetic cathinones. Micr Bull 44(4):31–34

86.

US Department of Justice Drug Enforcement Administration (2011) Notice of intent—scheduled of controlled substances: temporary placement of three synthetic cathinones into schedule I. Micr Bull 44(9):57–65

87.

Drug Enforcement Agency (2004) "Cleopatra's mini bath tablets passion" containing Dove logo MDA tablets and "Cleopatra's exotic bath salts passion" containing "Ice" methamphetamine from Vancouver, British Columbia. Micr Bull 37(4)

88.

US Department of Justice DEA (2011) Request for information on synthetic cathinones. Micr Bull April 2011 Contract No. 4

89.

Goodnough A, Zezima K (2011) An alarming new stimulant, legal in many states. The New York Times, July 16, 2011

90.

Heller D (2011) Autopsy: man died from "bath salts". http://www.myfoxtampabay.com/dpp/news/local/hillsborough/autopsy-man-died-from-bath-salts-06022011. Accessed 16 July 2011

91.

Larsen D (2011) 2 more suspected bath salt deaths investigated. Dayton Daily News, June 17th, 2011

92.

Morgan PL, Fuchs D, Compton DL, Cordray DS, Fuchs LS (2008) Does early reading failure decrease children's reading motivation? J Learn Disabil 41(5):387–404

93.

Centers for Disease Control and Prevention (2011) Emergency department visits after use of a drug sold as "bath salts"—Michigan, November 13, 2010–March 31, 2011. MMWR 60(19):624–627

94.

Gibbons S, Zloh M (2010) An analysis of the 'legal high' mephedrone. Bioorganic Med Chem Lett 20(14):4135–4139

95.

European Monitoring Centre for Drugs and Addiction (2011) Drug Profiles—Synthetic cathinones. http://www.emcdda.europa.eu/publications/drug-profiles/synthetic-cathinones. Accessed 10 July 2011

96.

Wood DM, Greene SL, Dargan PI (2011) Clinical pattern of toxicity associated with the novel synthetic cathinone mephedrone. Emerg Med J: EMJ 28(4):280–282

97.

Dargan PI, Albert S, Wood DM (2010) Mephedrone use and associated adverse effects in school and college/university students before the UK legislation change. QJM: Monthly J Assoc Physician 103(11):875–879

98.

World Health Organization Expert Committee on Drug Dependence (2006) Assessment of Khat (Catha edulis Forsk). World Health Organization Expert Committee on Drug Dependence 34th meeting, Geneva

99.

Cozzi NV, Sievert MK, Shulgin AT, Jacob P 3rd, Ruoho AE (1999) Inhibition of plasma membrane monoamine transporters by beta-ketoamphetamines. Eur J Pharmacol 381(1):63–69

100.

Nagai F, Nonaka R, Satoh Hisashi Kamimura K (2007) The effects of non-medically used psychoactive drugs on monoamine neurotransmission in rat brain. Eur J Pharmacol 559(2–3):132–137

101.

Olives T, Orozeo B, Stellpflug S (2011) Bath salts update: meow meow and MTV. ACEP Toxiciology Section Newsletter

102.

Erowid Vaults (2011) 4-MethylMethcathinone/mephedrone. http://www.erowid.org/chemicals/4_methylmethcathinone/. Accessed 16 July 2011

103.

Erowid Vaults (2011) Methylone. http://www.erowid.org/chemicals/methylone/methylone.shtml. Accessed 16 July 2011

104.

Erowid Vaults (2011) MDPV. http://www.erowid.org/chemicals/mdpv/mdpv.shtml. Accessed 16 July 2011

105.

Meyer MR, Wilhelm J, Peters FT, Maurer HH (2010) Beta-keto amphetamines: studies on the metabolism of the designer drug mephedrone and toxicological detection of mephedrone, butylone, and methylone in urine using gas chromatography-mass spectrometry. Anal Bioanal Chem 397(3):1225–1233

106.

American Association of Poison Control Centers (2010) US Poison Centers raise alarm about toxic substance marketed as bath salts. http://www.aapcc.org/dnn/Portals/0/prrel/bathsalts-final.pdf. Accessed 15 July 2011

107.

Byrd S (2011) Officials fear bath salts becoming the next big drug menace. The Washington Post 23:2011

108.

James D, Adams RD, Spears R, Cooper G, Lupton DJ, Thompson JP et al (2010) Clinical characteristics of mephedrone toxicity reported to the UK National Poisons Information Service. Emerg Med J 28(8):686–689

109.

Synthetic cathinone derivatives. In: POISINDEX® System [Internet database]. Thomson Reuters (Healthcare) Inc. Accessed 20 July 2011

110.

Nicholson PJ, Quinn MJ, Dodd JD (2010) Headshop heartache: acute mephedrone 'meow' myocarditis. Heart 96(24):2051–2052

111.

Torrance H, Cooper G (2010) The detection of mephedrone (4-methylmethcathinone) in 4 fatalities in Scotland. Forensic Sci Int 202(1–3):e62–e63

112.

Sparago M, Wlos J, Yuan J, Hatzidimitriou G, Tolliver J, Dal Cason TA et al (1996) Neurotoxic and pharmacologic studies on enantiomers of the N-methylated analog of cathinone (methcathinone): a new drug of abuse. J Pharmacol Exp Ther 279(2):1043–1052

113.

McCann UD, Wong DF, Yokoi F, Villemagne V, Dannals RF, Ricaurte GA (1998) Reduced striatal dopamine transporter density in abstinent methamphetamine and methcathinone users: evidence from positron emission tomography studies with [11C]WIN-35,428. J Neurosci 18(20):8417–8422

114.

NMS labs (2011) NMS Labs Online Test Catalog. http://www.nmslab.com/services-forensic-designer-stimulants-testing. Accessed 8 Nov 2011

115.

Assanangkornchai S, Muekthong A, Sam-Angsri N, Pattanasattayawong U (2007) The use of mitragynine speciosa ("Krathom"), an addictive plant, in Thailand. Subst Use Misuse 42(14):2145–2157

116.

Arndt T, Claussen U, Gussregen B, Schrofel S, Sturzer B, Werle A et al (2011) Kratom alkaloids and O-desmethyltramadol in urine of a "Krypton" herbal mixture consumer. Forensic Sci Int 208(1–3):47–52

117.

Harizal SN, Mansor SM, Hasnan J, Tharakan JK, Abdullah J (2010) Acute toxicity study of the standardized methanolic extract of Mitragyna speciosa Korth in rodent. J Ethnopharmacol 131(2):404–409

118.

Kumarnsit E, Keawpradub N, Nuankaew W (2007) Effect of Mitragyna speciosa aqueous extract on ethanol withdrawal symptoms in mice. Fitoterapia 78(3):182–185

119.

Vicknasingam B, Narayanan S, Beng GT, Mansor SM (2010) The informal use of ketum (Mitragyna speciosa) for opioid withdrawal in the northern states of peninsular Malaysia and implications for drug substitution therapy. Int J Drug Policy 21(4):283–288

120.

Jansen KL, Prast CJ (1988) Psychoactive properties of mitragynine (Kratom). J Psychoactive Drugs 20(4):455–457

121.

Babu KM, McCurdy CR, Boyer EW (2008) Opioid receptors and legal highs: Salvia divinorum and Kratom. Clin Toxicol (Phila) 46(2):146–152

122.

Schmidt MM, Sharma A, Schifano F, Feinmann C (2011) "Legal highs" on the net-evaluation of UK-based websites, products and product information. Forensic Sci Int 206(1–3):92–97

123.

Boyer EW, Babu KM, Macalino GE (2007) Self-treatment of opioid withdrawal with a dietary supplement, Kratom. Am J Addict 16(5):352–356

124.

Boyer EW, Babu KM, Adkins JE, McCurdy CR, Halpern JH (2008) Self-treatment of opioid withdrawal using Kratom (Mitragynia speciosa Korth). Addiction 103(6):1048–1050

125.

Chittrakarn S, Keawpradub N, Sawangjaroen K, Kansenalak S, Janchawee B (2010) The neuromuscular blockade produced by pure alkaloid, mitragynine and methanol extract of Kratom leaves (Mitragyna speciosa Korth.). J Ethnopharmacol 129(3):344–349

126.

Phongprueksapattana S, Putalun W, Keawpradub N, Wungsintaweekul J (2008) Mitragyna speciosa: hairy root culture for triterpenoid production and high yield of mitragynine by regenerated plants. Z Naturforsch C 63(9–10):691–698

127.

Shellard EJ (1974) The alkaloids of Mitragyna with special reference to those of Mitragyna speciosa, Korth. Bull Narc 26(2):41–55

128.

Leon F, Habib E, Adkins JE, Furr EB, McCurdy CR, Cutler SJ (2009) Phytochemical characterization of the leaves of Mitragyna speciosa grown in U.S.A. Nat Prod Commun 4(7):907–910

129.

Thongpradichote S, Matsumoto K, Tohda M, Takayama H, Aimi N, Sakai S et al (1998) Identification of opioid receptor subtypes in antinociceptive actions of supraspinally-administered mitragynine in mice. Life Sci 62(16):1371–1378

130.

Matsumoto K, Mizowaki M, Suchitra T, Takayama H, Sakai S, Aimi N et al (1996) Antinociceptive action of mitragynine in mice: evidence for the involvement of supraspinal opioid receptors. Life Sci 59(14):1149–1155

131.

Matsumoto K, Suchitra T, Murakami Y, Takayama H, Sakai S, Aimi N et al (1996) Central antinociceptive effects of mitragynine in mice: contribution of descending noradrenergic and serotonergic systems. Eur J Pharmacol 317:75–81

132.

Matsumoto K, Yamamoto LT, Watanabe K, Yano S, Shan J, Pang PK et al (2005) Inhibitory effect of mitragynine, an analgesic alkaloid from Thai herbal medicine, on neurogenic contraction of the vas deferens. Life Sci 78(2):187–194

133.

Matsumoto K, Horie S, Takayama H, Ishikawa H, Aimi N, Ponglux D et al (2005) Antinociception, tolerance and withdrawal symptoms induced by 7-hydroxymitragynine, an alkaloid from the Thai medicinal herb Mitragyna speciosa. Life Sci 78(1):2–7

134.

de Moraes NV, Moretti RA, Furr EB 3rd, McCurdy CR, Lanchote VL (2009) Determination of mitragynine in rat plasma by LC-MS/MS: application to pharmacokinetics. J Chromatogr B Analyt Technol Biomed Life Sci 877(24):2593–2597

135.

Maruyama T, Kawamura M, Kikura-Hanajiri R, Takayama H, Goda Y (2009) The botanical origin of Kratom (Mitragyna speciosa; Rubiaceae) available as abused drugs in the Japanese markets. J Nat Med 63(3):340–344

136.

Idayu NF, Hidayat MT, Moklas MA, Sharida F, Raudzah AR, Shamima AR et al (2011) Antidepressant-like effect of mitragynine isolated from Mitragyna speciosa Korth in mice model of depression. Phytomedicine 18(5):402–407

137.

Adkins JE, Boyer EW, McCurdy CR (2011) Mitragyna speciosa, a psychoactive tree from Southeast Asia with opioid activity. Curr Top Med Chem 11(9):1165–1175

138.

Suwanlert S (1975) A study of kratom eaters in Thailand. Bull Narc 27(3):21–27

139.

Roche K (2008) Kratom: a case of a legal high. Clin Toxicol 46(7):598

140.

Nelsen JL, Lapoint J, Hodgman MJ, Aldous KM (2010) Seizure and coma following Kratom (Mitragynina speciosa Korth) exposure. J Med Toxicol 6(4):424–426

141.

Sheleg SV, Collins GB (2011) A coincidence of addiction to "Kratom" and severe primary hypothyroidism. J Addict Med 5(4):300–301

142.

McWhirter L, Morris S (2010) A case report of inpatient detoxification after Kratom (Mitragyna speciosa) dependence. Eur Addict Res 16(4):229–231

143.

Kapp FG, Maurer HH, Auwarter V, Winkelmann M, Hermanns-Clausen M (2011) Intrahepatic cholestasis following abuse of powdered Kratom (Mitragyna speciosa). J Med Toxicol 7(3):227–231

144.

Kronstrand R, Roman M, Thelander G, Eriksson A (2011) Unintentional fatal intoxications with mitragynine and O-desmethyltramadol from the herbal blend Krypton. J Anal Toxicol 35(4):242–247

145.

Philipp AA, Wissenbach DK, Weber AA, Zapp J, Zoerntlein SW, Kanogsunthornrat J et al (2010) Use of liquid chromatography coupled to low- and high-resolution linear ion trap mass spectrometry for studying the metabolism of paynantheine, an alkaloid of the herbal drug Kratom in rat and human urine. Anal Bioanal Chem 396(7):2379–2391

146.

Philipp AA, Wissenbach DK, Weber AA, Zapp J, Maurer HH (2010) Phase I and II metabolites of speciogynine, a diastereomer of the main Kratom alkaloid mitragynine, identified in rat and human urine by liquid chromatography coupled to low- and high-resolution linear ion trap mass spectrometry. J Mass Spectrom 45(11):1344–1357

147.

Philipp AA, Meyer MR, Wissenbach DK, Weber AA, Zoerntlein SW, Zweipfenning PG et al (2011) Monitoring of Kratom or Krypton intake in urine using GC-MS in clinical and forensic toxicology. Anal Bioanal Chem 400(1):127–135

148.

Philipp AA, Wissenbach DK, Weber AA, Zapp J, Maurer HH (2011) Metabolism studies of the Kratom alkaloid speciociliatine, a diastereomer of the main alkaloid mitragynine, in rat and human urine using liquid chromatography-linear ion trap mass spectrometry. Anal Bioanal Chem 399(8):2747–2753

149.

Philipp AA, Wissenbach DK, Weber AA, Zapp J, Maurer HH (2011) Metabolism studies of the Kratom alkaloids mitraciliatine and isopaynantheine, diastereomers of the main alkaloids mitragynine and paynantheine, in rat and human urine using liquid chromatography-linear ion trap-mass spectrometry. J Chromatogr B Analyt Technol Biomed Life Sci 879(15–16):1049–1055

150.

Kikura-Hanajiri R (2009) Simultaneous analysis of mitragynine, 7-hydroxymitragynine, and other alkaloids in the psychotropic plant "Kratom" (Mitragyna speciosa) by LC-ESI-MS. Forensic Toxicol 27:67–74

151.

Vuppala P, Boddu S, Furr E, McCurdy C, Avery B (2011) Simple, sensitive, high-throughput method for the quantification of mitragynine in rat plasma using UPLC-MS and its application to an intravenous pharmacokinetic study. Chromtographia 74(9–10):703–710

152.

Kelly BC (2011) Legally tripping: a qualitative profile of Salvia divinorum use among young adults. J Psychoact Drug 43(1):46–54

153.

European Monitoring Centre for Drugs and Drug Addiction (2011) Salvia divinorum. http://www.emcdda.europa.eu/publications/drug-profiles/salvia. Accessed 20 Aug 2011

154.

Baggott MJ, Erowid E, Erowid F, Galloway GP, Mendelson J (2010) Use patterns and self-reported effects of Salvia divinorum: an internet-based survey. Drug Alcohol Depend 111(3):250–256

155.

US Drug Enforcement Administration (2011) Salvia divinorum—drug fact sheet. http://www.justice.gov/dea/pubs/abuse/drug_data_sheets/Salvia.pdf. Accessed 20 Aug 2011

156.

US Drug Enforcement Administration (2008) Salvia divinorum and salvorin A. http://www.justice.gov/dea/concern/salvia_divinorum_one_pager.pdf. Accessed 20 Aug 2011

157.

Schwartz A (2010) Bong hit gives Miley Cyrus the giggles. http://www.people.com/people/article/0,,20448642,00.html. Accessed 11 Aug 2011

158.

Sulzberger A, Medina J (2011) Shooting suspect had been known to use potent, and legal, hallucinogen. http://www.nytimes.com/2011/01/18/us/18salvia.html. Accessed 20 Aug 2011

159.

Roth BL, Baner K, Westkaemper R, Siebert D, Rice KC, Steinberg S et al (2002) Salvinorin A: a potent naturally occurring nonnitrogenous kappa opioid selective agonist. Proc Natl Acad Sci U S A 99(18):11934–11939

160.

McCurdy CR, Sufka KJ, Smith GH, Warnick JE, Nieto MJ (2006) Antinociceptive profile of salvinorin A, a structurally unique kappa opioid receptor agonist. Pharmacol Biochem Behav 83(1):109–113

161.

Harding WW, Tidgewell K, Byrd N, Cobb H, Dersch CM, Butelman ER et al (2005) Neoclerodane diterpenes as a novel scaffold for mu opioid receptor ligands. J Med Chem 48(15):4765–4771

162.

Capasso R, Borrelli F, Capasso F, Siebert DJ, Stewart DJ, Zjawiony JK et al (2006) The hallucinogenic herb Salvia divinorum and its active ingredient salvinorin A inhibit enteric cholinergic transmission in the guinea-pig ileum. Neurogastroenterol Motil 18(1):69–75

163.

Fantegrossi WE, Kugle KM, Valdes LJ 3rd, Koreeda M, Woods JH (2005) Kappa-opioid receptor-mediated effects of the plant-derived hallucinogen, salvinorin A, on inverted screen performance in the mouse. Behav Pharmacol 16(8):627–633

164.

Zhang Y, Butelman ER, Schlussman SD, Ho A, Kreek MJ (2005) Effects of the plant-derived hallucinogen salvinorin A on basal dopamine levels in the caudate putamen and in a conditioned place aversion assay in mice: agonist actions at kappa opioid receptors. Psychopharmacology (Berl) 179(3):551–558

165.

Hanes KR (2001) Antidepressant effects of the herb Salvia divinorum: a case report. J Clin Psychopharmacol 21(6):634–635

166.

Braida D, Capurro V, Zani A, Rubino T, Vigano D, Parolaro D et al (2009) Potential anxiolytic- and antidepressant-like effects of salvinorin A, the main active ingredient of Salvia divinorum, in rodents. Br J Pharmacol 157(5):844–853

167.

Grilli M, Neri E, Zappettini S, Massa F, Bisio A, Romussi G et al (2009) Salvinorin A exerts opposite presynaptic controls on neurotransmitter exocytosis from mouse brain nerve terminals. Neuropharmacology 57(5–6):523–530

168.

Siebert DJ (1994) Salvia divinorum and salvinorin A: new pharmacologic findings. J Ethnopharmacol 43:53–56

169.

Schmidt M, Schmidt M, Butelman E, Harding W, Tidgewell K, Murry D et al (2005) Pharmokinetics of the plant-derived k-opioid hallucinogen salvinorin a in nonhuman primates. Synapse 58:208–210

170.

Tsujikawa K, Kuwayama K, Miyaguchi H, Kanamori T, Iwata YT, Inoue H (2009) In vitro stability and metabolism of salvinorin A in rat plasma. Xenobiotica 39(5):391–398

171.

Schmidt MS, Prisinzano TE, Tidgewell K, Harding W, Butelman ER, Kreek MJ et al (2005) Determination of salvinorin A in body fluids by high performance liquid chromatography-atmospheric pressure chemical ionization. J Chromatogr B Analyt Technol Biomed Life Sci 818(2):221–225

172.

Cunningham CW, Rothman RB, Prisinzano TE (2011) Neuropharmacology of the naturally occurring kappa-opioid hallucinogen salvinorin A. Pharmacol Rev 63(2):316–347

173.

Johnson MW, MacLean KA, Reissig CJ, Prisinzano TE, Griffiths RR (2011) Human psychopharmacology and dose-effects of salvinorin A, a kappa opioid agonist hallucinogen present in the plant Salvia divinorum. Drug Alcohol Depend 115(1–2):150–155

174.

Baggott M, Erowid E, Erowid F (2004) A survey of Salvia divinorum users. Erowid Extracts 6:12–14

175.

Lange JE, Daniel J, Homer K, Reed MB, Clapp JD (2010) Salvia divinorum: effects and use among YouTube users. Drug Alcohol Depend 108(1–2):138–140

176.

Przekop P, Lee T (2009) Persistent psychosis associated with Salvia divinorum use. Am J Psychiatry 166(7):832

177.

Vohra R, Seefeld A, Cantrell FL, Clark RF (2011) Salvia divinorum: exposures reported to a statewide poison control system over 10 years. J Emerg Med 40(6):643–650

178.

Aviello G, Borrelli F, Guida F, Romano B, Lewellyn K, De Chiaro M et al (2011) Ultrapotent effects of salvinorin A, a hallucinogenic compound from Salvia divinorum, on LPS-stimulated murine macrophages and its anti-inflammatory action in vivo. J Mol Med (Berl) 89(9):891–902

179.

Pichini S, Abanades S, Farre M, Pellegrini M, Marchei E, Pacifici R et al (2005) Quantification of the plant-derived hallucinogen salvinorin A in conventional and non-conventional biological fluids by gas chromatography/mass spectrometry after Salvia divinorum smoking. Rapid Commun Mass Spectrom 19(12):1649–1656

180.

Erowid Vaults (2011) Methoxetamine. http://www.erowid.org/chemicals/methoxetamine/. Accessed 18 July 2011

181.

Yipeng Chemical (2011) Encyclopedia of methoxetamine. http://www.yipengchem.com/es/tech_OTN-028025.htm. Accessed 19 July 2011

182.

Kaupang A, Gorbitz CH, Hansen T (2010) tert-Butyl 4-(2-diazo-acet-yl)piperazine-1-carboxyl-ate. Acta Crystallogr Sect E Struct Rep Online 66(Pt 6):o1299

183.

Erowid Experience Vaults—Methoxetamine (2011) First time for and experienced K lover. http://www.erowid.org/experiences/exp.php?ID=88687. Accessed 17 July 2011

184.

Erowid Experience Vaults—Methoxetamine (2011) A rather promising compound. http://www.erowid.org/experiences/exp.php?ID=91374. Accessed 18 July 2011

185.

Erowid Experience Vaults—Methoxetamine (2011) Suspected overdose, be careful. http://www.erowid.org/experiences/exp.php?ID=91291. Accessed 19 July 2011

186.

Morris H (2011) Interview with a ketamine chemist, or to be more precise, an arylcyclohexylamine chemist. Vice Magazine

187.

Ward J, Rhyee S, Plansky J (2011) Methoxetamine: a novel ketamine analog and growing health-care concern. Clin Toxicol (Phila) 49(9):874–875

188.

Drug Enforcement Agency (2010) Drugs and chemicals of concern: N-benzylpiperazine. http://www.deadiversion.usdoj.gov/drugs_concern/bzp_tmp/bzp_tmp.htm. Accessed 7 Aug 2011

189.

Dick D, Torrance C (2010) MixMag drugs survey. Mix Mag 225:44–53

190.

Tekes K, Tothfalusi L, Malomvolgyi B, Herman F, Magyar K (1987) Studies on the biochemical mode of action of EGYT-475, a new antidepressant. Pol J Pharmacol Pharm 39(2):203–211

191.

Staack RF (2007) Piperazine designer drugs of abuse. Lancet 369(9571):1411–1413

192.

Bye C, Munro-Faure AD, Peck AW, Young PA (1973) A comparison of the effects of 1-benzylpiperazine and dexamphetamine on human performance tests. Eur J Clin Pharmacol 6(3):163–169

193.

Staack RF, Maurer HH (2005) Metabolism of designer drugs of abuse. Curr Drug Metab 6(3):259–274

194.

Antia U, Tingle MD, Russell BR (2009) Metabolic interactions with piperazine-based 'party pill' drugs. J Pharm Pharmacol 61(7):877–882

195.

Campbell H, Cline W, Evans M, Lloyd J, Peck AW (1973) Comparison of the effects of dexamphetamine and 1-benzylpiperazine in former addicts. Eur J Clin Pharmacol 6(3):170–176

196.

Gee P, Richardson S, Woltersdorf W, Moore G (2005) Toxic effects of BZP-based herbal party pills in humans: a prospective study in Christchurch, New Zealand. N Z Med J 118(1227):U1784

197.

Davies S, Wood DM, Smith G, Button J, Ramsey J, Archer R et al (2010) Purchasing 'legal highs' on the Internet—is there consistency in what you get? QJM: Monthly J Assoc Physician 103(7):489–493

198.

de Boer D, Bosman IJ, Hidvegi E, Manzoni C, Benko AA, dos Reys LJ et al (2001) Piperazine-like compounds: a new group of designer drugs-of-abuse on the European market. Forensic Sci Int 121(1–2):47–56

199.

Elliott S, Smith C (2008) Investigation of the first deaths in the United Kingdom involving the detection and quantitation of the piperazines BZP and 3-TFMPP. J Anal Toxicol 32(2):172–177

200.

Wood DM, Dargan PI, Button J, Holt DW, Ovaska H, Ramsey J et al (2007) Collapse, reported seizure—and an unexpected pill. Lancet 369(9571):1490

201.

Winstock AR, Ramsey JD (2010) Legal highs and the challenges for policy makers. Addiction 105(10):1685–1687

202.

Boyer EW, Shannon M, Hibberd PL (2005) The Internet and psychoactive substance use among innovative drug users. Pediatrics 115(2):302–305
About this article
Cite this article
Rosenbaum, C.D., Carreiro, S.P. & Babu, K.M. Here Today, Gone Tomorrow…and Back Again? A Review of Herbal Marijuana Alternatives (K2, Spice), Synthetic Cathinones (Bath Salts), Kratom, Salvia divinorum, Methoxetamine, and Piperazines. J. Med. Toxicol. 8, 15–32 (2012). https://doi.org/10.1007/s13181-011-0202-2
Keywords
Legal highs

Drug abuse

Designer drugs

Emerging drugs

Herbal