Abstract
Introduction
BDSM is a prevalent type of sexual expression that refers to Bondage and Discipline (BD), Dominance and Submission (DS), and Sadism and Masochism (SM). It has been speculated that a substantial percentage of BDSM practitioners have experienced (sexual) trauma in the past. Attachment style is an additional factor resulting from early life dynamics that has been suggested to potentially influence BDSM interests. This study will investigate to what extent BDSM interests are related to trauma and attachment style, while differentiating between BDSM community practitioners and private practitioners.
Methods
A group of 771 BDSM practitioners and 518 non-practitioners from the general population completed a survey in 2017 assessing BDSM interests as well as the Brief Trauma Questionnaire to gauge traumatic events and the Relationships Questionnaire to assess attachment style.
Results
Community BDSM practitioners and private practitioners reported higher levels of physical abuse in adulthood but no significant differences emerged for other traumatic experiences including childhood physical abuse or unwanted sexual trauma. Surprisingly, BDSM practitioners had more secure and at the same time more anxious-preoccupied attachment styles compared to non-practitioners. Besides, secure attachment style was associated with dominance, whereas the anxious-avoidant attachment style was associated with submissiveness. Intensity of BDSM interest was predicted by secure attachment style, gender, sexual orientation, and living area.
Conclusions
Thus, our findings do not support the hypothesis of BDSM being a maladaptive coping mechanism in response to early life dynamics.
Policy Implications
BDSM practices deserve perception as normal sexual practice free from stigmatization rather than deviant behavior.
Access options
Buy single article
Instant access to the full article PDF.
USD 39.95
Price includes VAT (USA)
Tax calculation will be finalised during checkout.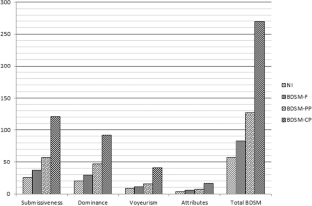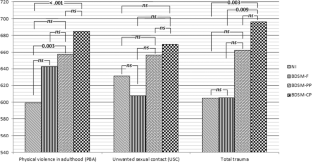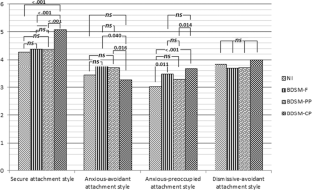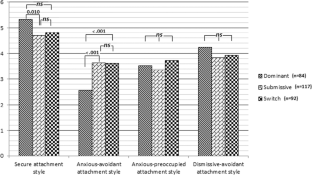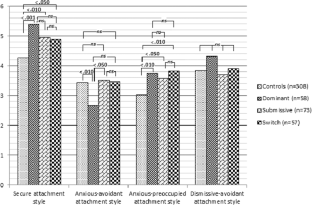 References
Bartholomew, K., & Horowitz, L. M. (1991). Attachment styles among young adults: A test of a four-category model. Journal of Personality and Social Psychology, 61, 226–244.

Békés, V., Perry, J. C., & Robertson, B. M. (2017). Masochism: A mixed-method analysis of its development, psychological function, and conceptual evolution. The Psychoanalytic Review, 104, 33–63.

Bowlby, J. (1977). The making and breaking of affectional bonds: I. Aetiology and psychopathology in the light of attachment theory. The British Journal of Psychiatry, 130, 201–210.

Califia, P. (1983). A secret side of lesbian sexuality. In T. Weinberg & G. Kamel (Eds.), S and M: Studies in sadomasochism (pp. 129–136). Buffalo, NY: Prometheus.

Coppens, V., Ten Brink, S., Huys, W., Fransen, E., & Morrens, M. (2020). A survey on BDSM-related activities: BDSM experience correlates with age of first exposure, interest profile, and role identity. Journal of Sex Research, 57, 129–136.

Cowan, L. (1982). Masochism: A Jungian view. Dallas, TX: Spring Publications.

De Neef, N., Coppens, V., Huys, W., & Morrens, M. (2019). Bondage-discipline, dominance-submission and sadomasochism (BDSM) from an integrative biopsychosocial perspective: A systematic review. Sexual Medicine, 7, 129–144.

Faccio, E., Casini, C., & Cipolletta, S. (2014). Forbidden games: The construction of sexuality and sexual pleasure by BDSM 'players'. Culture, Health & Sexuality, 16, 752–764.

Feeney, J. A., Peterson, C., Gallois, C., & Terry, D. J. (2000). Attachment as a predictor of sexual attitudes and behavior in late adolescence. Psychology & Health, 14, 1105–1122.

Finkelhor, D., & Browne, A. (1985). The traumatic impact of child sexual abuse: A conceptualization. The American Journal of Orthopsychiatry, 55, 530–541.

Freud, S. (1905). Three essays on the theory of sexuality. Standard edition, 7 (ed. and trans. J. Strachey). London: Hogarth Press.

Frías, Á., González, L., Palma, C., & Farriols, L. (2017). Is there a relationship between borderline personality disorder and sexual masochism in women? Archives of Sexual Behavior, 46, 747–754.

Gentzler, A. L., & Kerns, K. A. (2004). Associations between insecure attachment and sexual experiences. Personal Relationships, 11, 249–265.

Grant, J., & Crawley, J. (2002). Transference and projection: Mirrors to the self (p. 38). Buckingham: Open University Press.

Holvoet, L., Huys, W., Coppens, V., Seeuws, J., Goethals, K., & Morrens, M. (2017). Fifty shades of Belgian gray: The prevalence of BDSM-related fantasies and activities in the general population. The Journal of Sexual Medicine, 14, 1152–1159.

Kalichman, S. C., Gore-Felton, C., Benotsch, E., Cage, M., & Rompa, D. (2004). Trauma symptoms, sexual behaviors, and substance abuse: Correlates of childhood sexual abuse and HIV risks among men who have sex with men. Journal of Child Sexual Abuse, 13, 1–15.

Klement, K. R., Sagarin, B. J., & Lee, E. M. (2017). Participating in a culture of consent may be associated with lower rape-supportive beliefs. The Journal of Sex Research, 54, 130–134.

Masters, W. H., Johnson, V. E., & Kolodny, R. C. (1995). Heterosexuality. New York: Perennial.

Meston, C. M., Heiman, J. R., & Trapnell, P. D. (1999). The relation between early abuse and adult sexuality. The Journal of Sex Research, 36, 385–395.

Nordling, N., Sandnabba, N. K., & Santtila, P. (2000). The prevalence and effects of self-reported childhood sexual abuse among sadomasochistically oriented males and females. Journal of Child Sexual Abuse, 9, 53–63.

Renaud, C. A., & Byers, E. S. (1999). Exploring the frequency, diversity, and content of university students' positive and negative sexual cognitions. The Canadian Journal of Human Sexuality, 8, 17–30.

Richters, J., de Visser, R. O., Rissel, C. E., Grulich, A. E., & Smith, A. M. A. (2008). Demographic and psychosocial features of participants in bondage and discipline, 'sadomasochism' or dominance and submission (BDSM): Data from a national survey. The Journal of Sexual Medicine, 5, 1660–1668.

Roush, J. F., Brown, S. L., Mitchell, S. M., & Cukrowicz, K. C. (2016). Shame, guilt, and suicide ideation among bondage and discipline, dominance and submission, and sadomasochism practitioners: Examining the role of the interpersonal theory of suicide. Suicide and Life-threatening Behavior, 47, 129–141.

Schnurr, P. P., Spiro, A., Vielhauer, M. J., Findler, M. N., & Hamblen, J. L. (2002). Trauma in the lives of older men: Findings from the normative aging study. Journal of Clinical Geropsychology, 8, 175–187.

Schnurr, P. P., Vielhauer, M. J., & Weathers, F. W. (1995). Brief trauma interview. Unpublished interview.

Smith, D. K., Leve, L. D., & Chamberlain, P. (2006). Adolescent girls' offending and health-risking sexual behavior: The predictive role of trauma. Child Maltreatment, 11, 346–353.

Stekel, W. (1953). Sadism and masochism: The psychology of hatred and cruelty (tr. E. Gutheil). Volume 1 and 2. New York: Liveright. (Original work published 1929).

Szielasko, A. L., Symons, D. K., & Price, L. E. (2013). Development of an attachment-informed measure of sexual behavior in late adolescence. Journal of Adolescence, 36, 361–370.

Wismeijer, A. A., & Assen, M. A. (2013). Psychological characteristics of BDSM practitioners. The Journal of Sexual Medicine, 10, 1943–1952.
Additional information
Publisher's Note
Springer Nature remains neutral with regard to jurisdictional claims in published maps and institutional affiliations.
About this article
Cite this article
Ten Brink, S., Coppens, V., Huys, W. et al. The Psychology of Kink: a Survey Study into the Relationships of Trauma and Attachment Style with BDSM Interests. Sex Res Soc Policy 18, 1–12 (2021). https://doi.org/10.1007/s13178-020-00438-w
Keywords
Attachment

BDSM

Kink

Sadomasochism

Trauma