Abstract
Introduction
Youths are particularly at risk of experiencing sexual victimization but research tends to focus on the most violent forms (i.e. rape or child sexual abuse) and on female cases. This study aimed at identifying factors associated to different types of unwanted sexual experiences (USE) among young females and males as well as estimating probabilities of experiencing sexual victimization among gender.
Methods
Data were drawn from a cross-sectional survey on sexual health and behaviors using a nationally representative sample of youths aged 24–26 living in Switzerland. Respondents (N = 5290) were divided in three categories of reported USE, ordered by conceptualized severity. The fourth group was constituted of those never having experienced any. Weighted bivariate and multivariate analyses were performed using demographic characteristics and risk behavior indicators.
Results
At the multivariate level, the higher the severity of USE, the higher the number of associated factors, revealing the complexity of this issue. Females had a higher probability of experiencing sexual victimization than of never experiencing any, with a probability of two out of three. They faced higher probabilities of sexual victimization than males, although males' probability of USE were not as marginal as expected, further considering that they are found to face higher rates of non-disclosure than females.
Conclusion
USE is a complex issue, and the level of complexity increases in parallel with its severity. Although it is much more frequent among females, males report highers rates than expected.
Policy implications
When investigating sexual victimization, there is a need to consider the diverse forms of USE and adopt a gendered approach in order to better comprehend sexual victimization and effectively intervene on the social, legal, and public health levels to prevent sexual victimization among youths.
Access options
Buy single article
Instant access to the full article PDF.
USD 39.95
Price excludes VAT (USA)
Tax calculation will be finalised during checkout.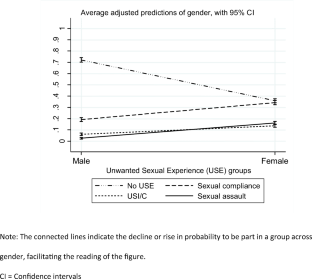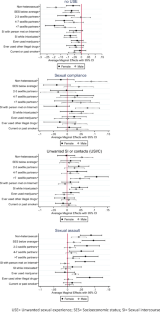 References
Akre, C., Chabloz, J. M., Belanger, R. E., Michaud, P. A., & Suris, J. C. (2013). Unwanted sexual experiences among adolescents: shedding light on the gray zone between consensual and non-consensual sex. International Journal of Adolescent Medicine and Health, 25(1), 69–74. https://doi.org/10.1515/ijamh-2013-0009.

Banyard, V. L., Ward, S., Cohn, E. S., Plante, E. G., Moorhead, C., & Walsh, W. (2007). Unwanted sexual contact on campus: a comparison of women's and men's experiences. Violence and Victims, 22(1), 52–70.

Barrense-Dias, Y., Akre, C., Berchtold, A., Leeners, B., Morselli, D., & Suris, J. C. (2018). Sexual health and behavior of young people in Switzerland (1660–7104). Retrieved from Lausanne: https://www.iumsp.ch/Publications/pdf/rds291_fr.pdf. Accessed 7 June 2019.

Bay-Cheng, L. Y., & Eliseo-Arras, R. K. (2008). The making of unwanted sex: gendered and neoliberal norms in college women's unwanted sexual experiences. Journal of Sex Research, 45(4), 386–397.

Belli, R. F. (1998). The structure of autobiographical memory and the event history calendar: potential improvements in the quality of retrospective reports in surveys. Memory, 6(4), 383–406.

Browne, A., & Finkelhor, D. (1986). Impact of child sexual abuse: a review of the research. Psychological Bulletin, 99(1), 66.

Button, D. M., O'Connell, D. J., & Gealt, R. (2012). Sexual minority youth victimization and social support: the intersection of sexuality, gender, race, and victimization. Journal of Homosexuality, 59(1), 18–43.

Classen, C. C., Palesh, O. G., & Aggarwal, R. (2005). Sexual revictimization: a review of the empirical literature. Trauma, Violence, & Abuse, 6(2), 103–129.

Coker, T. R., Austin, S. B., & Schuster, M. A. (2010). The health and health care of lesbian, gay, and bisexual adolescents. Annual Review of Public Health, 31, 457–477.

Conroy, N. E., Krishnakumar, A., & Leone, J. M. (2015). Reexamining issues of conceptualization and willing consent: the hidden role of coercion in experiences of sexual acquiescence. Journal of Interpersonal Violence, 30(11), 1828–1846.

Coxell, A. W., & King, M. B. (2010). Adult male rape and sexual assault: prevalence, re-victimisation and the tonic immobility response. Sexual and Relationship Therapy, 25(4), 372–379.

Darden, M. C., Ehman, A. C., Lair, E. C., & Gross, A. M. (2019). Sexual compliance: examining the relationships among sexual want, sexual consent, and sexual assertiveness. Sexuality & Culture, 23(1), 220–235. https://doi.org/10.1007/s12119-018-9551-1.

Depraetere, J., Vandeviver, C., Beken, T. V., & Keygnaert, I. (2018). Big boys don't cry: a critical interpretive synthesis of male sexual victimization. Trauma, Violence, & Abuse, 1524838018816979.

Dukers-Muijrers, N. H., Somers, C., De Graaf, H., Meijer, S., & Hoebe, C. J. (2015). Prevalence of non-volitional sex types and associated factors: a national sample of young people. PLoS One, 10(7), e0132847.

Friedman, M. S., Marshal, M. P., Guadamuz, T. E., Wei, C., Wong, C. F., Saewyc, E. M., & Stall, R. (2011). A meta-analysis of disparities in childhood sexual abuse, parental physical abuse, and peer victimization among sexual minority and sexual nonminority individuals. American Journal of Public Health, 101(8), 1481–1494.

Gruber, J., & Fineran, S. (2016). Sexual harassment, bullying, and school outcomes for high school girls and boys. Violence Against Women, 22(1), 112–133. https://doi.org/10.1177/1077801215599079.

Hamby, S., Finkelhor, D., & Turner, H. (2013). Perpetrator and victim gender patterns for 21 forms of youth victimization in the National Survey of Children's Exposure to Violence. Violence and Victims, 28(6), 915–939.

Hibell, B., Guttormsson, U., Ahlström, S., Balakireva, O., & Bjarnason, T. (2009). The 2007 ESPAD Report-Substance Use Among Students in 35 European Countries. Retrieved from Stockholm: http://www.espad.org/sites/espad.org/files/The_2007_ESPAD_Report-FULL_091006.pdf. Accessed 20 March 2019.

Hidaka, Y., Operario, D., Tsuji, H., Takenaka, M., Kimura, H., Kamakura, M., & Ichikawa, S. (2014). Prevalence of sexual victimization and correlates of forced sex in Japanese men who have sex with men. PLoS One, 9(5), e95675.

Hlavka, H. R. (2014). Normalizing sexual violence: Young women account for harassment and abuse. Gender & Society, 28(3), 337–358.

Jørgensen, M. J., Maindal, H. T., Christensen, K. S., Olesen, F., & Andersen, B. (2015). Sexual behaviour among young Danes aged 15–29 years: a cross-sectional study of core indicators. Sexually Transmitted Infections, 91(3), 171–177.

Katz, J., & Tirone, V. (2010). Going along with it: sexually coercive partner behavior predicts dating women's compliance with unwanted sex. Violence Against Women, 16(7), 730–742.

Kavanaugh, P. R. (2013). The continuum of sexual violence: women's accounts of victimization in urban nightlife. Feminist Criminology, 8(1), 20–39.

Koss, M. P., Abbey, A., Campbell, R., Cook, S., Norris, J., Testa, M., et al. (2007). Revising the SES: a collaborative process to improve assessment of sexual aggression and victimization. Psychology of Women Quarterly, 31(4), 357–370.

Leeners, B., Stiller, R., Block, E., Görres, G., Imthurn, B., & Rath, W. (2007). Effect of childhood sexual abuse on gynecologic care as an adult. Psychosomatics, 48(5), 385–393.

Liebermann, C., Kohl Schwartz, A., Charpidou, T., Geraedts, K., Rauchfuss, M., Wölfler, M., et al. (2018). Maltreatment during childhood: a risk factor for the development of endometriosis? Human Reproduction, 33(8), 1449–1458.

Livingston, J. A., Hequembourg, A., Testa, M., & Vanzile-Tamsen, C. (2007). Unique aspects of adolescent sexual victimization experiences. Psychology of Women Quarterly, 31(4), 331–343. https://doi.org/10.1111/j.1471-6402.2007.00383.x.

Macdowall, W., Gibson, L. J., Tanton, C., Mercer, C. H., Lewis, R., Clifton, S., et al. (2013). Lifetime prevalence, associated factors, and circumstances of non-volitional sex in women and men in Britain: findings from the third National Survey of sexual attitudes and lifestyles (Natsal-3). The Lancet, 382(9907), 1845–1855.

Mohler-Kuo, M., Landolt, M. A., Maier, T., Meidert, U., Schönbucher, V., & Schnyder, U. (2014). Child sexual abuse revisited: a population-based cross-sectional study among Swiss adolescents. Journal of Adolescent Health, 54(3), 304–311. e301.

Mood, C. (2010). Logistic regression: why we cannot do what we think we can do, and what we can do about it. European Sociological Review, 26(1), 67–82.

Morselli, D., Berchtold, A., Granell, J.-C. S., & Berchtold, A. (2016). On-line life history calendar and sensitive topics: a pilot study. Computers in Human Behavior, 58, 141–149.

Ngo, Q. M., Veliz, P. T., Kusunoki, Y., Stein, S. F., & Boyd, C. J. (2018). Adolescent sexual violence: prevalence, adolescent risks, and violence characteristics. Preventive Medicine, 116, 68–74.

Priebe, G., & Svedin, C. G. (2013). Operationalization of three dimensions of sexual orientation in a national survey of late adolescents. Journal of Sex Research, 50(8), 727–738.

Schönbucher, V., Held, L., Mohler-Kuo, M., Schnyder, U., & Landolt, M. (2011). Prevalence of child sexual abuse in Switzerland: a systematic review. Swiss Medical Weekly, 141(0304).

Stemple, L., & Meyer, I. H. (2014). The sexual victimization of men in America: new data challenge old assumptions. American Journal of Public Health, 104(6), e19–e26.

Sundaram, V., Laursen, B., & Helweg-Larsen, K. (2008). Is sexual victimization gender specific? The prevalence of forced sexual activity among men and women in Denmark, and self-reported well-being among survivors. Journal of Interpersonal Violence, 23(10), 1414–1440.

Turchik, J. A. (2012). Sexual victimization among male college students: assault severity, sexual functioning, and health risk behaviors. Psychology of Men & Masculinity, 13(3), 243.

Turner, H. A., Finkelhor, D., & Ormrod, R. (2010). Poly-victimization in a national sample of children and youth. American Journal of Preventive Medicine, 38(3), 323–330. https://doi.org/10.1016/j.amepre.2009.11.012.

Walker, D. P., Messman-Moore, T. L., & Ward, R. M. (2011). Number of sexual partners and sexual assertiveness predict sexual victimization: do more partners equal more risk? Violence and Victims, 26(6), 774–787.

World Health Organization. (2003). Guidelines for medico-legal care of victims of sexual violence. Retrieved from Geneva: https://apps.who.int/iris/bitstream/handle/10665/42788/924154628X.pdf;jsessionid=812F6DDC63455234748BF67E131A8D51?sequence=1. Accessed 30 May 2019.
Funding
The survey on sexual health and behaviors of young people living in Switzerland was financed by the Swiss National Science Foundation (grant no.162538).
Ethics declarations
Conflict of Interest
The authors declare that they have no conflict of interest.
Ethical Approval
All procedures performed in studies involving human participants were in accordance with the ethical standards of the Ethics committee in research of the canton of Vaud and with the 1964 Helsinki declaration and its later amendments or comparable ethical standards.
Informed Consent
Informed consent was obtained from all individual participants included in the study.
Additional information
Publisher's Note
Springer Nature remains neutral with regard to jurisdictional claims in published maps and institutional affiliations.
About this article
Cite this article
Auderset, D., Akre, C., Barrense-Dias, Y. et al. Profile of Young Victims of Unwanted Sexual Experiences: a Gender Comparison Using a Swiss National Survey. Sex Res Soc Policy 18, 127–136 (2021). https://doi.org/10.1007/s13178-020-00436-y
Published:

Issue Date:

DOI: https://doi.org/10.1007/s13178-020-00436-y
Keywords
Youths

Sexual victimization

Sexual health

Risks

Switzerland