Abstract
This article examines the so-called "Nordic model" in action. Using feminist argumentation, the model aims to abolish commercial sex by criminalizing the buying of sexual services while not criminalizing the selling, as the aim is to protect, rather than punish, women. Utilizing over 2 years of ethnographic fieldwork and 195 interviews in Sweden, Norway, and Finland, this article argues that in a situation where the majority of people who sell sex in the region are migrants, the regulation of commercial sex has shifted from prostitution to immigration policies, resulting in a double standard in the governance of national and foreign sellers of sexual services. Client criminalization has a minor role in the regulation of commercial sex in the area, and instead, migrants become targets of punitive regulation executed through immigration and third-party laws. Nationals are provided social welfare policies to assist exit from commercial sex such as therapeutic counseling, whereas foreigners are excluded from state services and targeted with punitive measures, like deportations and evictions. My fieldwork reveals a tension between the stated feminist-humanitarian aims of the model, to protect and save women, and the punitivist governance of commercial sex that in practice leads to control, deportations, and women's conditions becoming more difficult. The article concludes that when examined in action, the Nordic model is a form of humanitarian governance that I call punitivist humanitarianism, or governing in the name of caring.
Access options
Buy single article
Instant access to the full article PDF.
USD 39.95
Price includes VAT (USA)
Tax calculation will be finalised during checkout.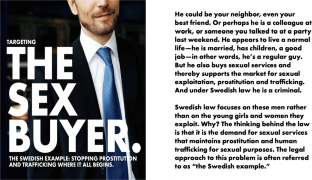 Notes
1.

The proponents of client criminalization, like MEP Honeyball, call the Sex Purchase Act the Nordic model. However, it is important to note that of the Nordic countries, Denmark has not adopted client criminalization and Finland has only criminalized buying from persons who are trafficked or pimped. I use the term Nordic model here to refer to the humanitarian-feminist argumentation behind the Sex Purchase Act in order to highlight the discrepancy between the emphasis on protection within political discourse and the actual punitive governance of commercial sex within the countries that have adopted the so-called Nordic model. Many scholars have criticized the use of the Nordic model as an analytical tool (Skilbrei & Holmström, 2013; Östergren, 2017a) and I want to underline that I use it here as a political not analytical description to refer to the feminist argumentation behind client criminalization.

2.

A note on terminology is necessary here. The people I met in the field have diverse backgrounds and relations to commercial sex and consequently also to the terminology used to describe commercial sex and those engaged in it. Therefore, I have decided to use the neutral terms "sell sex," "people who sell sex," and "sellers of sexual services" to refer to the activity of exchanging money for sexual services, and "commercial sex" for the overall field. I use the word prostitution only in relation to policies ("prostitution policies").

3.

I use the term third party to refer to people who in some way organize or facilitate commercial sex, people who are the "third parties" (in relation to the seller and the buyer) and traditionally perceived as pimps. In the Nordic countries, the so-called pimping legislation is very broad. It includes all kind of facilitation of selling of sex, also when it is not exploitative, as will be demonstrated later. Therefore, the culturally loaded word "pimping" is not descriptive of all the activities that are criminalized under the third-party laws.

4.

5.

This applies to third-country nationals who are in the countries on a tourist visa or another EU country residence permit, but not to the ones that are on a permanent residence permit based on family ties or on work, for example. Majority of the third-country nationals selling sex in the countries are Nigerians and Latin Americans with another EU country residence permit, or Russians on a tourist visa. In Finland, this section was introduced to the Aliens Act in 1999. The Swedish Aliens Act dates back to 1954. Sweden has also deported EU citizens on these grounds, although it does not seem to be a regular practice. In the court decision and the Swedish Parliamentary Ombudsman's Juridical review, where EU citizens' deportations are discussed, the justification for deportations is that selling of sex is related to criminal activity. Therefore, it is a forbidden activity and not an "honest way to support oneself." It forms a threat to the public order and safety and hence can be used also against EU citizens despite the EU's free movement principle. In these documents, justifications for deportations are also tied to the overall goal of the Swedish society to "prevent prostitution" (Parliamentary Ombudsman, 2013, pp. 353–357).

6.

A third-country national needs to have an address in Norway, show a legitimate purpose to stay/visit, and have sufficient funds to support themselves (Immigration Act, 2008).

7.

All the names used in this article are pseudonyms to protect the identity of the people met in fieldwork.

8.

In 2017, police deported 70 women based on assumption on selling sex solely in the Gothenburg region (Ekwind, 2018). A police report mentions of third-country nationals based on the assumption of selling of sex in Stockholm area, but the police does not collect statistics on this systematically (Polismyndigheten/NOA 2017, p. 17; An interview with a national police working with prostitution and trafficking 19th of June 2016).

9.

Seasonal work up to 6 months is an exception, but a person cannot apply for a permanent residence through this.

10.

In Finland and Norway, receiving a residence permit based on being a victim of human trafficking is not automatic, and residence permit requires a specific "vulnerability" and might need to be applied through the asylum process (see Brunovskis, 2016; Roth, 2010). In all the countries, instances working with VoTs have criticized the fact that the victim protection is tied to the criminal process and police investigation.

11.

Pro Sentret, personal e-mail communication 30th of April 2018; Pro-tukipiste, personal e-mail communication 2nd of May 2018; Mika Mottagningen Gothenburg, personal e-mail communication 4th of May 2018.

12.

For example, the County Administrative Board in Stockholm has made an education video for hotels and taxi companies about how to "detect prostitution and human trafficking" on their premises (https://www.youtube.com/watch?v=j419cBNxj1A&t=27s%29). NGO Realstars has also launched a project called "fair sex hotels" that raises awareness on trafficking and commercial sex in hotels (see http://realstars.eu/).

13.
References
Amnesty International. (2016). The human cost of 'crushing' the market: criminalization of sex work in Norway. London: Amnesty International.

Balibar, E. (2014). 'A racism without races': An interview with Étienne Balibar. By Clement Petitjean, April 15th 2014, Verso. Available at: http://www.versobooks.com/blogs/1559-a-racism-without-races-an-interview-with-etienne-balibar.

Barnett, M. N. (2013). Humanitarian governance. Annual Review of Political Science, 16, 379–398.

Brunovskis, A. (2016). Special rights within universal welfare: assistance to trafficking victims in Norway. Journal of Comparative Social Work, 11(1), 1–33.

Brunovskis, A., & Tyldum, G. (2004). Crossing borders: an empirical study of transnational prostitution and trafficking in human beings. Fafo report 426. Oslo: Fafo.

Carline, A., & Scoular, J. (2015). Saving fallen women now? Critical perspectives on engagement and support orders and their policy of forced welfarism. Social Policy and Society, 14(1), 103–112.

Crowhurst, I., Outshoorn, J., & Skilbrei, M.-L. (2012). Introduction: prostitution policies in Europe. Sexuality Research and Social Policy, 9(3), 187–191.

Dodillet, S. (2009). Är Sex Arbete? Svensk och Tysk Prostitutionspolitik Sedan 1970-talet. Stockholm: Vertigo Förlag.

Ekberg, G. (2004). The Swedish law that prohibits the purchase of sexual services: best practices for prevention of prostitution and trafficking in human beings. Violence Against Women, 10(10), 1187–1218.

Ekwind, A. (2018). Omfattande sexhandel—70 kvinnor avvisades förra året. SVT Väst, 26th of March, 2018.

Endlund, C., & Jakobsson, P. (2014). Another horizon; sex work and HIV prevention in Sweden. Sweden: HIV Sweden & Rose Alliance.

Fassin, D. (2012). Humanitarian reason. A moral history of the present. Berkeley: University of California Press.

Feldman, I., & Ticktin, M. (2010). Introduction: government and humanity. In I. Feldman & M. Ticktin (Eds.), In the name of humanity: the government of threat and care (pp. 1–26). Durham: Duke University Press.

Florin, O. (2012). A particular kind of violence: Swedish social policy puzzles of a multipurpose criminal law. Sexuality Research and Social Policy, 9(3), 269–278.

Gould, A. (2001). The criminalisation of buying sex: the politics of prostitution in Sweden. Journal of Social Policy, 30(3), 437–456.

Haynes, D. F. (2012). The celebritization of human trafficking. The Annals of American Academy, AAPSS, 653, 25–45.

Holmström, C. (2015a). Forbud Mot Köp av Sexuell Tjänst i Sverige: En Kunskapsöversikt om Avsedda Effekter och Oavsedda Konsekvenser. Sweden: RFSU.

Holmström, C. (2015b). Policies and practices targeting cross-border prostitution in Sweden. Unpublished conference paper ppresented at COST-Action conference in Vienna, 2015.

Honeyball, M. (2014). Report on sexual exploitation and prostitution and its impact on gender equality (2013/2103(INI)). European parliament: Committee on women's rights and gender equality.

Hulusjö, A. (2013). The multiplicities of prostitution experience: narratives about power and resistance. Malmö University, Health and Society Doctoral Dissertation 2013:5, Malmö: Holmbergs.

Immigration Act. (2008). Act of 15th may 2008 on the entry of foreign nationals into the Kingdom of Norway and their stay in the realm (immigration act). Norway: Ministry of Labor and Social Inclusion.

Jacobsen, C. M., & Skilbrei, M.-L. (2010). 'Reproachable victims'? Representations and self-representations of Russian women involved in transnational prostitution. Ethnos, 75(2), 190–212.

Jahnsen, S. Ø. (2014) Innestengt eller utestengt? Norsk prostitusjonspolitikk og kampen mot menneskehandel. PhD Dissertation, Bergen University.

Jahnsen, S. Ø., & Skilbrei, M.-L. (2017a). Norway. In S. Ø. Jahnsen & H. Wagenaar (Eds.), Assessing prostitution policies in Europe (pp. 185–198). London: Routledge.

Jahnsen, S. Ø., & Skilbrei, M.-L. (2017b). Leaving no stone unturned: the borders and orders of transnational prostitution. British Journal of Criminology, 58(2), 1–18.

Kimpimäki, M. (2009). Haureuden Harjoittajista Ihmiskaupan Uhreihin. Prostituution, Parituksen ja Ihmiskaupan Oikeudellinen Säätely. Rovaniemi: Lapin Yliopistokustannus.

Kontula, A. (2008). Punainen Eksodus. Tutkimus Seksityöstä Suomessa. Helsinki: Like.

Koskela, H., Sirpa, T., & Tuominen, M. (2000). "Sen Näkönen Tyttö": Tutkimus Katuprostituution Vaikutuksista Helsinkiläisten Naisten Arkielämään (Helsingin kaupungin tietokeskus).

Kulick, D. (2003). Sex in the new Europe: the criminalization of clients and Swedish fear of penetration. Anthropological Theory, 3(2), 199–218.

Kulick, D. (2005). Four hundred thousand Swedish perverts. GLQ, 11(2), 205–235.

Kuosmanen, J. (2011). Attitudes and perceptions about legislation prohibiting the purchase of sexual Services in Sweden. European Journal of Social Work, 14(2), 247–263.

Levy, J. (2015). Criminalizing the purchase of sex. Lessons from Sweden. London: Routledge.

Levy, J., & Jakobsson, P. (2013). Sweden's abolitionist discourse and law: effects on the dynamics of Swedish sex work and on the lives of Sweden's sex workers. Criminology & Criminal Justice, 14(5), 593–607.

Marcus, G. E. (1995). Ethnography in/of the world system: the emergence of multisited ethnography. Annual Review of Anthropology, 24, 95–117.

Marttila, A.-M. (2008). Transnationell Prostitution och Gränser för Välfärd i Finland. In C. Holmström & M.-L. Skilbrei (Eds.), Prostitution i Norden: Forskningsrapport (pp. 123–150). Copenhagen: Nordiska Minsterrådet.

Marttila, P. (2018). Overview–Finland. Presentation at the Nordic NGO-meeting organized by the Swedish platform civil society against human trafficking 27th of April 2018.

Mörner, N. (2018). Stepping up the work against human trafficking. Presentation at the Nordic NGO-meeting organized by the Swedish platform civil society against human trafficking 27th of April 2018.

Mulinari, D., Keskinen, S., Irni, S., & Tuori, S. (2009). Introduction: postcolonialism and the Nordic models of welfare and gender. In S. Keskinen, S. Tuori, S. Irni, & D. Mulinari (Eds.), Complying with colonialism. Gender, race and ethnicity in the Nordic region (pp. 1–16). Farnham: Ashgate.

O'Connell Davidson, J. (2015). Modern slavery: the margins of freedom. Hampshire: Palgrave Macmillan.

Östergren, P. (2006). Porr, horor och feminister. Stockholm: Natur och Kultur.

Östergren, P. (2017a). From zero-tolerance to full integration: Rethinking prostitution policies. DemandAT Working Paper No. 10.

Östergren, P. (2017b). Sweden. In S. Ø. Jahnsen & H. Wagenaar (Eds.), Assessing prostitution policies in Europe (pp. 169–184). London: Routledge.

Parliamentary Ombudsman. (2013). Justitieombudsmännens ämbetsberättelse. Framställning/redogörelse 2013/14:JO1. Vällingby: Elanders.

Polismyndigheten/Noa (2017). Människohandel för sexuella och andra ändamål – Lägesrapport 18. Retrieved from: https://www.nmtsverige.se/publikation/manniskohandel-sexuella-och-andra-andamal-0.

Roth, V. (2010). Defining human trafficking, identifying its victims: a study on the impact and future challenges of the international, European and Finnish legal responses to prostitution-related trafficking in human beings. Turku: Turun yliopisto.

Sanders, T., Scoular, J., Campbell, R., Pitcher, J., & Cunningham, S. (2017). Internet sex work: beyond the gaze. Cham: Palgrave McMillan.

Scoular, J. (2004). Criminalising 'Punters': evaluating the Swedish position on prostitution. Journal of Social Welfare and Family Law, 26(2), 195–210.

Skilbrei, M.-L. (2009). Nigeriansk Prostitusjon på Norsk: Feil Kvinner på Feil Sted. In W. Mühleisen & Å. Røthing (Eds.), Norske Seksualiteter (pp. 165–184). Oslo: Cappelen Akademisk Forlag.

Skilbrei, M.-L. (2012). The development of Norwegian prostitution policies: a marriage of convenience between pragmatism and principles. Sexuality Research and Social Policy, 9(3), 244–257.

Skilbrei, M.-L., & Holmström, C. (2013). Prostitution policies in the Nordic region: ambiguous sympathies. Surrey: Ashgate.

Skilbrei, M.-L., & Polyakova, I. (2006). My life is too short; I want to live now. Kvinner Fra Øst-Europa Forteller om Veien Til og Livet i Prostitusjon i Norge. Oslo: Institutt for Kriminologi og Rettssosiologi, Universitetet i Oslo.

Skilbrei, M.-L., Tveit, M., & Brunovskis, A. (2006). Afrikanske Drømmer på Europeiske Gater Nigerianske Kvinner i Prostitusjon i Norge. Fafo-rapport 525. Oslo: Fafo.

Swedish Aliens Act (2005). Aliens Act 2005:716, Issued: 29 September 2005 with amendments: Up to and including Swedish Code of Statutes 2009:16. Entered into force the 31st of March 2006.

TAMPEP. (2009). Sex work in Europe: a mapping of the prostitution scene in 25 European countries. Amsterdam: TAMPEP.

Ticktin, M. (2011). Casualties of care: immigration and the Poltics of Humanitarianims in France. Berkeley: University of California Press.

Tveit, M., & Skilbrei, M.-L. (2008). Mangfoldig Marked: Prostitusjonens Omfang, Innhold og Organisering. Fafo-rapport 2008:43. Oslo: Fafo.

Vuolajärvi, N. (2018). Precarious intimacies: Europeanized border regime and migrant sex work. Journal of Ethnic and Migration Studies, 1, 18. https://doi.org/10.1080/1369183X.2018.1430558.

Vuolajärvi, N., Viuhko, M., Kantola, J., & Marttila, A.-M. (2017). Finland. In S. Ø. Jahnsen & H. Wagenaar (Eds.), Assessing prostitution policies in Europe (pp. 199–212). London: Routledge.
Acknowledgements
I am grateful to all the individual participants and organizations that contributed to the research. I would also like to express my warm thanks to Isabel Crowhurst, Ida Kock, Jukka Könönen, and Petra Östergren for their insightful comments on the earlier drafts. Finally, I would like to thank the two anonymous reviewers for their helpful and comprehensive comments.
Funding
This study was funded by the Finnish Cultural Foundation and the Scandinavian Research Council for Criminology.
Ethics declarations
All procedures performed in studies involving human participants were in accordance with the ethical standards of the institutional and/or national research committee and with the 1964 Helsinki declaration and its later amendments or comparable ethical standards. Informed consent was obtained from all individual participants included in the study.
Conflict of Interest
Author Niina Vuolajärvi has received research grants from the Finnish Cultural Foundation and the Scandinavian Research Council of Criminology. Author Niina Vuolajärvi declares that she has no conflict of interest.
About this article
Cite this article
Vuolajärvi, N. Governing in the Name of Caring—the Nordic Model of Prostitution and its Punitive Consequences for Migrants Who Sell Sex. Sex Res Soc Policy 16, 151–165 (2019). https://doi.org/10.1007/s13178-018-0338-9
Keywords
Client criminalization

Sex work

Prostitution

Prostitution policies

Humanitarianism

Migration

Nordic model

End demand

Sweden