Abstract
Sexting and sending nude and semi-nude photographs continues to be at the forefront of discourse pertaining to adolescence. While researchers have explored consequences for sexting, less is known about the challenges adolescents face when making decisions about sending photographs. Using online personal accounts posted by adolescents, this study explores young women's reported dilemmas with sending nude photographs to their peers. A thematic analysis of 462 stories reveals that young women received conflicting messages which told them both to send and refrain from sending photographs. In addition to sending photographs in the hope of gaining a relationship, young women also reported sending photographs as the result of coercion by male counterparts in the form of persistent requests, anger, and threats. Young women attempted to navigate young men's coercive behaviors yet frequently resorted to compliance. Refusal was often met with repeated requests or threats. Alternative tactics were largely absent from young women's stories, indicating that young women do not have tools to successfully navigate the challenges they face.
Access options
Buy single article
Instant access to the full article PDF.
US$ 39.95
Tax calculation will be finalised during checkout.
Subscribe to journal
Immediate online access to all issues from 2019. Subscription will auto renew annually.
US$ 79
Tax calculation will be finalised during checkout.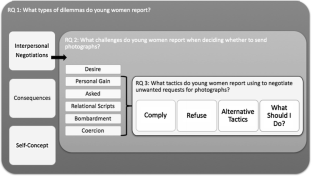 References
Acosta, A. B., & Temple, J. R. (2013). Emerging issues in child and adolescent health: Social media, sexting, and cyber bullying.

Albury, K., Hasinoff, A.A., & Senft, T. (2016). From media abstinence to media production: Sexting, young people and education. In The Palgrave handbook of sexuality education (Vol. 13, pp. 527–545). London: Palgrave Macmillan UK.

Bobkowski, P. S., Shafer, A., & Ortiz, R. R. (2016). Sexual intensity of adolescents' online self-presentations: Joint contribution of identity, media consumption, and extraversion. Comput Hum Behav, 58, 64–74. https://doi.org/10.1016/j.chb.2015.12.009.

Boislard, M.-A., & Zimmer-Gembeck, M. J. (2011). Sexual subjectivity, relationship status and quality, and same-sex sexual experience among emerging adult females. Journal of Educational and Developmental Psychology, 1(1), 54. https://doi.org/10.5539/jedp.v1n1p54.

Boyd, D. (2015). It's complicated: The social lives of networked teens. Yale University Press: Place of publication not identified.

Carver, K., Joyner, K., & Udry, J. R. (2003). National estimates of adolescent romantic relationships. Lawrence Erlbaum Associates Publishers.

Centers for Disease Control and Prevention. (2015). Key statistics from the national survey of family growth. cdc.gov. doi:papers3://publication/uuid/7F8142BF-DD37-4F88-B35F-D02C814C49D1.

Chow, C. M., & Ruhl, H. (2014). Friendship and romantic stressors and depression in emerging adulthood: Mediating and moderating roles of attachment representations. J Adult Dev. https://doi.org/10.1007/s10804-014-9184-z.

Crofts, T., & Lee, M. (2013). Sexting, children and child pornography. Sydney L Rev. doi:papers3://publication/uuid/E26465B2-DD5E-4ABF-BE70-CCB0EE79F45A.

Dahl, R. E. (2004). Adolescent brain development: A period of vulnerabilities and opportunities. Annals of New York Academy Sciences, 1021, 1–22.

Davis, K. (2012). Friendship 2.0: Adolescents' experiences of belonging and self-disclosure online: The intersection of identity development processes and peer relationship experiences (English). J Adolesc, 35(6), 1527–1536.

DeGue, S., & DiLillo, D. (2005). "You would if you loved me": Toward an improved conceptual and etiological understanding of nonphysical male sexual coercion. Aggress Violent Behav, 10(4), 513–532. https://doi.org/10.1016/j.avb.2004.09.001.

Diamond, L.M., & Savin-Williams, R.C. (2009). Adolescent sexuality. Handbook of adolescent psychology.

Drouin, M., & Tobin, E. (2014). Unwanted but consensual sexting among young adults: Relations with attachment and sexual motivations. Comput Hum Behav, 31, 412–418. https://doi.org/10.1016/j.chb.2013.11.001.

Drouin, M., Vogel, K. N., Surbey, A., & Stills, J. R. (2013). Let's talk about sexting, baby: Computer-mediated sexual behaviors among young adults. Comput Hum Behav, 29(5), A25–A30. https://doi.org/10.1016/j.chb.2012.12.030.

Englander, E. K. (2012). Low risk associated with most teenage sexting: a study of 617 18-year-olds. MARC Research Reports, 6.

Erikson, E.H. (1950). Identity and the life cycle.

Fetterolf, J. C., & Sanchez, D. T. (2014). The costs and benefits of perceived sexual agency for men and women. Arch Sex Behav, 44(4), 961–970. https://doi.org/10.1007/s10508-014-0408-x.

Fine, M., & McClelland, S. (2006). Sexuality education and desire: Still missing after all these years. Harv Educ Rev, 76(3), 297–338.

Fry, D. A., Messinger, A. M., Rickert, V. I., O'Connor, M. K., Palmetto, N., Lessel, H., & Davidson, L. L. (2013). Adolescent relationship violence: Help-seeking and help-giving behaviors among peers. Journal of Urban Health, 91(2), 320–334. https://doi.org/10.1007/s11524-013-9826-7.

Hasinoff, A.A. (2015). Sexting panic rethinking criminalization, privacy, and consent. University of Illinois Press.

Hillier, L., Harrison, L., & Warr, D. (1998). "When you carry condoms all the boys think you want it": Negotiating competing discourses about safe sex. J Adolesc, 21(1), 15–29. https://doi.org/10.1006/jado.1997.0126.

Johnson, M. K., Crosnoe, R., & Elder Jr., G. H. (2011). Insights on adolescence from a life course perspective. J Res Adolesc, 21(1), 273–280. https://doi.org/10.1111/j.1532-7795.2010.00728.x.

Kann, L. (2016). Youth risk behavior surveillance—United States, 2015. MMWR Surveill Summ, 65(6), 1–174. 10.15585/mmwr.ss6506a1.

Karaian, L. (2012). Lolita speaks: 'Sexting,' teenage girls and the law. Crime, Media, Culture, 8(1), 57–73. https://doi.org/10.1177/1741659011429868.

Kim, J. E., Weinstein, E. C., & Selman, R. L. (2015). Romantic relationship advice from anonymous online helpers: The peer support adolescents exchange. Youth & Society. https://doi.org/10.1177/0044118X15604849.

Lee, M., & Crofts, T. (2015). Gender, pressure, coercion and pleasure: Untangling motivations for sexting between young people. Br J Criminol, 55(3), 454–473. https://doi.org/10.1093/bjc/azu075.

Lippman, J. R., & Campbell, S. W. (2014). Damned if you do, damned if you don't…if you're a girl: Relational and normative contexts of adolescent sexting in the United States. Journal of Children and Media, 8(4), 371–386. https://doi.org/10.1080/17482798.2014.923009.

Martin, K.A. (1996). Puberty, sexuality, and the self. Routledge.

Meston, C. M., & Buss, D. M. (2007). Why humans have sex. Arch Sex Behav, 36(4), 477–507.

Miller-Ott, A. E., Kelly, L., & Duran, R. L. (2012). The effects of cell phone usage rules on satisfaction in romantic relationships. Commun Q, 60(1), 17–34.

Mitchell, K. J., Finkelhor, D., Jones, L. M., & Wolak, J. (2012). Prevalence and characteristics of youth sexting: A national study. Pediatrics, 129(1), 13–20. https://doi.org/10.1542/peds.2011-1730.

Peterson, Z. D., & Muehlenhard, C. L. (2007). What is sex and why does it matter? A motivational approach to exploring individuals' definitions of sex. Journal of Sex Research, 44(3), 256–268.

Rauer, A. J., Pettit, G. S., Lansford, J. E., Bates, J. E., & Dodge, K. A. (2013). Romantic relationship patterns in young adulthood and their developmental antecedents. Dev Psychol, 49(11), 2159–2171. https://doi.org/10.1037/a0031845.

Ringrose, J., Harvey, L., Gill, R., & Livingstone, S. (2013). Teen girls, sexual double standards and 'sexting': Gendered value in digital image exchange. Feminist Theory, 14(3), 305–323. https://doi.org/10.1177/1464700113499853.

Sanday, P. R. (2013). Fraternity gang rape. New York, NY: New York University Press.

Schalet, A. T. (2011). Not under my roof: Parents, teens, and the culture of sex. Chicago: University of Chicago Press.

Šmahel, D., & Subrahmanyam, K. (2014). Adolescent sexuality on the internet: A developmental perspective.

Steinberg, L., & Morris, A. S. (2001). Adolescent Development. Annu Rev Psychol, 52, 83–110.

Strassberg, D. S., McKinnon, R. K., Sustaita, M. A., & Rullo, J. (2013). Sexting by high school students: An exploratory and descriptive study. Arch Sex Behav, 42(1), 15–21. https://doi.org/10.1007/s10508-012-9969-8.

Stroud, S. R. (2014). The dark side of the online self: A pragmatist critique of the growing plague of revenge porn. Journal of Mass Media Ethics, 29(3), 168–183. https://doi.org/10.1080/08900523.2014.917976.

Subrahmanyam, K., Greenfield, P. M., & Tynes, B. (2004). Constructing sexuality and identity in an online teen chat room. J Appl Dev Psychol, 25(6), 651–666. https://doi.org/10.1016/j.appdev.2004.09.007.

Suler, J. (2006). The online disinhibition effect. Int J Appl Psychoanal Stud, 2(2), 184–188. https://doi.org/10.1002/aps.42.

Temple, J. R., Le, V. D., van den Berg, P., Ling, Y., Paul, J. A., & Temple, B. W. (2014). Brief report: Teen sexting and psychosocial health. J Adolesc, 37(1), 33–36. https://doi.org/10.1016/j.adolescence.2013.10.008.

Vanden Abeele, M., Campbell, S. W., Eggermont, S., & Roe, K. (2014). Sexting, mobile porn use, and peer group dynamics: Boys' and girls' self-perceived popularity, need for popularity, and perceived peer pressure. Media Psychology, 17(1), 6–33. https://doi.org/10.1080/15213269.2013.801725.

Weinstein, E. C., & Selman, R. L. (2014). Digital stress: Adolescents' personal accounts. New Media Soc. https://doi.org/10.1177/1461444814543989.

Willig, C. (2013). Introducing qualitative research in psychology: Adventures in theory and method. England: Open University Press/McGraw-Hill Education.
Acknowledgements
The author wishes to thank Viacom for access to this data, Northwestern University faculty members Simone Ispa-Landa, Jim Spillane, and Daniella Hall, and University of Illinois at Chicago graduate student Emily Machado for feedback on the analytical framing of this paper. Additionally, I wish to thank an anonymous reviewer and Northwestern University faculty member Jon Guryan for comments on earlier versions of this manuscript.
Ethics declarations
Conflict of Interest
The authors have no potential conflicts of interest with respect to the research, authorship, and/or publication of this article.
Research Involving Human Participants and/or Animals
This research involved the use of existing data provided through a license with Viacom. The data provided came from publicly available, non-identifiable information.
Appendices
Appendix 1
Appendix 2
Appendix 3
About this article
Cite this article
Thomas, S.E. "What Should I Do?": Young Women's Reported Dilemmas with Nude Photographs. Sex Res Soc Policy 15, 192–207 (2018). https://doi.org/10.1007/s13178-017-0310-0
Keywords
Adolescence

Sexting

Dating violence

Gender

Digital media

Relationships