Abstract
Despite a large body of literature covering sexual identity development milestones, we know little about differences or similarities in patterns of identity development among subgroups of the lesbian, gay, and bisexual (LGB) population. For this study, we assessed identity milestones for 396 LGB New Yorkers, ages 18–59. Sexual identity and disclosure milestones were measured across gender, sexual identity, race/ethnicity, and age cohort subgroups of the LGB sample. Men experienced most sexual identity milestones earlier than women, but they tended to take more time between milestones. LGBs in younger age cohorts experienced sexual identity milestones and disclosure milestones earlier than the older cohorts. Bisexual people experienced sexual identity and disclosure milestones later than gay and lesbian people. Timing of coming out milestones did not differ by race/ethnicity. By comparing differences within subpopulations, the results of this study help build understanding of the varied identity development experiences of people who are often referred to collectively as "the LGB community." LGB people face unique health and social challenges; a more complete understanding of variations among LGB people allows health professionals and social service providers to provide services that better fit the needs of LGB communities.
Access options
Buy single article
Instant access to the full article PDF.
USD 39.95
Price excludes VAT (USA)
Tax calculation will be finalised during checkout.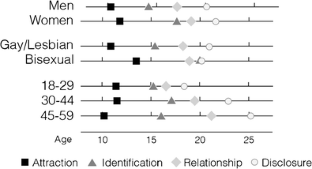 References
American Association for Public Opinion Research (AAPOR). (2005). Standard definitions: final dispositions of case codes and outcome rates for surveys. Deerfield, IL. Retrieved from: http://www.aapor.org/pdfs/standarddefs_3.1.pdf

American Lung Association (ALA). (2008). Smoking out a deadly threat: tobacco use in the LGBT community. Washington DC. Retrieved from: http://www.lung.org/assets/documents/publications/lung-disease-data/lgbt-report.pdf

Baunach, M. (2012). Changing same-sex marriage attitudes in America from 1988 through 2010. Public Opinion Quarterly, 76(2), 364–378.

Calzo, J. P., Antonucci, T. C., Mays, V. M., & Cochran, S. D. (2011). Retrospective recall of sexual orientation identity development among gay, lesbian, and bisexual adults. Developmental Psychology, 47(6), 1658–1673.

Cass, V. C. (1979). Homosexual identity formation: a theoretical model. Journal of Homosexuality, 4(3), 219–235.

Cook-Daniels, L. (2008). Living memory GLBT history timeline: current elders would have been this old when these events happened…. Journal of GLBT Family Studies, 4(4), 485–497.

Cox, S., & Gallois, C. (1996). Gay and lesbian identity development. Journal of Homosexuality, 30(4), 1–30.

D'Augelli, A. R., & Grossman, A. H. (2001). Disclosure of sexual orientation, victimization, and mental health among lesbian, gay, and bisexual older adults. Journal of Interpersonal Violence, 16(10), 1008–1027.

D'Augelli, A. R., Grossman, A. H., & Starks, M. T. (2008). Gender atypicality and sexual orientation development among lesbian, gay, and bisexual youth: prevalence, sex differences, and parental responses. Journal of Gay and Lesbian Psychotherapy, 12(1–2), 121–143.

D'Augelli, A. R., Hershberger, S. L., & Pilkington, N. W. (1998). Lesbian, gay and bisexual youth and their families: disclosure of sexual orientation and its consequences. American Journal of Orthopsychiatry, 68(3), 361–371.

Dube, E. M., & Savin-Williams, R. C. (1999). Sexual identity development among ethnic sexual-minority male youths. Developmental Psychology, 35(6), 1389–1398.

Egan, J. E., Frye, V., Kurtz, S. P., Latkin, C., Chen, M., Tobin, K., & Koblin, B. A. (2011). Migration, neighborhoods, and networks: approaches to understanding how urban environmental conditions affect syndemic adverse health outcomes among gay, bisexual and other men who have sex with men. AIDS and Behavior, 15(1), 35–50.

Floyd, F. J., & Bakeman, R. (2006). Coming-out across the life course: implications of age and historical context. Archives of Sexual Behavior, 35(3), 287–296.

Floyd, F. J., & Stein, T. S. (2002). Sexual orientation identity formation among gay, lesbian, and bisexual youths: multiple patterns of milestone experiences. Journal of Research on Adolescence, 12(2), 167–191.

Gates, G. J. (2010). Sexual minorities in the 2008 General Social Survey: coming out and demographic characteristics. Los Angeles, CA: The Williams Institute.

Graber, J. A., & Archibald, A. B. (2001). Psychosocial change at puberty and beyond: understanding adolescent sexuality and sexual orientation. In A. R. D'Augelli & C. J. Patterson (Eds.), Lesbian, gay, and bisexual identities and youth—psychological perspectives (pp. 3–26). New York, NY: Oxford University Press.

Grov, C., Bimbi, D. S., Nanín, J. E., & Parsons, J. T. (2006). Race, ethnicity, gender, and generational factors associated with the coming out process among gay, lesbian, and bisexual individuals. Journal of Sex Research, 43(2), 115–121.

Kertzner, R. M., Meyer, I. H., Frost, D. M., & Stirratt, M. J. (2009). Social and psychological well-being in lesbians, gay men, and bisexuals: the effects of race, gender, age, and sexual identity. American Journal of Orthopsychiatry, 79(4), 500–510.

Lytton, H., & Romney, D. M. (1991). Parents' differential socialization of boys and girls: a meta-analysis. Psychological Bulletin, 109(2), 267–296.

Maguen, S., Floyd, F. J., Bakeman, R., & Armistead, L. (2002). Developmental milestones and disclosure of sexual orientation among gay, lesbian, and bisexual youths. Applied Developmental Psychology, 23(2), 219–233.

Martin J.L., & Dean, L. (1987). Summary of measures: mental health effects of AIDS on at-risk homosexual men. Reference type: Unpublished work.

Morgan, E. M. (2013). Contemporary issues in sexual orientation and identity development in emerging adulthood. Emerging Adulthood, 1(1), 52–66.

Parks, C. A. (1999). Bicultural competence: a mediating factor affecting alcohol use practices and problems among lesbian social drinkers. Journal of Drug Issues, 29(1), 135–154.

Parks, C. A., & Hughes, T. L. (2007). Age differences in lesbian identity development and drinking. Substance Use and Misuse, 42(2–3), 361–380.

Purdie-Vaughns, V., & Eibach, R. P. (2008). Intersectional invisibility: the distinctive advantages and disadvantages of multiple subordinate-group identities. Sex Roles, 59(5–6), 377–391.

Rosario, M., Schrimshaw, E. W., & Hunter, J. (2004). Ethnic/racial differences in the coming-out process of lesbian, gay, and bisexual youths: a comparison of sexual identity development over time. Cultural Diversity and Ethnic Minority Psychology, 10(3), 215–228.

Rosario, M., Schrimshaw, E. W., & Hunter, J. (2006). A model of sexual risk behaviors among young gay and bisexual men: longitudinal associations of mental health, substance abuse, sexual abuse, and the coming-out process. AIDS Education and Prevention: Official Publication of the International Society for AIDS Education, 18(5), 444–460.

Rosario, M., Schrimshaw, E. W., & Hunter, J. (2011). Different patterns of sexual identity development over time: implications for the psychological adjustment of lesbian, gay, and bisexual youths. Journal of Sex Research, 48(1), 3–15.

Saewyc, E. M., Skay, C. L., Hyndes, P., Pettingel, S., Bearinger, L. H., Resnick, M. D., & Reis, E. (2008). Suicidal ideation and attempts in North American school-based surveys: are bisexual youth at increased risk? Journal of LGBT Health Research, 3(2), 25–36.

Savin-Williams, R. C., & Diamond, L. M. (2000). Sexual identity trajectories among sexual minority youths: gender comparisons. Archives of Sexual Behavior, 29(6), 607–627.

Shapiro, D. N., Rios, D., & Stewart, A. J. (2010). Conceptualizing lesbian sexual identity development: narrative accounts of socializing structures and individual decisions and actions. Feminism and Psychology, 20(4), 491–510.

Troiden, D. R. R. (1989). The formation of homosexual identities. Journal of Homosexuality, 17(1–2), 43–74.

U.S. Department of Health and Human Services (HHS). (2013). Lesbian, gay, bisexual, and transgender health. Retrieved from: http://www.healthypeople.gov/2020/topicsobjectives2020/overview.aspx?topicid=25
Acknowledgments
The authors wish to thank Dr. Laura Durso, PhD, for comments on an early version of this manuscript. This research was supported by the National Institute of Mental Health grant R01-MH066058 to Dr. Ilan H. Meyer.
Conflict of Interest
The authors report no conflicts of interest.
About this article
Cite this article
Martos, A.J., Nezhad, S. & Meyer, I.H. Variations in Sexual Identity Milestones Among Lesbians, Gay Men, and Bisexuals. Sex Res Soc Policy 12, 24–33 (2015). https://doi.org/10.1007/s13178-014-0167-4
Published:

Issue Date:

DOI: https://doi.org/10.1007/s13178-014-0167-4
Keywords
Sexual minorities

Developmental models

Gay/lesbian/bisexual

Ethnic/minority issues

Gender differences