Samenvatting
Sinds de herstructurering van de GGZ in 2014 is de rol van de huisarts alleen maar uitgebreid. Het zogenoemde Amerikaanse Collaborative Care-model biedt een goed handvat om de samenwerking tussen praktijkondersteuner GGZ (POH-GGZ) en de huisarts vorm te geven. Bovendien kunnen GZ-psychologen en psychiaters binnen dit model op verschillende momenten een belangrijke rol vervullen als consulent specialist. Hoe werkt het model en wat is het belang van consultatie?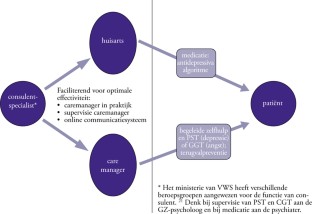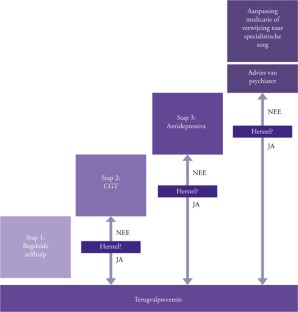 Literatuur
1.

Verhaak PF, Prins MA, Spreeuwenberg P, Draisma S, van Balkom TJ, Bensing JM, et al. Receiving treatment for common mental disorders. General Hospital Psychiatry. 2009 31, 46-55.

2.

De Waal MW, Arnold IA, Eekhof JA, van Hemert AM. Somatoform disorders in general practice: prevalence, functional impairment and comorbidity with anxiety and depressive disorders. Br J Psychiatry. 2004 184, 470-6.

3.

Unützer J, Katon W, Callahan CM, Williams JW Jr, Hunkeler E, Harpole L, et al. Collaborative care management of late-life depression in the primary care setting: a randomized controlled trial. JAMA. 2002 288, 2836-45.

4.

Muntingh ADT, van der Feltz-Cornelis CM, van Marwijk HWJ, Spinhoven Ph, Assendelft WJJ, de Waal MWM, van Balkom AJLM. Collaborative stepped care is effectief bij angststoornissen. Huisarts Wet. 2014 57(11), 566-70.

5.

Huijbregts KM, de Jong FJ, van Marwijk HWJ, Beekman ATF, Hakkaart- Roijen L, van der Feltz-Cornelis CM. Collaborative care voor depressieve patiënten. Huisarts Wet. 2013 56(5), 210-3.

6.

Van der Feltz-Cornelis CM, van Oppen P, Adèr HJ, van Dyck R. Randomised controlled trial of a collaborative care-model with psychiatric consultation for persistent medically unexplained symptoms in general practice. Psychother Psychosom. 2006 75(5), 282-9.

7.

Goorden M, Muntingh A, van Marwijk H, Spinhoven P, Adèr H, van Balkom A, van der Feltz-Cornelis C, Hakkaart-van Roijen L. Cost utility analysis of a collaborative stepped care intervention for panic and generalized anxiety disorders in primary care. J Psychosom Res. (2014) 77(1), 57-63.

8.

Huijbregts KM. Collaborative care for depression in primary care, and the influence of concomitant physical symptoms. A thesis from the Netherlands Depression Initiative. Sint-Pieters-Leeuw, België: Uitgeverij Jan Verhoeven NV, 2013.

9.

Addis M, Martell C. Stap voor stap je depressie te lijf, werkboek gedragsactivatie bij depressie. Amsterdam: Hogrefe Uitgevers BV, 2008.

10.

Van Boeijen CA, van Oppen P, van Balkom AJ, Visser S, Kempe PT, Blankenstein N et al. Treatment of anxiety disorders in primary care practice: a randomised controlled trial. Br J Gen Pract. 2005 55(519), 763-7.

11.

Winter F. De pijn de baas, 10e druk. Soest: Ruitenberg Boek, 2009.

12.

Coventry PA, Hudson JL, Kontopantelis E, Archer J, Richards DA, Gilbody S, Lovell K, Dickens C, Gask L, Waheed W, Bower P. Characteristics of Effective Collaborative Care for Treatment of Depression: A Systematic Review and Meta-Regression of 74 Randomised Controlled Trials. PLOS ONE. 2014 9(9), e108114.

13.

Mynors-Wallis L. Problem Solving Treatment for Anxiety and Depression, A Practical Guide. Oxford, Verenigd Koninkrijk: Oxford University Press, 2005.

14.

Van Rood Y, van Ravesteijn H, de Roos C, Spinhoven P, Speckens A. Protocol voor de diagnostiek en behandeling van patiënten met somatisch onvoldoende verklaarde lichamelijke klachten. Het gevolgenmodel. In Keijers G, van Minnen A, Hoogduin K. (eds.) Protocollaire behandelingen voor volwassenen met psychische klachten 2. Amsterdam: Uitgeverij Boom, 2011.

15.

Beck AT, Epstein N, Brown G, Steer RA. An inventory for measuring clinical anxiety: psychometric properties. J Consult Clin Psychol. 1988 56, 893-7.

16.

Kroenke K, Spitzer RL, Williams JB. The PHQ-9 (2001) validity of a brief depression severity measure. J Gen Intern Med. 16(9), 606-13.

17.

Terluin B, van Marwijk HW, Adèr HJ, de Vet HC, Penninx BW, Hermens ML, Stalman WA. The Four-Dimensional Symptom Questionnaire (4dsq): a validation study of a multidimensional self-report questionnaire to assess distress, depression, anxiety and somatization. bmc Psychiatry. 2006 6(34).

18.

Hafkenscheid A. De therapeutische relatie. Utrecht: De Tijdstroom Uitgeverij, 2014.

19.

Duncan BL, Miller SD, Sparks JA, Claud DA, Reynolds LR, Brown J. e.a. The Session Rating Scale: psychometric properties of a 'working' alliance measure. Journal of Brief Therapy. 2003 3, 3-12.

20.

Muntingh ADT, van der Feltz-Cornelis CM, van Marwijk HW, Spinhoven Ph, Assendelft WJJ, de Waal MWM, Adèr HJ, van Balkom AJLM. Effectiveness of collaborative stepped care for anxiety disorders in primary care: a pragmatic cluster randomised controlled trial. Psychother Psychosom. 2014 83, 37-44.

21.

Website VWS (gezien op 5-1-2015 op http://invoeringbasisggz.nl/onderwerp/praktijkondersteuningsmodule-ggz-poh-ggz): Huisarts kan andere deskundigen consulteren.

22.

VGZ. Beleid Coöperatie VGZ, Praktijkondersteuning Huisartsen GGZ (POH-GGZ) 2015. Gezien op 26-1-2015 op http://www.cooperatievgz.nl/sitecollectiondocuments/d0085-201410%20vgzc%20beleid%20module%20poh%20ggz%202015.pdf, en, aanvraagformulier poh-ggz 2015 v1, gedownload van de website van VGZ op 22-4-2015.
Additional information
Dr. K.M.L. Huijbregts is psycholoog en werkt bij Prezens in de generalistische basis-ggz. Daarnaast is hij als post doc onderzoeker verbonden aan de Academische werkplaats angststoornissen van GGZ in Geest.
Dr. ADT Muntingh is psycholoog en werkt in de gespecialiseerde ggz bij de Polikliniek Depressie van GGZ inGeest. Ook zij is als post doc onderzoeker verbonden aan de Academisch werkplaats angststoornissen van GGZ inGeest.
About this article
Cite this article
Huijbregts, K., Muntingh, A. Collaborative care in de huisartspraktijk. PSYCHOPRAKTIJK 7, 18–23 (2015). https://doi.org/10.1007/s13170-015-0088-9