Abstract
Background/aims
The papillomacular bundle (PMB) area is an important anatomical site associated with central vision. As preventive medicine and health screening examinations are now becoming commonplace, the incidental detection of papillomacular bundle defect (PMBD) on fundus photography has been increasing. However, clinical significance of incidental PMBD has not been well documented to date. Thus, through long-term and longitudinal observation, we aimed to investigate the risk factors for the development and progression of PMBD and its predictive role associated with systemic diseases and glaucoma.
Methods
This longitudinal study included subjects who had undergone standardized health screening. We retrospectively reviewed patients for whom PMBD had been detected in fundus photography and followed up for more than 5 years. For a comparative analysis, non-PMBD groups of age- and gender-matched healthy controls were selected.
Results
A total of about 67,000 fundus photographs were analyzed for 8.0 years, and 587 PMBD eyes were found. Among them, 234 eyes of 234 patients who had had fundus photographs taken for more than 5 years were finally included. A total of 216 eyes (92.3%) did not progress during the 8.1 ± 2.7 years, whereas 18 eyes (7.7%) showed progression at 7.6 ± 2.9 years after initial detection. A multivariate logistic regression analysis using 224 non-PMBD healthy controls revealed low body mass index (BMI < 20 kg/m2), systemic hypertension, and sclerotic changes of retinal artery as the significant risk factors for the development of PMBD. Regarding PMBD progression, low BMI, concomitant retinal nerve fiber layer defect (RNFLD) at non-PMB sites, optic disc hemorrhage, and higher vertical cup/disc ratio were individual significant risk factors.
Conclusion
PMBD is associated with ischemic effects. Although the majority of PMBD do not progress, some of cases are associated with glaucomatous damage in a long-term way. PMBD might be a personalized indicator representing ischemia-associated diseases and a predictive factor for diagnosis and preventive management of glaucoma.
Access options
Buy single article
Instant access to the full article PDF.
US$ 39.95
Tax calculation will be finalised during checkout.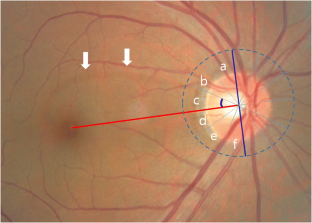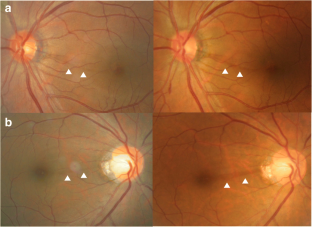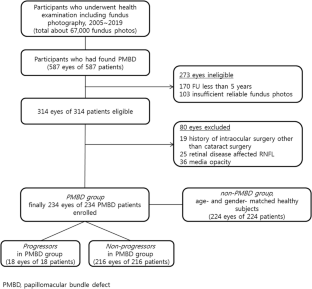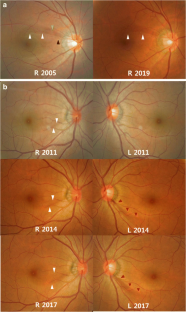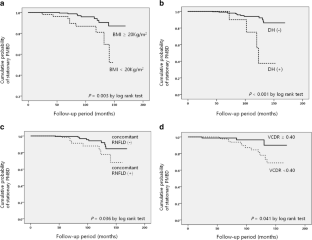 Abbreviations
ALT:

Alanine aminotransferase

AST:

Aspartate aminotransferase

BMI:

Body mass index

CI:

Confidence intervals

CWS:

Cotton wool spot

DH:

Optic disc hemorrhage

FS:

Flammer syndrome

HR:

Hazard ratios

IOP:

Intraocular pressure

PMB:

Papillomacular bundle

PMBD:

Papillomacular bundle defect

PPPM:

Predictive, preventive, and personalized medicine

RNFL:

Retinal nerve fiber layer

RNFLD:

Retinal nerve fiber layer defect

VCDR:

Vertical cup to disc ratio

WBC:

White blood cell
References
1.

Beaglehole R, Bonita R, Horton R, Adams C, Alleyne G, Asaria P, et al. Priority actions for the non-communicable disease crisis. Lancet. 2011;377(9775):1438–47.

2.

Kim HC, Oh SM. Noncommunicable diseases: current status of major modifiable risk factors in Korea. J Prev Med Public Health. 2013;46(4):165–72.

3.

Breslow L, Somers AR. The lifetime health-monitoring program: a practical approach to preventive medicine. N Engl J Med. 1977;296(11):601–8.

4.

Jameson JL, Longo DL. Precision medicine—personalized, problematic, and promising. Obstet Gynecol Surv. 2015;70(10):612–4.

5.

Alyabsi M, Alhumaid A, Allah-Bakhsh H, Alkelya M, Aziz MA. Colorectal cancer in Saudi Arabia as the proof-of-principle model for implementing strategies of predictive, preventive, and personalized medicine in healthcare. EPMA Journal. 2019:1–13.

6.

Lee JH, Yu SE, Kim K-H, Yu MH, Jeong I-H, Cho JY, et al. Individualized metabolic profiling stratifies pancreatic and biliary tract cancer: a useful tool for innovative screening programs and predictive strategies in healthcare. EPMA Journal. 2018;9(3):287–97.

7.

Muramatsu C, Hayashi Y, Sawada A, Hatanaka Y, Hara T, Yamamoto T, et al. Detection of retinal nerve fiber layer defects on retinal fundus images for early diagnosis of glaucoma. J Biomed Opt. 2010;15(1):016021.

8.

Abràmoff MD, Reinhardt JM, Russell SR, Folk JC, Mahajan VB, Niemeijer M, et al. Automated early detection of diabetic retinopathy. Ophthalmology. 2010;117(6):1147–54.

9.

Pirbhai A, Sheidow T, Hooper P. Prospective evaluation of digital non-stereo color fundus photography as a screening tool in age-related macular degeneration. Am J Ophthalmol. 2005;139(3):455–61.

10.

Wagner SK, Fu DJ, Faes L, Liu X, Huemer J, Khalid H et al. Insights into systemic disease through retinal imaging-based oculomics. Translational Vision Science & Technology. 2020;9(2):6-.

11.

Chihara E, Matsuoka T, Ogura Y, Matsumura M. Retinal nerve fiber layer defect as an early manifestation of diabetic retinopathy. Ophthalmology. 1993;100(8):1147–51.

12.

Ogden TE. Nerve fiber layer of the primate retina: morphometric analysis. Invest Ophthalmol Vis Sci. 1984;25(1):19–29.

13.

Barr CC, Glaser JS, Blankenship G. Acute disc swelling in juvenile diabetes: clinical profile and natural history of 12 cases. Arch Ophthalmol. 1980;98(12):2185–92.

14.

Chihara E, Honda Y. Topographic changes in the optic disc in eyes with cotton-wool spots and primary open-angle glaucoma. Graefes Arch Clin Exp Ophthalmol. 1991;229(1):13–8.

15.

Sheets C, Grewal D, Greenfield DS. Ocular toxoplasmosis presenting with focal retinal nerve fiber atrophy simulating glaucoma. J Glaucoma. 2009;18(2):129–31.

16.

Kim KE, Kim MJ, Park KH, Jeoung JW, Kim SH, Kim CY, et al. Prevalence, awareness, and risk factors of primary open-angle glaucoma: Korea National Health and Nutrition Examination Survey 2008–2011. Ophthalmology. 2016;123(3):532–41.

17.

Uchida H, Yamamoto T, Tomita G, Kitazawa Y. Peripapillary atrophy in primary angle-closure glaucoma: a comparative study with primary open-angle glaucoma. Am J Ophthalmol. 1999;127(2):121–8.

18.

Scheie HG. Evaluation of ophthalmoscopic changes of hypertension and arteriolar sclerosis. AMA archives of ophthalmology. 1953;49(2):117–38.

19.

Airaksinen PJ, Mustonen E, Alanko HI. Optic disc hemorrhages: analysis of stereophotographs and clinical data of 112 patients. Arch Ophthalmol. 1981;99(10):1795–801.

20.

Chihara E, Tanihara H. Parameters associated with papillomacular bundle defects in glaucoma. Graefes Arch Clin Exp Ophthalmol. 1992;230(6):511–7.

21.

Kimura Y, Hangai M, Morooka S, Takayama K, Nakano N, Nukada M, et al. Retinal nerve fiber layer defects in highly myopic eyes with early glaucoma. Invest Ophthalmol Vis Sci. 2012;53(10):6472–8.

22.

Kim DM, Seo JH, Kim SH, Hwang S-S. Comparison of localized retinal nerve fiber layer defects between a low-teen intraocular pressure group and a high-teen intraocular pressure group in normal-tension glaucoma patients. J Glaucoma. 2007;16(3):293–6.

23.

Shin JW, Sung KR, Park S-W. Patterns of progressive ganglion cell–inner plexiform layer thinning in glaucoma detected by OCT. Ophthalmology. 2018;125(10):1515–25.

24.

Landis JR, Koch GG. The measurement of observer agreement for categorical data. biometrics. 1977:159-74.

25.

Black AA, Wood JM, Lovie-Kitchin JE. Inferior visual field reductions are associated with poorer functional status among older adults with glaucoma. Ophthalmic Physiol Opt. 2011;31(3):283–91.

26.

Sumi I, Shirato S, Matsumoto S, Araie M. The relationship between visual disability and visual field in patients with glaucoma. Ophthalmology. 2003;110(2):332–9.

27.

Aspinall PA, Johnson ZK, Azuara-Blanco A, Montarzino A, Brice R, Vickers A. Evaluation of quality of life and priorities of patients with glaucoma. Invest Ophthalmol Vis Sci. 2008;49(5):1907–15.

28.

Blumberg DM, De Moraes CG, Prager AJ, Yu Q, Al-Aswad L, Cioffi GA, et al. Association between undetected 10-2 visual field damage and vision-related quality of life in patients with glaucoma. JAMA ophthalmology. 2017;135(7):742–7.

29.

Cho KH, Ahn SJ, Jung C, Han MK, Park KH, Woo SJ. Ischemic injury of the papillomacular bundle is a predictive marker of poor vision in eyes with branch retinal artery occlusion. Am J Ophthalmol. 2016;162:107–20.e2.

30.

Rebolleda G, Sánchez-Sánchez C, González-López JJ, Contreras I, Munoz-Negrete FJ. Papillomacular bundle and inner retinal thicknesses correlate with visual acuity in nonarteritic anterior ischemic optic neuropathy. Invest Ophthalmol Vis Sci. 2015;56(2):682–92.

31.

Flammer J, Konieczka K, Flammer AJ. The primary vascular dysregulation syndrome: implications for eye diseases. EPMA Journal. 2013;4(1):14.

32.

Konieczka K, Choi HJ, Koch S, Fankhauser F, Schoetzau A, Kim DM. Relationship between normal tension glaucoma and Flammer syndrome. EPMA Journal. 2017;8(2):111–7.

33.

McLEOD D, Marshall J, Kohner E, Bird AC. The role of axoplasmic transport in the pathogenesis of retinal cotton-wool spots. Br J Ophthalmol. 1977;61(3):177–91.

34.

Flammer J, Konieczka K, Bruno RM, Virdis A, Flammer AJ, Taddei S. The eye and the heart. Eur Heart J. 2013;34(17):1270–8. https://doi.org/10.1093/eurheartj/eht023.

35.

Song Y-J, Cho K-I, Kim S-M, Jang H-D, Park J-M, Kim S-S, et al. The predictive value of retinal vascular findings for carotid artery atherosclerosis: are further recommendations with regard to carotid atherosclerosis screening needed? Heart Vessel. 2013;28(3):369–76.

36.

Sugiyama K, Tomita G, Kitazawa Y, Onda E, Shinohara H, Park KH. The associations of optic disc hemorrhage with retinal nerve fiber layer defect and peripapillary atrophy in normal-tension glaucoma. Ophthalmology. 1997;104(11):1926–33.

37.

Suh MH, Park KH. Period prevalence and incidence of optic disc haemorrhage in normal tension glaucoma and primary open-angle glaucoma. Clin Exp Ophthalmol. 2011;39(6):513–9.

38.

Leske MC, Heijl A, Hussein M, Bengtsson B, Hyman L, Komaroff E. Factors for glaucoma progression and the effect of treatment: the early manifest glaucoma trial. Arch Ophthalmol. 2003;121(1):48–56.

39.

Zheng Y, Cheung CY, Wong TY, Mitchell P, Aung T. Influence of height, weight, and body mass index on optic disc parameters. Invest Ophthalmol Vis Sci. 2010;51(6):2998–3002.

40.

Konieczka K, Ritch R, Traverso CE, Kim DM, Kook MS, Gallino A, et al. Flammer syndrome. EPMA J. 2014;5(1):11. https://doi.org/10.1186/1878-5085-5-11.

41.

Kang JH, Loomis SJ, Rosner BA, Wiggs JL, Pasquale LR. Comparison of risk factor profiles for primary open-angle glaucoma subtypes defined by pattern of visual field loss: a prospective study. Invest Ophthalmol Vis Sci. 2015;56(4):2439–48.

42.

Higashi Y, Sasaki S, Nakagawa K, Kimura M, Noma K, Sasaki S, et al. Low body mass index is a risk factor forimpaired endothelium-dependent vasodilation in humans: role of nitric oxide and oxidative stress. J Am Coll Cardiol. 2003;42(2):256–63.

43.

Konieczka K, Erb C. Diseases potentially related to Flammer syndrome. EPMA J. 2017;8(4):327–32. https://doi.org/10.1007/s13167-017-0116-4.

44.

Flammer J, Konieczka K. The discovery of the Flammer syndrome: a historical and personal perspective. EPMA J. 2017;8(2):75–97. https://doi.org/10.1007/s13167-017-0090-x.

45.

Barthelmes J, Nägele MP, Ludovici V, Ruschitzka F, Sudano I, Flammer AJ. Endothelial dysfunction in cardiovascular disease and Flammer syndrome-similarities and differences. EPMA J. 2017;8(2):99–109. https://doi.org/10.1007/s13167-017-0099-1.

46.

Terelak-Borys B, Grabska-Liberek I, Piekarniak-Wozniak A, Konieczka K. Choroidal infarction in a glaucoma patient with Flammer syndrome: a case report with a long term follow-up. BMC Ophthalmol. 2017;17(1):23. https://doi.org/10.1186/s12886-017-0416-4.

47.

Konieczka K, Koch S, Binggeli T, Schoetzau A, Kesselring J. Multiple sclerosis and primary vascular dysregulation (Flammer syndrome). EPMA J. 2016;7(1):13. https://doi.org/10.1186/s13167-016-0062-6.

48.

Sabel BA, Wang J, Fähse S, Cárdenas-Morales L, Antal A. Personality and stress influence vision restoration and recovery in glaucoma and optic neuropathy following alternating current stimulation: implications for personalized neuromodulation and rehabilitation. EPMA J. 2020;11(2):177–96. https://doi.org/10.1007/s13167-020-00204-3.

49.

Berger JS, Haskell L, Ting W, Lurie F, Chang SC, Mueller LA, et al. Evaluation of machine learning methodology for the prediction of healthcare resource utilization and healthcare costs in patients with critical limb ischemia-is preventive and personalized approach on the horizon? EPMA J. 2020;11(1):53–64. https://doi.org/10.1007/s13167-019-00196-9.

50.

Chen Q, Zhao B, Wang MY, Chen XY, Li D, Jiang XQ, et al. Associations between the red blood cell distribution width and primary angle-closure glaucoma: a potential for disease prediction. EPMA J. 2019;10(2):185–93. https://doi.org/10.1007/s13167-019-00166-1.

51.

Li S, Shao M, Wan Y, Tang B, Sun X, Cao W. Relationship between ocular biometry and severity of primary angle-closure glaucoma: relevance for predictive, preventive, and personalized medicine. EPMA J. 2019;10(3):261–71. https://doi.org/10.1007/s13167-019-00174-1.

52.

Lee JS, Lee SH, Oum BS, Chung JS, Cho BM, Hong JW. Relationship between intraocular pressure and systemic health parameters in a Korean population. Clin Exp Ophthalmol. 2002;30(4):237–41.
Funding
This work was supported by a National Research Foundation of Korea (NRF) grant funded by the Korean government (MSIT) (No. 2019R1F1A1058426).
Ethics declarations
Ethical approval
The project was approved by Institutional Review Board of Seoul National University Hospital (No. 1906-141-1043)
Statement of informed consent
The requirement to obtain written informed consent was waived by the Institutional Review Board, because our study was retrospective research based on medical records, and also because this research presented no more than minimal risk of harm to subjects
Statement of human and animal rights
The study was carried out according to the Declaration of Helsinki
Conflict of interest
The authors declare no competing interests.
Additional information
Publisher's note
Springer Nature remains neutral with regard to jurisdictional claims in published maps and institutional affiliations.
Meeting presentation
None
About this article
Cite this article
Baek, S.U., Lee, W.J., Park, K.H. et al. Health screening program revealed risk factors associated with development and progression of papillomacular bundle defect. EPMA Journal 12, 41–55 (2021). https://doi.org/10.1007/s13167-021-00235-4
Received:

Accepted:

Published:

Issue Date:
Keywords
Papillomacular bundle defect

Ophthalmology

Health screening examination

Program

Low body mass index

Ischemia-associated diseases

Risk assessment

Risk factors

Screening

Cardiovascular disease

Longitudinal study

Disease development and progression

Systemic effects and characteristics

Glaucoma

Predictive factors

Personalized indicator

Preventive management

Predictive preventive personalized medicine (PPPM/3PM)