Abstract
Previous studies have shown that belief in the healthiness of organic food is a strong motive for buying organic. Typically, a positive relation between a nutritionally balanced diet (with respect to fruit, vegetables and meat) and organic consumption is also found. As market shares of organic food are much smaller than those of conventional food, consumers may face a trade-off between buying organic and choosing the nutritional composition they prefer. Using data from a survey of around 1300 Danish consumers, we found that almost all respondents believed that organic food contains fewer unwanted substances than non-organic food, and that around a third considered organic food to be nutritionally superior. Respondents with high organic consumption and who believe in the nutritious superiority of organic food products were more likely to belong to a small group of respondents who prioritized buying organic. However, the vast majority, particularly those with low levels of organic consumption, prioritized dietary flexibility over organic produce. Our findings suggest that to motivate those in this large consumer segment to increase their organic consumption, it will be necessary to offer a broader, more nutritionally differentiated, range of organic products.
Access options
Buy single article
Instant access to the full article PDF.
USD 39.95
Price excludes VAT (USA)
Tax calculation will be finalised during checkout.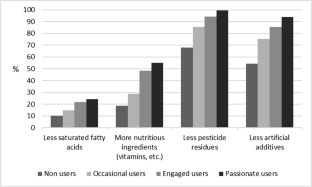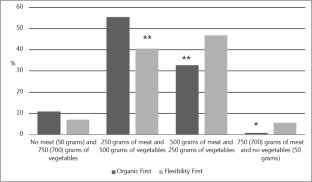 References
Aertens J, Verbeke W, Mondelaers K, Van Huylenbroeck G (2009) Personal determinants of organic food consumption: a review. Br Food J 111(10):1140–1167. https://doi.org/10.1108/00070700910992961

Baudry J, Allès B, Péneau S, Touvier M, Méjean C, Hercberg S, Galan P, Lairon D, Kesse-Guyot E (2017) Dietary intakes and diet quality according to levels of organic food consumption by French adults: cross-sectional findings from the NutriNet-Santé Cohort Study. Public Health Nutr 20(4):638–648. https://doi.org/10.1017/S1368980016002718

Boizot-Szantai C, Hamza Q, Soler L-G (2017) Organic consumption and diet choice: an analysis based on food purchase data in France. Appetite 117:17–28. https://doi.org/10.1016/j.appet.2017.06.003

Christensen T, Denver S, Olsen SB (2019) Consumer preferences for organic food and for the shares of meat and vegetables in an everyday meal. J Int Food Agribus Mark 32(3):234–246. https://doi.org/10.1080/08974438.2019.1599758

Dangour AD, Lock K, Hayter A, Aikenhead A, Allen E, Uauy R (2010) Nutrition-related health effects of organic foods: a systematic review. Am J Clin Nutr 92(1):203–210. https://doi.org/10.3945/ajcn.2010.29269

Denver S, Christensen T (2015) Organic food and health concerns: a dietary approach using observed data. NJAS Wageningen J Life Sci 74–75:9–15. https://doi.org/10.1016/j.njas.2015.05.001

Denver S, Ditlevsen K, Lassen J, Nordström J, Sandøe P, Christensen T (2018) Relationships between organic consumption and health [Samspil mellem økologisk forbrug og sundhed]. In: Christensen T, Sandøe P (eds) Increased demand for Danish organic food [Øget efterspørgsel efter danske økologiske fødevarer] (pp. 11–34). Institute of Food and Resource Economics, January 2018

Denver S, Nordström J, Christensen T (2019) Is an increase in organic consumption accompanied by a healthier diet? A comparison of changes in eating habits among danish consumers. J Food Prod Mark 25(5):479–499. https://doi.org/10.1080/10454446.2019.1600449

Dinesen A (2017) Note on methods used for the survey to IFRO regarding organic and health. Internal note. Userneeds September 1 2017

Ditlevsen K, Sandøe P, Lassen J (2019) Healthy food is nutritious, but organic food is healthy because it is pure: the negotiation of healthy food choices by Danish consumers of organic food. Food Qual Prefer 71:46–53. https://doi.org/10.1016/j.foodqual.2018.06.001

Ditlevsen K, Denver S, Christensen T, Lassen J (2020) A taste for locally produced food - values, opinions and sociodemographic differences among 'organic' and 'conventional' consumers. Appetite 147. https://doi.org/10.1016/j.appet.2019.104544

Ditlevsen K, Andersen S (2021) The purity of dirt: revisiting Mary Douglas in the light of contemporary consumer interpretations of naturalness, purity and dirt. Sociology 55(1):179–196. https://doi.org/10.1177/0038038520934980

European Commission (2008) Commission Regulation (EC) no 889/2008 of 5 September 2008 laying down detailed rules for the implementation of Council Regulation (EC) No 834/2007 on organic production and labelling of organic products with regard to organic production, labelling and control

FAO (2021) Food-based dietary guidelines. Accessed online November 12, 2021 http://www.fao.org/nutrition/education/food-dietary-guidelines/en/

Grosso G, Bella F, Godos J, Sciacca S, Del Rio D, Ray S, Galvano F, Giovannucci EL (2017) Possible role of diet in cancer: systematic review and multiple meta-analyses of dietary patterns, lifestyle factors, and cancer risk. Nutr Rev 75(6):405–419. https://doi.org/10.1093/nutrit/nux012

Gundala RR, Singh A (2021) What motivates consumers to buy organic foods? Results of an empirical study in the United States. PLoS ONE 16(9):e0257288. https://doi.org/10.1371/journal.pone.0257288

Hjelmar U (2011) Consumers' purchase of organic food products. A matter of convenience and reflexive practices. Appetite 56:336–344. https://doi.org/10.1016/j.appet.2010.12.019

Hosmer DW, Lemeshow S, Sturdivant RX (2013) Applied logistic regression, 3rd edn. Wiley

Huber M, Rembiałkowska E, Średnicka D, Bügel S, van de Vijver LPL (2011) Organic food and impact on human health: assessing the status quo and prospects of research. NJAS - Wageningen J Life Sci 58(3–4):103–109. https://doi.org/10.1016/j.njas.2011.01.004

Jensen MM, Jørgensen H, Lauridsen C (2013) Comparison between organic and conventional agriculture in terms of nutritional quality of food – a critical review. CAB Rev 8(045):1–13. https://doi.org/10.1079/PAVSNNR.20138045

Jespersen LM, Baggesen DL, Fog E, Halsnæs K, Hermansen JE, Andreasen L, Strandberg B, Sørensen JT, Halberg N (2017) Contribution of organic farming to public goods in Denmark. Org Agric 7:243–266. https://doi.org/10.1007/s13165-017-0193-7

Kesse-Guyot E, Péneau S, Méjean C, Szabo de Edelenyi F, Galan P, Hercberg S, Lairon D (2013) Profiles of organic food consumers in a large sample of French adults: results from the Nutrinet-Santé cohort study. PLoS One 8(10):e76998. https://doi.org/10.1371/journal.pone.0076998

Lee WCJ, Shimizu M, Kniffin KM, Wansink B (2013) You taste what you see: do organic labels bias taste perceptions? Food Qual Prefer 29(1):33–39. https://doi.org/10.1016/j.foodqual.2013.01.010

Lund TB, Jensen KO (2008) Consumption of organic foods from a life history perspective: an explorative study among Danish consumers, Country Report Denmark. Department of Human Nutrition, University of Copenhagen, Denmark, 2008

Massey M, O'Cass A, Otahal P (2018) A meta-analytic study of the factor driving the purchase of organic food. Appetite 125:418–427. https://doi.org/10.1016/j.appet.2018.02.029

Mozaffarian D (2016) Dietary and Policy Priorities for cardiovascular disease, diabetes, and obesity: a comprehensive review. Circulation 133:187–225. https://doi.org/10.1161/CIRCULATIONAHA.115.018585

Popa ME, Mitelut AC, Popa EE, Stan A, Popa VI (2019) Organic foods contribution to nutritional quality and value. Trends Food Sci Technol 84:15–18. https://doi.org/10.1016/j.tifs.2018.01.003

Saba A, Messina F (2003) Attitudes towards organic foods and risk/benefit perception associated with pesticides. Food Qual Prefer 14:637–645. https://doi.org/10.1016/S0950-3293(02)00188-X

Saha S, Nordström J, Mattisson I, Nilsson P, Gerdtham UG (2019a) Modelling the effect of compliance with Nordic Nutrition Recommendations on cardiovascular disease and cancer mortality in the Nordic countries. Nutrients 11:1434. https://doi.org/10.3390/nu11061434

Saha S, Nordström J, Gerdtham UG, Mattisson I, Nilsson P, Scarborough P (2019b) Prevention of cardiovascular disease and cancer mortality by achieving healthy dietary goals for the Swedish population: a macro simulation modelling study. Int J Environ Res Public Health 16(5):890. https://doi.org/10.3390/ijerph16050890

Schleenbecker R, Hamm U (2013) Consumers' perception of organic product characteristics. A review. Appetite 71:420–429. https://doi.org/10.1016/j.appet.2013.08.020

Suciu NA, Ferrari F, Trevisan M (2019) Organic and conventional food: comparison and future research. Trends Food Sci Technol 84:49–51. https://doi.org/10.1016/j.tifs.2018.12.008

Willer H, Travnicek J, Meier C, Schlatter B (eds) (2021) The World of Organic Agriculture. Statistics and Emerging Trends 2021. Research Institute of Organic Agriculture (FiBL), Frick and IFOAM – Organics International, Bonn. https://www.fibl.org/fileadmin/documents/shop/1150-organic-world-2021.pdf

WHO (2003) Diet, nutrition and the prevention of chronic diseases. Report of the joint WHO/FAO expert consultation. WHO Technical Report Series 916 (TRS 916)

Zander K, Stolz H, Hamm U (2013) Promising ethical arguments for product differentiation in the organic food sector. A mixed methods research approach. Appetite 62:133–142. https://doi.org/10.1016/j.appet.2012.11.015
Funding
The research reported in this paper has been conducted as part of the OrgHealth project under the Organic RDD2.2 research programme (Project number: 34009–15-1002), funded by the Danish Green Development and Demonstration Programme (GUDP). The funders had no role in the design of the study, in the collection, analyses, or interpretation of data, in the writing of the manuscript, or in the decision to publish the results.
Ethics declarations
Competing Interests
All authors collaborate from time to time with employees from the organic food industry in various projects with no links to the project here reported. All authors declare no other conflicts of interest.
Additional information
Publisher's note
Springer Nature remains neutral with regard to jurisdictional claims in published maps and institutional affiliations.
About this article
Cite this article
Denver, S., Christensen, T., Nordström, J. et al. Dietary priorities and consumers' views of the healthiness of organic food: purity or flexibility?. Org. Agr. 12, 163–175 (2022). https://doi.org/10.1007/s13165-022-00396-0
Received:

Accepted:

Published:

Issue Date:

DOI: https://doi.org/10.1007/s13165-022-00396-0
Keywords