Abstract
There is a knowledge gap regarding the visual information search for prices of organic food during shopping. This study aimed to give insights on this subject and thus measured the visual information search using mobile eye-tracking glasses in a laboratory test market with 148 consumers. Study participants had to decide for one among six unfamiliar brands in each of two product categories. Consumers were grouped according to their choices in the test market into consumers of conventional food, regular consumers of organic food and occasional consumers of organic food. These groups were investigated regarding their visual search for package and price information of organic compared to conventional products. The results showed that 97.2% of consumers of conventional and 97.0% of regular consumers of organic food noticed most prices of organic food. Further, approximately three-quarters of price tags were reexamined after a first look. There was no difference between regular organic, occasional organic and conventional consumers in the amount of visual attention allocated to prices of organic food; however, of the time that participants spent looking at organic alternatives, conventional consumers gazed significantly longer at prices of organic food than regular and occasional organic consumers. The fixation durations on packages of organic and prices and packages of conventional products were significant predictors of the choice of organic and conventional products. The results imply that the precondition for price comparisons and evaluations, i.e. noticing prices, is met for most products in all consumer groups. Regular and occasional organic consumers pay attention to prices of organic and conventional products despite their organic 'predisposition'. Even though conventional consumers are more focused on prices, many of them chose a conventional product which was higher priced than an organic alternative. Hence, other motivations also play a determining role for their choices.
This is a preview of subscription content, log in to check access.
Access options
Buy single article
Instant access to the full article PDF.
US$ 39.95
Price includes VAT for USA
Subscribe to journal
Immediate online access to all issues from 2019. Subscription will auto renew annually.
US$ 99
This is the net price. Taxes to be calculated in checkout.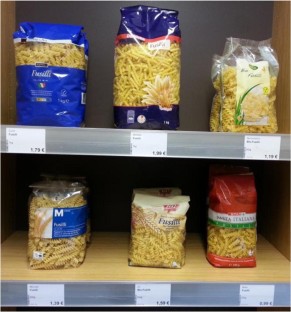 References
Aertsens J, Verbeke W, Mondelaers K, van Huylenbroeck G (2009) Personal determinants of organic food consumption: a review. Br Food J 111(10):1140–1167. https://doi.org/10.1108/00070700910992961

Aschemann-Witzel J, Niebuhr Aagaard EM (2014) Elaborating on the attitude-behaviour gap regarding organic products: Young Danish consumers and in-store food choice. Int J Consum Stud 38(5):550–558. https://doi.org/10.1111/ijcs.12115

Aschemann-Witzel J, Zielke S (2017) Can't buy me green?: a review of consumer perceptions of and behavior toward the price of organic food. J Consum Aff 51(1):211–251. https://doi.org/10.1111/joca.12092

Bearden WO, Netemeyer RG, Haws KL (2011) Handbook of marketing scales: multi-item measures for marketing and consumer behavior research (3rd ed.). Sage, Los Angeles, London, New Delhi, Singapore, Washington DC

Bezawada R, Pauwels K (2013) What is special about marketing organic products? How organic assortment, price, and promotions dive retailer performance. J Mark 77:31–51

Bialkova S, Grunert KG, Juhl HJ, Wasowicz-Kirylo G, Stysko-Kunkowska M, van Trijp HCM (2014) Attention mediates the effect of nutrition label information on consumers' choice. Evidence from a choice experiment involving eye-tracking. Appetite 76:66–75. https://doi.org/10.1016/j.appet.2013.11.021

Buder F, Feldmann C, Hamm U (2014) Why regular buyers of organic food still buy many conventional products. Br Food J 116(3):390–404. https://doi.org/10.1108/BFJ-04-2012-0087

Bunte FHJ, van Galen MA, Kuiper WE, Tacken G (2010) Limits to growth in organic sales. De Economist 158(4):387–410. https://doi.org/10.1007/s10645-010-9152-3

Chandon P, Hutchinson JW, Bradlow ET, Young SH (2009) Does in-store marketing work?: effects of the number and position of shelf facings on brand attention and evaluation at the point of purchase. J Mark 73:1–17

Chinnici G, D'Amico M, Pecorino B (2002) A multivariate statistical analysis on the consumers of organic products. British Food J 104(3/4/5):187–199

Clement J (2007) Visual influence on in-store buying decisions: an eye-track experiment on the visual influence of packaging design. J Mark Manag 23(9–10):917–928. https://doi.org/10.1362/026725707X250395

Dickson PR, Sawyer AG (1990) The price knowledge and search of supermarket shoppers. J Mark 54(3):42–53

Duchowski AT (2007) Eye tracking methodology: theory and practice, 2nd edn. Springer London, London

Eberhardt T, Kenning P, Schneider H (2009) On the validity of price knowledge measurements via self-assessment scales. Two studies in retailing. J Target Meas Anal Mark 17(2):93–103

Field A (2013) Discovering Statistics using IBM SPSS Statistics (4th ed.). Sage, Los Angeles London New Delhi Singapore Washington DC

Frostling-Henningsson M, Hedbom M, Wilandh L (2014) Intentions to buy "organic" not manifested in practice. Br Food J 116(5):872–887. https://doi.org/10.1108/BFJ-11-2010-0190

Gere A, Danner L, de AN, Kovács S, Dürrschmid K, Sipos L (2016) Visual attention accompanying food decision process: an alternative approach to choose the best models. Food Qual Prefer 51:1–7. https://doi.org/10.1016/j.foodqual.2016.01.009

Gidlöf K, Anikin A, Lingonblad M, Wallin A (2017) Looking is buying: how visual attention and choice are affected by consumer preferences and properties of the supermarket shelf. Appetite 116:29–38. https://doi.org/10.1016/j.appet.2017.04.020

Gottschalk I, Leistner T (2013) Consumer reactions to the availability of organic food in discount supermarkets. Int J Consum Stud 37(2):136–142. https://doi.org/10.1111/j.1470-6431.2012.01101.x

Hamm U, Aschemann J, Riefer A (2007) Sind die hohen Preise für Öko-Lebensmittel wirklich das zentrale Problem für den Absatz? Berichte über Landwirtschaft 85(2):252–271

Hessisches Statistisches Landesamt (2016) Statistische Berichte - Das verfügbare Einkommen der privaten Haushalte in Hesse 2008 bis 2014 nach kreisfreien Städten und Landkreisen. Kennziffer P I 4 –j/2000-2014 rev.

Holmqvist K, Nyström M, Andersson R, Dewhurst R, Jarodzka H, van de Weijer J (2011) Eye tracking: a comprehensive guide to methods and measures. Oxford University Press, Oxford

Hughner RS, McDonagh P, Prothero A, Shultz CJ, Stanton J (2007) Who are organic food consumers? A compilation and review of why people purchase organic food. J Consum Behav 6(2–3):94–110. https://doi.org/10.1002/cb.210

Janssen M (2018) Determinants of organic food purchases: evidence from household panel data. Food Qual Prefer 68:19–28. https://doi.org/10.1016/j.foodqual.2018.02.002

Janssen M, Hamm U (2012) The mandatory EU logo for organic food: consumer perceptions. Br Food J 114(3):335–352. https://doi.org/10.1108/00070701211213456

Kenning P, Hartleb V, Schneider H (2011) An empirical multi-method investigation of price knowledge in food retailing. Intl J Retail Distrib Mgt 39(5):363–382

Krajbich I, Lu D, Camerer C, Rangel A (2012) The attentional drift-diffusion model extends to simple purchasing decisions. Front Psychol 3:1–18

Lee H-J, Yun Z-S (2015) Consumers' perceptions of organic food attributes and cognitive and affective attitudes as determinants of their purchase intentions toward organic food. Food Qual Prefer 39:259–267. https://doi.org/10.1016/j.foodqual.2014.06.002

Lourenço CJ, Gijsbrechts E, Paap R (2015) The impact of category prices on store price image formation: an empirical analysis. J Mar Res 52(2):200–216. https://doi.org/10.1509/jmr.11.0536

Michael Bauer Research GmbH. (2017). Kaufkraft 2017 in Deutschland: Kreise und kreisfreie Städte - wichtigste Variablen. Nürnberg. Retrieved from http://www.mb-research.de/_download/MBR-Kaufkraft-Kreise.pdf (accessed 30.10.2017)

Moser AK (2016) Consumers' purchasing decisions regarding environmentally friendly products: an empirical analysis of German consumers. J Retail Consum Serv 31:389–397. https://doi.org/10.1016/j.jretconser.2016.05.006

Netemeyer RG, Krishnan B, Pullig C, Wang G, Yagci M, Dean D, Ricks J, Wirth F (2004) Developing and validating measures of facets of customer-based brand equity. Measurement Valid Marketing Res 57(2):209–224. https://doi.org/10.1016/S0148-2963(01)00303-4

Orquin JL, Mueller Loose S (2013) Attention and choice: a review on eye movements in decision making. Acta Psychol 144(1):190–206. https://doi.org/10.1016/j.actpsy.2013.06.003

Padilla Bravo C, Cordts A, Schulze B, Spiller A (2013) Assessing determinants of organic food consumption using data from the German National Nutrition Survey II. Food Qual Prefer 28(1):60–70. https://doi.org/10.1016/j.foodqual.2012.08.010

Pärnamets P, Johansson R, Gidlöf K, Wallin A (2016) How information availability interacts with visual attention during judgment and decision tasks. J Behav Decis Mak 29(2–3):218–231. https://doi.org/10.1002/bdm.1902

Rayner K (1998) Eye movements in reading and information processing: 20 years of research. Psychol Bull 124(3):372–422

Rödiger M, Plaßmann S, Hamm U (2016) Organic consumers' price knowledge, willingness-to-pay and purchase decision. British Food J 118(11):2732–2743

Simon H, Fassnacht M (2016) Preismanagement: Strategie—Analyse—Entscheidung—Umsetzung. Springer Gabler, Wiesbaden

Sprott DE, Manning KC, Miyazaki AD (2003) Grocery price setting and quantity surcharges. J Mark 67(3):34–46

Stadt Kassel – Fachstelle Statistik (2017) Statistikatlas Kassel. Retrieved from: http://statistikatlas.kassel.de/bericht1/atlas.html (accessed 30.10.2017)

Statistisches Bundesamt (Destatis) (2017) Staat and Gesellschaft: Bevölkerungsstand. Bevölkerung auf Grundlage des Zensus 2011. Retrieved from https://www.destatis.de/DE/ZahlenFakten/GesellschaftStaat/Bevoelkerung/Bevoelkerungsstand/Tabellen/Zensus_Geschlecht_Staatsangehoerigkeit.html (accessed 28.10.2017)

Stolz H, Stolze M, Hamm U, Janssen M, Ruto E (2011) Consumer attitudes towards organic versus conventional food with specific quality attributes. NJAS – Wageningen J of Life Sci 58:67–72

Zander K, Stolz H, Hamm U (2013) Promising ethical arguments for product differentiation in the organic food sector. A mixed methods research approach. Appetite 62:133–142. https://doi.org/10.1016/j.appet.2012.11.015
Acknowledgements
We thank Johann Steinhauser for the fruitful collaboration during the conduction of the study, the data preparation, and the discussions about data analysis. We also thank Dr. Adriano Profeta for statistical advice. We further thank Ekaterina Babina, Frauke Kersting, Nazli Novruzova, Philip Schierning, Jan Hendrik Umbacher, Lea Müller, Marie Stützl, René Schneider, and David Kühn for their support during data collection. We also thank Anne Christopherson for proofreading the manuscript.
Additional information
Publisher's note
Springer Nature remains neutral with regard to jurisdictional claims in published maps and institutional affiliations.
About this article
Cite this article
Rödiger, M., Hamm, U. Do consumers care about organic and conventional food prices? An eye tracking study. Org. Agr. 10, 75–87 (2020). https://doi.org/10.1007/s13165-019-00252-8
Received:

Accepted:

Published:

Issue Date:
Keywords
Consumer behaviour

Organic food

Price

Eye tracking

Visual attention

Purchase decision