Abstract
These days, consumers are more inclined towards a healthy lifestyle. They understand the quality of food intake directly affects their health. Consuming organic food is a good option available to them. India being a big producer of organic food has started showing interest towards consumption of organic food. Understanding of consumer is very important for marketers for the holistic growth of organic food market. The aim of this study is to comprehend the key factors affecting purchase intention of the Indian organic customers. This study has used a semi-structured questionnaire on 200 organic customers and proposed a research model. The data analysis has used confirmatory factor analysis (CFA) and identified that all the indicating variables have reflected their underlying constructs. After undergoing CFA, it is also established that the acceptable fit to the data has been reflected by the measurement model. Moreover, path analysis was used to check the predicted causal relationship among the latent constructs (structural model). Contribution to the sustainable environment is the target of mature organizations. The proposed relationship model for purchase intention may help organization dealing in an organic food market.
This is a preview of subscription content, log in to check access.
Access options
Buy single article
Instant access to the full article PDF.
US$ 39.95
Price includes VAT for USA
Subscribe to journal
Immediate online access to all issues from 2019. Subscription will auto renew annually.
US$ 99
This is the net price. Taxes to be calculated in checkout.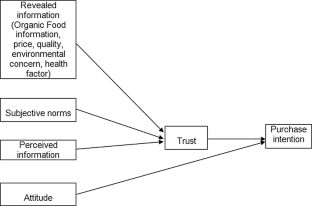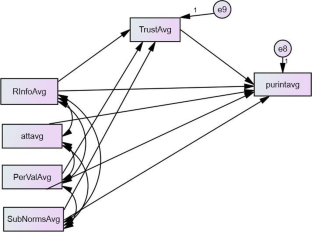 References
Bajwa BS, Kumar S, Singh S, Sahoo SK, Tripathi RM (2015) 'Uranium and other heavy toxic elements distribution in the drinking water samples of SW-Punjab', India. J Radiat Res Appl Sci 10(1):13–19

Chakrabarti S (2010) Factors influencing organic food purchase in India–expert survey insights. Br Food J 112(8):902–915

Fornell C, Larcker DF (1981) Evaluating structural equation models with unobservable variables and measurement error. J Mark Res 18(1):39–50

Gil JM, Gracia A, Sanchez M (2000) Market segmentation and willingness to pay for organic products in Spain. The International Food and Agribusiness Management Review 3:207–226

Liang R (2015) Predicting intentions to purchase organic food: the moderating effects of organic food prices. Br Food J 118(1):183–199

Misra R, Singh D (2016) An analysis of factors affecting growth of organic food: perception of consumers in Delhi-NCR (India). Br Food J 118(9):2308–2325

Nunnally JC, Bernstein IH (1994) Psychological theory. MacGraw-Hill, New York

Pingali, P.L. (2012) Green revolution: impacts, limits, and the path ahead. In: Proceedings of National Academy of Science United States of America,Vol. 109, No. 31, pp. 12302–12308

Saini B (2013) Green marketing and its impact on consumer buying behaviour. Int J Eng Sci Invent 2(12):61–64

Seegebarth B, Peyer M, Buerke A, Balderjahn I, Kirchgeorg M, Wiedmann KP (2016) What does Sustainable Consumption Really Mean? A Three-Dimensional Measurement Approach. In: Campbell C, Ma J (eds) Looking Forward, Looking Back: Drawing on the Past to Shape the Future of Marketing. Developments in Marketing Science: Proceedings of the Academy of Marketing Science. Springer, Cham

Sriwaranun Y, Gan C, Lee M, Cohen DA (2015) 'Consumers' willingness to pay for organic products in Thailand. Int J Soc Econ 42(5):480–510

Tarkiainen A, Sundqvist S (2005) Subjective norms, attitudes and intentions of Finnish consumers in buying organic food. Br Food J 107(11):808–822

Teng CC, Wang YM (2015) Decisional factors driving organic food consumption: generation of consumer purchase intentions. Br Food J 117(3):1066–1081

Tsakiridou E, Boutsouki C, Zotos Y, Mattas K (2007) Attitudes and behavior towards organic products: an exploratory study. Int J Retail Distrib Manag 36(2):158–175

Xie B, Wang L, Yang H, Wang Y, Zhang M (2015) Consumer perceptions and attitudes of organic food products in eastern China. Br Food J 117(3):1105–1121
Additional information
Publisher's Note
Springer Nature remains neutral with regard to jurisdictional claims in published maps and institutional affiliations.
About this article
Cite this article
Pandey, D., Kakkar, A., Farhan, M. et al. Factors influencing organic foods purchase intention of Indian customers. Org. Agr. 9, 357–364 (2019). https://doi.org/10.1007/s13165-018-0240-z
Received:

Accepted:

Published:

Issue Date:
Keywords
Sustainable products

Organic food

Subjective norms

Perceived risks

Purchase intention