Abstract
Organic farming is knowledge intensive. To support farmers in improving yields and organic agriculture systems, there is a need to improve how knowledge is shared. There is an established culture of sharing ideas, successes and failures in farming. The internet and information technologies open-up new opportunities for knowledge exchange involving farmers, researchers, advisors and other practitioners. The OK-Net Arable brought together practitioners from regional Farmer Innovation Groups across Europe in a multi-actor project to explore how online knowledge exchange could be improved. Feedback from the groups was obtained for 35 'tools', defined as end-user materials, such as technical guides, videos and websites informing about practices in organic agriculture. The groups also selected one practice to test on farms, sharing their experiences with others through workshops, exchange visits and through videos. Farmers valued the same key elements in face-to-face exchanges (workshops and visits) as in online materials. These were the opportunity for visual observation, deeper understanding of the context in which a practice was being tried and details about what worked and what did not work. Videos, decision support tools and social media can provide useful mechanisms for taking knowledge exchange online, enabling farmers and researchers to share experiences and practical implications. Visual information, economics, details of the context, successes and failures were considered to be critical factors in good knowledge exchange tools. Online platforms and forums should not be expected to replace but rather to complement face to face knowledge exchange in improving organic farming.
Access options
Buy single article
Instant access to the full article PDF.
US$ 39.95
Tax calculation will be finalised during checkout.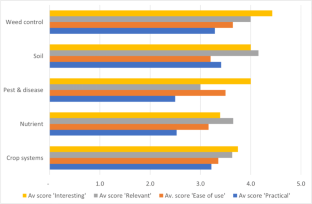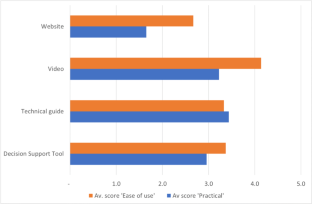 Notes
1.

2.

Three tools were evaluated in discussions, but no scores were provided, which explains the difference between the total numbers evaluated and the scores.
References
Almekinders CJM (2011) The joint development of JM-12.7: a technographic description of the making of a bean variety. Neth J Agric Sci 57(3–4):207–216

Arbenz M, Gould D, Stopes C (2017) ORGANIC 3.0—the vision of the global organic movement and the need for scientific support. Org Agric 7(3):199–207

Blackstock KL, Ingram J, Burton R, Brown KM, Slee B (2010) Understanding and influencing behaviour change by farmers to improve water quality. Sci Total Environ 408(23):5631–5638

Bliss K, Padel S, Ducottet C (2017) Evaluation of the usefulness of tools and end-user materials to farmers. D 2.2 of OK-Net Arable. Organic Research Centre, Newbury

Brown S (2014) The doodle revolution: unlock the power to think differently. Penguin, London

Bruce TJA (2016) The CROPROTECT project and wider opportunities to improve farm productivity through web-based knowledge exchange. Food and Energy Security 5(2):89–96. https://doi.org/10.1002/fes3.80

Butler A, Lobley M (2012) Resource management, knowledge and internet use on farms in South West England: a report for the SWARM knowledge hub. Centre for Rural Policy Research, University of Exeter, Exeter

Caldbeck J, Sumption P (2016) Mind the gap–exploring the yield gaps between conventional and organic arable and potato crops. Organic Research Centre Bulletin 121:9–15

Carr A, Wilkinson R (2005) Beyond participation: boundary organizations as a new space for farmers and scientists to interact. Soc Nat Resour 18(3):255–265

Cullen B, Amos D, Padel S (2016) Description of farmer innovation groups. D2.1 of OK Net Arable. Organic Research Centre, Newbury

De Ponti T, Rijk B, Van Ittersum MK (2012) The crop yield gap between organic and conventional agriculture. Agric Syst 108(1–9):1–9

Dewan P (2015) Words versus pictures: leveraging the research on visual communication. Partnership: the Canadian Journal of Library and Information Practice and Research 10(1):3473

Gócs K, Moeskops B, Rasmussen IA (2018) Plan for continuation of the knowledge platform. D 4.4 of the OK-Net Arable Project. IFOAM-EU, Brussels

Ingram J (2008) Agronomist–farmer knowledge encounters: an analysis of knowledge exchange in the context of best management practices in England. Agric Hum Values 25:405–418

Kerkx L, Proctor A (2013) Beyond fragmentation and disconnect: networks for knowledge exchange in the English land management advisory system. Land Use Policy 30(1):13–24

Knickel K, Tisenkopfs T, Peter S (2009) Innovation processes in agriculture and rural development: results of a cross-national analysis of the situation in seven countries, research gaps and recommendations. IN-SIGHT: strengthening innovation processes for growth and development (FP6 SSP: 44510)

Leeuwis C, Aarts N (2011) Rethinking communication in innovation processes: creating space for change in complex systems. J Agric Educ Ext 17(1):21–36. https://doi.org/10.1080/1389224X.2011.536344

Micheloni C, Bortolussi S, Conder M, Moeskops B, Padel S, Willer H (2017) Collection of identified and developed end-user and education material. Deliverable 3.3 of the OK-Net Arable Project. AIAB, Roma

Mohamad R, Al Bitar L, Alwanney D, Madzari S (2018) Facilitated and self-learning courses, D 4.2 of OK-Net Arable. IAM- CHEAM, Bari

Moschitz H, Tisenkopfs T, Brunori G, Home R, Kunda I, Sumane S (2014) Final report of the Solinsa project. Research Institute of Organic Agriculture FiBL, Frick

Niggli U et al (2016) Organic knowledge network arable - D.3.1 state-of-the-art research results and best practices. Research Institute of Organic Agriculture FiBL, Frick

Ortolani L, Micheloni C (2016) Identification of the best methods for learning and knowledge exchange. D 3.2 of OK- net arable. AIAB, Rome

Pretty J, Sutherland WJ, Ashby J, Auburn J, Baulcombe D, Bell M, Bentley J, Bickersteth S, Brown K, Burke J, Campbell H (2010) The top 100 questions of importance to the future of global agriculture. Int J Agric Sustain 8(4):219–236

Röling N (1990) The agricultural research - technology interface a knowledge systems perspective. In: Kaimowitz D (ed) Making the link: agricultural research and technology transfer in developing countries. Westview Press, with International Service for National Agricultural Research, Boulder, pp 1–42

Röös E, Mie A, Wivstad M, Salomon E, Johansson B, Gunnarsson S, Wallenbeck A, Hoffmann R, Nilsson U, Sundberg C, Watson CA (2018) Risks and opportunities of increasing yields in organic farming. A review. Agron Sustain Dev 38(14). https://doi.org/10.1007/s13593-018-0489-3

Rose DC, Sutherland WJ, Parker C, Lobley M, Winter M, Morris C, Twining S, Foulkes C, Amano T, Dicks LV (2016) Decision support tools for agriculture: towards effective design and delivery. Agric Syst 149:165–174

Rose DC, Morris C, Lobley M, Winter M, Sutherland WJ, Dicks LV (2018) Exploring the spatialities of technological and user re-scripting: the case of decision support tools in UK agriculture. Geoforum 89:11–18

Seufert V, Ramankutty N, Foley JA (2012) Comparing the yields of organic and conventional agriculture. Nature 485(7397):229–232

Sutherland L-A, Madureira L, Dirimanova V, Bogusz M, Kania J, Vinohradnik K, Creaney R, Duckett D, Koehnen T, Knierim A (2017) New knowledge networks of small-scale farmers in Europe's periphery. Land Use Policy 63:428–439
Acknowledgements
The work presented here was carried out as part of the OK-Net Arable project. This communication only reflects the authors' views. The Research Executive Agency is not responsible for any use that may be made of the information provided.
We would also like to acknowledge the input from all Farmer Innovation Group Members and Coordinators, from the Project Partners at FIBL, ICROFS and AIAB and from our Co-ordinator Bram Moeskops at IFOAM EU and his team and the helpful comments of two anonymous reviewers.
Funding
This project has received funding from the European Union's Horizon 2020 research and innovation programme under grant agreement No. 652654.
About this article
Cite this article
Bliss, K., Padel, S., Cullen, B. et al. Exchanging knowledge to improve organic arable farming: an evaluation of knowledge exchange tools with farmer groups across Europe. Org. Agr. 9, 383–398 (2019). https://doi.org/10.1007/s13165-018-0238-6
Received:

Accepted:

Published:

Issue Date:
Keywords
Knowledge exchange

Internet

Peer-to-peer

Video

Technical guide

Organic arable farming