Abstract
Lupin (Lupinus L.) has the potential to become a true alternative for soybean as protein source, especially in the more temperate regions in the world. However, diseases such as anthracnose (Colletotrichum lupini), gray mold (Botrytis cinerea), and root rot or brown spot (Pleiochaeta setosa) are important threats for lupin production, leading to yield and quality losses. Although conventional fungicides offer a solution to these problems, there is a growing interest in the use of alternative (biological) treatments. In this research, the applicability of four pure plant essential oils (clove oil, juniper oil, tea tree oil, and thyme essential oil) and timbor® (a Thymus vulgaris-derived plant extract) as alternatives for synthetic fungicides towards the lupin pathogens—C. lupini, B. cinerea, and P. setosa—was investigated. The anti-fungal effect of juniper oil was limited, whereas the other oils and timbor® clearly suppressed the growth and spore germination of all fungi. The in vitro experiments revealed that thyme essential oil and timbor® were most effective to inhibit conidial germination and mycelium growth. Furthermore, the results of the pot experiments demonstrated that these Thymus-derived compounds were able to suppress P. setosa brown spot and root rot symptoms. Additional trials are necessary to evaluate the effect of these compounds under field conditions. However, based on these in vitro and pot experiments, it can be concluded that pure essential oils and Thymus-derived plant extracts are promising anti-fungal agents, having the potential to become true alternatives for conventional fungicides in lupin cultivation. To the best of our knowledge, this is the first study demonstrating the potential of plant-derived compounds to treat the main diseases affecting lupin production.
This is a preview of subscription content, log in to check access.
Access options
Buy single article
Instant access to the full article PDF.
US$ 39.95
Price includes VAT for USA
Subscribe to journal
Immediate online access to all issues from 2019. Subscription will auto renew annually.
US$ 99
This is the net price. Taxes to be calculated in checkout.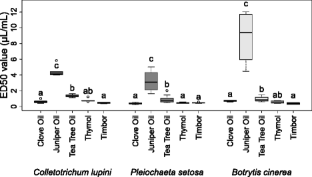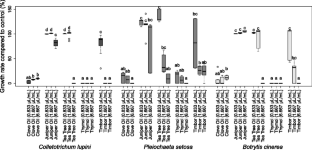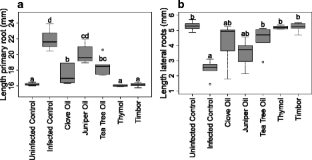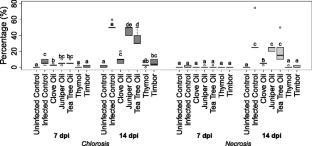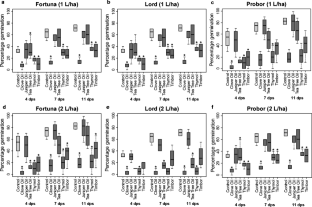 References
Amini J, Farhang V, Javadi T, Nazemi J (2016) Antifungal effect of plant essential oils on controlling Phytophthora species. Plant Pathol J 32:16–24

Audenaert K, Landschoot S, Vanheule A, Waegeman W, De Baets B, Haesaert G (2011) Impact of fungicide timing on the composition of the fusarium head blight disease complex and the presence of deoxynivalenol (DON) in wheat. In: Thajuddin N (ed) Fungicides-beneficial and Harmfull aspects, INTECH, pp 79–98

Behtoei H, Amini J, Javadi T, Sadeghi A (2012) Composition and in vitro antifungal activity of Bunium persicum, Carum copticum and Cinnamomum zeylanicum essential oils. J Med Plant Res 6:5069–5076

Daferera DJ, Ziogas BN, Polission MG (2003) The effectiveness of plant essential oils on the growth of Botrytis cinerea, Fusarium sp and Clavibacter michiganensis subsp michiganensis. Crop Prot 22:39–44

Dikbas N, Kotan R, Dadasoglu F, Sahin F (2008) Control of Aspergillus flavus with essential oil and methanol extract of Sartureja hortensis. Int J Food Microbiol 124:179–182

FAOSTAT (2016) Database collections. Food and agriculture organization of the United Nations. http://faostat.fao.org. Accessed 6 Jan 2018

Glencross B, Hawking W (2004) A comparison of the digestibility of lupin (Lupinus sp) kernel meals as dietary protein resources when fed to either, rainbow trout, Oncorhynchus mykiss or red seabream, Pagrus auratus. Aquac Nutr 10:65–72

Kishore GK, Pande S, Harish S (2007) Evaluation of essential oils and their components for broad-spectrum antifungal activity and control of late leaf spot and crown rot diseases in peanut. Plant Dis 91:375–379

Khan A, Ahmad A, Khan A, Padoa LCJ, van Vuuren S, Manzoor N (2015) Effect of two monoterpene phenols on antioxidant defense system in Candida albicans. Microb Pathog 80:50–56

Lamichhane JR, Dachbrodth-Saaydeh S, Kudsk P, Messéan A (2016) Towards a reduced reliance on conventional pesticides in European agriculture. Plant Dis 100(1):10–24

Lucas ML, Stoddard FL, Annicchiarico P, Frías J, Martínez-Villaluenga C, Sussmann D, Duranti M, Seger A, Zander PM, Pueyo JJ (2015) The future of lupin as a protein crop in Europe. Front Plant Sci 6:705

Matusinsky P, Zouhar M, Pavela R, Novy P (2015) Antifungal effect of five essential oils against important pathogenic fungi of cereals. Ind Crop Prod 67:208–215

McMahon MAS, Blair IS, Moore JE, McDowell DA (2007) Habituation to sub-lethal concentrations of tea tree oil (Melaleuca alternifolia) is associated with reduced susceptibility to antibiotics in human pathogens. J Antimicrob Chemother 59:125–127

Perina FJ, Amaral DC, Fernandes RS, Labory CR, Teixeira GA, Alves E (2015) Thymus vulgaris essential oil and thyme essential oil against Alternaria alternata (Fr) Keissler: effects on growth, viability, early infection and cellular mode of action. Pest Manag Sci 71(10):1371–1378

R Core Team (2014) R: a language and environment for statistical computing R Foundation for Statistical Computing, Vienna, Austria URL: http://wwwR-projectorg/

Rasooli I, Rezaei MB, Allameh A (2006) Growth inhibition and morphological alterations of Aspergillus niger by essential oils from Thymus eriocalyx and Thymus x-porlock. Food Control 17:359–364

Sturchio E, Boccia P, Zanellato M, Meconi C, Donnarumma L, Mercurio G, Mecozzi M (2016) Molecular and structural changes induced by essential oils treatments in Vicia faba roots detected by genotoxicity testing. J Toxic Environ Health A 79:143–152

Sweetingham MW (1999) Low rates of dicarboximide seed treatment reduce brown spot in narrow-leafed lupin Australian journal of experimental. Agriculture 39(2):195–201

Talhinhas P, Baroncelli R, Le Floch G (2016) Anthracnose of lupins caused by Colletotrichum Lupini: a recent disease and a successful worldwide pathogen. J Plant Pathol 98(1):5–14

Thomas GJ, Sweetingham MW (2004) Cultivar and environment influence the development of lupin anthracnose caused by Colletotrichum lupini. Australas Plant Pathol 33:571–577

Thomas GJ, Sweetingham MW, Adcock KG (2008) Application of fungicides to reduce yield loss in anthracnose-infected. Crop Prot 27(7):1071–1077

Tomioka K, Sawada H, Aoki T, Sato T (2008) Gray mold of pearl lupin caused by Botrytis cinerea. J Gen Plant Pathol 74:405–407

Varo A, Mulero-Aparicio A, Adem M, Roca LF, Raya-Ortega MC, López-Escudero FJ, Trapero A (2017) Screening water extracts and essential oils from Mediterranean plants against Verticillium dahliae in olive. Crop Prot 92:168–175

Vitoratos A, Bilalis B, Karkanis A, Efthimiadou A (2013) Antifungal activity of plant essential oils against Botrytis cinerea, Penicillium italicum and Penicillium digitatum. Notulae Botanicae Horti Agrobotanici Cluj-Napoca 41(1):86–92

Wojakowska A, Kułak K, Jasiński M, Kachlicki P, Stawiński S, Stobieck M (2015) Metabolic response of narrow leaf lupine (Lupinus angustifolius) plants to elicitation and infection with Colletotrichum lupini under field conditions. Acta Physiol Plant 37:152

Zhou F, Liang H-J, Di Y-L, You H, Zhu F-X (2014) Stimulatory effects of sublethal doses of dimethachlon on Sclerotinia sclerotiorum. Plant Dis 98:1364–1370
Acknowledgements
The authors gratefully acknowledge the technical staff of the experimental farm (Bottelare).
About this article
Cite this article
Dewitte, K., Landschoot, S., Carrette, J. et al. Exploration of essential oils as alternatives to conventional fungicides in lupin cultivation. Org. Agr. 9, 107–116 (2019). https://doi.org/10.1007/s13165-018-0212-3
Received:

Accepted:

Published:

Issue Date:
Keywords