Abstract
Five strains of Streptomyces sp. (CAI-24, CAI-121, CAI-127, KAI-32, and KAI-90; demonstrated previously to have potential for control of Fusarium wilt disease in chickpea and plant growth promotion [PGP] in rice) were evaluated for their PGP capabilities in chickpea in the 2012–2013 and 2013–2014 post-rainy seasons. The plots inoculated with Streptomyces sp. significantly enhanced number of nodule, nodule weight, root weight, and shoot weight at 30 days after sowing (DAS) and number of pod, pod weight, leaf area, leaf weight, and stem weight at 60 DAS in both seasons over the un-inoculated control plots. At chickpea crop maturity, all of the Streptomyces strains significantly enhanced stover yield, grain yield, and total dry matter in both seasons over the un-inoculated control. In the rhizosphere, the Streptomyces strains also significantly enhanced soil biological and mineral nutrient activities including microbial biomass carbon, dehydrogenase activity, total nitrogen, available phosphorous, and organic carbon in both seasons over the un-inoculated control. All of the five strains were found superior in terms of nodule formation, root and shoot development, and crop productivity; however, KAI-xx had little edge over the other five strains. Scanning electron microscopy (SEM) analysis had revealed the success of colonization by the strains of Streptomyces sp. of the chickpea roots. Quantitative real-time PCR (qRT-PCR) analysis of selected PGP genes revealed overall upregulation of β-1,3-glucanase, indole-3-acetic acid, and siderophore genes in the Streptomyces species studied. This investigation further confirms the broad spectrum of PGP activities by the selected Streptomyces sp.
Access options
Buy single article
Instant access to the full article PDF.
US$ 39.95
Tax calculation will be finalised during checkout.
Subscribe to journal
Immediate online access to all issues from 2019. Subscription will auto renew annually.
US$ 79
Tax calculation will be finalised during checkout.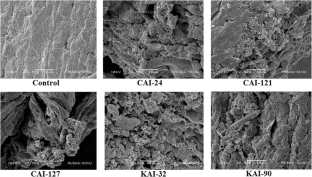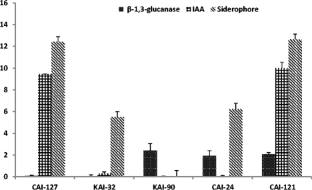 References
Ahemad M, Kibret M (2014) Mechanisms and applications of plant growth promoting rhizobacteria: current perspective. J King Saud Univ 26:1–20

Aldesuquy HS, Mansour FA, Abo-Hamed SA (1998) Effect of the culture filtrates of Streptomyces on growth and productivity of wheat plants. Folia Microbiol 43:465–470

Anderson TH, Domsch KH (1989) Ratios of microbial biomass carbon to total organic carbon in arable soils. Soil Biol Biochem 21:471–479

Bozzola JJ, Russell LD (1998) In: Electron microscopy principals and techniques for biologists. 2nd edn. Jones and Barlett publishers, Sudbury, Massachusetts. pp. 19─24, 54─55, 63─67

Bulluck LR, Brosius M, Evanylo GK, Ristaino JB (2002) Organic and synthetic fertility amendments influence soil microbial, physical and chemical properties on organic and conventional farms. Appl Soil Ecol 19:147–160

Casida LE (1977) Microbial metabolic activity in soil as measured by dehydrogenase determinations. Appl Environ Microbiol 34:630–636

El-Tarabily KA (2008) Promotion of tomato (Lycopersicon esculentum Mill.) plant growth by rhizosphere competent 1-aminocyclopropane-1-carboxylic acid deaminase–producing Streptomycete actinomycetes. Plant Soil 308:161–174

Glick BR (1995) The enhancement of plant growth by free-living bacteria. Can J Microbiol 41:109–117

Gopalakrishnan S, Pande S, Sharma M, Humayun P, Kiran BK, Sandeep D, Vidya MS, Deepthi K, Rupela O (2011) Evaluation of actinomycete isolates obtained from herbal vermicompost for biological control of Fusarium wilt of chickpea. Crop Prot 30:1070–1078

Gopalakrishnan S, Srinivas V, Vidya MS, Rathore A (2013) Plant growth-promoting activities of Streptomyces sp. in sorghum and rice. Springer Plus 2(574):1–8

Gopalakrishnan S, Vadlamudi S, Bandikinda P, Sathya A, Vijayabharathi R, Rupela O, Kudapa B, Katta K, Varshney RK (2014) Evaluation of Streptomyces strains isolated from herbal vermicompost for their plant growth-promotion traits in rice. Microbiol Res 169:40–48

Indiragandhi P, Anandham R, Madhaiyan M, Sa TM, Indiragandhi P, Anandham R, Madhaiyan M, Sa TM (2008) Characterization of plant growth-promoting traits of bacteria isolated from larval guts of diamondback moth Plutella xylostella (Lepidoptera; Plutellidae). Curr Microbiol 56:327–333

Jannouraa R, Bruns C, Joergensena RG (2013) Organic fertilizer effects on pea yield, nutrient uptake, microbial root colonization and soil microbial biomass indices in organic farming systems. Eur J Agron 49:32–41

Jetiyanon K, Kloepper JW (2002) Mixtures of plant growth promoting rhizobacteria for induction of systemic resistance against multiple plant diseases. Biol Control 24:285–291

Lugtenberg BJJ, Dekkers LC (1999) What makes Pseudomonas bacteria rhizosphere competent? Environ Microbiol 1:9–13

Macagnan D, Romeiro RDA, Pomella AMV, deSouza JT (2008) Production of lytic enzymes and siderophores, and inhibition of germination of basidiospores of Moniliophthora (ex Crinipellis) perniciosa by phylloplane actinomycetes. Biol Control 47:309–314

Mandal A, Patra AK, Singh D, Swarup A, Masto RE (2007) Effect of long-term application of manure and fertilizer on biological and biochemical activities in soil during crop development stages. Bioresour Technol 98:3585–3592

Nassar AH, El-Tarabily KA, Sivasithamparam K (2003) Growth promotion of bean (Phaseolus vulgaris L.) by a polyamine producing isolate of Streptomyces griseoluteus. Plant Growth Reg 40:97–106

Nelson DW, Sommers LE (1982) Total organic carbon and organic matter'. In: Page AL, Miller RH, Keeney DR (eds) Methods of soil analysis, part 3, chemical and microbiological properties. SSSA, Madison, WI, pp 539–579

Novozamsky I, Houba VJG, Van ECKR, vanVark W (1983) A novel digestion technique for multiple element analysis. Commun Soil Sci Plant Anal 14:239–249

Olsen SR, Sommers LE (1982) Phosphorus. In Methods of soil analysis, Agron No 9, part 2, 'chemical and microbial properties', 2nd edition, Am Soc Agron Page AL (Ed), Madison WI, USA, pp.403 − 430

Perner H, Schwarz D, George E (2006) Effect of mycorrhizal inoculation and compost supply on growth and nutrient uptake of young leek plants grown on peat-based substrates. Hort Sci 41:628–632

Rajkumar M, Ae N, Prasad MNV, Freitas H (2010) Potential of siderophore-producing bacteria for improving heavy metal phytoextraction. Trends Biotechnol 28:142–149

Richardson AE, Barea JM, Mcneill AM, Combaret CP (2009) Acquisition of phosphorus and nitrogen in the rhizosphere and plant growth promotion by microorganisms. Plant Soil 321:305–339

Rosen S, Skaletsky HJ (2000) Primer 3 on the WWW for general users and for biologist programmers. In: Krawetz S, Misener S (eds) Bioinformatics Methods and Protocols: Methods in Molecular Biology. Humana Press, Totowa, NJ, pp 365–386

Ryu CM, Murphy CF, Reddy MS, Kloepper JW (2007) A two strain mixture of rhizobacteria elicits induction of systemic resistance against Pseudomonas syringae and cucumber mosaic virus coupled to promotion of plant growth on Arabidopsis thaliana'. J Microbiol Biotechnol 17:280–286

Sadeghi A, Karimi E, Dahazi PA, Javid MG, Dalvand Y, Askari H (2012) Plant growth promoting activity of an auxin and siderophore producing isolate of Streptomyces under saline soil condition. World J Microbiol Biotechnol 28:1503–1509

Schrey SD, Erkenbrack E, Fruh E, Fengler S, Hommel K, Horlacher N, Schulz D, Ecke M, Kulik A, Fiedler H, Hampp R, Tarkka MT (2012) Production of fungal and bacterial growth modulating secondary metabolites is widespread among mycorrhiza-associated Streptomyces. BMC Microbiol 12:164

Shaukat K, Affrasayab S, Hasnain S (2006) Growth responses of Triticum aestivum to plant growth promoting rhizobacteria used as a biofertilizer. Res J Microbiol 1:330–338

Singh PP, Shin YC, Park CS, Chung YR (1999) Biological control of Fusarium wilt of cucumber by chitinolytic bacteria. Phytopathology 89:92–99

Soe KM, Bhromsiri A, Karladee D (2010) Effects of selected endophytic actinomycetes (Streptomyces sp,) and Bradyrhizobia from Myanmar on growth, nodulation, nitrogen fixation and yield of different soybean varieties. CMU J Nat Sci 9:95–109

Tokala RK, Strap JL, Jung CM, Crawford DL, Salove MH, Deobald LA, Bailey JF, Morra MJ (2002) Novel plant-microbe rhizosphere interaction involving Streptomyces lydicus WYEC108 and the pea plant (Pisum sativum). Appl Environ Microbiol 68:2161–2171

Trejo-Estrada SR, Paszczynski A, Crawford DL (1998) Antibiotics and enzymes produced by the biocontrol agent Streptomyces violaceusniger YCED-9. J Ind Microbiol Biot 21:81–90
Acknowledgements
This work has been undertaken as part of the CGIAR Research Program on Grain Legumes. ICRISAT is a member of CGIAR Consortium. We thank Dr. M Lakshman, Associate Professor, Ruska Lab, College of Veterinary Science, Rajendranagar, Hyderabad, for SEM analysis and all of the staff of the biocontrol unit of ICRISAT including M/s PVS Prasad, P Manohar, B Nagappa, D Barath, A Jabbar, and S Rohini for their significant contribution in the laboratory and field studies.
Conflict of interest
All of the authors declare that they have no financial/commercial conflicts of interest.
About this article
Cite this article
Gopalakrishnan, S., Srinivas, V., Alekhya, G. et al. Evaluation of Streptomyces sp. obtained from herbal vermicompost for broad spectrum of plant growth-promoting activities in chickpea. Org. Agr. 5, 123–133 (2015). https://doi.org/10.1007/s13165-015-0099-1
Received:

Accepted:

Published:

Issue Date:
Keywords
Plant growth promotion

Streptomyces sp.

Chickpea

Scanning electron microscopy

qRT-PCR analysis