Abstract
The Government of Bhutan, a poor rugged mountainous kingdom in the Himalayas, aims to convert the whole agricultural area to Organic Agriculture (OA) by 2020 in an effort to provoke a substantial increase of productivity and farmers income while preserving the environment. Currently less than 10 % of the agricultural area of Bhutan is in OA production. We analysed the assumptions of the Bhutanese Government cited above from an agronomic perspective. According to our estimates, farmer incomes after conversion will increase only if organic crops will out-yield conventional crops or if farmers can realize higher market prices. Organic yields may partly increase beyond current productivity but may not become as high as in systems using agrochemicals. Under these premises, higher farmer incomes after mass conversion are not likely. The current low agricultural productivity is mainly a result of low soil fertility combined with other system-independent factors such as inadequate input supply, e.g. low quality seeds, lack of techniques and knowledge, inefficient management, labour shortage and poor infrastructure. These problems need to be tackled with integrated approaches, which should include organic management practices such as growing fodder legumes. Integrating more strategies of OA into Bhutanese agriculture is expected to have positive ecological effects. System comparisons between conventional and organic production require more empirical data on the agronomic and economic performances, which are yet to be generated in Bhutan. In addition to trade policies, market and infrastructure development, the organic sector will benefit from a well-resourced Centre of Excellence to focus on research and knowledge transfer.
Access options
Buy single article
Instant access to the full article PDF.
USD 39.95
Price excludes VAT (USA)
Tax calculation will be finalised during checkout.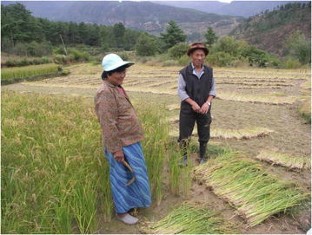 References
Bachmann F (2012) Potential and limitations of organic and fair trade cotton for improving livelihoods of smallholders: evidence from Central Asia. RAFS 27(2):138–147

Bachmann L, Cruzada E, Wright S (2009) Food security and farmer empowerment. MASIPAG, Los Banos. ISBN 078-971-94381-0-6

Baillie IC, Tshering K, Dorji T, Tamang HB, Norbu C, Hutcheon AA, Bäumler R (2004) Regolith and soils in Bhutan, Eastern Himalayas. Eur J Soil Sci 55:9–27

Brown J, Bir N (2011) Bhutan's success in conservation: valuing the contribution of the environment to Gross National Happiness. Overseas Development Institute. ODI Publication, 111 Westminster Bridge Road, London

Caspari T, Bäumler R, Norbu C, Tshering K, Baillie I (2006) Geochemical investigation of soils developed in different lithologies in Bhutan, Eastern Himalayas. Geoderma 136:436–458

Connor DJ (2013) Organically grown crops do not a cropping system make and nor can organic agriculture nearly feed the world. FCR 144:145–147

DANIDA (2008) Climate change screening of Danish Development Assistance with Bhutan. Ministry of Foreign Affairs of. Danish International Development Assistance (DANIDA), Denmark

Dema Y, Dorji K, Pem T, Tenzin N (2012) Long term study on potato-maize based farming system as managed by farmers of Eastern Bhutan. Bhut J RNR 8(1):53-62, available at http://www.moaf.gov.bt/moaf/?p=33&wpfb_cat=4, accessed 30 Nov 2013

Dorji L (2002) Grass and legume seed production in Bhutan. The 5th Tapafon meeting, Bajo, Bhutan 2002, available at http://www.fao.org/ag/agp/AGPC/doc/Proceedings/Tapafon02/tapafon12.htm, accessed 13 May 2014

Dorji KD (2008) Agriculture and soil fertility in Bhutan: an overview. Workshop on sustainable nutrient management: Technology and Policy, May 2008, Hebei, China

Dorji L (2012) Bhutan's glaciers meltdown, threats and the need for joint response mechanism. National Statistics Bureau, Royal Government of Bhutan, Socio-economic research and analysis division, working paper 1, 2012, available at http://www.nsb.gov.bt/publication/files/pub9ib9100uu.pdf, accessed 28 Nov 2013

Duba S, Ghimiray M, Gurung RT (2008) Promoting organic farming in Bhutan: a review of policy, implementation and constraints. Council for RNR Research of Bhutan, Ministry of Agriculture, Thimphu Bhutan, available at: http://www.gnhc.gov.bt/five-year-plan, accessed 28 Nov 2013

FAO (2014) Online database available at http://faostat.fao.org/site/567/default.aspx#ancor, accessed 15 May 2014

Farrell TC, Fox KM, Williams RL, Fukai S (2006) Genotypic variation for cold tolerance during reproductive development in rice: screening with cold air and cold water. FCR 98:178–194

Fontema DA, Aighew B (1993) Effect of fungicides on late blight control and yield loss of potato in the western highlands of Cameroon. Int J Pest Manag 39(2):152–155

Fraser N, Bhattacharya A, Bhattacharya B (2001) Geography of a Himalayan Kingdom: Bhutan. New Delhi

Ghimiray M (2012) An analysis of rice varietal improvement and adoption rate by farmers in Bhutan. Bhut J RNR 8 (1):13-24, available at http://www.moaf.gov.bt/moaf/?p=33&wpfb_cat=4, accessed 30 Nov 2013

GNCH (2013) Gross National Happiness Commission, Eleventh Five Year Plan 2013-2018, available at http://www.gnhc.gov.bt/wp-content/uploads/2011/04/Eleventh-Five-Year-Plan.pdf, accessed 3 Dec 2013

GNHC (2003) Gross National Happiness Commission, Ninth Five Year Plan 2003–2008, available at http://www.gnhc.gov.bt/five-year-plan, accessed 5 Nov 2013

GNHC (2009) Gross National Happiness Commission, Tenth Five Year Plan 2008-2013, available at http://www.gnhc.gov.bt/wp-content/uploads/2011/10thplan/TenthPlan_Vol1_Web.pdf, accessed 5 Nov. 2013

Gómez Tovar L, Lauren M, Gómez Cruz MA, Mutersbaugh T (2005) Certified organic agriculture in Mexico: market connections and certification practices in large and small producers. J Rural Stud 21:461–474

Gopinath KA, Supradip S, Mina BL, Pande H, Srivastva AK, Gupta HS (2009) Bell pepper yield and soil properties during conversion from conventional to organic production in Indian Himalayas. SciHortic-Amsterdam 122:339–345

HDR (2013) Human Development Report 2013 The rise of the South: human progress in a diverse world. available at: http://hdr.undp.org/sites/default/files/reports/14/hdr2013_en_complete.pdf, accessed 30 July 2014

Hole DG, Perkins AJ, Wilson JD, Alexander IH, Grice PV, Evans AD (2005) Does organic farming benefit biodiversity? Biol Conserv 122:113–130

IFOAM (2012) Living GNH: making a full policy commitment to Organic Agriculture—Statement by his Excellency Jigmi Y. Thinley Prime Minister of the Kingdom of Bhutan. 19th June 2012, Rio+20 conference, Press release International Federation of Organic Agriculture Movements, Bonn, Germany, available at http://www.organicmarket.info/easyCMS/FileManager/Dateien/Statement_RIO20_Prime_Minister_of_Bhutan_June_19_2012.pdf, accessed 11 Nov 2013

IFOAM (2013) The Scope of Organic Agriculture, available at http://infohub.ifoam.org/en/what-organic/scope-organic-agriculture, accessed 11 November, 2013

Jimenez M, Vekena Lvd, Neiryncka H, Rodrígueza H, Ruiza O, Swennena R (2007) Organic banana production in Ecuador: its implications on black Sigatoka development and plant–soil nutritional status. RAFS 22 / 04 / 297-306

Karan PP (1961) Sikkim and Bhutan: a geographical appraisal. J Geogr 60:58–66

Kijlstra A, Eijck K (2006) Animal health in organic livestock production systems: a review. NJAS 54-I:77–94

Kubiszewski I, Costanza R, Dorji L, Thoennes P, Tshering K (2013) An initial estimate of the value of ecosystem services in Bhutan. Ecosyst Serv 3:e11–e21

Lammerts van Bueren E, Struik PC, Jacobsen E (2002) Ecological concepts in organic farming and their consequences for an organic crop ideotype. NJAS 50:1–26

Lammerts van Bueren E, Struik PC, Jacobsen E (2003) Organic propagation of seed and planting material: an overview of problems and challenges for research. NJAS 51:263–277

Lampkin N (1990) Organic farming. Farming Press, Ipswich. ISBN 0-85236-191-2

Lhendup K, Wangchuk U, Wangchuk J, Bhandari T, Chopel, S (2009) Performance of rice under system of rice intensification (SRI) at CNR, Lobesa. Bhut J RNR 5(1):15-24, available at http://www.moaf.gov.bt/moaf/?p=33&wpfb_cat=4, accessed 5 Nov 2013

Mäder P, Fliessbach A, Dubois D, Gunst L, Fried P, Niggli U (2002) Soil fertility and biodiversity in organic farming. Science 296:1694–1697

MOAF (2013) Bhutan RNR Statistics 2012, published by the Royal Government of Bhutan, Ministry of Agriculture and Forests (MOAF), available at http://de.scribd.com/doc/190463240/RNR-Statistics-2012, accessed 15 Sept 2013

Mool PK, Wangda D, Bajracharya SR, Kuzang K, Gurung DR, Joshi SP (2001) Inventory of glaciers, glacial lakes and glacial lake outburst floods: monitoring and early warning systems in the Hindu Kush-Himalayan Region, Bhutan. International Centre for Integrated Mountain Development, Kathmandu

Moumoni I, Baco MN, Tovignan S, Gbèdo F, Nouatin GS, Vodouhê SD, Liebe U (2013) What happens between technico-institutional support and adoption of organic farming? A case study from Benin. Org Agric 3:1–8

Nemecek T, Dubois D, Huguenin-Elie O, Gaillard G (2011) Life cycle assessment of Swiss farming systems: I. Integrated and organic farming. Agric Syst 104:217–232

Norbu C (2003) Types of land degradation in Bhutan. Journal of Bhutan studies. Vol. VIII available at http://himalaya.socanth.cam.ac.uk/collections/journals/jbs/pdf/JBS_08_06.pdf, accessed 15 Nov 2013

Norbu C, Floyd C (2004) Changing soil fertility management in Bhutan: effects on practices, nutrient status and sustainability. J Bhutane Stud 10:49-66, available at: https://www.repository.cam.ac.uk/bitstream/handle/1810/226966/JBS_10_06.pdf?sequence=2, accessed 15 May 2014

Ohsawa M (1987) Life zone ecology of the Bhutan Himalaya. Laboratory of Ecology, Chiba University, Chiba

Paneerselvam P, Hermansen J, Halberg N (2010) Food security of small holding farmers: comparing organic and conventional systems in India. J Sustain Agric 35(1):48–68

Paneerselvam P, Halberg N, Vaarst M, Hermansen JE (2012) Indian farmer's experience with perceptions of organic farming. RAFS 27(2):157–169

Pennock M, Ura K (2011) Gross national happiness as a framework for health impact assessment. Environ Impact Asses 31:61–65

Peoples MB, Herridge DE, Ladha JK (1995) Biological nitrogen fixation: an efficient source of nitrogen for sustainable agricultural production? Plant Soil 174:3–28

Ponti T, Rijk B, van Ittersum M (2012) The crop yield gap between organic and conventional agriculture. Agric Syst 108:1–9

Pretty JN, Morison JIL, Hine RE (2003) Reducing food poverty by increasing agricultural sustainability in developing countries. Agric Ecosyst Environ 95:217–234

Ransom S (2011) Improving Bhutan's academic libraries, recommendations from a situational analysis. Int Inform Libr Rev 43:92–197

Roder W, Wangdi K, Gyamtsho P, Dorji K (2001) Feeding the herds: improving fodder resources in Bhutan. Intern. Center f. integrated mountain development (ICIMOD), ISBN: 9291154091

Roder W, Nidup K, Chettri G (2008) The potato in Bhutan. Published by the Bhutan potato development program, Ministry of Agriculture, Thimpu 2008, ISBN 978-99936-673-0-8, 184 pp

Roder W, Dochen T, Nidup K, Dorji S (2009) Weed management challenges in small-holder potato systems in Bhutan. Weed Res 49:300–307

Rupper S, Schaefer JM, Burgener LK, Koenig LS, Tsering K, Cook, ER (2012) Sensitivity and response of Bhutanese glaciers to atmospheric warming. Geophys Res Lett 39(16):L19503. doi:10.1029/2012GL053010 doi:10.1029/2012GL053010#Link to external resource: 10.1029/2012GL053010

Schweinfurth U (1957) Die horizontale und vertikale Verbreitung der Vegetation im Himalaya. Duemmlers, Bonn

Seck PA, Tollens E, Wopereis MCS, Diagne A, Bamba I (2010) Rising trends and variability of rice prices: threats and opportunities for sub-Saharan Africa. Food Policy 35:403–411

Seufert V, Ramankutty N, Foley J (2012) Comparing the yields of organic and conventional agriculture. Nature 458:229–232

Smithson PC, Giller KE (2002) Appropriate farm management practices for alleviating N and P deficiencies in low nutrient soils of the tropics. Plant Soil 245:169–180

SYB (2012) Bhutan Statistical Yearbook 2012. National Statistics Bureau, Royal Government of Bhutan , available at www.nsb.gov.bt/publication/download.php?id=70, accessed 10 March 2013

SYB (2013) Bhutan Statistical Yearbook 2013. National Statistics Bureau, Royal Government of Bhutan , available at http://www.nsb.gov.bt/publication/files/pub9ot4338yv.pdf, accessed 5 Nov 2013

Thinlay X, Finckh MR, Bordeos AC, Zeigler RS (2000) Effects and possible causes of an unprecedented rice blast epidemic on the traditional farming system of Bhutan. Agric Ecosyst Environ 78:237–248

Tilman D, Cassmann KG, Matson PA, Naylor R, Polasky S (2002) Agricultural sustainability and intensive production practices. Nature 418:671–677

Titonell P, Giller KE (2013) When yield gaps are poverty traps: the paradigm of ecological intensification in African smallholder agriculture. FCR 143:76–90

Tobgay S (2005) Small farmers and the food system in Bhutan. Paper presented at the FAO Symposium on Agricultural Commercialization and the Small Farmer, Rome, 4-5 May 2005, available at http://www.moa.gov.bt/moa/downloads/downloadFiles/MoADownload4qv3907zl.pdf, accessed 11 Nov 2013

Tscharntke T, Clough Y, Wanger TC, Jackson L, Motzke I, Perfecto I, Vandermeer J, Whitbread A (2012) Global food security, biodiversity conversation and the future of agricultural intensification. Biol Conserv 151:53–59

Willer H, Lernoud J, Kilcher L (2013) The World of Organic Agriculture Statistics and Emerging Trends 2013. FiBL-IFOAM Report. ISBN FiBL 978-3-03736-239-6
About this article
Cite this article
Neuhoff, D., Tashi, S., Rahmann, G. et al. Organic agriculture in Bhutan: potential and challenges. Org. Agr. 4, 209–221 (2014). https://doi.org/10.1007/s13165-014-0075-1
Received:

Accepted:

Published:

Issue Date:

DOI: https://doi.org/10.1007/s13165-014-0075-1
Keywords
Conversion

Agricultural productivity

Soil fertility

Constraints