Abstract
Cabbage, Brassica oleracea var. capitata L., is an important leafy vegetable that provides vitamins and minerals for healthy body development. However, insect pest attack is a key contributing factor to its low yield. An experiment was undertaken at the agricultural research field of Crops Research Institute, Council for Scientific and Industrial Research (CSIR), Kwadaso in Ghana, during the major seasons of 2010 and 2011 to explore the potential of homemade extracts from garlic, Allium sativum L., and hot pepper, Capsicum frutescens L., in the management of insect pests of cabbage. Emamectin benzoate (ATTACK®) and lambda-cyhalothrin (BOSSMATE® 2.5EC) were used as reference insecticides. There were ten treatments made up of three levels (10, 20 and 30 g L−1 w/v) each of garlic, pepper, a mixture of garlic and pepper, ATTACK®, BOSSMATE® and control (tap water). The key insect pests recorded were the aphid, Brevicoryne brassicae L., and the diamondback moth, Plutella xylostella L. Generally, the efficacy of garlic and pepper was comparable to that of ATTACK®, with BOSSMATE® being the least efficacious. Pepper (20 g L−1 w/v) and ATTACK® (1 ml L−1 v/v) were more effective in controlling P. xylostella than the other treatments. Natural enemies encountered were the Coccinellidae, Syrphidae and Araneae. Generally, BOSSMATE® caused the greatest reduction in natural enemies' abundance, followed by ATTACK®, with the plant extracts having a mild effect on the natural enemies. Cabbage head yield was comparable among insecticide-treated plots and botanical plots with the control plots doing well in some instances. Garlic and pepper offer a significant potential for further exploration and development into affordable plant protection products for cabbage pests' management, especially in smallholder farms and backyard gardens and organic vegetable production systems.
Access options
Buy single article
Instant access to the full article PDF.
US$ 39.95
Tax calculation will be finalised during checkout.
Subscribe to journal
Immediate online access to all issues from 2019. Subscription will auto renew annually.
US$ 79
Tax calculation will be finalised during checkout.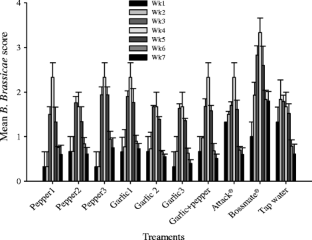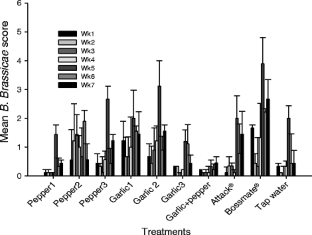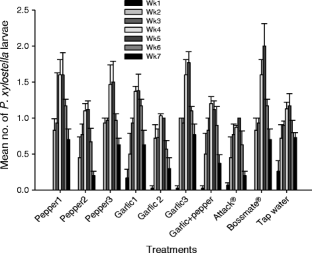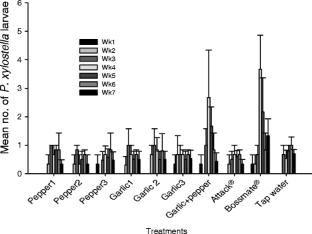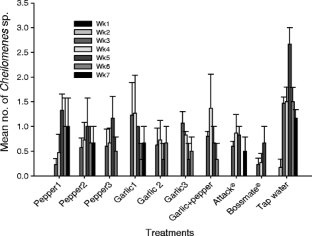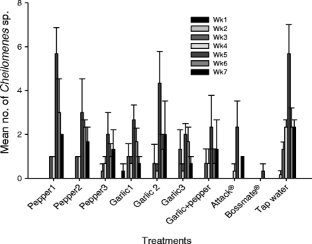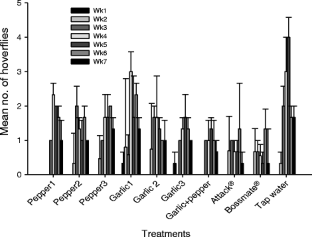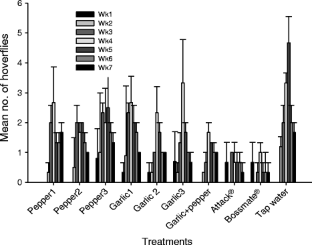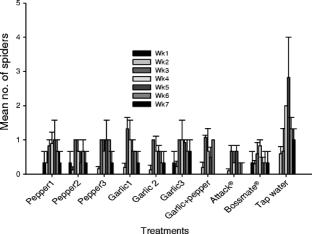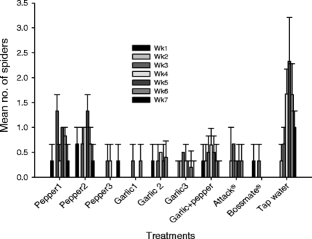 References
Abbey L, Manso F (2004) Correlation studies on yield and yield components of two cultivars of cabbage (Brassica oleracea var. capitata L.). Ghana J Sci 44:3–9

Afun JVK, Jackai LEN, Hodgson CJ (1991) Calendar and monitored insecticide application for the control of cowpea pests. Crop Prot 10(5):363–370

Antonious GF, Meyer JE, Snyder JC (2006) Toxicity and repellency of hot pepper extracts to spider mite, Tetranychus urticae Koch. J Environ Sci Health B 41(8):1383–1391

Antonious GF, Meyer JE, Rogers JA, Hu YH (2007) Growing hot pepper for cabbage looper, Trichopulsia ni (Hübner) and spider mite, Tetranychus urticae (Koch) control. J Environ Sci Health B 42(5):559–567

Ascher KRS (1996) Non conventional insecticidal effects of pesticide available from the neem tree, Azadirachta indica. Arch Insect Biochem Physiol 22:433–449

Baidoo PK, Mochiah MB, Apusiga K (2012) Onion as a pest control intercrop in organic cabbage (Brassica oleracea) production system in Ghana. Sustain Agric Res 1(1):36–41

Chellaiah S, Srinivasan K (1986) Bio ecology and management of diamondback moth in India. In: The management of diamondback moth and other crucifer pests. Proceedings of the 1st international workshop, Thainan, 11–15, March, 1985. AVRDC, Taiwan, pp 63–76

Davis M (2007) Ghana goes for IPM. Pesticides News 38:4–5. http://www.pan-uk.org/pestnews/Issue/pn38/pn38p4.HTM. Accessed 18 September 2012

Devotto L, Carrillo R, Cisternas E, Gerding M (2007) Effects of lambda-cyhalothrin and Beauveria bassiana spores on abundance of Chilean soil surface predators, especially spiders and carabid beetles. Pedobiologia 51:65–73

FAO (2000) Cabbage ecological guide. FAO Inter-country programme for IPM in vegetables in South and Southeast Asia. Rome, Italy

Fening KO, Owusu-Akyaw M, Mochiah MB, Amoabeng BW, Narveh E, Ekyem SO (2011) Sustainable management of insect pests of green cabbage, Brassica oleracea var. capitata L. (Brassicaceae), using homemade extracts from garlic and hot pepper. Pages 567–570. In: Pest and disease management. Organic crop production volume 1: organic is life, knowledge for tomorrow. Proceedings of the Third Scientific Conference of the International Society of Organic Agriculture Research (ISOFAR), held at the 17th IFOAM Organic World Congress, Namyangju, Korea, 28 September - 1 October 2011.

Insecticide Research Action Group (2010) Guidelines for controlling aphids in brassica crops and managing insecticide resistance in the peach-potato aphid, Myzus persicae. Warwick HRI/HDC, UK

Jahromi MG, Pourmirza AA, Safaralizadeh MH (2011) Evaluation of the mortality of two stored-product insects by garlic emulsion (Sirinol) in combination with low air pressure. Afr J Biotechnol 10(84):19650–19657

Jansson RK, Brown R, Cartwright B, Cox D, Dunbar DM, Dybas RA, Eckel C, Lasota JA, Mookerjee PK, Norton JA, Peterson RF, Starner VR, White S (2012) Emamectin benzoate: a novel avermectin derivative for control of lepidopterous pests, pp. 171–176 in Chemical control proceedings: the management of diamondback moth and other crucifer pest. http://web.entomology.cornell.edu/shelton/diamondback-moth/pdf/1996papers/1996DBM28.pdf. Accessed 30-08- 2012

Lingappa S, Basavanagoud K, Kulkarni KA, Patil RS, Kambrekar DN (2004) Threat to vegetable production by diamondback moth and its management strategies. In: Mukerji KG (ed) Fruit and vegetable diseases, vol 1. Springer, Netherlands, pp 357–396

Mochiah MB, Baidoo PK, Owusu-Akyaw M (2011) Influence of different nutrient applications on insect populations and damage to cabbage. J Appl Biosci 38:2564–2572

Ntow JW, Gijzen HJ, Kelderman P, Drechsel P (2006) Farmer perceptions and pesticide use practices in vegetable production in Ghana. Pest Manag Sci 62:356–365

Obeng-Ofori D, Ankrah DA (2002) Effectiveness of aqueous neem extracts for the control of insect pest of cabbage (Brassica oleracea var capitata L.) in the Accra plains of Ghana. Agric Food Sci J Ghana 1:83–94

Obeng-Ofori D, Owusu EO, Kaiwa ET (2002) Variation in the level of carboxylesterase activity as an indicator of insecticide resistance in populations of the diamondback moth Plutella xylostella (L.) attacking cabbage in Ghana. J Ghana Sci Assoc 4(2):52–62

Obeng-Ofori D, YirenkyiDanquah E, Ofosu-Anim J (2007) Cabbage and cauliflower. In: Ofori K (ed) Vegetable and spice crop production in West-Africa. City Publishers Ltd, Accra, pp 119–122

Okoth S, Ogol CKP, Basimike M, Varela M (2002) Comparative evaluation of the efficacy of aqueous neem extract and Dipel 2× on diamondback moth, Plutella xylostella Linn., on cabbage in Kenya. Insect Sci Appl 22(2):139–143

Osei MK, Osei K, Braimah H, Mochiah MB, Berchie JN, Bolfrey-Arku G, Lamptey JNL (2013) Practices and constraints to cabbage production in urban and peri-urban Ghana: focus on Brong Ahafo and Ashanti regions. Basic Res J Agric Sci Rev 2(1):5–14

Rahman GKMM, Motoyama N (2000) Repellent effect of garlic against stored products pests. J Pestic Sci 25:247–252

SAS Institute Inc (2011) SAS user's guide: statistics version 9.3.ed. SAS Institute, Cary

Timbilla JA, Nyarko KO (2004) A survey of cabbage production and constraints in Ghana. Ghana J Agri Sci 37:93–101

Tolman JH, McLeod DGR, Harris CR (2004) Cost of crop losses in processing tomato and cabbage in southwestern Ontario due to insects, weeds and/or diseases. Can J Plant Sci 84:915–921

USDA (2009) USDA National Nutrient Database for standard reference. Release 22

Zalucki MP, Shabbir A, Silva R, Adamson D, Liu SS, Furlong MJ (2012) Estimating the economic cost of one of the world's major insect pests, Plutella xylostella (Lepidoptera: Plutellidae): just how long is a piece of string? J Econ Entomol 105(4):1115–1129

Zehnder G, Simonne E, Briggs T, Bannon J, Ruff M (1997) Organic sprays effective for worm control in cabbage and lettuce. Highlights of Agric Res 43(3):14–16
Acknowledgments
The authors are grateful to the Director, Crops Research Institute, Council for Scientific and Industrial Research, Ghana, Dr. Hans Adu-Dapaah for providing institutional support for this study. We thank the field assistance offered by our technicians Mr. Gyimah Anthony, Mr. Adama Amadu, Mr. Agyekum Augustine and Mr. Douglas Antwi and Miss Josephine Mends for her assistance in data collection.
About this article
Cite this article
Fening, K.O., Amoabeng, B.W., Adama, I. et al. Sustainable management of two key pests of cabbage, Brassica oleracea var. capitata L. (Brassicaceae), using homemade extracts from garlic and hot pepper. Org. Agr. 3, 163–173 (2013). https://doi.org/10.1007/s13165-014-0058-2
Received:

Accepted:

Published:

Issue Date:
Keywords
Cabbage pests

Plant extracts

Natural enemies

Sustainable management